More than 125 cities part of Play Ball Month
Baseball- or softball-related activities to be held throughout August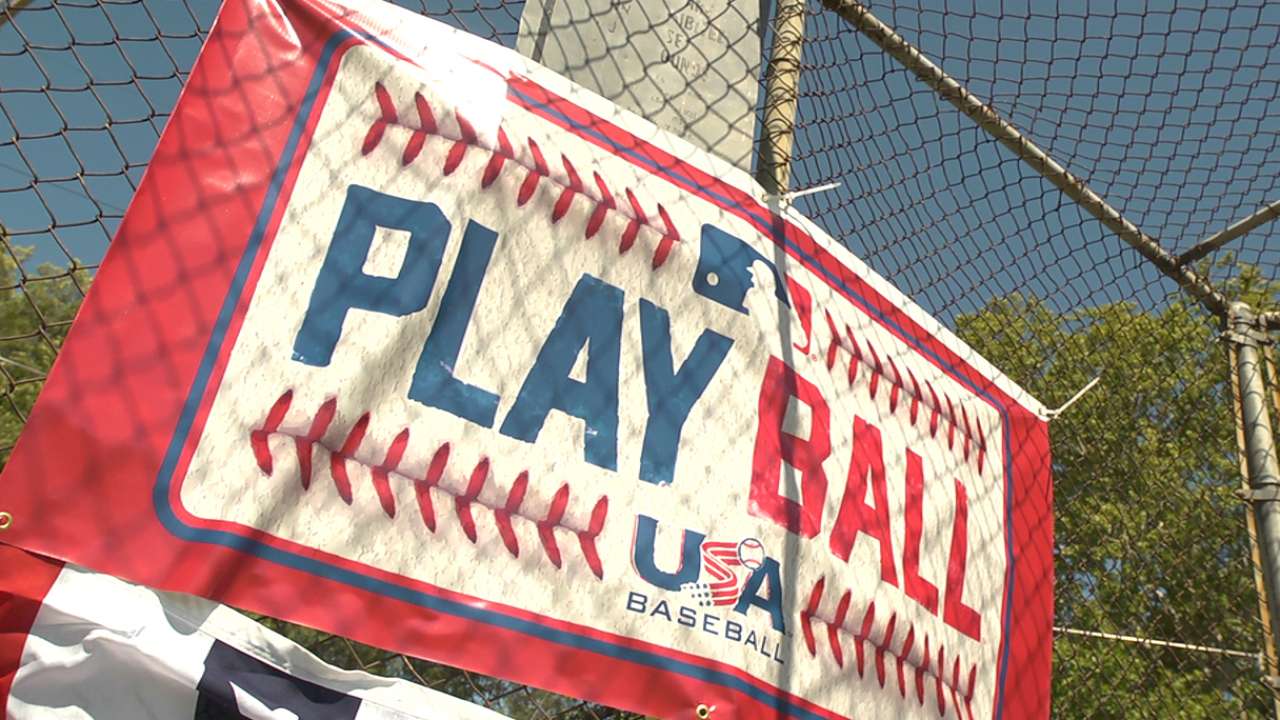 From Tacoma to Tallahassee, from Las Cruces to Lexington, from Clarksville to Cupertino, from Macon to Milwaukee, the sport of baseball rises again across America.
Major League Baseball Commissioner Rob Manfred, in conjunction with Minor League Baseball and the U.S. Conference of Mayors (USCM), expanded the new grassroots initiative for youth by announcing on Monday a list of more than 125 cities that are being designated 2015 Play Ball Cities for Play Ball Month.
The cities are being designated based on the commitment by each city's mayor to sponsor a baseball- or softball-related activity during August. MLB and the mayors announced their Play Ball partnership at USCM's 83rd Annual Meeting in June.
"For decades, baseball has had a unique ability to bring communities together, and today, Major League Baseball is seeking to strengthen that connection between our sport and cities across the country through our new Play Ball initiative," Manfred said. "We are thrilled to begin this new and innovative partnership with the U.S. Conference of Mayors, and I thank all the mayors who have stepped up to support this effort to provide fun experiences for kids and families during Play Ball Month."
"Mayors are pleased to join Major League Baseball in bringing fun baseball and softball activities to our cities," said Baltimore mayor Stephanie Rawlings-Blake, president of the USCM. "I am proud to have already participated in a Play Ball event in my community and look forward to hearing how other mayors across the country celebrate baseball -- our Great National Pastime."
During this month, mayors across the country will host activities to engage children, citizens, families and city departments to organize individual and community-based baseball and softball-related events, such as playing catch, running bases and more. The activities will be focused on strengthening bonds between families, communities and the game.
Mayors will report their activities to usmayors.org/playball.
"The Play Ball initiative is baseball in its purest form, building relationships between the game and its future generations," said Pat O'Conner, president and CEO of Minor League Baseball. "It is incredibly important for us to encourage participation at the grassroots level and Minor League Baseball fully supports these efforts."
PlayBall.org serves as the initiative's online home and is accessible via MLB.com, USABaseball.com and other partner websites. PlayBall.org gives parents, coaches and kids information on how to participate in Play Ball activities and provides links to youth-related news and events and searchable maps to help find local community leagues. Health and safety information, including the Pitch Smart and Play Sun Smart programs, also is available.
"The Conference of Mayors is honored to have joined Major League Baseball in helping to inspire a renewed enthusiasm for the game," said USCM CEO and executive director Tom Cochran. "We are pleased with the number of mayors who have made commitments to sponsor a Play Ball activity, and look to involving more mayors in the future."
Mark Newman is enterprise editor of MLB.com. Read and join other baseball fans on his MLB.com community blog. This story was not subject to the approval of Major League Baseball or its clubs.