Syndergaard delivers superhero-like outing
Man they call Thor strikes out nine Nationals over eight stellar innings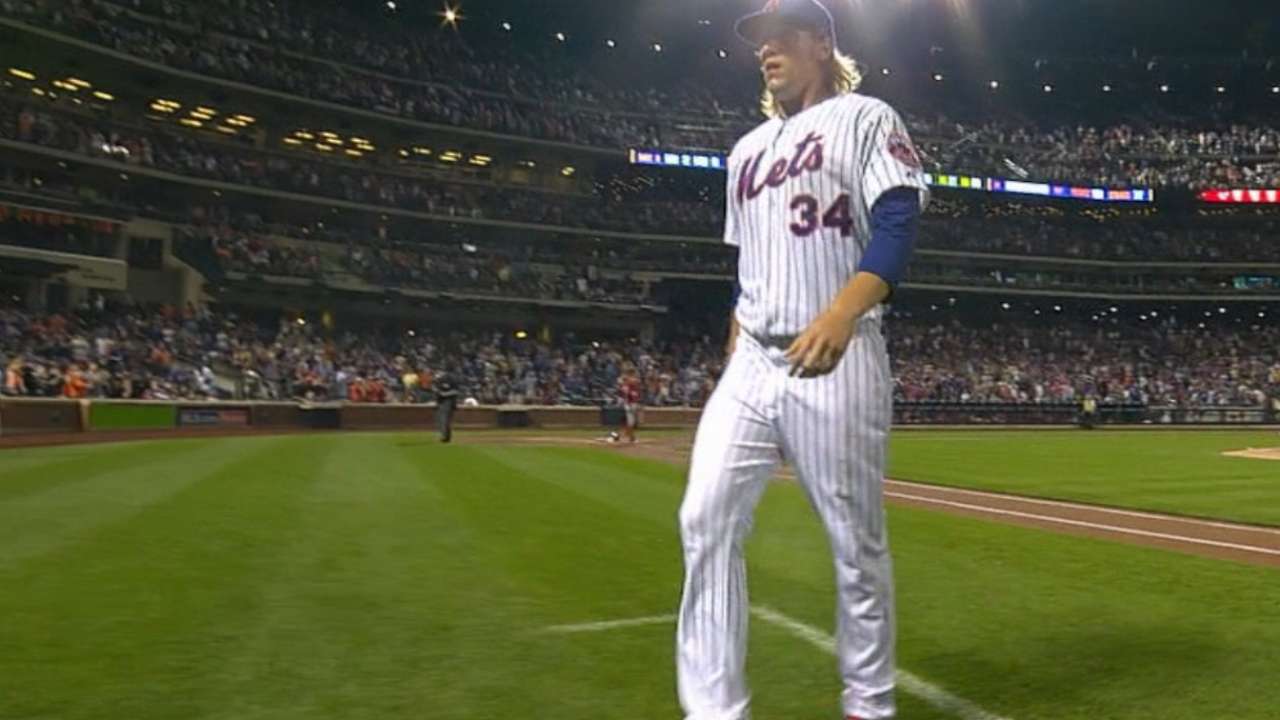 NEW YORK -- To portray Noah Syndergaard's ever-more-popular "Thor" moniker, the Mets have a graphic they like to flash on the center-field video board after important strikeouts.
In it, Syndergaard's face is superimposed onto the comic-book god's body. Lightning flashes from his hammer as an expressionless Syndergaard stares into the abyss. It's unclear whose flowing blond hair is used.
Syndergaard hasn't noticed his superhero alter ego during a game, but he made sure it got plenty of screen time Sunday. He punched out nine Nationals as part of an eight-inning, two-run performance that led the Mets to a 5-2 win, a crucial series sweep and a tie for first place atop the National League East.
"Unbelievable night," he said.
In the 15th and most high-pressured start of his career, Syndergaard stared down trouble early. Anthony Rendon clanged his fifth pitch of the game just above the home run defining orange line on the center-field wall. Mere minutes into what could become a season-defining game, Syndergaard and the Mets were in a hole.
Syndergaard didn't notice the tension that immediately filled Citi Field. The Nationals' next 13 at-bats ended in outs, enough time for the Mets' rejuvenated offense to build up five runs of support.
"I think that's the first time that's happened to him," Mets manager Terry Collins said. "He just seems to not let stuff get to him."
For weeks, Collins has lauded Syndergaard for his maturity. Billed in the Minors as a 6-foot-6 power arm who would need time to develop the finer points of Major League pitching, the rookie skipped ahead in the process.
"This guy knows what he's doing out there. He's got a feel for it," Collins said.
Before every game, pitching coach Dan Warthen and Mets catchers sit down with that day's starting pitcher to polish a plan of attack. Each opposing hitter gets a specialized game plan, complete with possible ways to script the first few pitches of an at-bat.
When meeting with Syndergaard, Warthen doesn't simplify the discussion or withhold any data, catcher Kevin Plawecki said. He processes as much information as any Mets starter.
Not that raw power doesn't have its occasional use.
Syndergaard's 109th and final pitch was a fastball to Bryce Harper with a perceived velocity of 100.2 mph, per Statcast™. Inches before the plate, the pitch broke down and away from Harper, who swung over the top of it for a strikeout.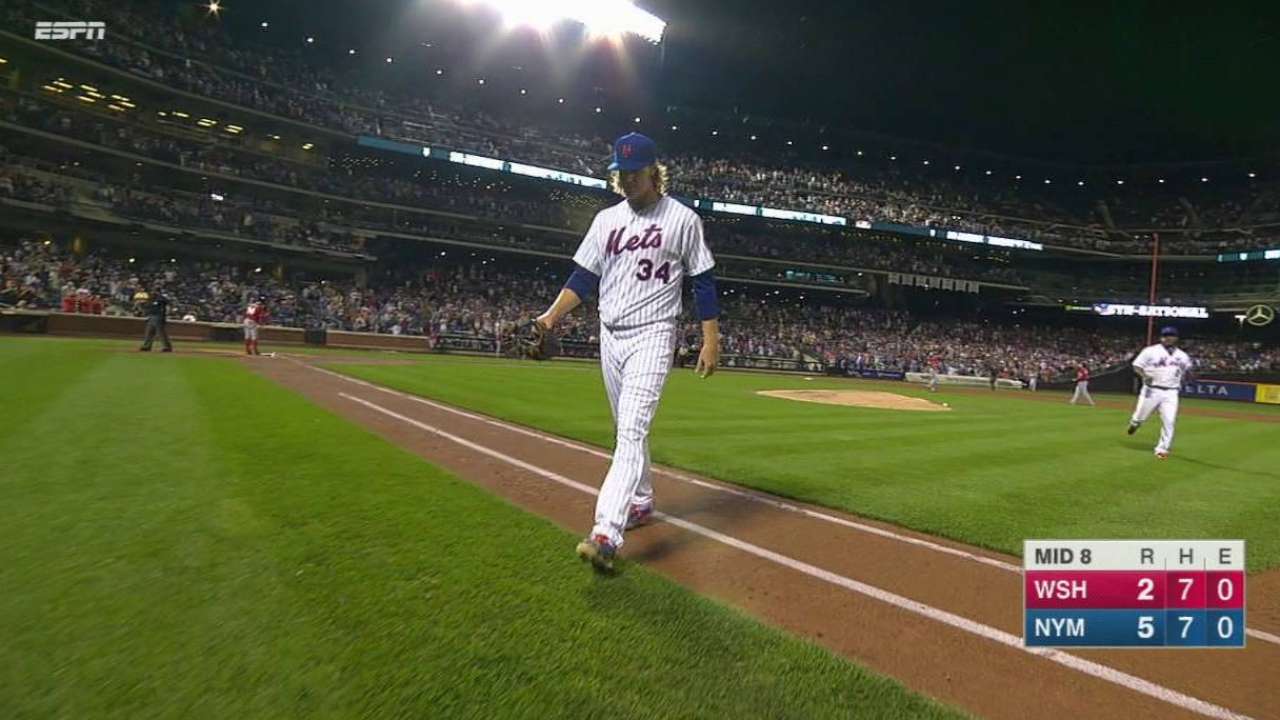 As Syndergaard walked off the mound with the slightest of fist pumps, Harper was left staring at his feet.
Plawecki said he noticed extra movement on the pitch. Syndergaard himself said it came out of respect for Harper, who leads the National League in home runs.
"An unbelievable feeling," he called it.
As for the cartoon version of himself, Syndergaard said it can stay. Who wouldn't want to be a superhero?
Alden Woods is an associate reporter for MLB.com. This story was not subject to the approval of Major League Baseball or its clubs.