MLB.com Columnist
Richard Justice
After sweep, Mets have touch of swagger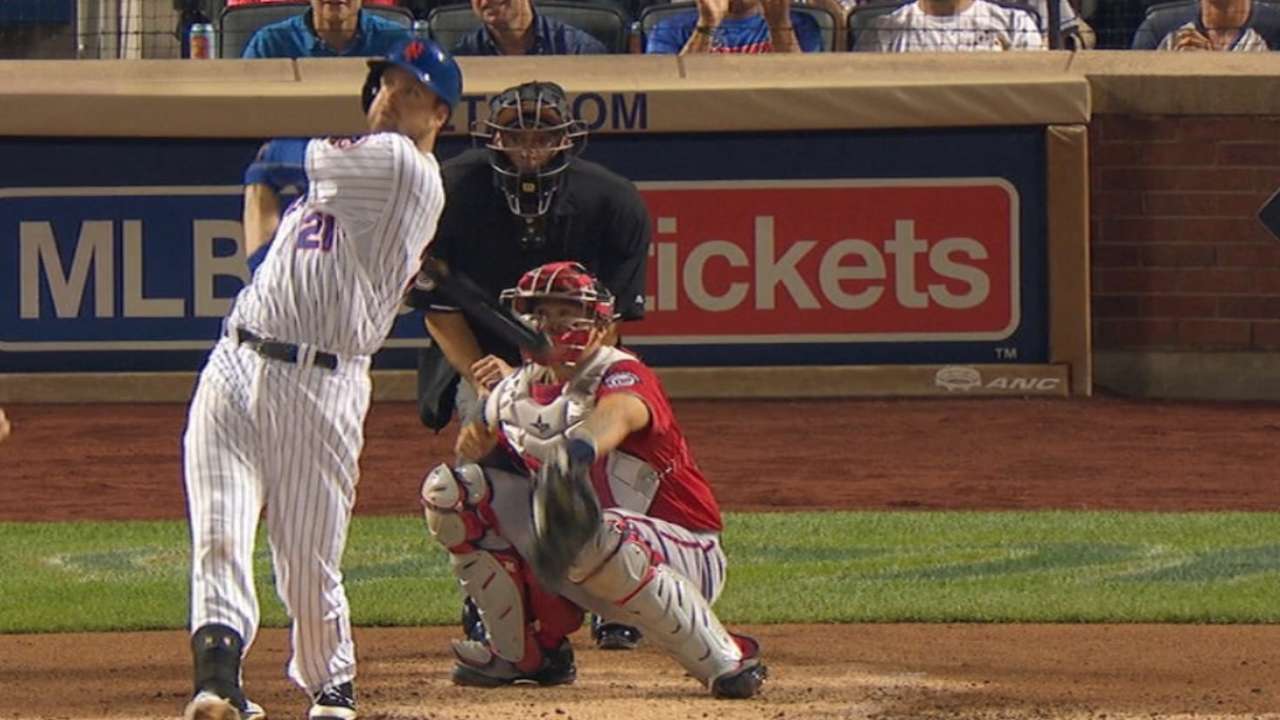 Mets fans had waited a long time for a moment like this. And so on Sunday night they did it up right. They had their ballpark rocking with emotion and craziness. They brought back the thunderous cheers that were once the norm for this franchise. At various times they simply stood and screamed, almost all 35,374 of them. At least it sounded that way. Remember when it was always like this around the Mets?
Wait. Make that the first-place Mets.
Well, almost. The Mets completed a three-game sweep of the Nationals on Sunday with a 5-2 victory at Citi Field. And in doing so they got within a whisker of the Nats in a National League East that few thought would play out this way.
Maybe it'll look different a month from now. Maybe the Nationals will get the rest of their injured players back (Stephen Strasburg and Denard Span) and take control of the division the way they were supposed to.
But maybe something has changed. Maybe the Mets now understand that they're good enough. They have pitching that's young and scary good. They have an overhauled offense thanks to the acquisitions of Yoenis Cespedes, Kelly Johnson and Juan Uribe, and the likely return of third baseman David Wright from the disabled list.
Best of all, the Mets have just a touch of swagger. Weekends like this one will do that. At 54-49, the Nationals have a winning percentage of .52427. Meanwhile, the Mets are right there with them at 55-50 -- a winning percentage of .52381.
Here's how the Mets won on Sunday. Rookie starter Noah Syndergaard allowed two runs in an eight-inning, nine-strikeout performance. His 105th pitch of the evening was clocked at 100 mph.
He's 22 years old and has 15 Major League starts under his belt as part of a young rotation that might be as good as any in baseball. But the Mets have had tremendous pitching most of this season. Because they had trouble scoring runs, they wasted a lot of it.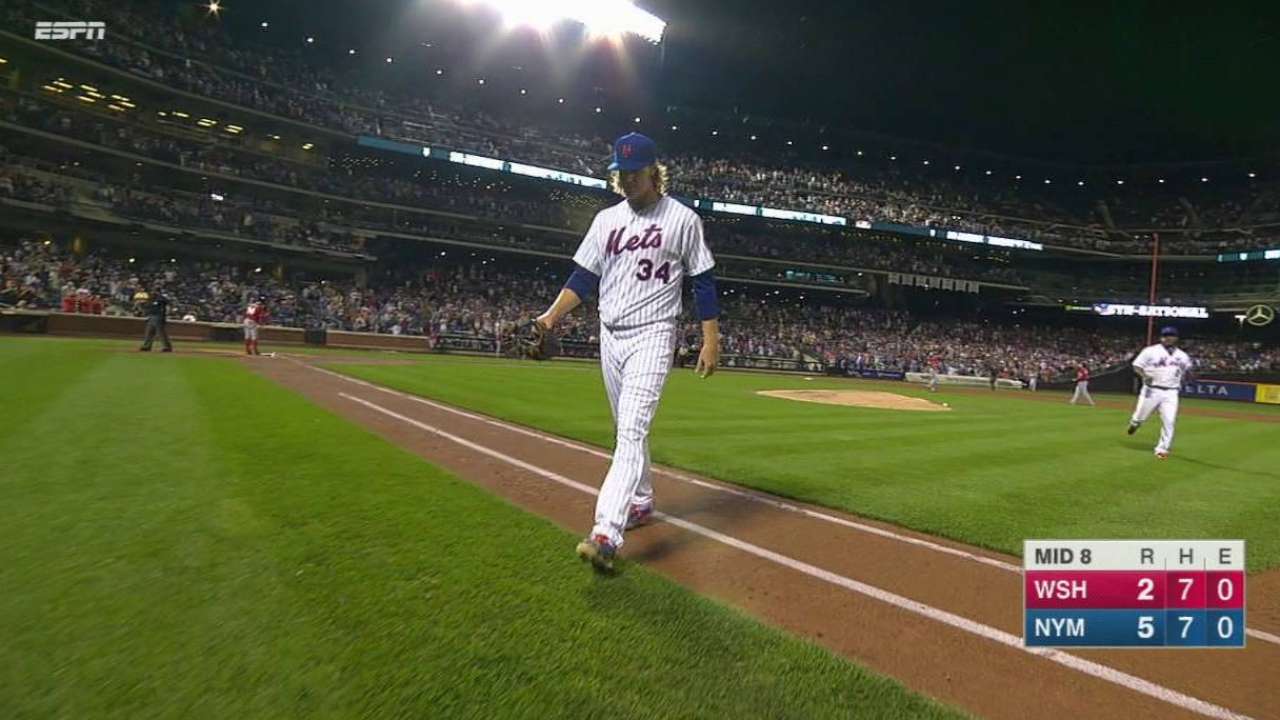 In the bottom of the third inning on Sunday, they got all their offense in a flurry that included three home runs in an amazing five-pitch sequence against Nationals starter Jordan Zimmermann.
Curtis Granderson hit one, then Daniel Murphy delivered one. And then Lucas Duda got one. Suddenly, Citi Field had a postseason look and feel, as a bunch of fans who may still be trying to figure out their team watched the magical inning unfold.
The Mets had been optimistic about this season because of their pitching and also because of the young position players who emerged in 2014, but injuries and slumps stalled the offense.
Duda was one of those guys who started slowly, but he has led the sprint back into contention, with nine home runs in an eight-game stretch.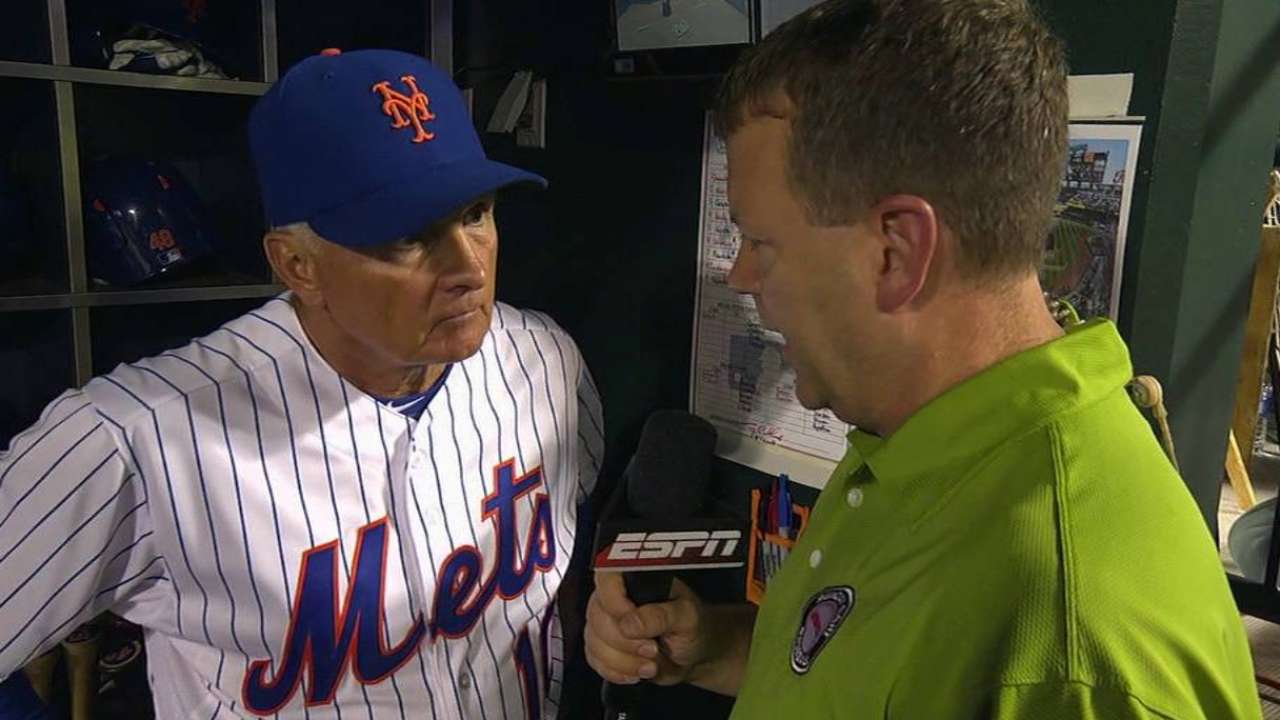 After Duda's homer off Zimmermann in the third inning finished the Mets scoring, Syndergaard never allowed the Nationals back in the game. He allowed an Anthony Rendon homer in the top of the first and one by Yunel Escobar in the sixth. Other than that, the Nationals got only one other runner into scoring position.
An indication of the quality of Syndergaard's stuff is that he now has 100 strikeouts in his 15 Major League starts -- fourth-most in Mets history.
Now about those chants. At the end there was a very Shea Stadium feel, with "We want first place!" echoing through the place.
And there was also a chant for shortstop Wilmer Flores, who wept on the field on Thursday when he thought he'd been traded before hitting a walk-off home run on Saturday to complete one of the most bizarre weeks any player has ever had.
Now what? The Nationals had been alone atop the NL East since June 19, but they've lost 10 of 15 during a stretch in which Clayton Kershaw, Zack Greinke, Gerrit Cole and now Syndergaard have beaten them.
The Nationals are back home on Monday to begin a seven-game homestand against the D-backs and Rockies, so there's a chance to regain some of their momentum.
Meanwhile, the Mets, who've won six of eight, go on the road for a week to play the Marlins and Rays before returning home to face the Rockies.
For a team that hasn't made the postseason in nine years, the Mets could hardly be feeling better about themselves. They have six more games against the Nationals, including three at Citi Field to finish the regular season.
At the moment they appear to be capable of pushing up against the Nationals right into the final days. If so, they may look back and see this weekend as some kind of starting point. It certainly felt that way.
Richard Justice is a columnist for MLB.com. Read his blog, Justice4U. This story was not subject to the approval of Major League Baseball or its clubs.