Red-hot Duda caps Mets' three-HR inning
First baseman first Met to hit 9 blasts in 8 games; Grandy, Murphy also go deep
NEW YORK -- It's tough remembering, especially after Sunday's triumphant, ear-splitting night at Citi Field, just how serious the silence that surrounded this place was days ago. Try, and maybe it's possible to recall Clayton Kershaw's carving of a now unrecognizable lineup July 23, when this homestand started. Or the emptiness of Thursday, when just hundreds witnessed a devastating loss to the Padres, the crowd withered down by two rain delays.
Those were the few low lights of a transformative homestand, and they were far from the mind Sunday, when Curtis Granderson sent a third-inning Jordan Zimmermann pitch soaring toward the right-field seats. They were pushed further back a pitch later, when Daniel Murphy followed with a laser into the Pepsi Porch. And they were stomped away for good after three more pitches when Lucas Duda's two-run shot punctuated New York's 5-2 series-sweeping win over Washington and earned the Mets a share of first place in the National League East.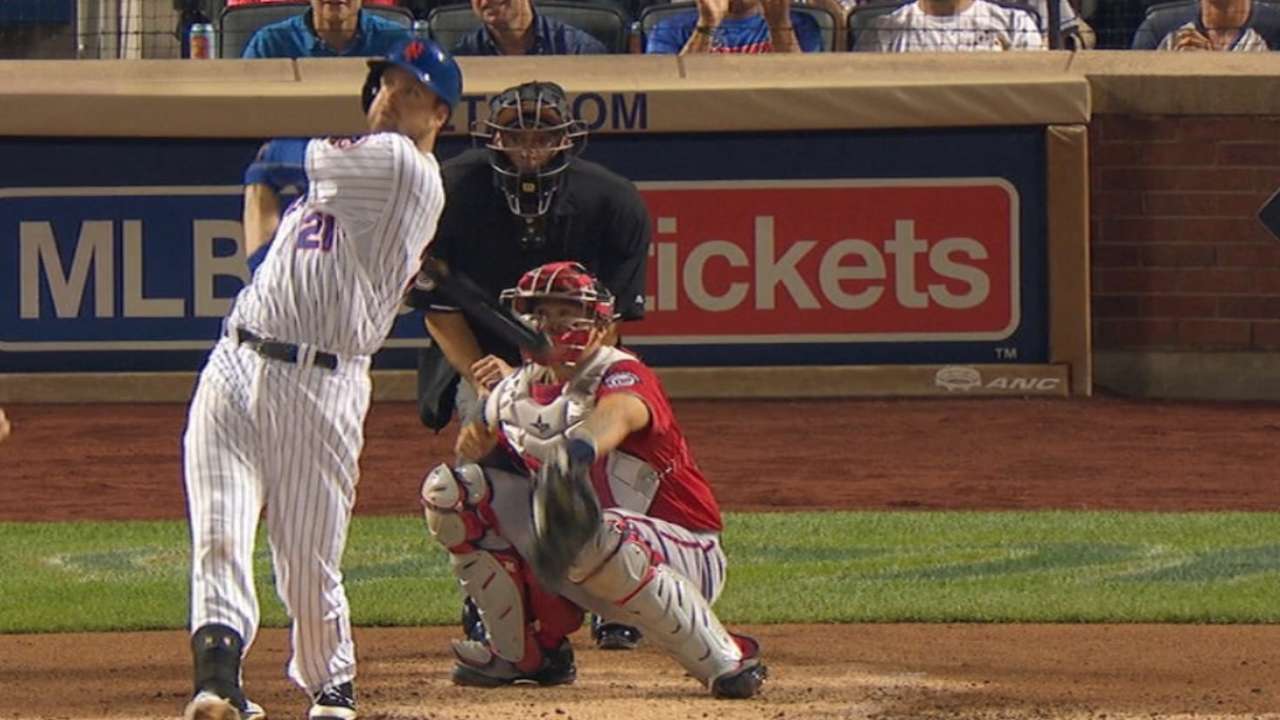 "It's so much fun to be a Met right now," winning pitcher Noah Syndergaard said.
It looks that way, as the Mets' first three-homer inning since 2007 electrified Citi Field in a way this stadium isn't used to. Granderson was barely done shaking hands when Murphy launched his homer. Murphy could only shake his head when Duda hit his, regulating Yoenis Cespedes' first Mets hit to a footnote and sending a near-capacity crowd berserk. Five pitches, three homers. One head-jerking swing after another challenged the decibel level records of this 6-year-old ballpark.
"I've never heard a stadium this loud," Wilmer Flores said.
Not since David Wright, Carlos Delgado and Paul Lo Duca went back-to-back-to-back vs. Philadelphia on June 7, 2007, have the Mets had a three-homer inning. (In a remarkable coincidence, their starting right fielder that night was Carlos Gomez, whom the Mets nearly traded for last week in a deal that was squashed at the last minute due to medical concerns.)
Not since almost two weeks ago has Duda gone more than a few days without a homer of his own. His two-run shot off Zimmermann continued a torrid pace where Duda has homered nine times in eight games, the first Mets player to do so.
And not since 2008 have fans in Flushing entered August with October baseball in their sights. Players feel it, too. Recently, a fan waited for Travis d'Arnaud in the parking lot and begged him to promise October games. d'Arnaud replied: "November!"
"It felt like a playoff atmosphere," Tyler Clippard said.
"Unique," said Murphy, a veteran of more than 400 games here.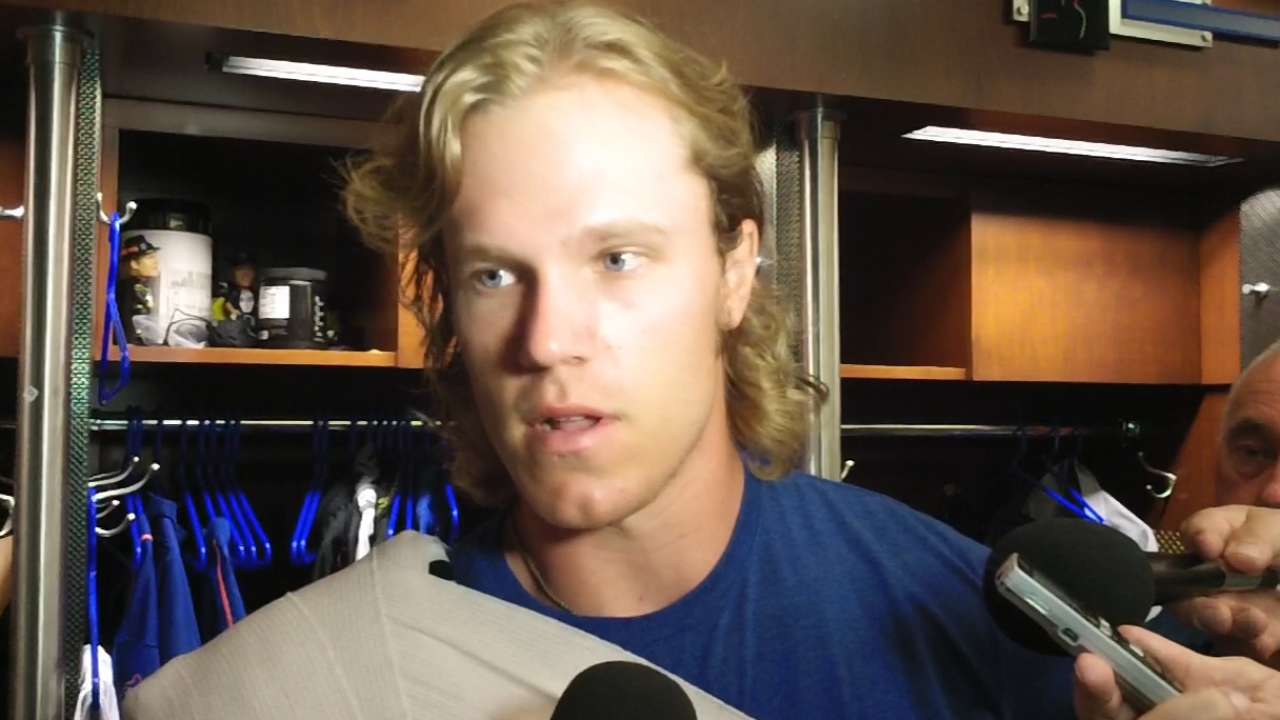 New York plays six more games this year against Washington, which is still 21-11 against the Mets since the start of last year. But that record meant nothing this weekend, and figures to mean less going forward as long as New York's young pitchers continue emerging.
On Sunday, Syndergaard followed excellent starts by Matt Harvey and Jacob deGrom with the best of the weekend, an eight-inning, nine-strikeout masterpiece. Syndergaard's first pitch sizzled at 98 mph and his last one had a perceived velocity of 100.2 mph, per Statcast™, blowing by Bryce Harper and announcing to a national audience the start of what could be an exhilarating stretch run.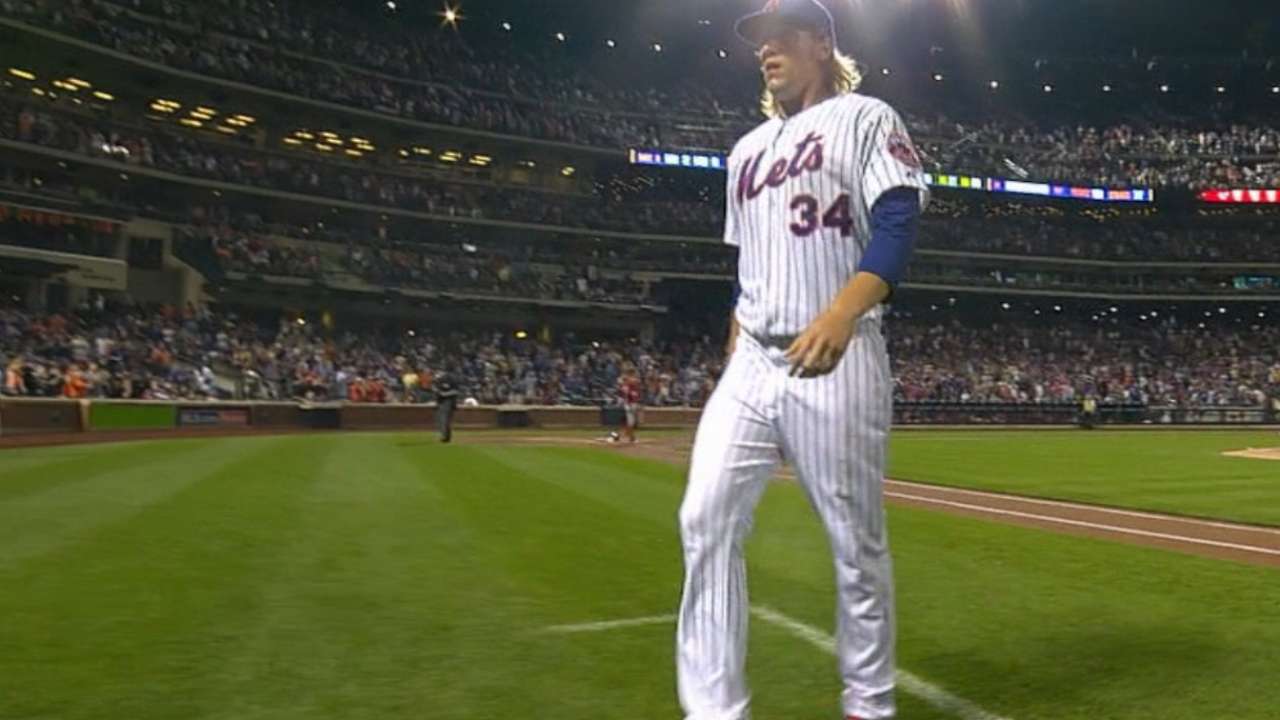 If that's the case, New York will look at this homestand as a turning point. In a span of 11 days, the Mets promoted their top hitting prospect, traded for four veteran players, created Flores the folk hero and, for the first time in years, made top rival Washington look mortal.
"I've seen a lot of things and been a lot of places, but I never experienced the emotional roller coaster we went through these past 10 days," Mets manager Terry Collins said. "They just showed up and continued to play. That's why they are responsible for the way things ended."
Joe Trezza is an associate reporter for MLB.com. This story was not subject to the approval of Major League Baseball or its clubs.