ICYMI: Ninja launches rally, Padres drop finale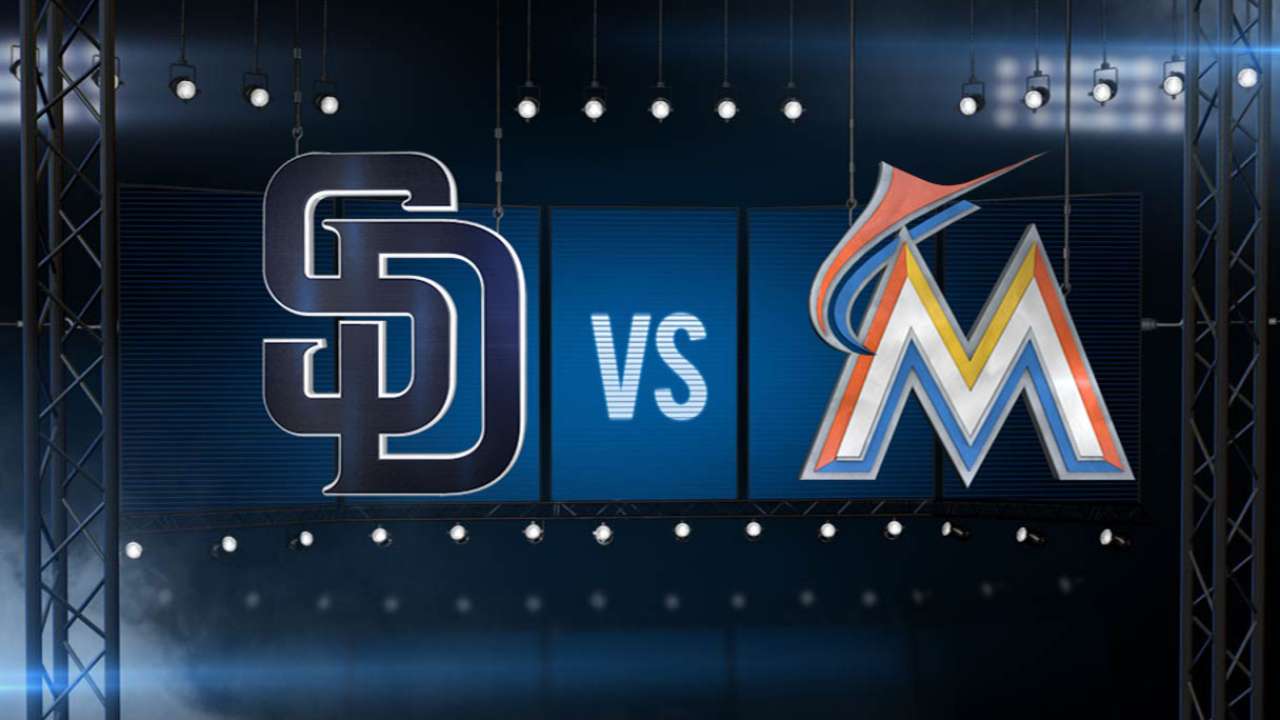 Sunday afternoon's series finale between the Padres and Marlins was chalked up to be a classic pitching duel between the proverbial ace of each club, as James Shields faced off against Jose Fernandez and the Marlins. For the most part, that is exactly what fans got to witness, as both pitchers delivered quality starts, while Fernandez kept San Diego scoreless through six. The Friars would remain scoreless until the very end, when they scratched a couple of runs across the board late, in a two-run rally, before ultimately dropping the finale by a score of 5-2, thanks to a Marlins walk-off three-run homer in the bottom of the ninth.
Shields stumbled out of the gate, as he surrendered three hits and two earned runs in the bottom of the first inning before recovering and posting five straight innings of shutout baseball. Shields finished the day throwing six innings of two-run ball on only five hits and four strikeouts, while only walking two. Shields was relieved by Kevin Quackenbush and Marc Rzepczynski, who each combined for two more shutout innings while striking out two and surrendering only one hit along the way.
The only issue the Padres' pitching staff ran into was in the bottom of the ninth, when Brandon Maurer -- who had a respectable 7-3 record with a 2.54 ERA as a reliever entering play today -- surrendered a pair of walks and a walk-off three-run homer to Adeiny Hechavarria with one out in the ninth, preventing San Diego from completing the sweep. San Diego was able to leave with the series victory, however, as the team took the first two of the three-game set.
Meanwhile, the offense had a number of opportunities on the day, and did its best in trying to figure out Fernandez and the rest of the Marlins pitching staff, but to no avail. Yangervis Solarte continued his hot-hitting ways and went 2-for-3 with a walk, while Alexi Amarista delivered the biggest hit for the day, a two-run homer in the ninth to tie up the game. Amarista also hit a triple in the top of the fifth off of Fernandez and finished the day 2-for-4 at the plate. Matt Kemp, Yonder Alonso and Derek Norris each collected hits as well.
The Padres will head to Milwaukee to close out their 10-day, 10-game road trip with the first of a four-game set against the Brewers tomorrow at 5:10 p.m. PT. Tyson Ross will take the hill against Wily Peralta. In case you missed it, here are some highlights and stories that you may not have seen from Sunday:
Padres post-game recap: Amarista clutch, but Padres fall in ninth
Shields delivers a quality start with six innings of one-run baseball and 4 K's: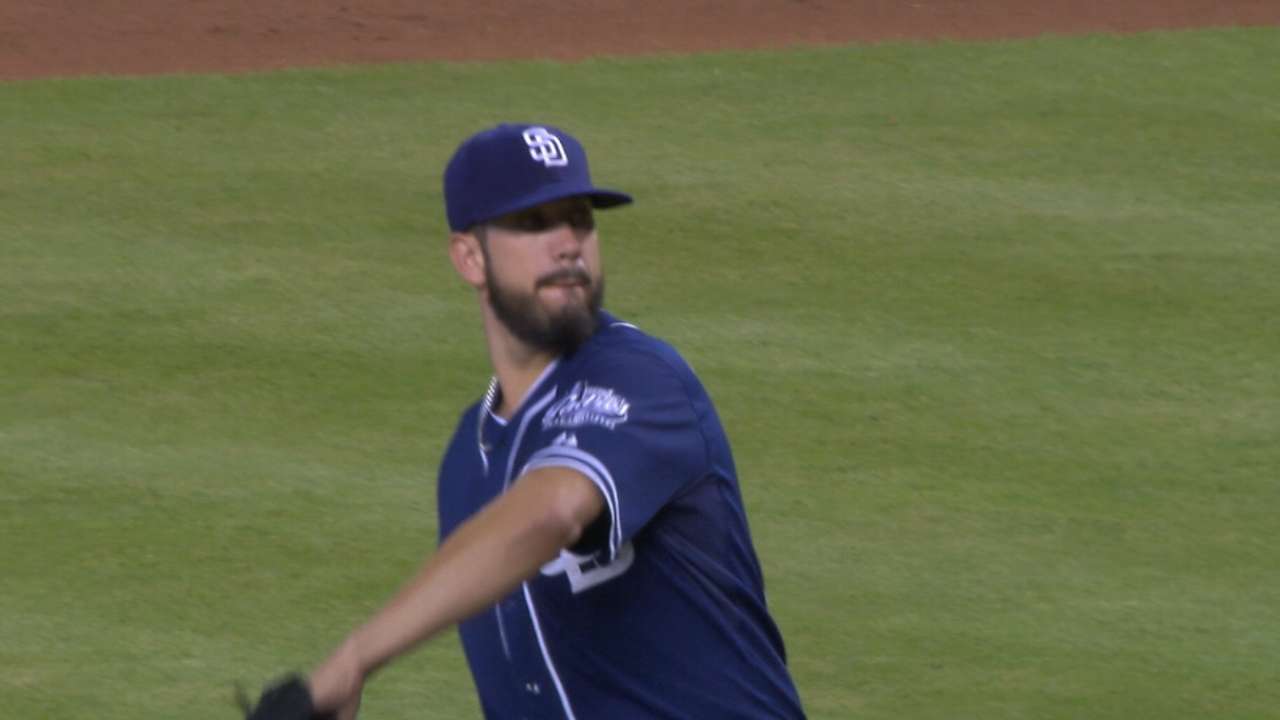 Alonso stops a run from scoring after throwing out Yelich at home plate: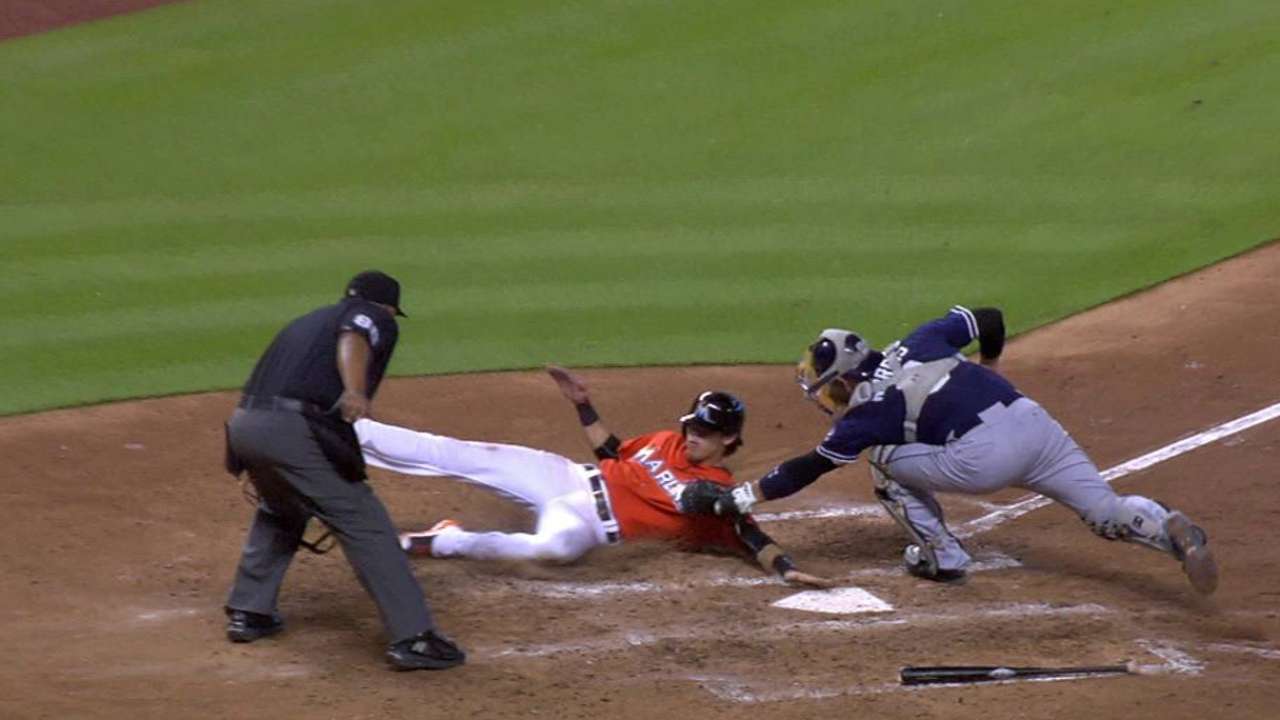 Amarista ties it up late with a clutch 2-run homer in the top of the ninth: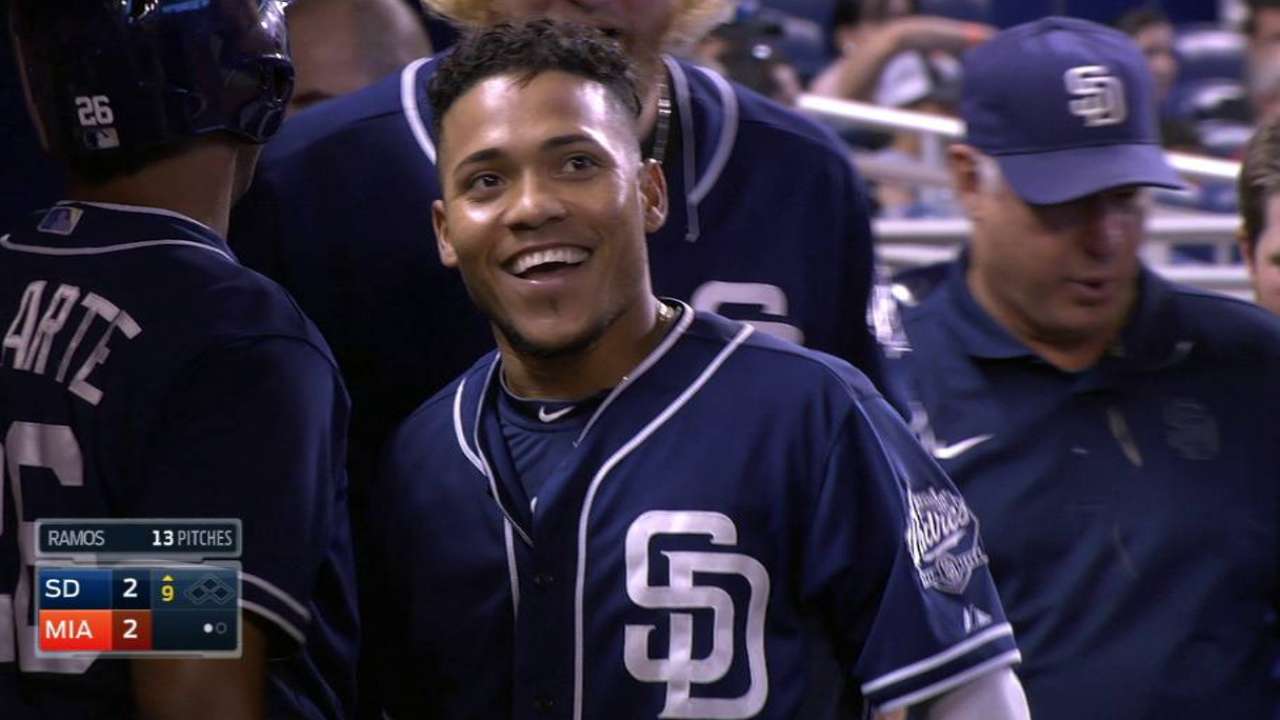 Top stories of the day:
Padres' middle-infielder poised for return: Spangenberg ready for rehab assignment
Hot corner stays hot for streaking Friars: Solarte playing key role in Padres' recent run
Reliable bullpen corps continues to impress: Friars' fortified relief corps quickly stomps out threat
Padres make roster moves over the weekend: Kennedy on paternity list; Federowicz designated
Down on the Farm: Renfroe and Ascencio hit back-to-back HRs in Double-A San Antonio win
Notable Notes: Game Notes @ MIA (08.02) San Diego aims for South Beach Sweep behind Shields
Looking forward:
Friar Forecast: Padres, Brewers face off for first time in 2015
Monday's pitching matchup: Tyson Ross, (7-8, 3.38 ERA) vs. Wily Peralta (2-5, 3.90 ERA)