Walk-off win helps put recent woes in rearview
Canha delivers big hit as Oakland rebounds to split series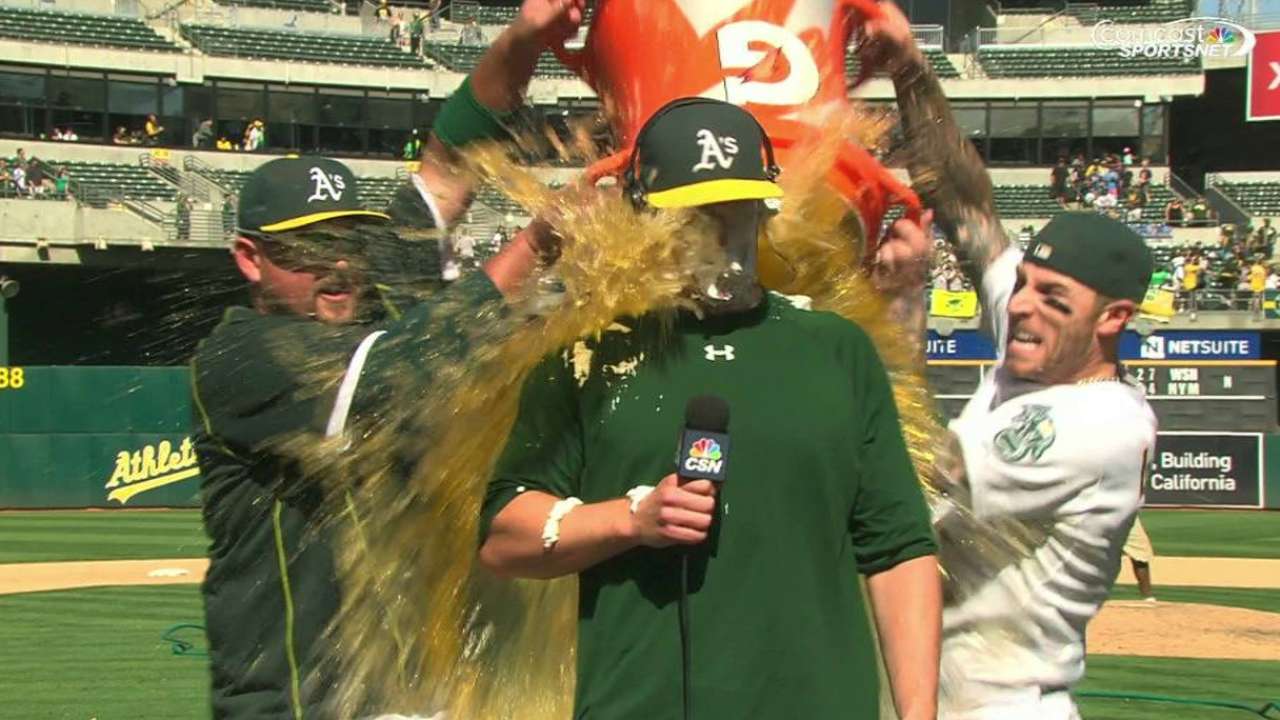 "It's pretty violent actually, it felt like a punch in the face," Canha said of the pie. "It was a blast."
Canha's two-out RBI double in the 10th scored a speedy Sam Fuld all the way from first.
The throw wasn't close, and the A's -- who picked up their fourth walk-off hit of the season -- went bonkers.
"It was pretty amazing," Canha said. "I was just really rooting Sam on when I hit it to run as fast as he could."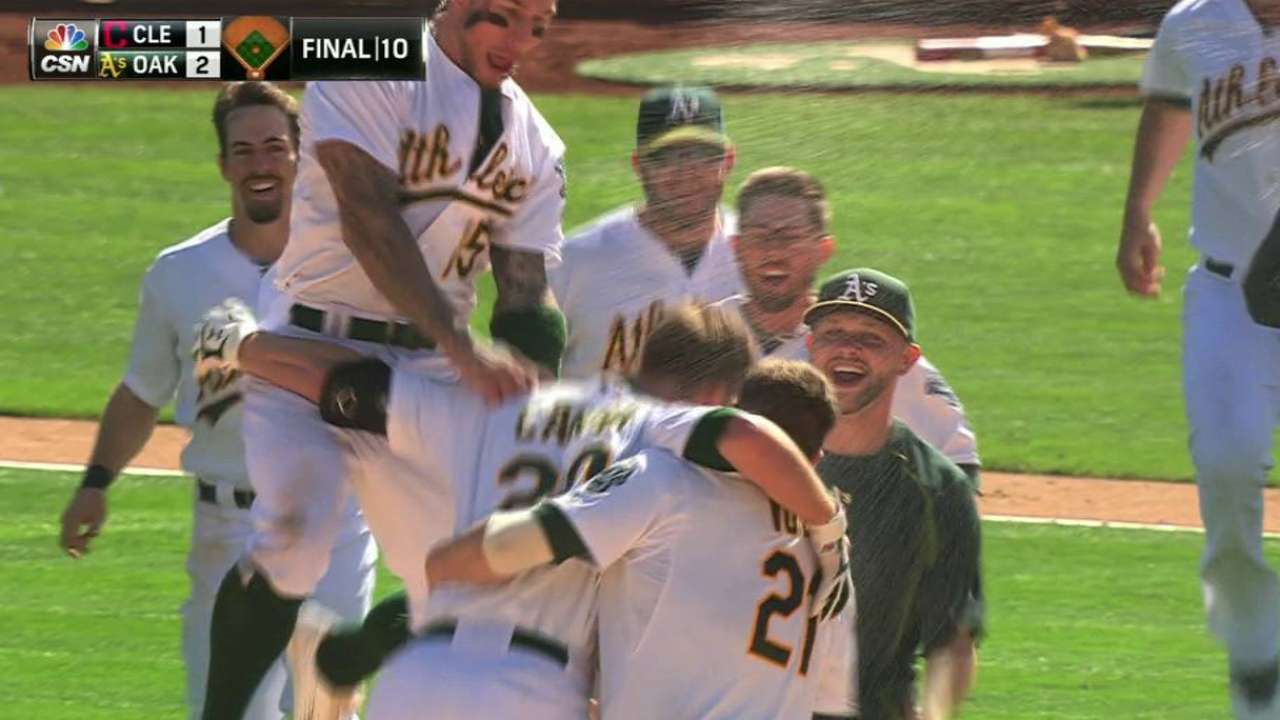 After mustering three combined hits in the first two games of the series, the A's scored seven runs on 15 hits in the next two to salvage a split.
Sonny Gray walked four and didn't have his best stuff, but he still managed to battle through seven innings and allow just one run while fanning seven.
"This wasn't his best feeling day," A's manager Bob Melvin said, "and you saw early on with ball-strike ratio, but that's what great pitchers do, is they find a way to get it done when they don't have their best stuff."
After Gray surrendered a run in the first inning, he settled down and kept the Indians off the scoreboard. Billy Burns brought home Eric Sogard with an RBI single in the fifth tie it at 1.
In the 10th, Fuld singled to center with two outs. Canha -- who said he was looking for a fastball to avoid getting jammed -- belted a ball off the left-center wall and Fuld dashed home.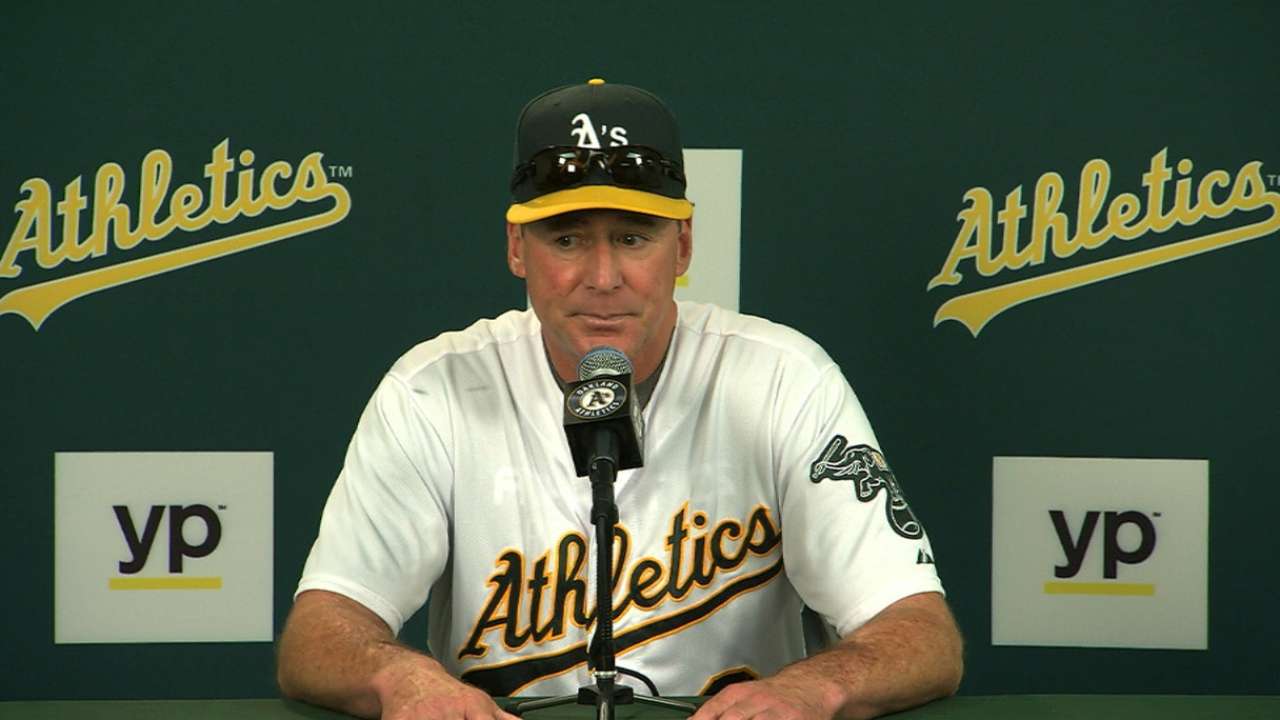 Canha, who pinch-hit for Josh Reddick in the fifth, entered the game 2-for-26 (.077) with no extra-base hits since the All-Star Break.
"For Mark to pick us up with that walk-off is something special," Reddick said.
The A's have lost seven of 10 and are last in the American League West, but Sunday was a step in the right direction.
"Any time you have a four-game series and you lose the first two, you're fighting uphill to even the series, and we were able to do that," Gray said. "Hopefully we can continue moving forward and run with these two."
"Totally different team wasn't it?" Reddick said.
Trevor Hass is an associate reporter for MLB.com. This story was not subject to the approval of Major League Baseball or its clubs.