Bauer latest Tribe starter to get scant support
Indians held to 7 runs in 4-game series, take split with A's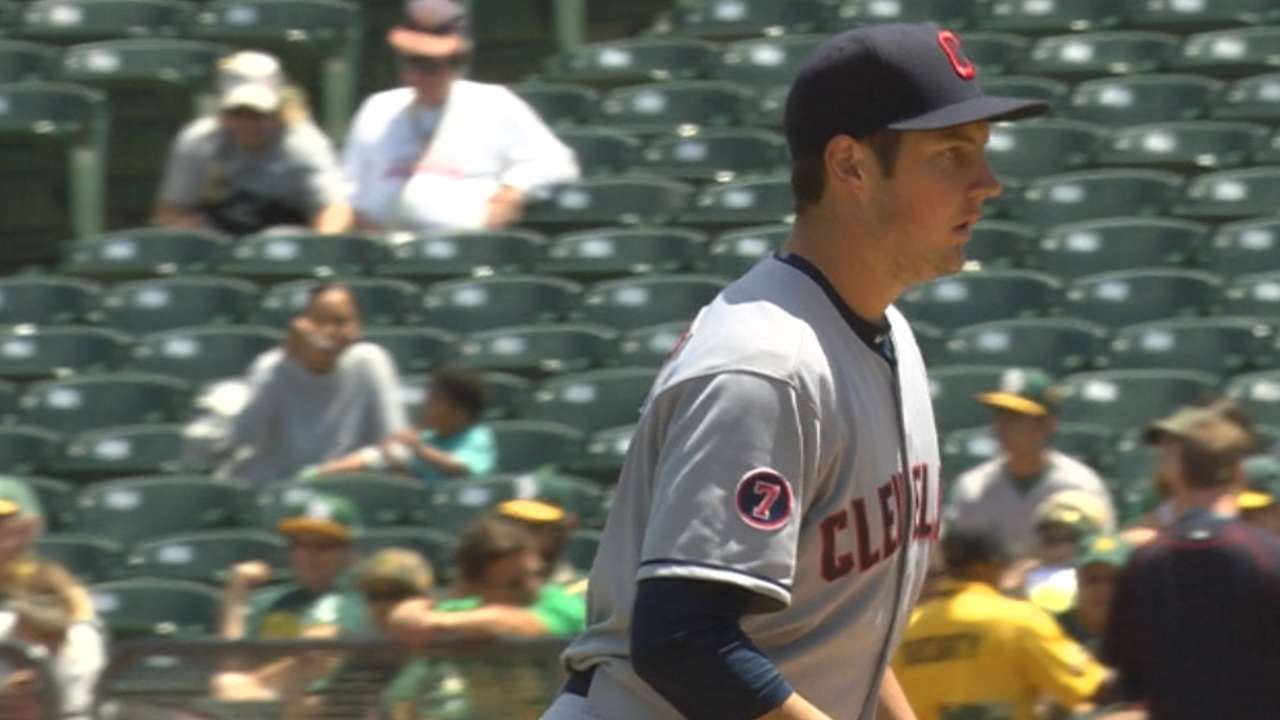 OAKLAND -- Trevor Bauer went over some of the video from his start on Sunday immediately after the Indians' loss to the A's. During the fifth inning, the young starter's command abandoned him for a brief stretch, but he also felt there were some check-swing calls that did not go his way.
"I thought one of them was for sure a strike," Bauer said after Cleveland's 2-1, 10-inning defeat at the Coliseum.
Such is the plight of the Tribe's pitchers these days.
In light of a consistent lack of run support, something as miniscule as a potential missed call becomes glaring. There has been little to no margin for error for Cleveland's pitching staff for much of the season, making momentary lapses in command or a close decision by an umpire costly.
It was the same story during Sunday's finale in Oakland. Bauer walked four batters over his 6 2/3 innings, but the young right-hander sidestepped harm for the most part and limited the damage to one run. In the home half of the 10th inning, Indians closer Cody Allen gave up a walk-off double to Mark Canha, but the reliever might never have seen the mound with a little more help from the offense.
Dating back to June 1, Cleveland's offense ranks last in the Majors with 174 runs scored.
"Shoot, we scored seven runs this series," Indians manager Terry Francona said. "We're probably fortunate we split, and we had a chance to get three out of four. We're going to have to do a better job manufacturing and scoring runs, because we're getting good pitching. We've got to win those games."
Bauer spun a complete-game gem in his previous outing, but was hung with a hard-luck loss after giving up a two-out homer in the ninth inning against the Royals on Tuesday. Corey Kluber and Carlos Carrasco followed with complete-game wins in the first two games, respectively, against the A's. Cleveland scored just one run each in the past two tilts, spoiling a quality start from Cody Anderson on Saturday and a solid showing from Bauer on Sunday.
Throughout this stretch, and more often than not over the past two months, the pitchers have faced high-stress innings.
Bauer downplayed the role low run support has played, though.
"If you have clean innings, then they're easy innings," Bauer said. "When you have people on base, then they're taxing innings. I don't think it has anything to do with good run support or bad run support, or the offense or the defense or anything like that. If you make good pitches, you have clearn innings, and it's not stressful."
The stress arrived for Bauer in the fifth inning, when he walked Eric Sogard and Marcus Semien consecutively with two outs. Oakland's leadoff man, Billy Burns, then slapped a 2-2 pitch down the left-field line for a single that scored one run, pulling the game into a 1-1 tie. That canceled out the sacrifice fly from Tribe first baseman Jerry Sands, marking the only breakthrough against A's starter Sonny Gray in his seven frames.
Bauer walked three batters in the fifth and ended with four free passes, along with six strikeouts and four hits scattered in his no-decision.
"He just lost his command for a couple hitters and that cost him a run," Francona said. "But, to his credit, he reeled it back in after that and had a couple more good innings."
Bauer was more concerned with the magnified mistakes.
"I walked four people, which is terrible," he said. "I gifted them a run and lost a game that we could've won. So, I'm not very happy about that. But, overall, I think I threw the ball OK."
Jordan Bastian is a reporter for MLB.com. Read his blog, Major League Bastian, follow him on Twitter @MLBastian and listen to his podcast. This story was not subject to the approval of Major League Baseball or its clubs.