Cespedes plays center with Grandy back in right
Mets manager Collins likes the versatility he has with all his outfielders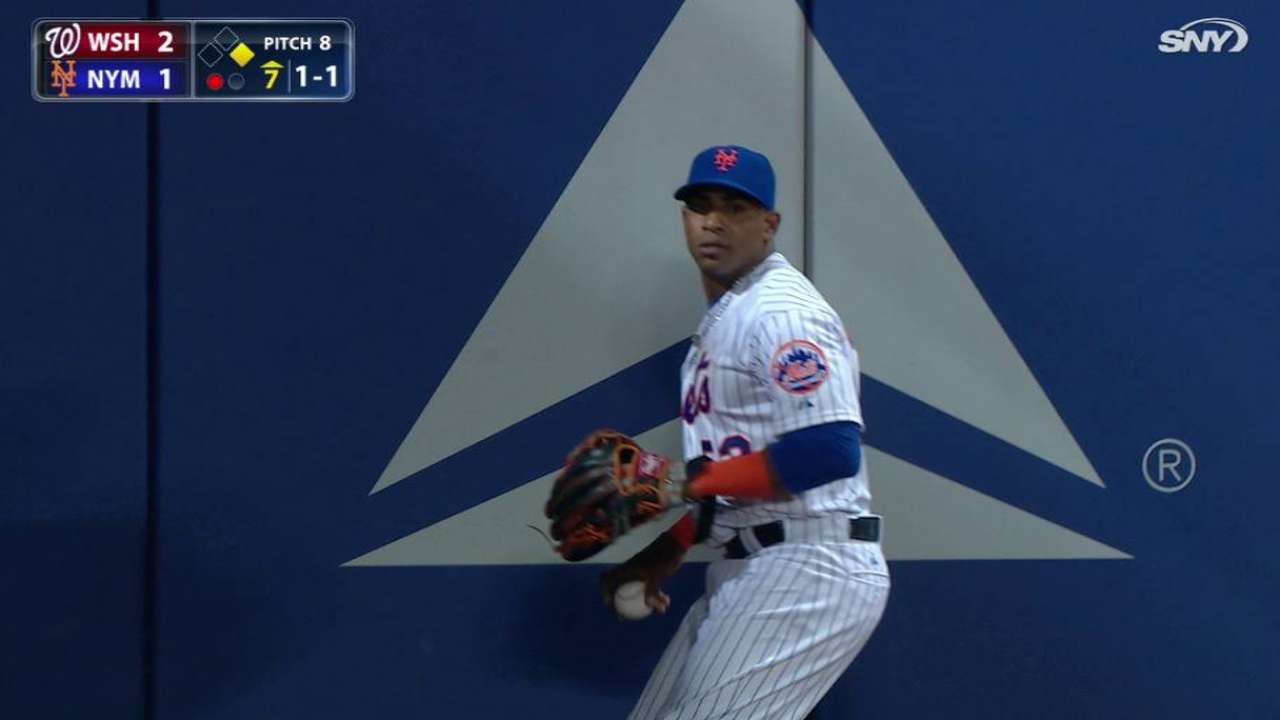 NEW YORK -- At this point in his career, Curtis Granderson doesn't care where in the outfield he plays. He's just making sure to check the lineup before jogging out to his habitual spot in right field.
It's no longer a given that Granderson will have a "9" penciled beside his name on every lineup card. The Mets' trades for outfielders Yoenis Cespedes and Kelly Johnson have led manager Terry Collins to consider fiddling with his outfield combinations to create better day-to-day matchups.
As of Sunday, the Mets have five outfielders on their active roster. Only two of them -- rookie left fielder Michael Conforto and Gold Glove center fielder Juan Lagares -- are limited to one outfield position. That leaves Collins with room to mix-and-match.
On Saturday night, the shuffling ended with Granderson in center field, flanked by Cespedes in left and Johnson in right. The Nationals didn't wait to test his memory of the position -- Anthony Rendon led off with a deep line drive that forced Granderson to track back and reach behind him to snare a potential extra-base hit.
"That necessarily wasn't the ball I wanted right away," said Granderson, who managed eight comfortable innings in center.
In Sunday's 5-2 win, the Mets started the same three outfielders, each in a different position. Cespedes patrolled the middle, with Johnson in left and Granderson back in right field.
Shortly after his arrival at Citi Field, Cespedes met with Collins and told him he would prefer to play center field. It's the position he grew up playing in Cuba, and he shifted to left only to accommodate Coco Crisp in Oakland.
Putting Cespedes in center relegates Juan Lagares to the bench, where he'll be used as a late-game defensive reinforcement and platoon bat against left-handed starters.
Add in the anticipated returns of Michael Cuddyer, who can play in either corner, and Kirk Nieuwenhuis, who's played all three outfield spots, and Collins has plenty of combinations at his disposal.
He's willing to use them, too.
"I'm comfortable with everybody," Collins said. "I'm comfortable with moving those guys around. They've played in other spots."
As for Granderson, he doesn't have a preference between center field and right field. He's always been more comfortable running to his right to chase down fly balls, he said, but that doesn't affect his ability to man the wider area in center field.
Until the Mets' suddenly versatile roster settles into an everyday lineup, Granderson's making a point to check the lineup card before going anywhere.
"I'm just trying to see the right number and hope I get to the right spot," he said with a grin.
Alden Woods is an associate reporter for MLB.com. This story was not subject to the approval of Major League Baseball or its clubs.