MLB.com Columnist
Barry M. Bloom
Mets trying to be creative to preserve young arms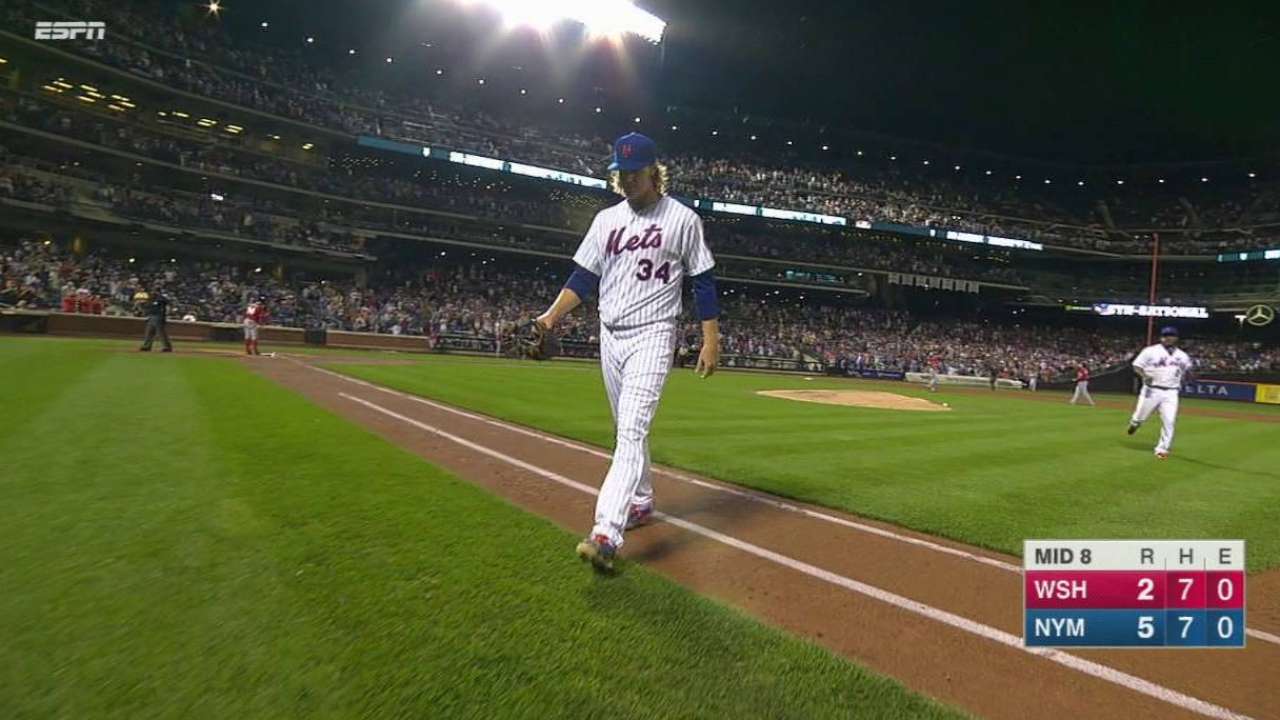 NEW YORK -- Even though studies have been done that debunk the strategy, Mets manger Terry Collins said on Sunday night that the club hierarchy intends to restrict the innings of New York's top three young starting pitchers even if the Mets make the playoffs.
The Mets are wary that too heavy a workload will cause injuries to either Noah Syndergaard, Matt Harvey or Jacob deGrom. The latter pair have already had Tommy John surgery.
"I don't think there are any three set numbers you can write down and say, 'They can't go past these,'" Collins said before Syndergaard pitched eight strong innings in the Mets' 5-2 win at Citi Field to complete a sweep of the Nationals and forge a tie atop the National League East. "I think there's a general area, 'Hey, look, we've got to watch it.' There's a maximum area that they're allowed to get to."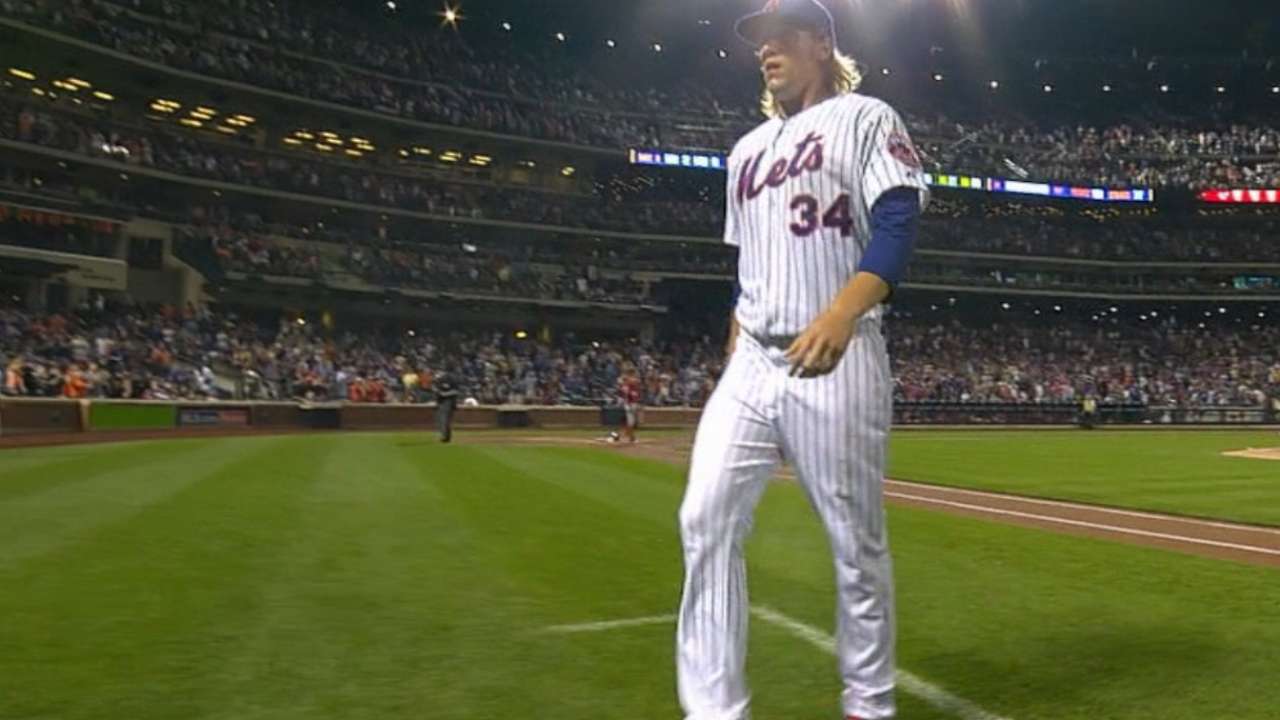 The Mets tried a six-man rotation earlier in the season, but Collins ran into quite a bit of resistance, particularly from Harvey, who feels more comfortable pitching in a rhythm every fifth day. That ended when rookie Steven Matz -- who had Tommy John surgery as a 19-year-old -- went on the disabled list on July 10 with a partially torn lat muscle on his left side.
Collins said Matz could be back in early September and he may revert to the six-man rotation at that point. The veteran skipper even said he might employ someone else as a spot sixth starter before then. But if that doesn't happen, Collins was pretty succinct about the results.
"Right now, with them on this five-day plan, they're going to get to those limits, and if they're tired, they're not pitching anymore," he said.
The strategy didn't work for the Nationals, who withheld Stephen Strasburg from the 2012 postseason during his comeback from Tommy John surgery because the right-hander reached his innings limit of 159 1/3 and didn't pitch again after Sept. 7.
The Nationals lost an NL Division Series to the Cardinals, and Strasburg has had two stints on the disabled list this season because of neck and back injuries, limiting him to only 13 starts.
A study conducted by the University of Waterloo and published this past April 6 in the Journal of Sports Medicine and Physical Fitness, determined that limiting innings pitched has no positive effect on preventing the recurrence of elbow ligament injuries.
"Conventional wisdom among coaches and managers is that restricting innings for young starting pitchers, and slowly increasing the number of innings pitched over several years, gives pitchers' tissues sufficient time to adapt to the workload of a Major League season," said Thomas Karakolis, lead investigator on the study. "But all our data shows that these strategies really make no difference in preventing injury."
Additionally, John Smoltz, the first pitcher to have Tommy John surgery to be inducted into the National Baseball Hall of Fame, said in his speech at Cooperstown, N.Y., on July 26 that the elbow injury is an "epidemic," adding that current methods are not preventing it from recurring.
"They've perfected the ability to come back from it, but they've not perfected the ability to prevent it, or to prevent another one," Smoltz said.
The study examined 761 individual seasons experienced by pitchers 25 years old or younger from 2002-07 and concluded that there was no direct correlation between innings pitched and preventing injury. Instead, the study concluded that teams need to invest in individual biomechanical assessments of each of their pitchers to try to prevent injuries.
"Injury is the result of workload exceeding the capacity of the body's tissues, so while counting innings is a tempting way to measure workload, it's actually a very flawed method," Karakolis said. "If coaches are looking for ways to prevent injury, simply limiting the number of innings is not the answer. They have to look at how hard a pitcher's body is working during each inning, each pitch."
The Mets are on a tear right now. They addressed their offensive issues prior to Friday's non-waiver Trade Deadline by acquiring Juan Uribe and Kelly Johnson from the Braves, and in a major last-minute surprise, Yoenis Cespedes from the Tigers.
Mets fans are free now to dream. The Mets heading into a best-of-five NLDS with a big three of Harvey, Syndergaard and deGrom starting the opening three games is formidable under any circumstances. But Collins couldn't guarantee that would happen.
Asked if they do reach their individual innings thresholds before the end of the regular season, Collins demurred about their postseason availability.
"It's too early to say," Collins said. "We aren't even close to being there yet. When that point comes, then we can make those decisions. But I'm not going sit here and look into a crystal ball and be able to tell you, 'This guy's not going to be able to pitch in the playoffs.'
"One of the things that I got crucified for was the six-man rotation, which is going to keep these guys rested enough. Even though they might have reached their pitch limits, the rest was going to allow them to pitch in the playoffs."
As of now, Syndergaard has already thrown 135 1/3 innings this season between the Mets and Triple-A Las Vegas. Harvey has tossed 133 innings and deGrom 133 1/3, plus another inning in the All-Star Game.
The Nationals never gave Strasburg the opportunity to stretch the innings out. They wanted him to pitch every five days, and when he ran out of innings, his season ended. The Mets are trying to find some creative ways of not allowing that to happen to their young starting pitchers.
Barry M. Bloom is a national reporter for MLB.com and writes an MLBlog, Boomskie on Baseball. Follow @boomskie on Twitter. This story was not subject to the approval of Major League Baseball or its clubs.