Gomez loving 'Club Astros' environment
Center fielder delivers decisive hit, feels he's fitting right in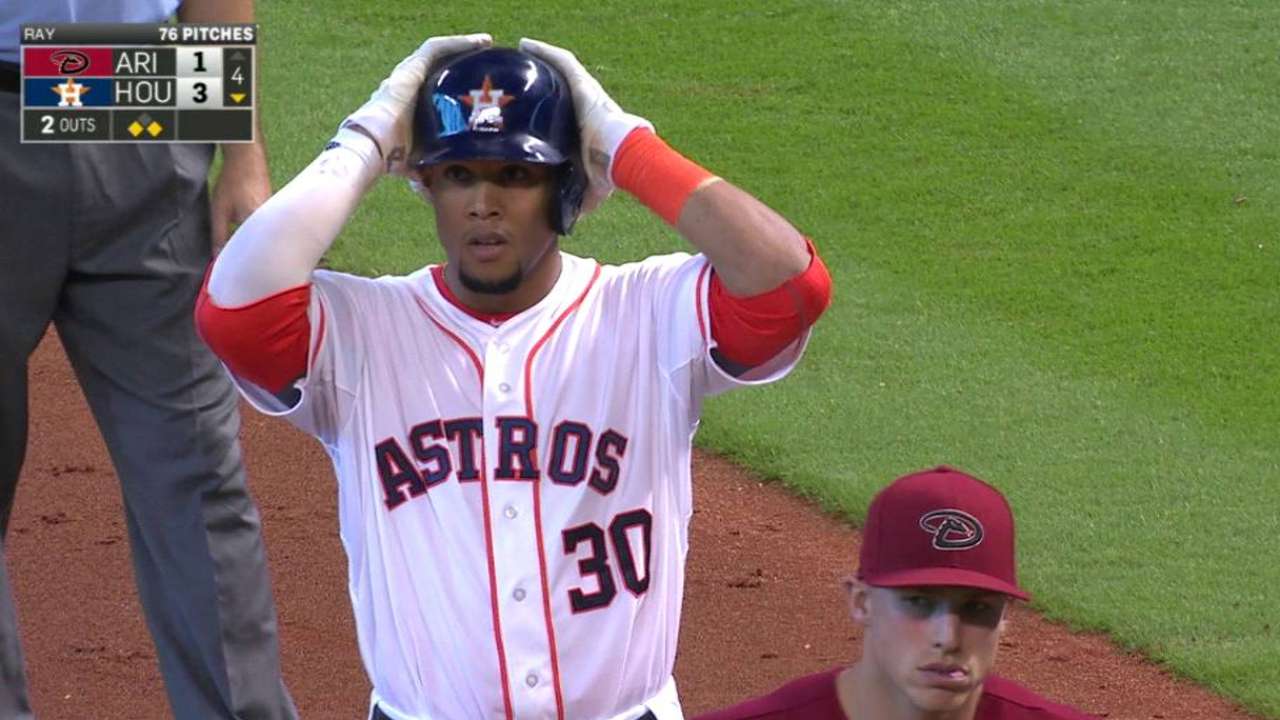 HOUSTON -- Walking in to any new environment is daunting. For the uninitiated, walking into the Astros' clubhouse after a win, though, it can get a bit more cumbersome.
Created by George Springer, fog envelops a darkened room as strobe lights flash to the beat of techno music in "Club Astros" after each victory, and it was no different after Sunday's 4-1 win over the D-backs.
"I'm fine anywhere, but I love here," said Carlos Gomez as the fog thinned. "Those guys make me feel sexy."
Gomez, now a veteran of two nights in "Club Astros," seems to be gelling seamlessly with his new teammates, who are equally as happy to add another energetic body to an already vibrant team. Gomez collected his first two Astros RBIs on Sunday, knocking Robbie Ray's 2-2 offering through the right side for a two-run single to break a 1-1 tie in the fourth inninig.
The center fielder had a 3-for-5 night in Saturday's 9-2 win, rounding out his average to .286 in his first three games with Houston.
"I feel more like an Astro now," Gomez said. "My first game coming to the plate from this side, I felt weird. Now I'm feeling better coming here, getting to know a little about everybody. I know pretty much everything and the team and I just prepare to play. My first three games, we win the series, so we got off to the right way."
Normally renowned for his helmet-coming-off powerful swing to all parts of the field, Gomez was forced to adjust Sunday, staying inside to drive the ball the other way with the bases loaded, just past diving second baseman Cliff Pennington to drive Chris Carter and Jason Castro home.
Gomez took a wide turn around first and immediately let out a few claps.
"I was fired up," Gomez said. "Every hit counts and when you produce to win games, it's special. Every time I get on base, get a double, I enjoy it like a kid with candy. When you see around you everybody smiling, everybody playing hard, everybody having fun, you can't contain it."
Gomez deflected praise after the game, though, instead choosing to heap compliments on Collin McHugh, who rebounded from a wobbly second inning to stifle the D-backs for seven innings of one-run ball, and the bullpen that followed him for two scoreless innings.
It's a relationship that's beginning to bud both ways.
"Huge hit today, that was probably the turning point in the game, honestly, when we break it open there," McHugh said. "High energy guy, love it. Fits right in and I'm excited to see what he continues to keep doing."
Chandler Rome is an associate reporter for MLB.com. This story was not subject to the approval of Major League Baseball or its clubs.