MLB.com Columnist
Lyle Spencer
Ethier nears LA record with 14th walk-off hit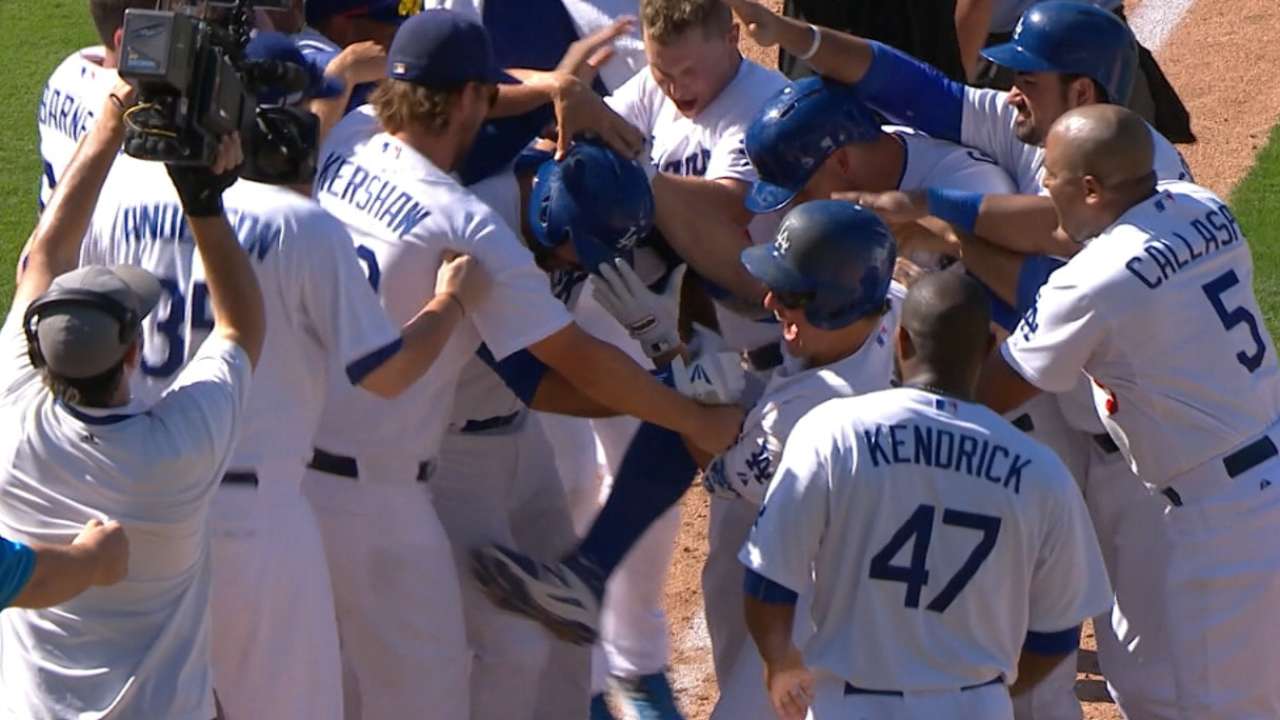 LOS ANGELES -- Andre Ethier had a lot to draw on as he stepped in to face Angels reliever Drew Rucinski in the 10th inning on Sunday afternoon in front of another packed (52,116) Dodger Stadium house.
Ethier, the Dodgers' veteran outfielder, has a long history of thriving in big moments. He also had what his manager, Don Mattingly, felt every hitter longs for: personal momentum. It was provided by a go-ahead home run he'd struck to dead center field two innings earlier.
Rub all those flammable elements together, and the upshot was a 5-3 Dodgers victory and sweep of their Freeway Series rivals. Ethier unloaded his sixth career walk-off home run following Adrian Gonzalez's one-out walk. His 14th career walk-off hit has him second in Los Angeles franchise history to Dusty Baker's 16.
"Yeah, because you feel your contact point in your swing," Ethier said, agreeing with Mattingly that he carried momentum into his decisive at-bat of a long, hot day. "That's the difference. A lot of guys get hits and they start falling in.
"When the count got to 3-1, I wanted to give it a shot -- a good, aggressive swing, see if I can get something in the air."
Mission accomplished.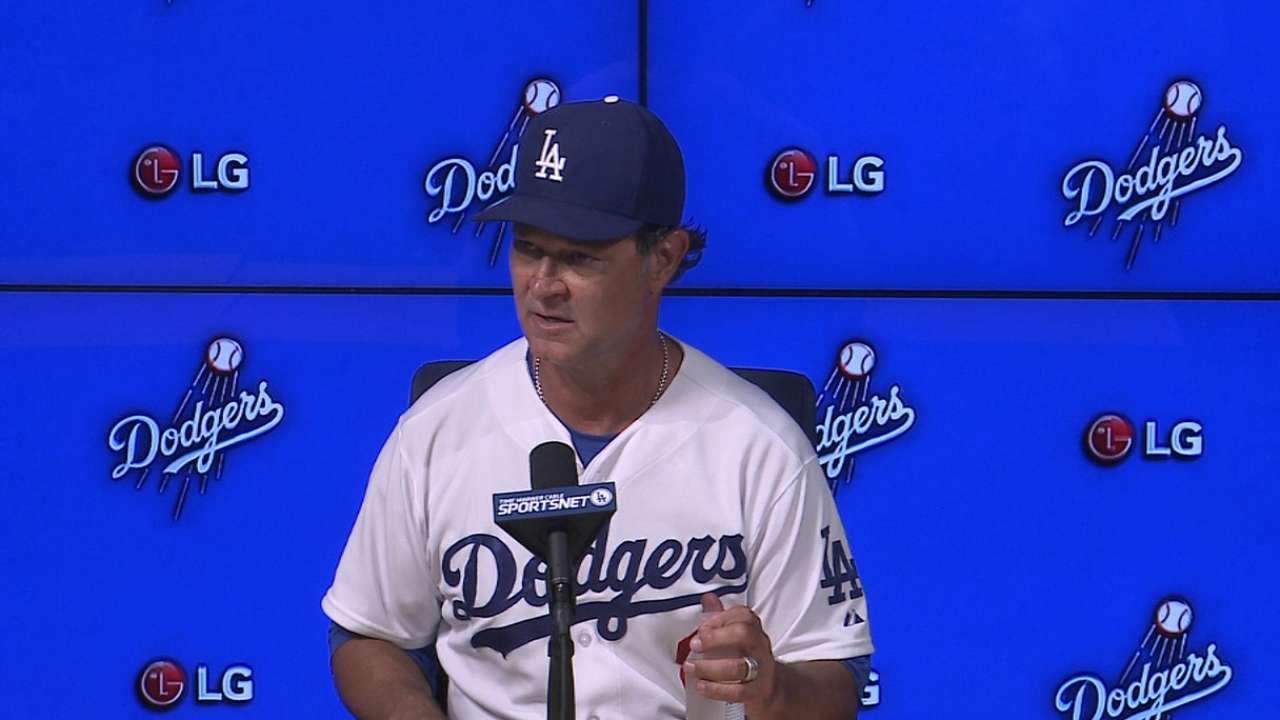 Mattingly, who had more than a few days like this as the Bronx Bomber's showcase slugger of his era, might have flashed back to his Yankees prime watching Ethier carry all the good feelings from one at-bat to the next -- and doing serious damage.
"There's momentum, for sure," Mattingly said. "Any time you hit a ball out to center, it's a great feeling. You know your swing's intact. That's a great feeling, obviously -- but not quite as great as the [walk-off] one."
The Dodgers were delighted with the first dividend in their huge swap at the non-waiver Trade Deadline. Mat Latos, the big right-hander with nasty stuff who was acquired from the Marlins on Thursday, was on target through six strong innings, giving up one run on four hits and a walk.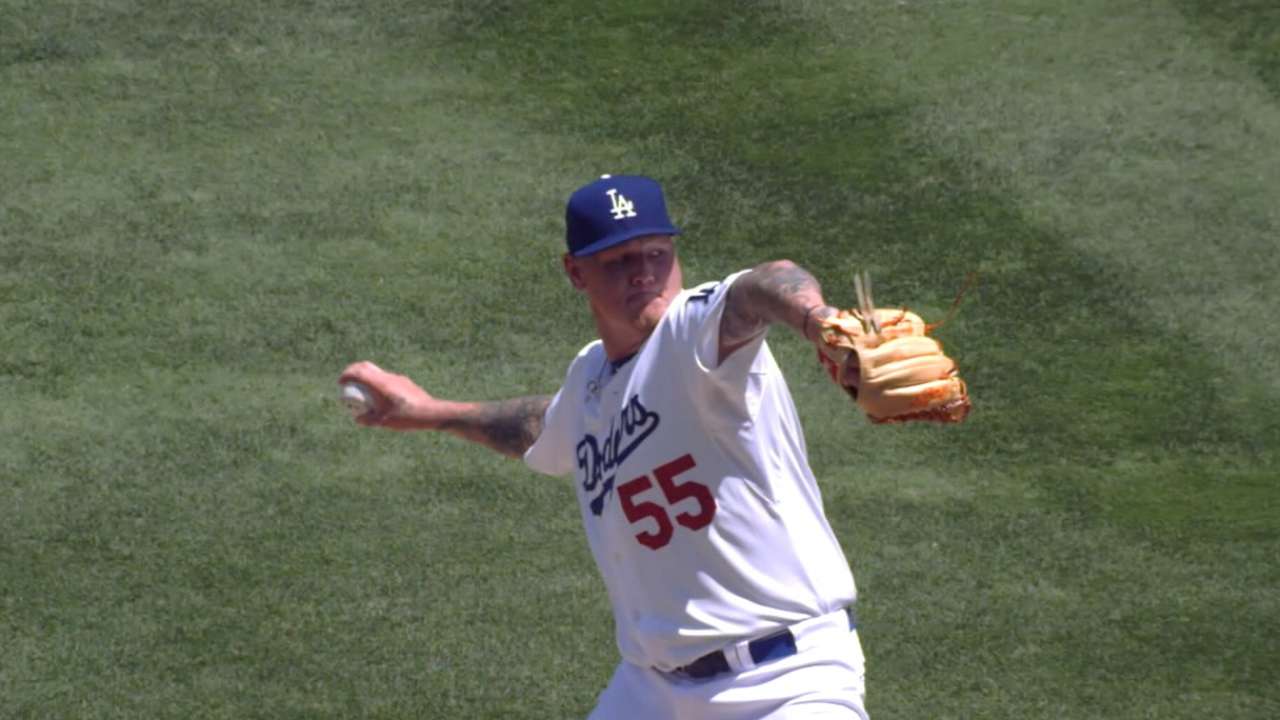 • Latos shines in Dodgers debut
The other starting pitcher the Dodgers got in the three-team swap, former Braves southpaw Alex Wood, will open the Dodgers' series in Philadelphia on Tuesday night.
"We've done our work for the first four [months]," Ethier said, adding that there is a lot left to be done with the defending World Series champion Giants chasing them, down by 2 1/2 games in the National League West.
Ethier came to Spring Training as the fourth or fifth wheel in a deep outfield, burning to show he still had all the right stuff from the left side in what would be his 10th season at age 33.
He let it be known that he wouldn't be averse to a move. The new management team -- having sent Matt Kemp to San Diego in a deal that delivered their terrific catcher, Yasmani Grandal -- resisted any impulse to trade Ethier.
It turned out to be a wise decision. Ethier, thrust into a prominent role with Carl Crawford and Yasiel Puig spending time on the shelf, has been invaluable.
His two-homer outburst brought Ethier's season slash line to .280/.362/.480. He hasn't had a slugging percentage this high since his .493 in 2010. He owns 12 homers and 37 RBIs, scoring 39 runs, and his ability to make consistent contact for productive outs has kept rallies breathing.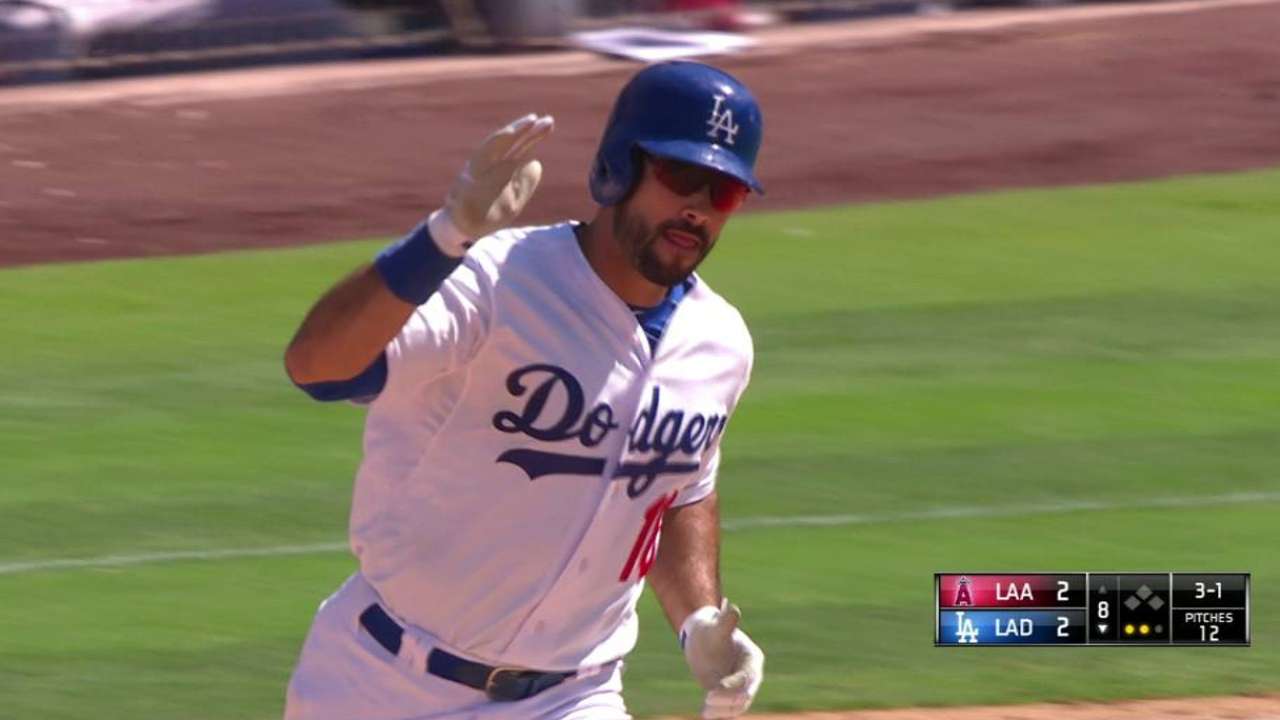 He has played commendable defense at both corner-outfield spots, showing off his strong, accurate arm.
Ethier hit cleanup in the series finale against right-hander Cory Rasmus, an emergency starter with C.J. Wilson's elbow issues putting his season in jeopardy and Jered Weaver (hip inflammation) not quite ready.
"Not playing for three days" including a day off on Thursday, Ethier said, "it's difficult to get into playing [form] again. My first two, three at-bats [groundout and two strikeouts] weren't too good. I wanted to get that fourth one up to speed -- and did."
The Angels fell behind in the third on ex-Angel Howie Kendrick's two-run homer off Rasmus but drew even courtesy of Kole Calhoun. He doubled and scored in the sixth and hammered a solo blast to left center in the eighth off Jim Johnson, the Dodgers' newly acquired reliever.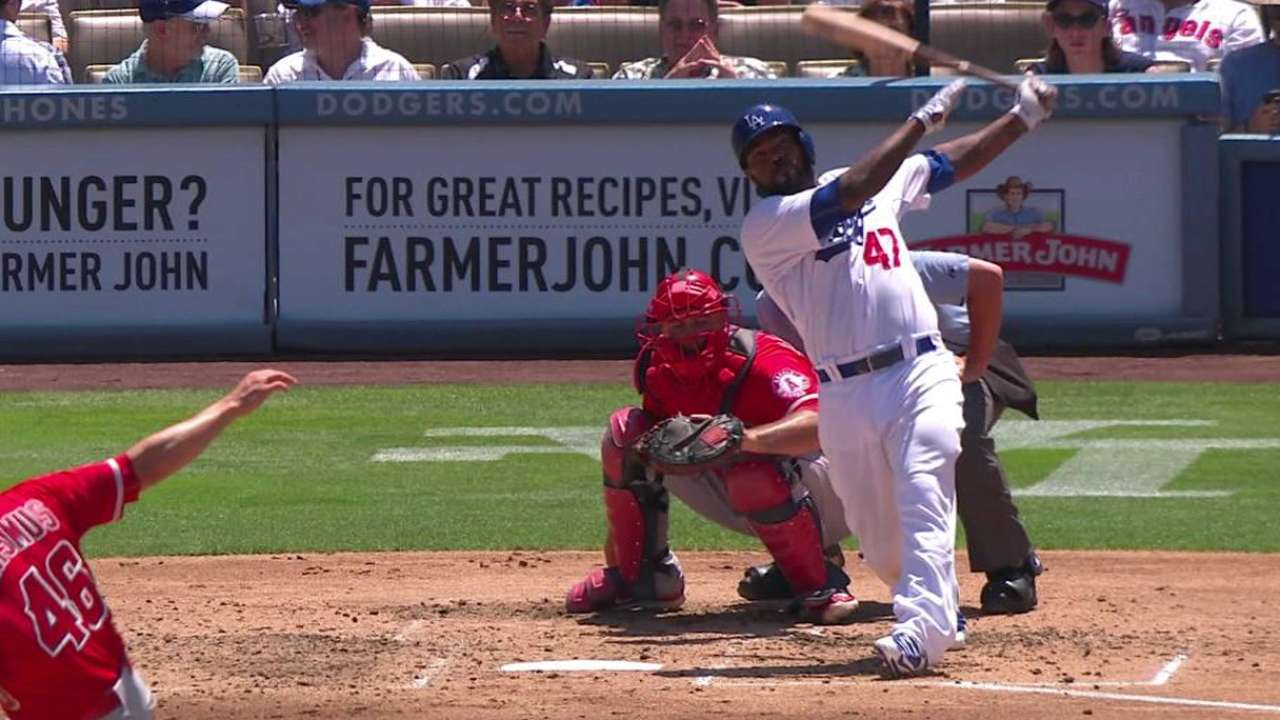 Facing right-hander Joe Smith in the bottom half, Ethier took a strike at 3-0 and then unloaded the go-ahead homer to dead center.
The celebration among blue-clad partisans didn't last long. Chris Iannetta banged a two-out RBI double to deep center off Pedro Baez to tie it in the ninth.
After Baez sailed through the 10th -- Mike Trout was 0-for-5, robbed of a hit by Kendrick at second -- it was left for Ethier to pump a fist rounding the bases.
"I was just excited, happy in the moment," the man of the hour said.
Lyle Spencer is a national reporter and columnist for MLB.com. Follow him on Twitter @LyleMSpencer. This story was not subject to the approval of Major League Baseball or its clubs.