'Staff day' leaves Angels weary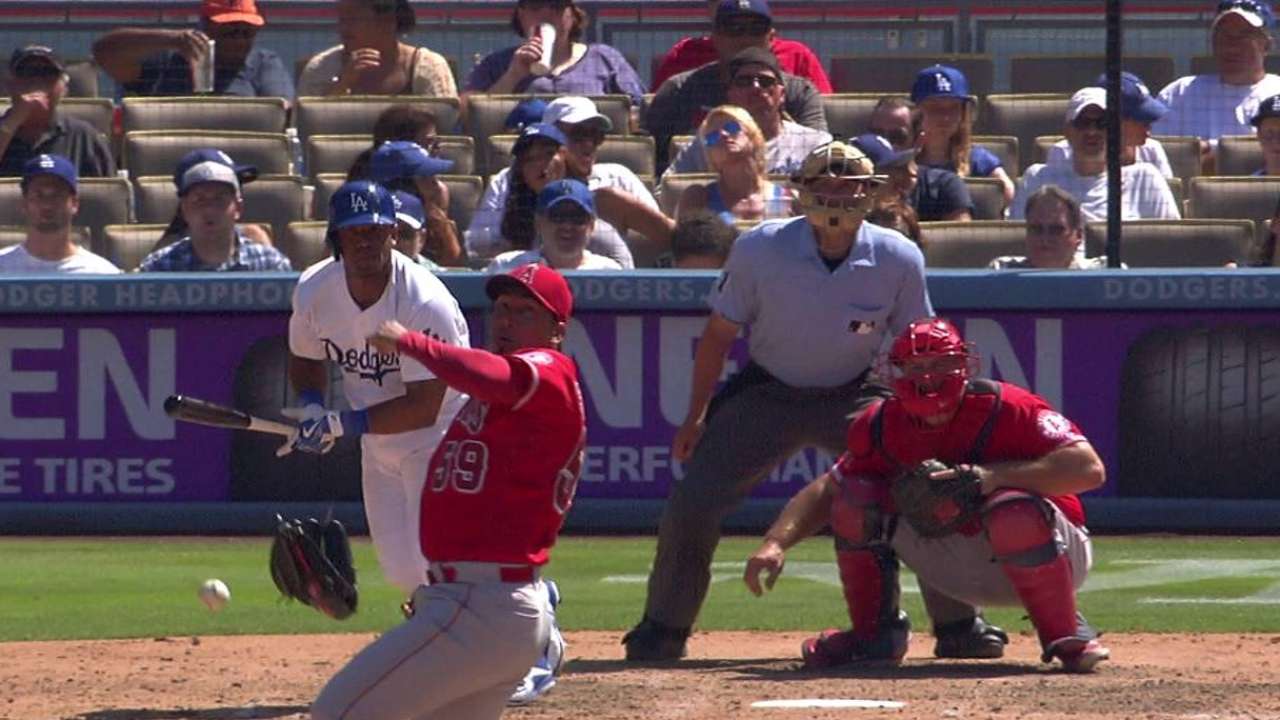 LOS ANGELES -- The Angels threw nearly everything they had against the Dodgers on Sunday, and they still lost their sixth straight game. Six relief pitchers and 12 position players only produced a 5-3, 10-inning loss on Andre Ethier's walk-off two-run homer off Drew Rucinski at Dodger Stadium.
Rucinski entered the game in the 10th as the Angels' only option out of the bullpen other than closer Huston Street, who was being held back for a save situation. (It's also possible that, had the game gone long enough, starter Matt Shoemaker could have come out of the bullpen as an emergency option.)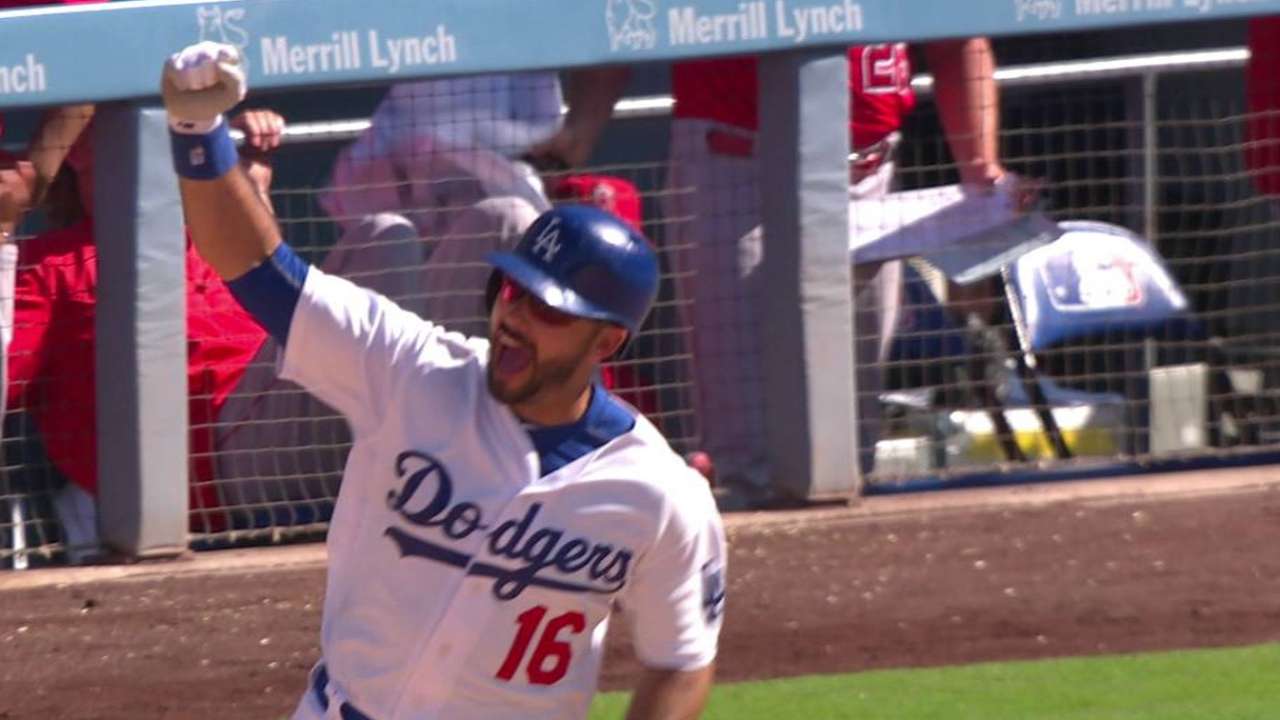 "That situation will happen -- you've just got to deal with it, do what you can," Rucinski said.
The Angels' pitching staff was pushed to its limits because of what manager Mike Scioscia calls a "staff day." With scheduled starter C.J. Wilson going on the disabled list Friday with bone spurs in his pitching elbow, the Angels trotted out a string of relievers, headed by Cory Rasmus. Rasmus started multiple times in similar situations down the stretch in 2014, after Garrett Richards' season-ending injury.
"These staff days are a last resort, and we needed it today, and our guys did a great job with it," Scioscia said. "We just didn't quite have enough."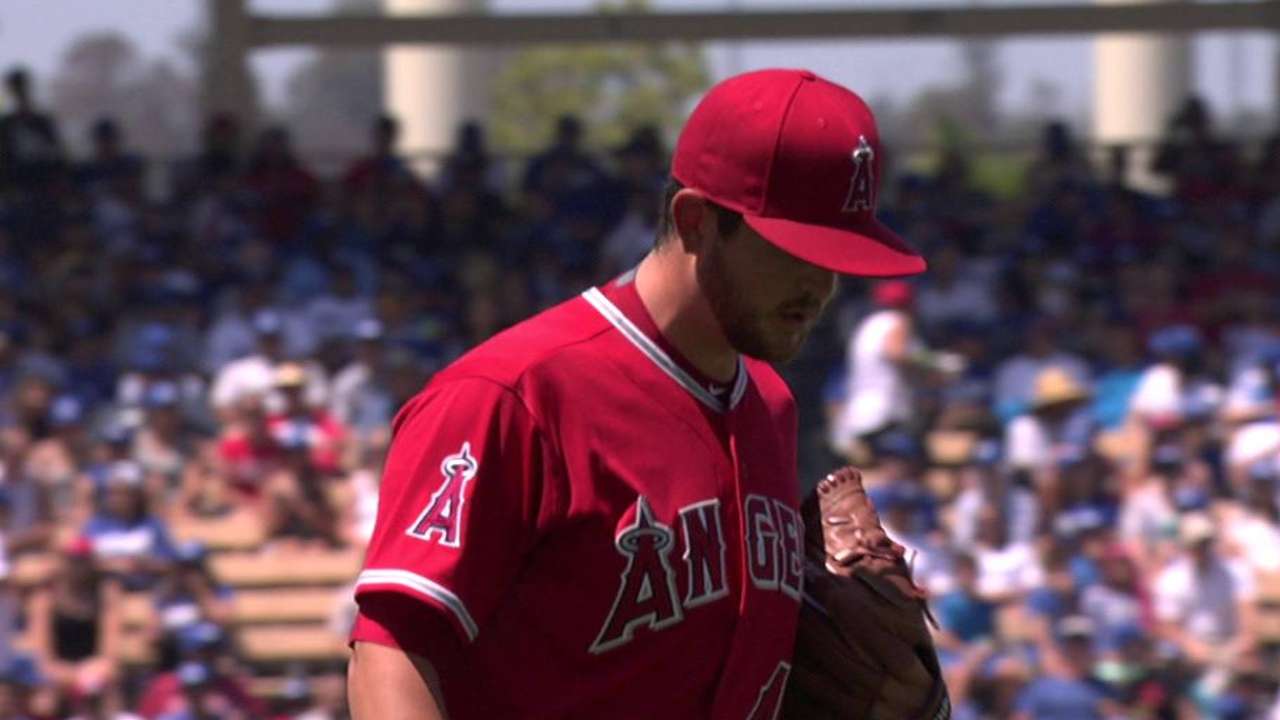 On Sunday, the Angels' relievers turned in a strong performance given the circumstances, but after 10 innings all the Angels had nothing to show for it but their sixth straight loss and their ninth in 10 games. The Angels have been swept by the Astros and Dodgers back-to-back, and they've fallen four games back of Houston in the American League West as a result.
"We were up against it going with a staff day against a lineup like the Dodgers have," Scioscia said. "I tell you what, I thought we pitched great. ... Whoever was in there pitched their hearts out. Our guys got after it, we played hard and that's a good sign."
Rucinski was the pitcher called up from Triple-A Salt Lake when Wilson was placed on the DL; after surrendering the walk-off homer, he was optioned back down.
The Angels' corresponding move, which will come on Monday, will presumably be to call up a pitcher who could eat innings and help give the bullpen a breather.
Street and setup man Joe Smith, who pitched the eighth innin Sunday -- and gave up his first home run since Aug. 10, 2014, a span of 64 appearances -- are good to go. The Angels haven't used them much during their losing streak. Several relief pitchers, though, will be unavailable on Monday.
"It's definitely a concern," Scioscia said. "Some guys pitched a lot this series, pitched a lot in Houston, staff day when everybody's pitching. Trevor Gott's pitched a lot, Fernando Salas has pitched a lot. Huston and Joe are fine, they're fresh, but getting to them -- we need our starters to get to a certain point."
David Adler is an associate reporter for MLB.com. Follow him on Twitter @_dadler. This story was not subject to the approval of Major League Baseball or its clubs.