Welcome, Mat: Latos shines in Dodgers debut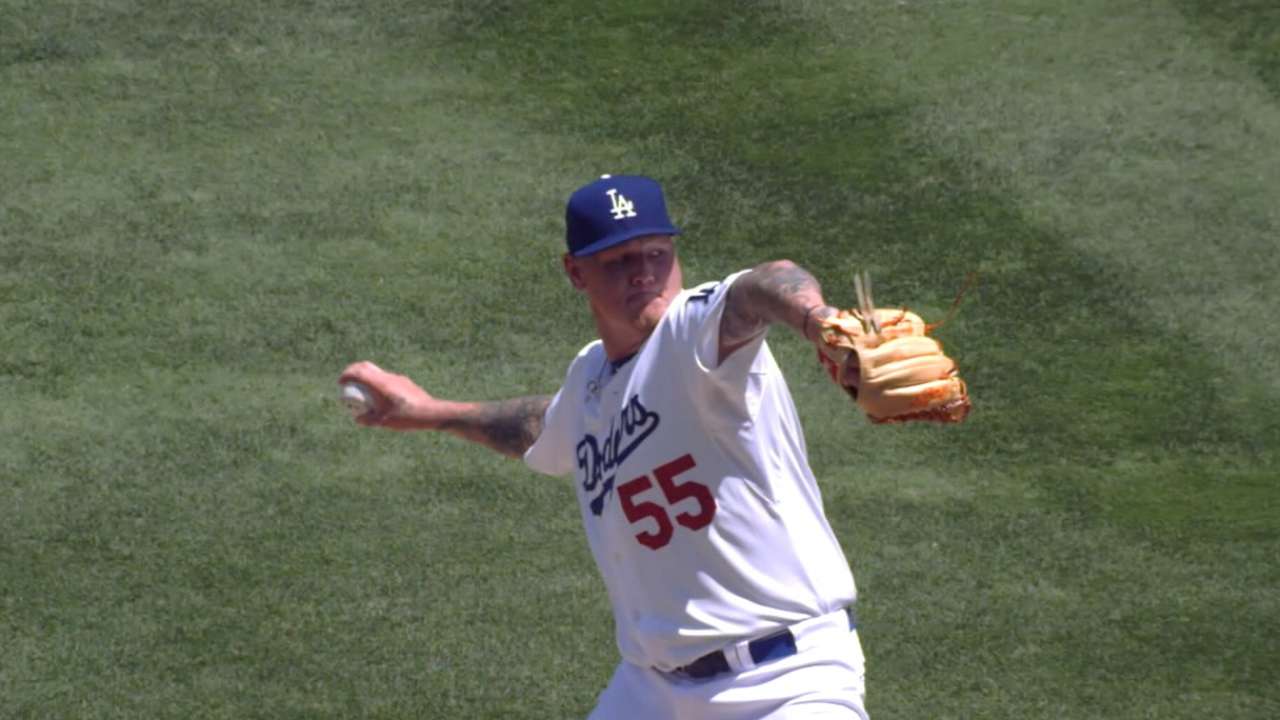 LOS ANGELES -- It didn't take much for Mat Latos to surpass his last debut after being traded.
On April 7, his first outing with the Miami Marlins after being traded in the offseason, Latos allowed seven runs in two-thirds of an inning. Latos was much better in his first start with the Dodgers, allowing one run on four hits over six innings in a 5-3 win over the Angels on Sunday.
Latos settled for a no-decision, as the game wasn't settled until Andre Ethier hit a walk-off home run in the 10th inning.
"I'm just glad I didn't get booed like I did in my first start in Miami," Latos said. "I was nervous when I woke up this morning. I was nauseous. I didn't eat much, I think I had a banana and a Red Bull."
This was the latest in a string of good outings for Latos since the right-hander came off the disabled list on June 13. In eight starts since his knee was drained while he was on the shelf, Latos owns a 2.79 ERA -- a stark improvement from the 6.12 ERA he owned in his first nine starts.
"Ten times better," Latos said of his health since returning from the DL. "It's hard to explain. Imagine having a lot of fluid in your knee, a lot of pain. That's my landing foot so I'm putting all my weight on that knee. It's allowed me to clear that front side and drive the ball down."
Latos, who was lifted after 80 pitches on Sunday, has gone six straight starts without reaching 100 pitches.
"His last six or seven, the 90s is as far as he's been," manager Don Mattingly said. "For his first time out, he got us where we wanted to be. I felt like he did his job today."
The only blip of the day for Latos was a leadoff double to Kole Calhoun in the sixth inning. While Calhoun scored in the process, Latos induced three straight first-pitch groundouts from the heart of the Angels' order, Mike Trout, Albert Pujols and David Murphy.
"A lot of good. Mat was really good," Mattingly said. "He was aggressive and I didn't see any fear in him at all, whether it was Trout or Pujols, he was attacking guys."
After being traded on Thursday, Latos had to make the cross-country trek from Miami to Los Angeles, arriving early Saturday morning. Latos said he had been working on around three hours of sleep and one of his lone sources of preparation for his matchup against the Angels was watching Zack Greinke's start against them from Friday.
"I was a little fatigued from being jet-lagged and getting into West Coast time," Latos said. "It's been a crazy couple of days."
Steve Bourbon is an associate reporter for MLB.com. This story was not subject to the approval of Major League Baseball or its clubs.