Rockies hope Arenado's HR a slump buster
Third baseman hits 26th homer in Saturday's loss to Cards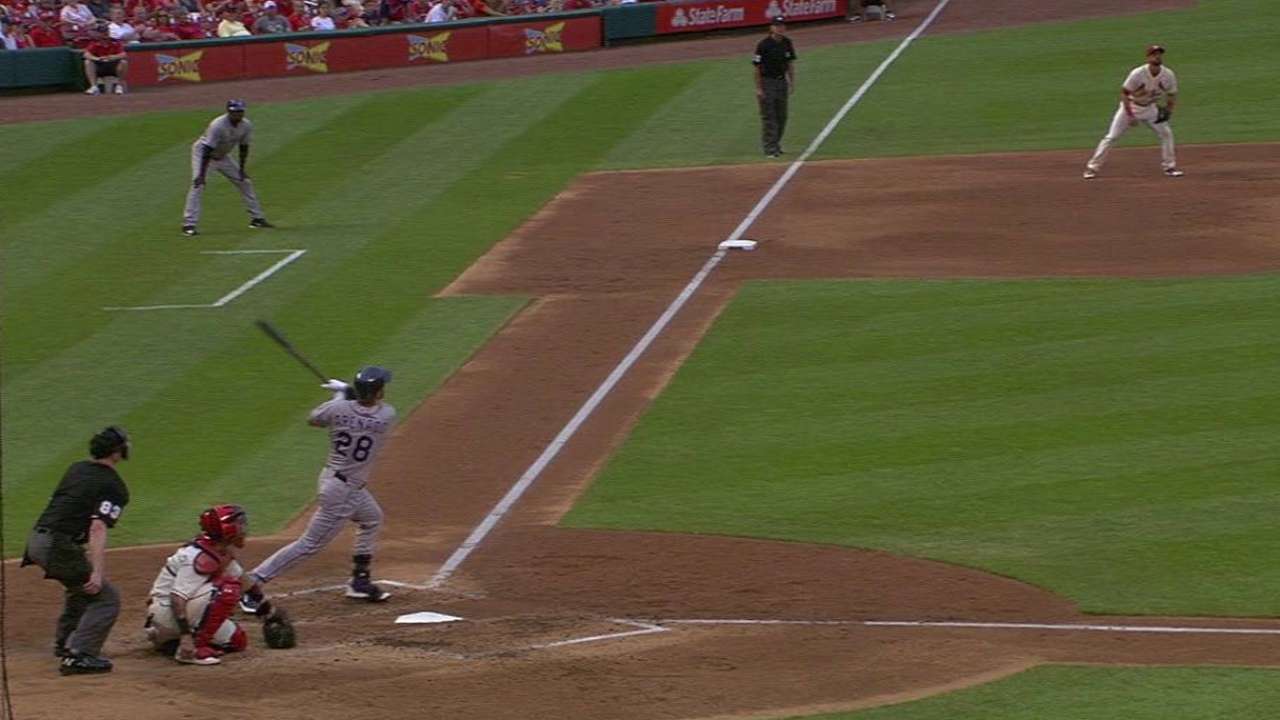 ST. LOUIS -- Third baseman Nolan Arenado's slump snuck up on the Rockies.
Between June 28 -- the day after he homered twice in a loss at San Francisco -- and Friday, Arenado hit .230 with just one home run. However, there was just one three-game hitless streak, and 10 of his 23 hits during the span were doubles. Add that with his consistently dazzling defense and the fact he appeared in his first All-Star Game, and the fact his average had dipped wasn't glaring.
But Arenado homered -- his 26th of the season -- and went 2-for-5 in Saturday's 6-2 victory over the Cardinals, and now the Rockies hope he can rebound. Arenado was hitting .293 before the downturn.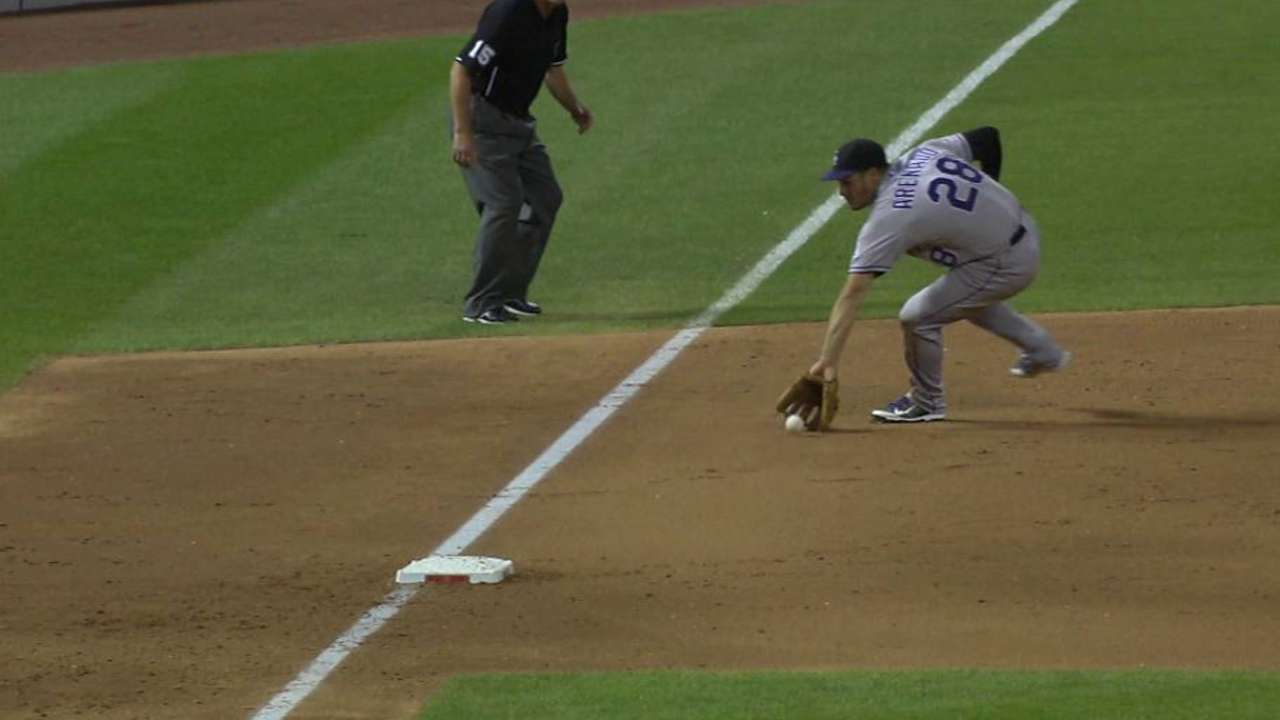 "He's in a good place," Rockies manager Walt Weiss said. "He was so hot for a while, expectations sometimes get unrealistic. But he's having a great year. When he's had some tough games, he doesn't stay down for long. That's the thing I like from Nolan this year. It doesn't turn into 20 or 30 at-bats. He's able to right the ship quickly and get rolling again."
Worth noting
• Fans have questioned the Rockies allowing right-hander Kyle Kendrick to pitch through shoulder fatigue for much of the season, but Weiss explained that the situation didn't reach the point of injury until Friday night. Kendrick came out after one inning, and will undergo an MRI on Monday.
Pitchers commonly pitch through discomfort -- if they didn't, there would hardly be any pitchers. But Weiss explained that there is a difference between the issue Kendrick fought before the All-Star break and what is being treated as injury.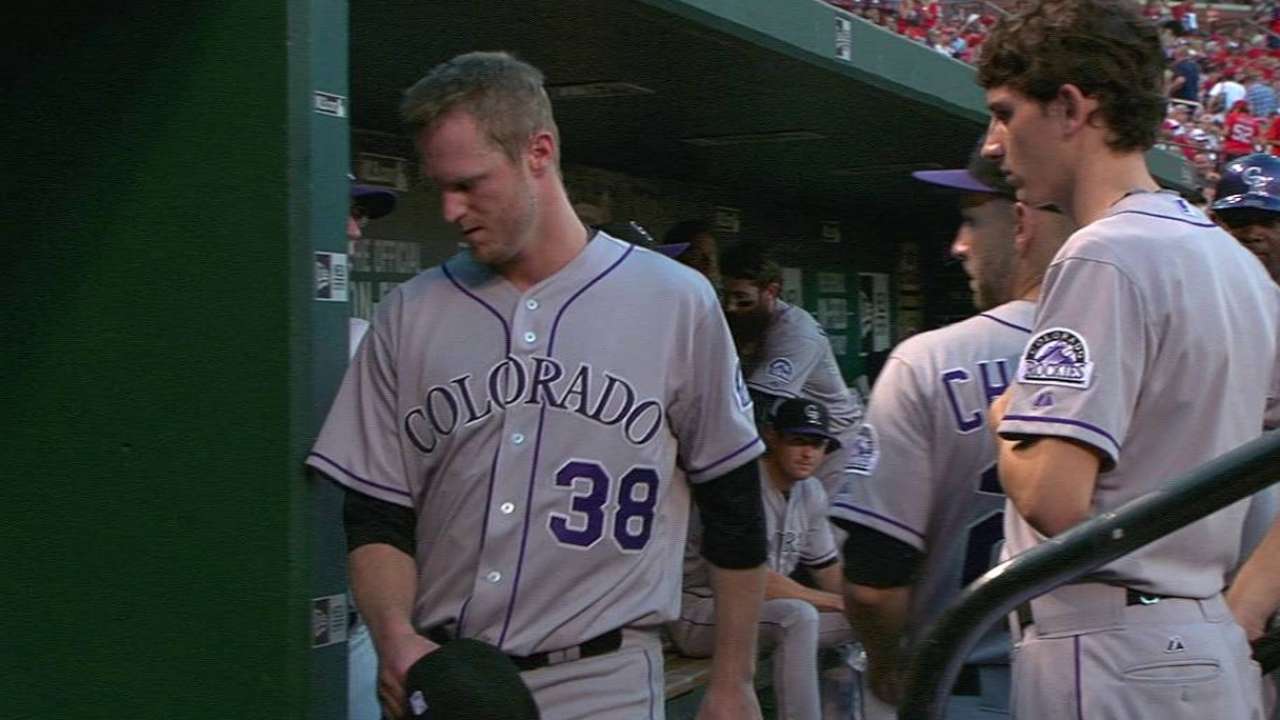 "He's been fine -- he had some shoulder fatigue before the break, but he was never in pain; he's never had any pain," Weiss said. "There was no reason to take him out of the rotation, physically. Everything [velocity, pitch action] was the same.
"It's a little bit more sore this time and we saw the drop in velocity. So that was a red flag in his last start."
Weiss said he expects to announce on Monday the starter who will replace Kendrick on Wednesday against the Mariners.
Thomas Harding is a reporter for MLB.com. Follow him on Twitter @harding_at_mlb, and like his Facebook page. This story was not subject to the approval of Major League Baseball or its clubs.