MLB.com Columnist
Bernie Pleskoff
Scouting profile: Tyler Beede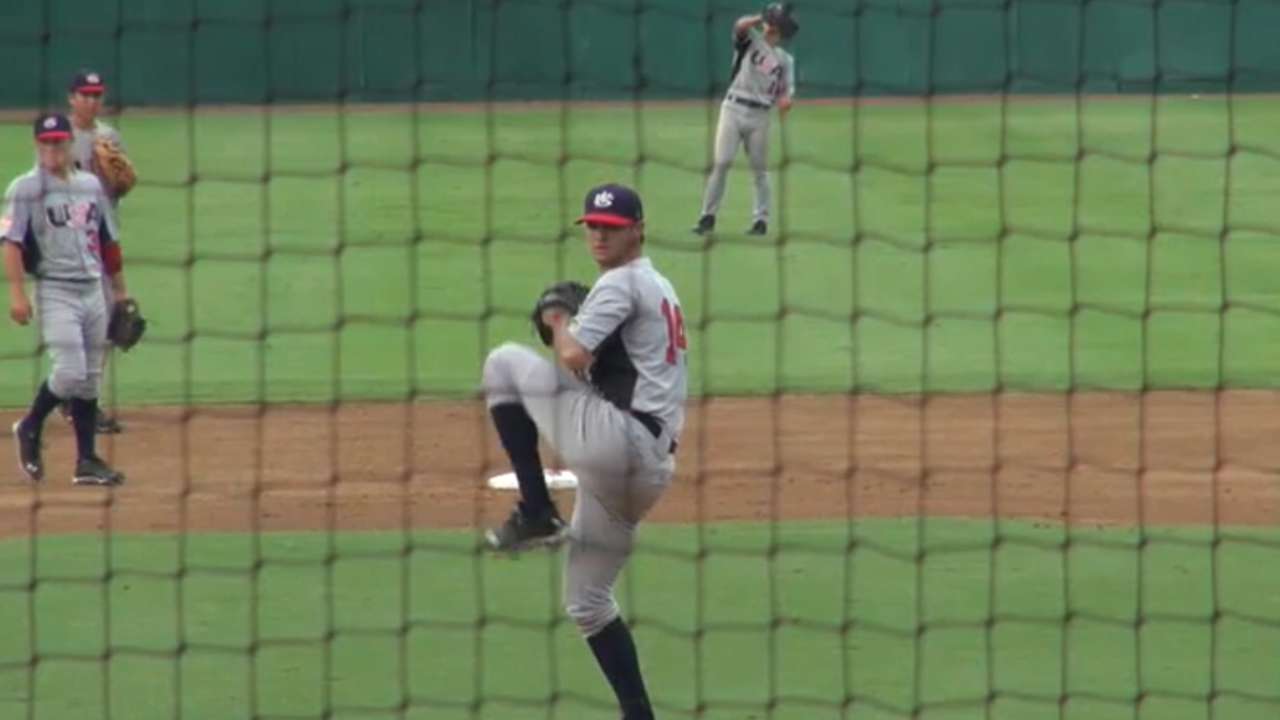 Background
Right-handed starting pitcher Tyler Beede gained acclaim as a highly touted athlete at Lawrence Academy in Groton, Mass., where he played football, basketball and baseball. Beede was selected by the Toronto Blue Jays in the 2011 Draft, but instead he chose to attend Vanderbilt University.
Beede was a star at Vanderbilt. He was again selected in the first round in the 2014 Draft, as the San Francisco Giants selected him with the 14th overall pick.
Following Beede's career at Vanderbilt, there were scouts who felt that his career would take the route of a starter, and others who felt his future would be in relief. The Giants have used him in the starting rotation at several organizational classifications in his first two seasons.
Beede is No. 1 on San Francisco's Top 30 Prospects list.
Repertoire
Tall and thin at 6-foot-4, 200 pounds, Beede throws downhill and uses his size to get great movement on his 90-94 mph fastball. His secondary pitches include a curveball at 79-81 mph and a changeup that sits between 80-82 mph. If needed, Beede can increase the fastball to 97 mph. When I saw him at the SiriusXM All-Star Futures Game, he sat consistently at 92.
Beede usually has such good command of his pitches that he doesn't hesitate to use any of his three pitches at any point in the count.
Mechanics
Because Beede is so tall, movement on his pitches makes him very tough to hit. It's difficult to pick up the ball from his hand, adding to the hitter's challenge. With Beede's two-seam fastball sinking quickly, he induces plenty of swings-and-misses and ground balls.
Beede is at his best and gains his command from repeating a smooth delivery with little extraneous motion. He uses the length of his arms and legs to add moving parts and deception as allies in his three-quarter delivery.
When Beede's delivery matches his capabilities, it's very difficult to make solid contact off him. He misses the barrel of the bat sweet spot regularly.
Strengths
Beede can be very good, but much depends upon repeating his delivery. There are times when Beede gets out of sync quickly, though he also recovers quickly.
Beede knows the value of sequencing pitches and of putting himself in a position to finish the hitter with a secondary pitch that is away from the heart of the plate.
I see Beede as a potential "big game" pitcher. His cool demeanor and poise project an air of success and a competitive approach that fits well in the most meaningful situations.
Weaknesses
Infrequently, Beede has shown some inconsistency in his command. Some of the inconsistency may stem from a lack of confidence in every pitch he throws. Is Beede secure in his repertoire?
Like all pitchers, if Beede's command remains solid, his results will be solid. That's all a result of staying in rhythm and in sync. He has to work hard to remind himself of his release point and stay within those proper delivery mechanics.
The best hitters in the world will be a severe test for Beede. Can he retire Major League hitters on a regular basis?
I find this interesting
Beede is an accomplished rapper, with an additional identity as "Young Beedah." He has released several songs and is passionate about that part of his persona.
The future for Beede
The Giants are an excellent organization for Beede's future. There will be a need for starting pitching and his abilities project to favorably respond to that need. Beede has the poise and presence on the mound that fits well with San Francisco's highly successful organizational approach.
If Beede's development continues on track, after starting at the back end of the rotation, he could ultimately serve as a No. 2 or 3 starter, with the capability of working deep into games and giving his team a chance to win.
I view Beede as a capable starting pitcher ready to contribute to the club as early as some point in 2016.
Beede in a word
Composed
Bernie Pleskoff has served as a professional scout for the Houston Astros and Seattle Mariners. Follow @BerniePleskoff on Twitter. This story was not subject to the approval of Major League Baseball or its clubs.