Wilson may opt for season-ending surgery
Loose bodies in Angels lefty's elbow have restricted range of motion
LOS ANGELES -- Angels starter C.J. Wilson has basically decided he can no longer pitch this season.
The veteran left-hander revealed Saturday morning that he has loose bodies in his elbow that have restricted his range of motion to the point where he can no longer be an effective pitcher. Wilson has been managing the issue all season, getting fluid drained from his left elbow four separate times, and he will now likely opt for surgery to remove bone spurs, a procedure that is expected to rule him out for the rest of the 2015 season.
Wilson -- who underwent Tommy John surgery in 2003 -- previously had bone spurs removed in August 2008, then waited until the end of the '12 season to get it again.
"That's the frustrating thing," Wilson said, "that I couldn't get through the end of the season. I knew based on the diagnosis in April that this was an eventuality, that I was going to have to get this done again. But I'm 100 innings short of where I hoped I would make it."
Wilson approached Angels manager Mike Scioscia on Thursday afternoon to tell him he didn't think he could manage the issue any longer. The 34-year-old then spent most of Friday getting his elbow examined on his own, undergoing a CT scan, a 3D and contrast MRI.
The official diagnosis, according to the team, was "left elbow impingement secondary to arthritis." Wilson said the bone spurs have expanded to "all four sides of my elbow," causing swelling that hardly allows him to bend his pitching arm. He'll await a second opinion by Dr. Neal ElAttrache and will also send MRI results to Dr. James Andrews, but surgery seems inevitable.
"There's no gray area," Wilson said. "You just run out of gas and then the tank's empty, and in this case, there's just no more elbow left to expire. The elbow is totally ground down at this point. I just have to get it cleaned out, rehab and I'll be fine again."
The Angels at least have the benefit of added starting pitching depth this year, with Andrew Heaney emerging, Hector Santiago making the All-Star team, Matt Shoemaker coming on strong lately and Garrett Richards bouncing back well from knee surgery. Jered Weaver, on the disabled list since June 21 with left hip inflammation, could return late next week. And Nick Tropeano is a legitimate sixth option in Triple-A.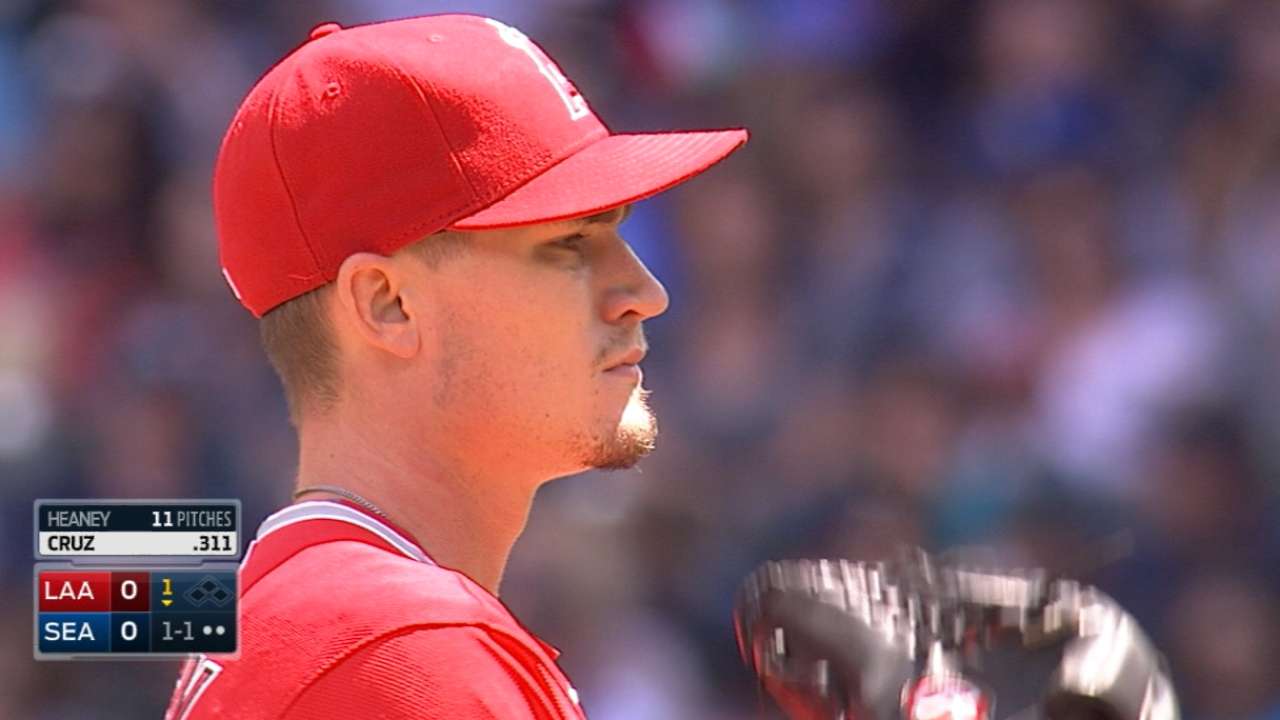 "I think our rotation is still going to be intact," said Scioscia, who tabbed Cory Rasmus to take Wilson's spot on Sunday. "I think our guys showed up to this point they are capable of not only pitching deep into games, but giving us good games. I'm very confident that will continue."
Privately, though, several Angels players expressed frustration in Wilson's decision, with some believing he should've continued to try to pitch through the issue.
Wilson was adamant in saying he can no longer push through it.
"I've been pushing through it for a couple months," said Wilson, 8-8 with a 3.89 ERA in 132 innings. "I've thrown 100 innings in this condition, and it's just consistently getting worse. As it gets worse, the risk of blowing my shoulder out and being completely done with baseball increases, and I'm not willing to take that risk."
Wilson asked doctors if there was any chance he could be available to the Angels out of the bullpen when rosters expand in September, "but they don't think the timeline is really there for that."
"If at any point I would've opted for rest earlier in the year," Wilson said, "it would've been the same thing."
After this season, Wilson will have one year and $20 million remaining on a five-year, $77.5 million deal he signed in December 2011. The Angels shopped Wilson in July, and the consensus was that he wouldn't be back next season, especially with up to three young lefties -- Heaney, Santiago and Tyler Skaggs -- set for next year's rotation.
But the Angels need Wilson for this season.
"It [stinks]," Wilson said. "Obviously, the team has been playing very well. Despite the win-loss record, I felt like I had a lot of really good games where I provided depth and stuff for the team. But right now, I just have to cheerlead and try to help in some other way."
Alden Gonzalez is a reporter for MLB.com. Read his blog, Gonzo and "The Show", follow him on Twitter @Alden_Gonzalez and listen to his podcast. This story was not subject to the approval of Major League Baseball or its clubs.