Salazar continues rotation's sizzling run
Righty allows 1 hit in 8 innings as Indians win 3rd straight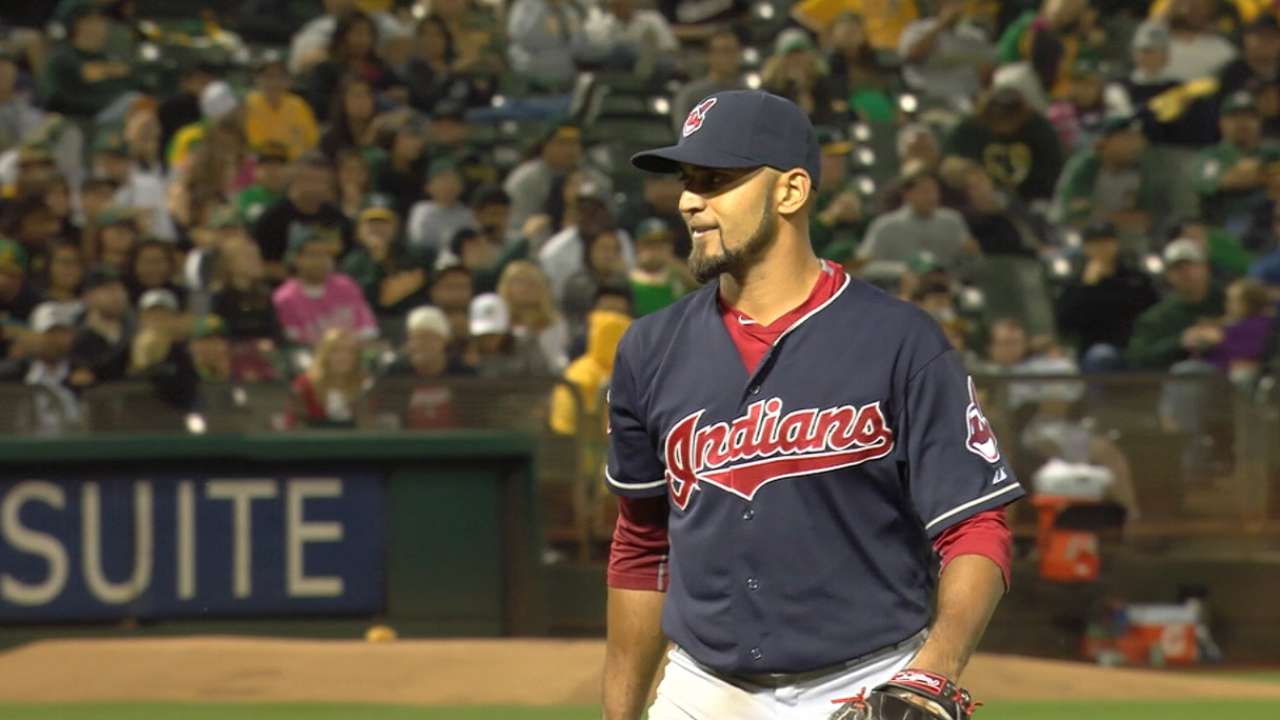 OAKLAND -- Danny Salazar wanted to pitch the ninth inning on Friday night. The Indians starter knew that if he fell even one inning shy of a complete game, he would hear it from his rotation-mates. After all, they had gone the distance in each of the previous three games for Cleveland.
Alas, all good streaks must come to an end.
"I tried," Salazar said with a smile following the Indians' 2-1 victory over the A's at the Coliseum. "But, we need to let the bullpen feel like they're a part of this team, too."
Eight stellar innings would have to do.
After Trevor Bauer, Corey Kluber and Carlos Carrasco each spun a complete-game gem from Tuesday through Thursday, Salazar fell one frame short in a one-hit show in Oakland. The hard-throwing right-hander allowed just one unearned run -- thanks in part to a fielding error by third baseman Giovanny Urshela in the third inning -- and ended with four strikeouts and one walk in a 111-pitch performance.
@BauerOutage and remember, we can't be selfish, let the bullpen feels they are part of the team!!

— Danny Salazar (@DannySalazar67) August 1, 2015
After Eric Sogard singled with no outs in the third inning, Oakland's lineup went 0-for-19 against Salazar the rest of the way. Tribe closer Cody Allen, who had not appeared in a game in a week, finished the job by inducing three straight groundouts in the ninth, sealing his 21st save and the third win in a row for the Indians.
The bullpen phone was bound to ring again at some point.
"Eventually," Allen said with a laugh.
Over the past four games, Bauer, Kluber, Carrasco and Salazar combined to allow five runs (four earned) on only 13 hits in 35 innings of work. That equated to a 1.03 ERA, along with a 0.49 WHIP when taking the four walks into account. The strikeouts have been down a touch (23 total) for a group known for its power, but the effectiveness has been off the charts.
While the Indians (48-54) have hardly performed to expectations, it's this rotation that has the team optimistic about a swift turnaround.
"They're why we're going to be good for a while," Allen said. "That rotation right there is good. Any time you've got five arms like that, they can just go out there each time it's their turn, and they're going to give you a chance to win. What we've seen the last four days is they can go out there and dominate baseball games."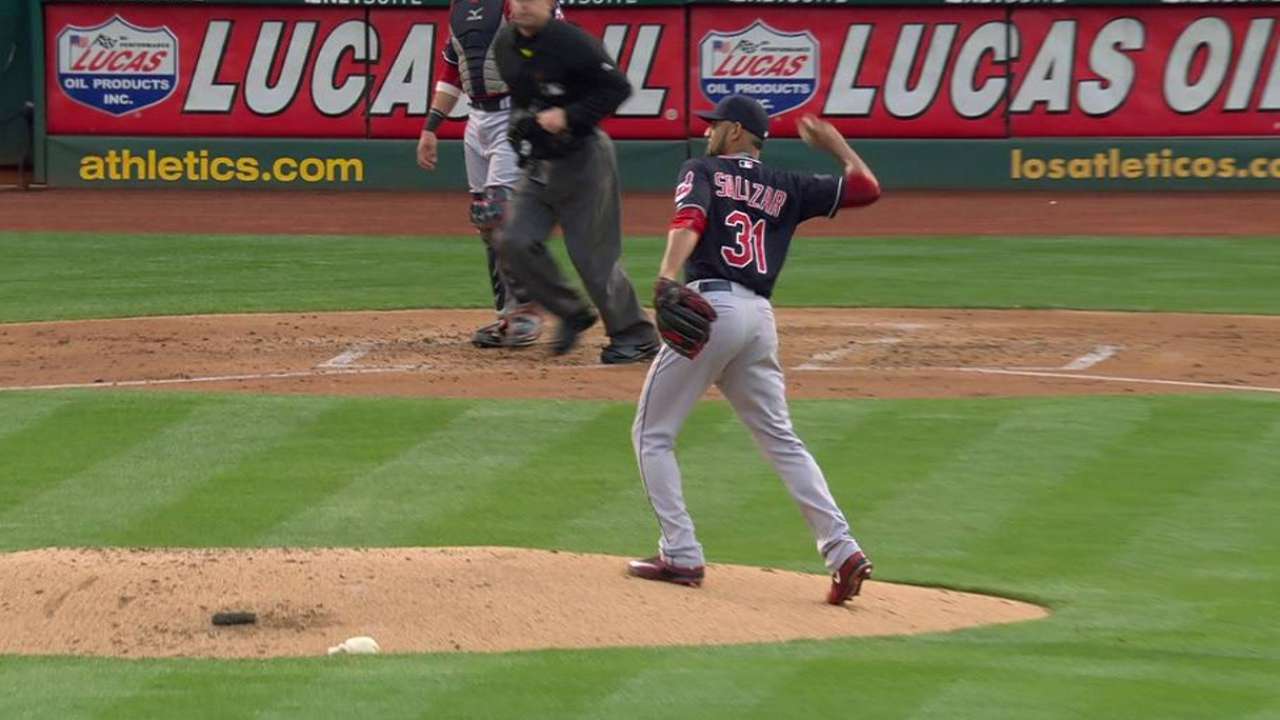 Salazar (9-6, 3.47 ERA) said the key was fastball command.
"I was in fastball mode," he said. "Four-seam. Two-seam. I was sticking with that the whole game."
Oakland's hitters tipped their caps to the Indians' righty.
"He mixed his pitches a lot better," A's first baseman Ike Davis said. "His percentages were a lot more fastball-heavy, and he ended up throwing a lot more offspeed, and he was effectively wild. It's not like he was just pounding strikes the whole time. He mixed it up really well, and I don't think we were swinging the bats too well tonight."
The only thing missing was another complete game.
And, because Salazar fell one inning shy of that goal, the 1983 Indians remain the last team to have four full efforts in a row. Tom Brennan, Rick Sutcliffe, Neal Heaton and Lary Sorensen turned in four consecutive complete games from Aug. 7-10 that year for the Tribe.
Indians manager Terry Francona was fine with eight from Salazar.
"We'll take it," Francona said. "If the relievers aren't pitching, that's a nice problem to have."
Jordan Bastian is a reporter for MLB.com. Read his blog, Major League Bastian, follow him on Twitter @MLBastian and listen to his podcast. This story was not subject to the approval of Major League Baseball or its clubs.