Gonzalez's mistake denies Castro a chance
Astros first baseman caught off first base to end ninth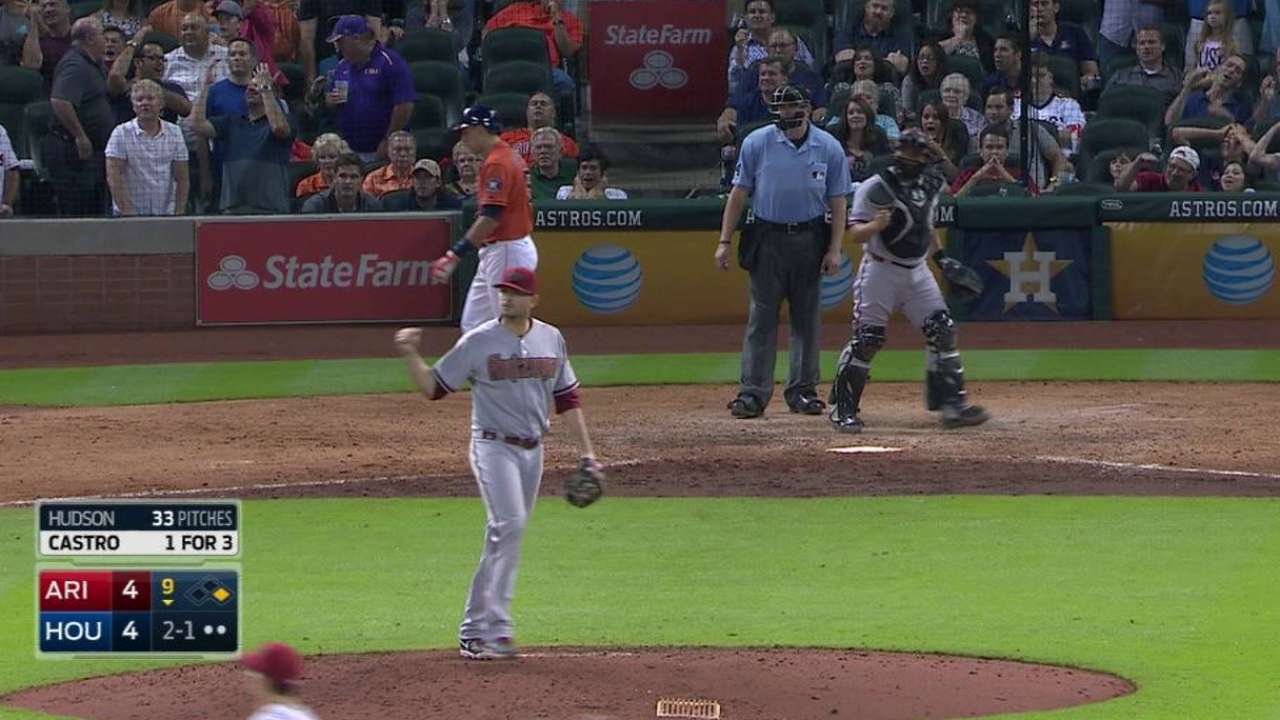 HOUSTON -- Astros first baseman Marwin Gonzalez wasn't trying to make up for what was nearly a disastrous baserunning gaffe only moments earlier, when he didn't run hard out of the box and reached first only after D-backs pitcher Daniel Hudson dropped the ball for an error to extend the inning.
With walk-off hero Jason Castro at the plate and a chance to win the game for the second straight night for the Astros, Gonzalez was eager to get into scoring position and wound up getting caught when he strayed too far from first, a play that punctuated the Astros' 6-4 loss to the D-backs at Minute Maid Park.
"I was trying to get to second so we could score with a base hit," Gonzalez said. "I wasn't trying to make up for what I did. It was a whole different situation. I just wanted to get to second to get the winning run closer to the plate."
Gonzalez, up to bat with two outs and no one on in the ninth, hit a sharp grounder to first baseman Paul Goldschmidt. Gonzalez initially didn't run hard until Goldschmidt fumbled the ball and recovered in time to toss to Hudson, who couldn't catch it as he tried to touch first base. Had he caught it, Gonzalez would have been out.
"That was the thing that shouldn't happen," Gonzalez said. "That should never happen on our team. This is a hustle team. It was a mistake by me. It was a frustration moment like when he caught the ball and made the play. Again, it was a bad moment and a moment that I didn't think, so that was just a mistake that shouldn't happen."
As far as the caught stealing, Astros manager A.J. Hinch said Gonzalez was simply trying to be aggressive.
"No one's trying to get picked off there," he said. "He saw something and he was going to try to take advantage of and got caught off base. Obviously, turn around then to the next inning where it's back-to-back home runs [by the D-backs off Pat Neshek] makes it feel even worse. No one is trying to make an out on the bases there. It's a difficult play that we'll learn from."
Castro hit a three-run walk off homer Thursday and clubbed a three-run blast in the fifth inning Friday to give the Astros a 4-1 lead. Hinch wasn't about to play the "what if" game had he been allowed to finish his at-bat in the ninth.
"The result-oriented part of our sport will tell you it's a difficult out, but we don't know how the rest of the inning plays out," he said. "Obviously, Castro has come up with a couple of big hits the last couple of days. We certainly would have wanted to see it play out, but again, it's a difficult play. We've had a couple of those. The aggressive mindset is a part of our identity and sometimes it comes with a little bit of unfortunate outs."
Brian McTaggart is a reporter for MLB.com and writes an MLBlog, Tag's Lines. Follow @brianmctaggart on Twitter and listen to his podcast. This story was not subject to the approval of Major League Baseball or its clubs.