Marte single-handedly thwarts Reds' rally
Left fielder makes back-to-back stellar plays on defense, preserving Bucs' lead in 9th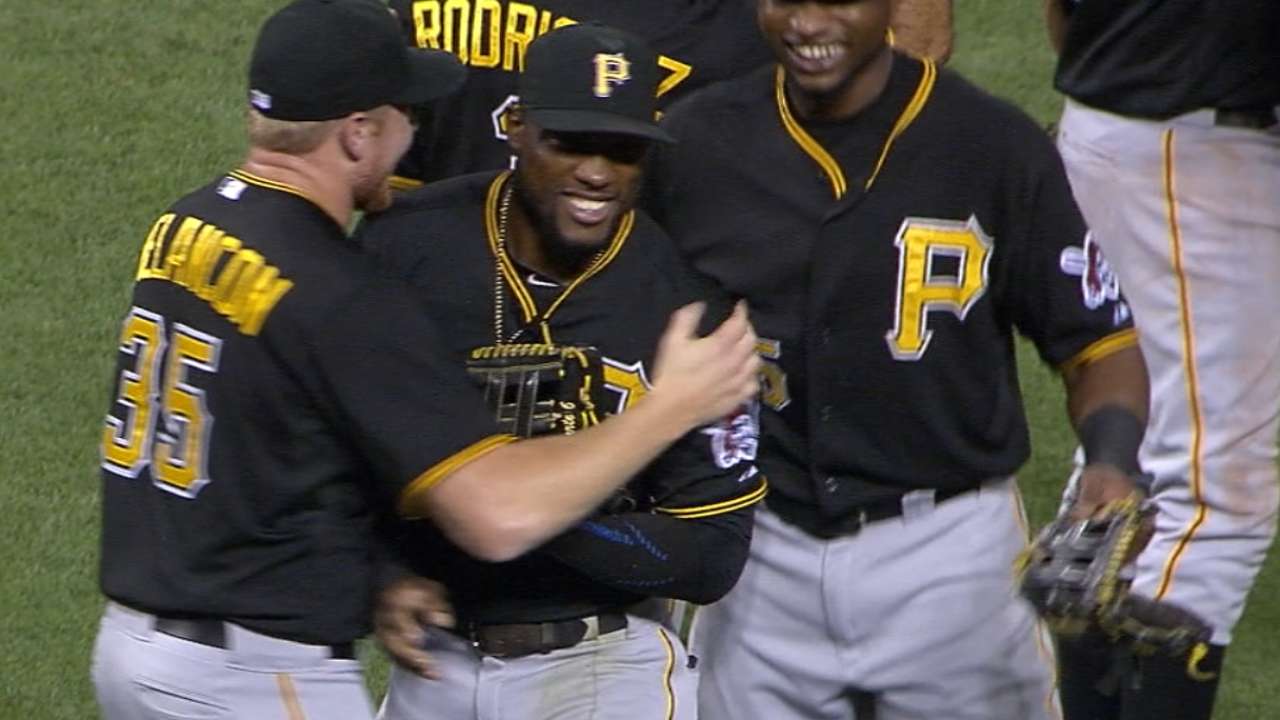 CINCINNATI -- Starling Marte had unleashed impressive throws before. He had made acrobatic, physics-defying catches before. But he had never before showcased his defensive arsenal on back-to-back plays, and he picked a jaw-dropping time to debut that parlay Friday.
Marte single-handedly turned back the Reds in the bottom of the ninth inning. Cincinnati was about to add to its torment of the Pirates and instead was sent home muttering about a 5-4 defeat.
Cincinnati had men on first and second with one out against Buccos closer Mark Melancon when Todd Frazier, as he is wont to, lined an apparent game-tying single to left for what would have been his 11th RBI of the season against the Pirates.
But Marte charged the ball and delivered a throw that beat Brandon Phillips to catcher Francisco Cervelli by 15 feet.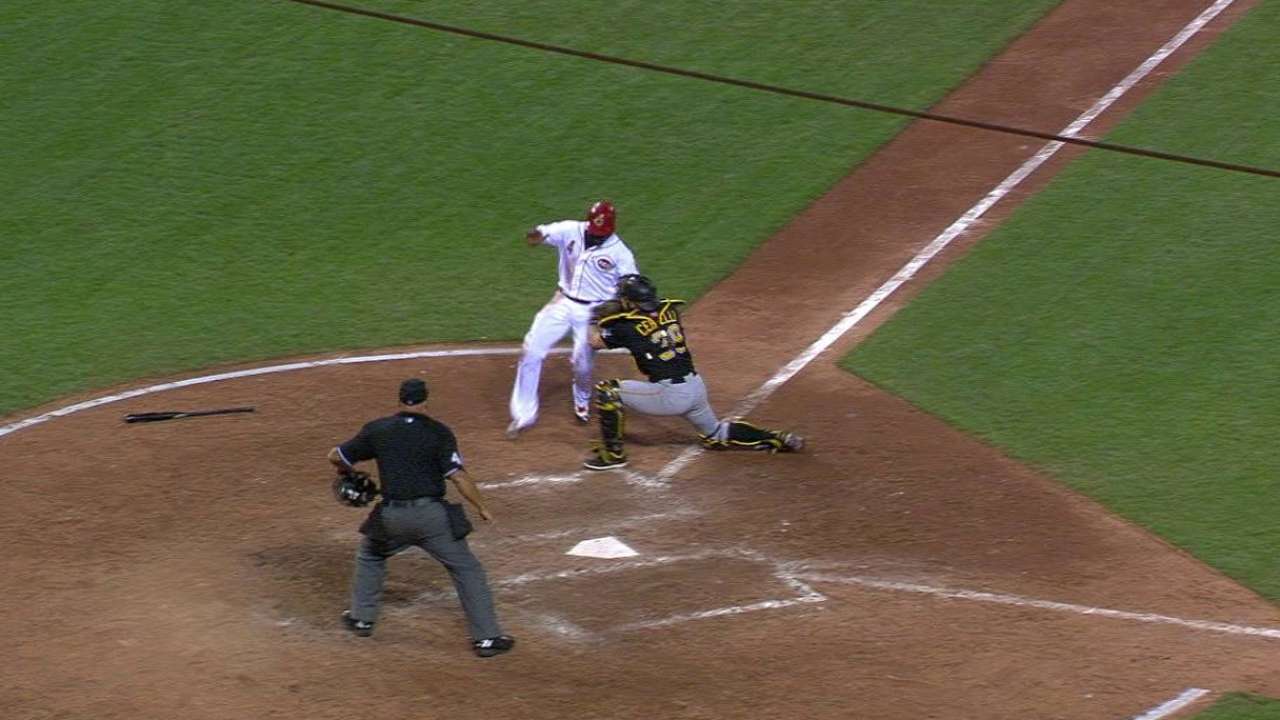 "From the view I had," Melancon later said, "it was like a rocket coming out of that arm. It was incredible."
Next up, Marlon Byrd ripped a liner to short left, as he is wont do, for what would have been his 13th RBI of the season against the Pirates.
But Marte tore in, dove headfirst and got the ball in the webbing of his glove two inches off the grass.
From the view he had, center fielder Andrew McCutchen said, "No other left fielder makes that catch. But I knew he would, because we've seen him do it before."
McCutchen and the third Dream Outfielder, Gregory Polanco, both doffed their caps in silent salute to Marte.
"I was happy," Marte said about the chance to flash his "D" back-to-back, "because of the competition. By now they probably know [about my arm], but if they keep trying [to test me], I'm going to keep making plays."
The victory that returned the Bucs to their season-high of 18 games over .500 may be recalled as seminal. The Pirates had lost six straight here, eight of 10 this season to the Reds, and were 4-15 in NL Central cities.
Not to mention putting the nails to a 17-9 July, their second consecutive 17-9 month.
It enhanced Melancon's stash with a 31st consecutive save. It did more to enhance Marte's defensive legend.
"He is playing left field as well as anybody in the game," manager Clint Hurdle said. "He's playing it like he invented it. Strong defense."
The other side of Marte's play has not exactly been weak. Friday night's 1-for-4 represented a slump, even though the one hit drove in the eventual winning run in the sixth. Marte has a 10-game hitting streak during which he has gone 17-for-40 (.425).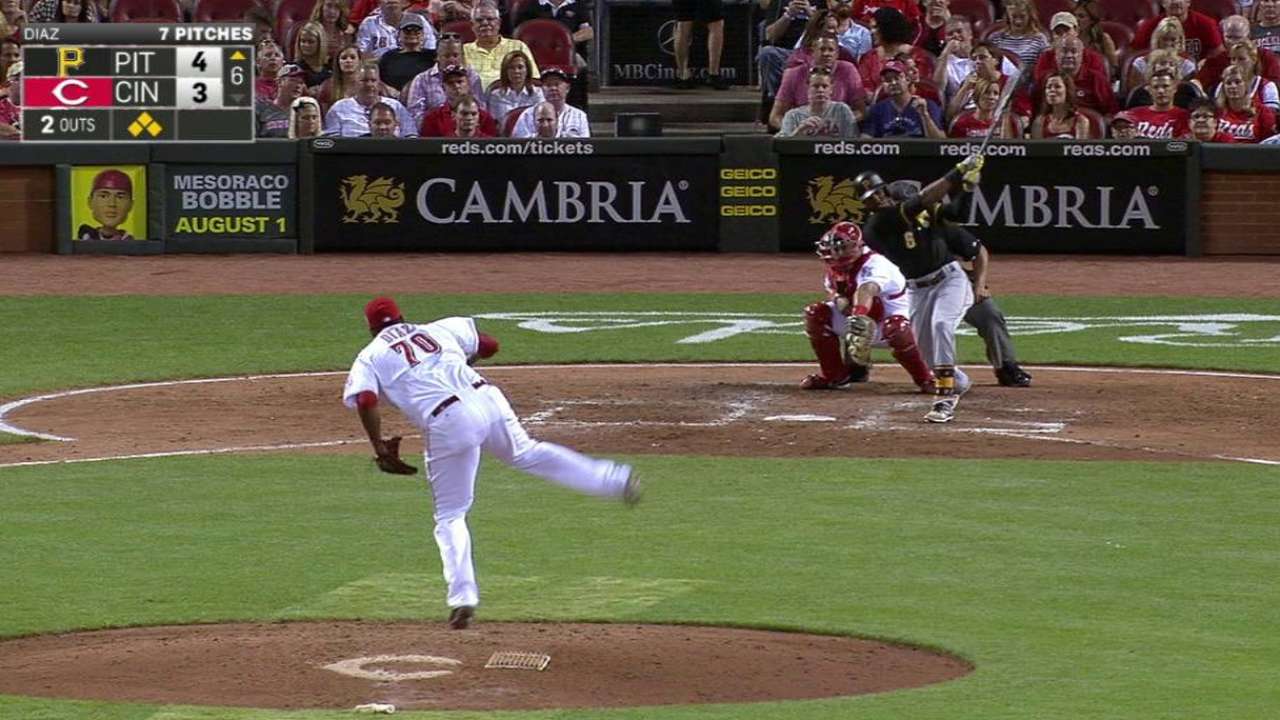 Tom Singer is a reporter for MLB.com and writes an MLBlog Change for a Nickel. He can also be found on Twitter @Tom_Singer and on his podcast. This story was not subject to the approval of Major League Baseball or its clubs.