Braves looking to minimize struggles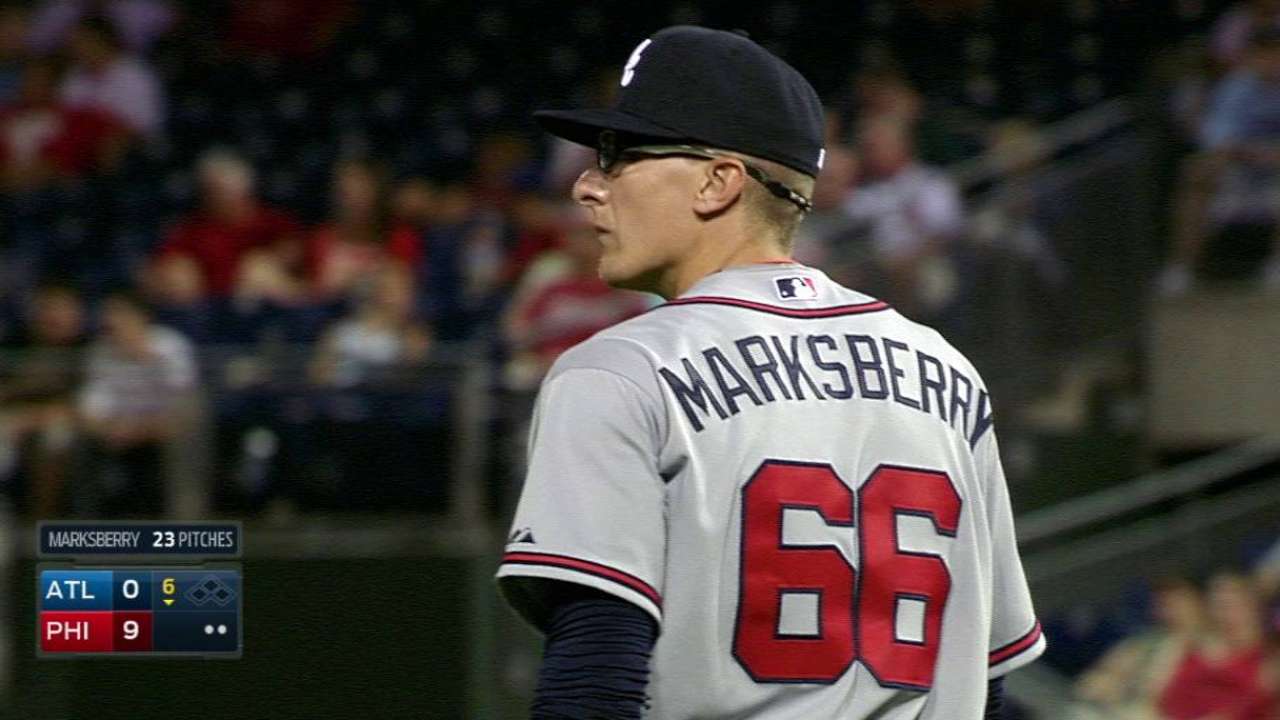 PHILADELPHIA -- As they have spent the past week trading some of their key veterans and entering full rebuild mode, the Braves prepared themselves for the fact the season's final two months might not be pretty.
But as the Braves look toward the future with the hope of keeping the current club's morale high, they can only hope not to encounter many more games that prove to be as ugly as Friday night's 9-3 loss to the Phillies at Citizens Bank Park.
"Theres no beating around the bush, that was not a pretty game played by the Atlanta Braves tonight," Braves first baseman Freddie Freeman said. "But that's the beauty of baseball, we can come back here tomorrow, put today in the past and hopefully start playing better baseball."
When the Braves included Jim Johnson and Luis Avilan in the mega deal constructed with the Marlins and Dodgers earlier this week, they further depleted a suspect bullpen and created doubts about their ability to consistently protect late-inning leads.
But as the Braves have totaled just 14 runs while losing eight of their past nine games, there might not be too much reason to place protecting leads too high on the concern list. The rookie-laden starting rotation lost Alex Wood (in that same trade with the Dodgers) earlier this week and replaced him with Williams Perez, who set the tone for Friday's loss as he did not retire any of the first five hitters he faced in a four-run first inning.
"It always starts with the guy on the hill and momentum is the next day's starter," Braves manager Fredi Gonzalez said. "When you go down four runs at the beginning of the game, it's tough. But you saw guys battling. You saw [Cameron] Maybin beat out a [potential double play]. You look for things like that. You see guys that are busting their butts and not giving at-bats away.
"Those are the signs you look for as a manager, what are these guys giving you? And their giving good at-bats and good efforts. Right now, we're not scoring runs."
The Braves have scored three runs or less 15 times while losing 14 of their past 18 games. They have recorded double-digit hit totals during the first two games of this series, but they have also gone 3-for-24 with runners in scoring position. They were in danger of being limited to one run in a second straight game before Freeman hit the 100th homer of his career -- a two-run shot -- in the eighth inning of Friday's loss.
With Kelly Johnson and Juan Uribe having been traded to the Mets last week, the Braves are seemingly destined to encounter more rough stretches from an offensive standpoint. But at the same time, it's not like they haven't had opportunities the past two nights.
"If we keep [recording double-digit hit totals], hopefully sooner or later we'll start getting some hits with runners in scoring position," Freeman said. "I think that has been the thing the last few games. …Hopefully, when some of us start coming through in those, the floodgates will open for us."
Mark Bowman is a reporter for MLB.com. Listen to his podcast. This story was not subject to the approval of Major League Baseball or its clubs.