White Sox pitching legend Pierce dies at 88
Seven-time All-Star was prominent in community, cancer charity work in Chicago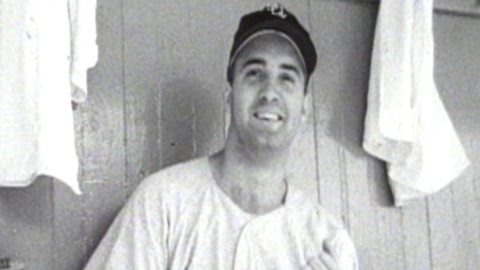 CHICAGO -- It took White Sox executive vice president Ken Williams basically one word to describe Billy Pierce, who passed away Friday morning at the age of 88 after a battle with gall bladder cancer.
"They're class," said Williams, actually referring to Pierce, Ernie Banks and Minnie Minoso, all iconic Chicago baseball figures who have passed away in the past year. "It's been a tough year for Chicago with regards to some of the legends of Chicago sports leaving us."
"Another tough day. Another big loss for the White Sox family," said White Sox general manager Rick Hahn. "Not just for his place in many White Sox fans memory as an outstanding and iconic ballplayer, but for the type of person he was and the class and the way he carried himself and the way he treated people. He's definitely going to be missed around the ballpark."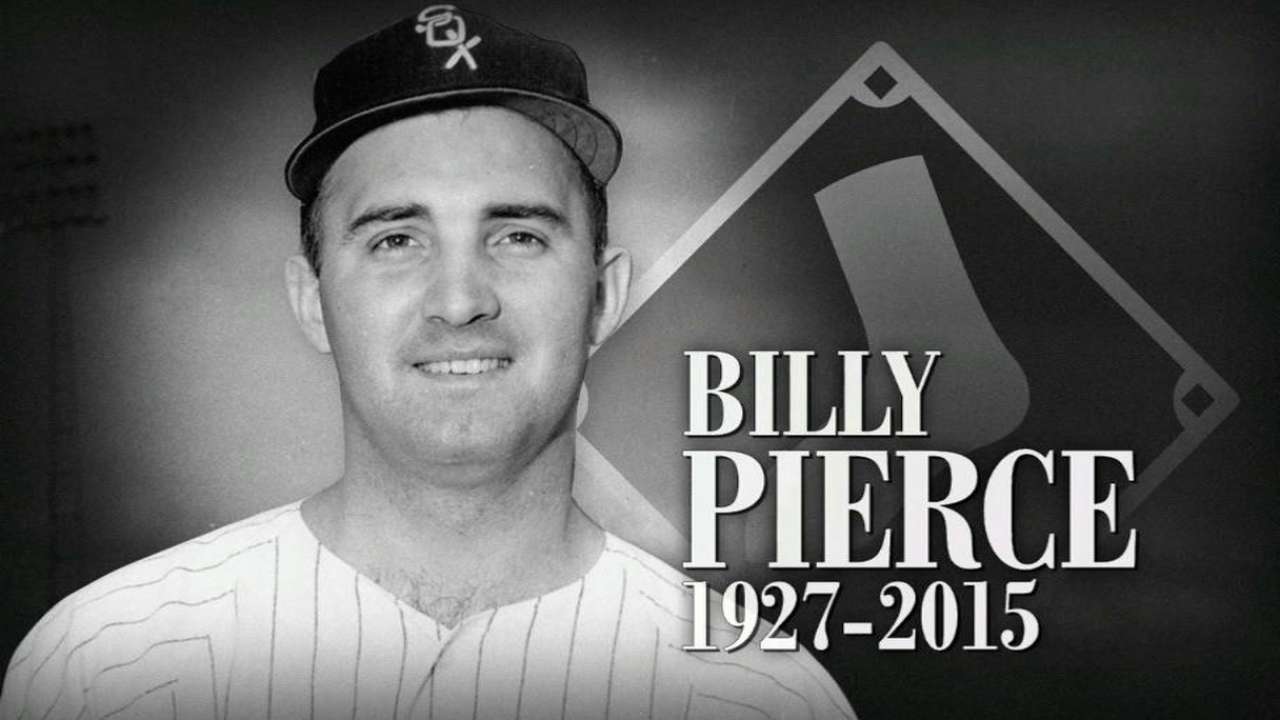 Pierce played 18 Major League seasons with Detroit (1945-48), the White Sox (1949-61) and San Francisco (1962-64), going 211-169 with a 3.27 ERA, 1,999 strikeouts, 32 saves, 193 complete games, 38 shutouts and a .240 opponents average over 585 games (432 starts). He ranked in the top five in the Majors in complete games (4th), innings pitched (4th), strikeouts (4th), wins (5th), starts (5th) and shutouts (5th) from 1945-64.
The White Sox ambassador had his No. 19 retired by the White Sox in 1987, and a statue of the left-hander in mid-windup was unveiled at U.S. Cellular Field in 2005. He also served as a committee member of Chicago Baseball Cancer Charities for 46 years, acting as president of the group for 20 years. Since its inception, Chicago Baseball Cancer Charities has raised over $16 million to help in the fight against cancer.
"Generations of White Sox fans lost one of their heroes today," said White Sox chairman Jerry Reinsdorf in a team release announcing Pierce's passing. "It was an absolute privilege to consider Billy a friend. He epitomized class, not just as a ballplayer on those great Go-Go White Sox teams of the 1950s, but as a gentleman and as a human being who devoted so much of his life to helping others."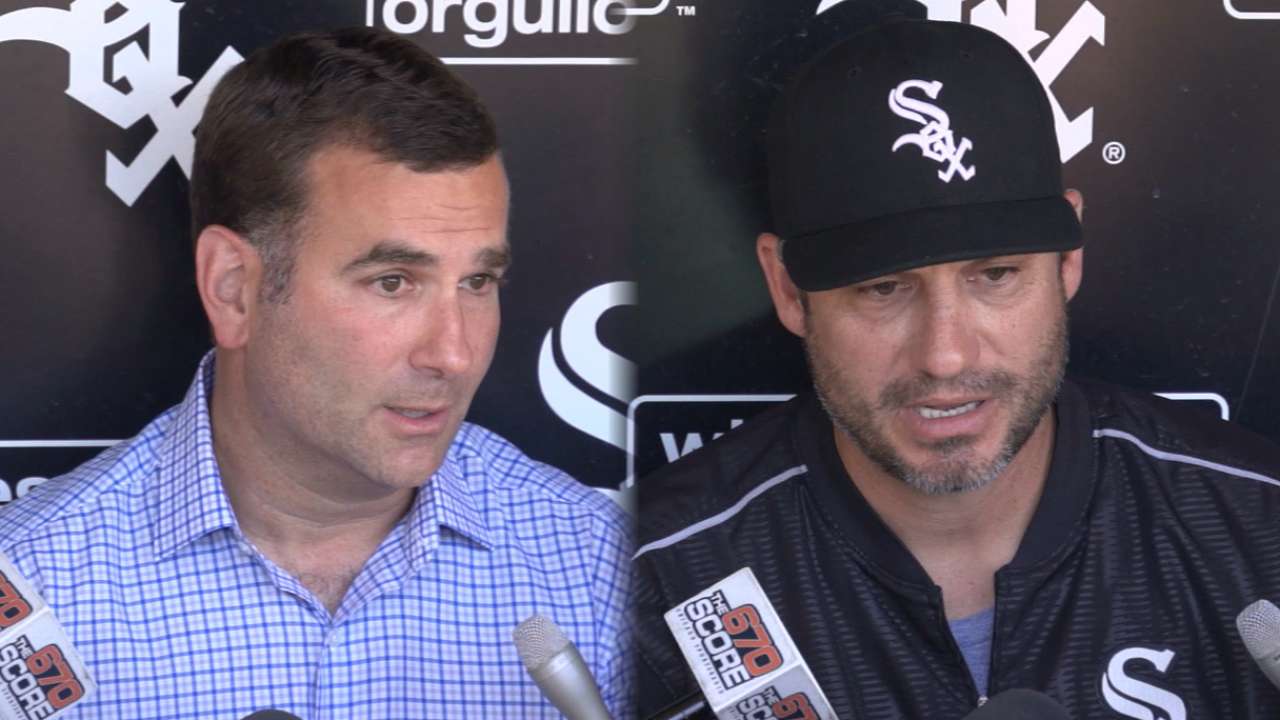 "Just a class person. Known him a long time," White Sox manager Robin Ventura said. "Just a sweetheart of a guy. A special guy. You're going to miss him. When he comes around here he was great to talk to. Just a classy person all the way around."
Pierce is survived by his wife of 65 years, Gloria, son Bill Jr., daughter Patty and son Bob, five grandchildren and one great grandchild. In lieu of flowers, the family has asked that donations be made in Pierce's name to the Chicago Baseball Cancer Charities. Details on services are pending.
The Detroit native is one of 13 pitchers to start three or more All-Star Games (1953. '55-56), with that list including Hall-of-Famers Jim Bunning, Don Drysdale, Whitey Ford, Lefty Gomez, Greg Maddux, Jim Palmer, Robin Roberts and Warren Spahn. Pierce finished third in the 1962 MLB Cy Young Award balloting and fifth in the 1956 American League MVP voting.
He ranks among the White Sox all-time leaders in strikeouts (1st, 1,796), shutouts (3rd, 35), starts (3rd, .390), wins (4th, 195), innings pitched (4th, 2,931.0), opponents average (5th, .240), complete games (T5th, 183) and ERA (10th, 3.19). Pierce threw four one-hitters and seven two-hitters in his career, while coming within one out of a no-hitter on June 27, 1958, against the Washington Senators when a double fell just inside the foul line.
Pierce finished 16-6 for the Giants in '62, including a remarkable 12-0 in 12 starts at Candlestick Park. "He had a sneaky fastball and a great slider," said right-hander Bob Bolin, Pierce's roommate during his San Francisco tenure. "He could pump up and throw them by the big hitters."
Pierce excelled when it counted most that year. He pitched a three-hit shutout against the Los Angeles Dodgers in the opener of a best-of-three playoff series, then saved the Game 3 clincher for the Giants with a perfect ninth inning of relief. He won another three-hitter in Game 6 of the World Series against the Yankees, forcing the dramatic seventh game that New York captured, 1-0.
As great as the seven-time All-Star was as a player, and some believe he was a Hall of Fame-caliber pitcher, there's little doubt the southpaw will be remembered as a Hall of Fame-caliber person.
"There's no question being elected to the Hall of Fame would be one of the greatest things that ever happened to me," said Pierce last year upon being nominated before the Golden Era Committee. "But I've experienced a lot of good things in my life. I've got a wonderful wife, great kids and grandkids, and I've been honored by the White Sox and their fans. What more do you want?"
"That's the life's cycle, and I've always preferred to celebrate versus mourn," Williams said. "He's a White Sox. He's up there, and he'll be pushing for us from above. He was a very good man, very nice man."
Scott Merkin is a reporter for MLB.com. Read his blog, Merk's Works, follow him on Twitter @scottmerkin and listen to his podcast. This story was not subject to the approval of Major League Baseball or its clubs.