Rangers sad to see good friend Harrison go
Players speak effusively of veteran hurler, who will head to Philly after overcoming serious injuries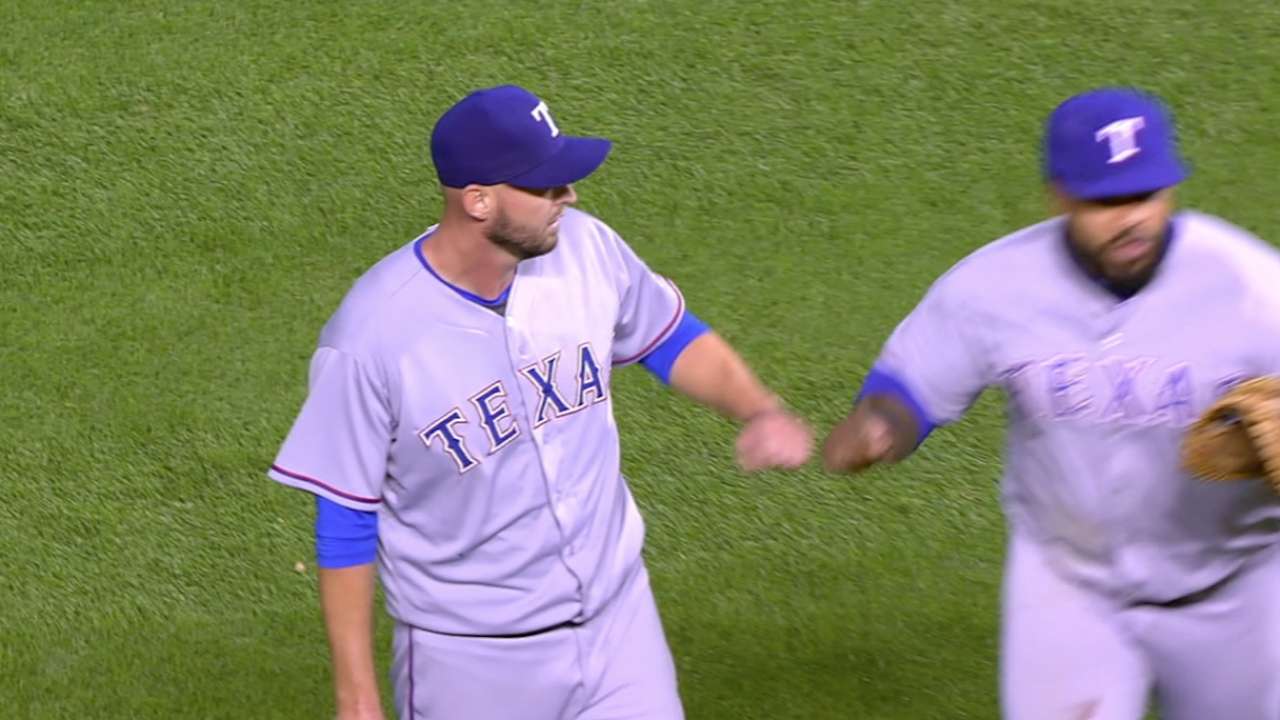 ARLINGTON -- When the trade is announced, the Rangers will certainly welcome the addition of a three-time All-Star pitcher who has won a World Series MVP Award and also threw a no-hitter less than a week ago.
At the same time, while waiting for the official arrival of Cole Hamels, Rangers players also spoke from the heart on Thursday about what Matt Harrison meant to the team. Harrison is one of six players -- the only Major Leaguer -- who is being sent by the Rangers to the Phillies for Hamels and left-handed reliever Jake Diekman.
"Harry will be missed tremendously," outfielder Josh Hamilton said. "He was special. After what he went through, it looked like he was settling in. He is a good person and a good teammate. You miss guys like that."
Harrison holds a special place in Rangers history as one of five starters on the 2011 pennant-winning team and an 18-game winner the following season while being named to the American League All-Star team.
"One of my close friends," first baseman Mitch Moreland said. "I'm really going to miss him. It's going be tough. One of those guys who you're always rooting for. He works so hard. He's been through a lot. He's been one of the top pitchers in the game. What he's been through to get back here is pretty special. I'll always be behind him. He's a great friend of mine. He's a great teammate and he'll be sorely missed."
Harrison also gradually established a respected presence in the clubhouse as a quiet leader and tough competitor. He was soft-spoken but generous with his time and advice.
"He isn't a man of many words," pitcher Nick Martinez said. "He led by example but he could offer a lot of advice for a guy who didn't speak much. He is pretty good."
"He's one of my buddies," shortstop Elvis Andrus said. "He came from the Braves with me and we went through a lot together ... a lot of good times. I hope he can stay healthy because I know what he can do if he stays healthy."
The trade has not been announced since both clubs are going through the medical reports of all eight players. Harrison's file is especially voluminous.
He was one of five players acquired from the Braves along with Andrus, catcher Jarrod Saltalamacchia and pitchers Neftali Feliz and Beau Jones for first baseman Mark Teixeira and pitcher Ron Mahay on July 31, 2007. At the time of the trade, Harrison was dealing with turf toe and a sore shoulder.
Over the next few years, he was sidelined because of inflammation in his left shoulder and biceps. He had surgery in 2009 because of thoracic outlet syndrome, and his injuries forced the Rangers to keep him off the 2010 postseason roster.
Harrison reacted by working himself into great shape and winning a spot in the rotation in the spring of 2011. He won 32 games in 2011-12 and was rewarded with a five-year, $55 million contract in Spring Training '13. That's when he developed the back problems that resulted in three operations over the next two years.
The last one was spinal fusion surgery on June 3, 2014, and there were some doubts Harrison would ever pitch again. But after a 14-month rehab, Harrison was back on the mound for the Rangers on July 8. He made three starts and is 1-2 with a 6.75 ERA, including six scoreless innings in a 9-0 win over the Rockies on July 21.
"I really give thanks to God for what He has done in Matt's life," catcher Robinson Chirinos said. "Everybody said he should retire, but he had a chance to come back and play the game he loved. He is an inspiration to everybody, not only in baseball but in life."
T.R. Sullivan is a reporter for MLB.com. Read his blog, Postcards from Elysian Fields, follow him on Twitter @Sullivan_Ranger and listen to his podcast. This story was not subject to the approval of Major League Baseball or its clubs.