Bruce not letting trade rumors affect play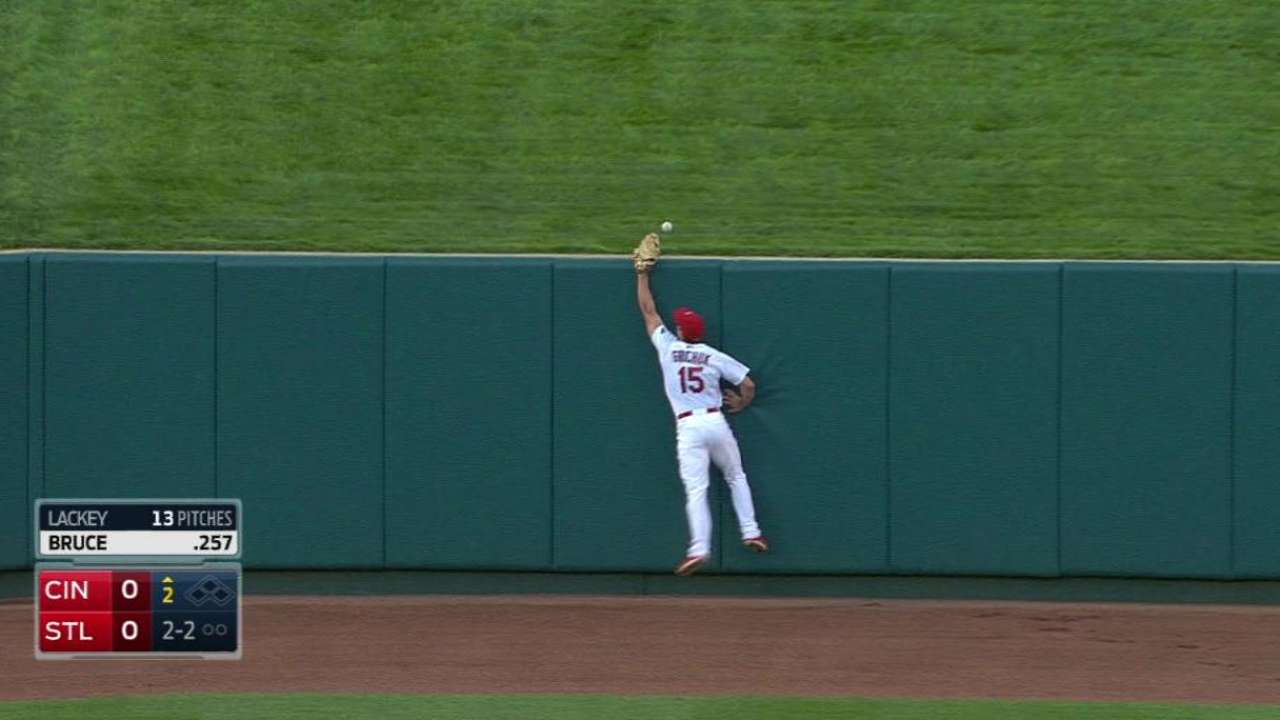 ST. LOUIS -- Come 4 p.m. ET on Friday, when the non-waiver Trade Deadline expires, Reds right fielder Jay Bruce will either be with a new team, or quite relieved that he's still on the same one he's been with his entire career.
"I definitely will. It's one of those things where you try your best to be a professional and not let any of it bother you," Bruce said after the Reds' 1-0 win over the Cardinals on Wednesday night. "But you hear the rumblings. You hear what people say. But I'm on the Reds. I'm here to help these guys win games. This is all that I know. I have confidence in this organization, and I look forward to seeing what the future holds."
Bruce provided the lone run Wednesday with a second-inning home run off John Lackey. It was the second time this season, and this month, that the Reds won a 1-0 game on a Bruce home run, as it also happened on July 10 at Miami.
Because the 45-54 Reds have become sellers in the market, Bruce has been a frequent name in trade rumors this month. He has been attached to teams like the Mets, Angels and Orioles. While the Angels acquired three outfielders in recent days, the other clubs -- or even others still -- could be possible. The Mets had a deal for the Brewers' Carlos Gomez fall through late Wednesday night, still leaving them as possible suitors.
Beside his type of production being hard to find right now, Bruce is attractive to clubs because of his relatively friendly contract. He's earning $12 million this season, $12.5 million in 2016 and has a $13 million club option for 2017. On the other hand, if Cincinnati needs offense and savings -- keeping Bruce might just be the more prudent move.
Bruce batted just .217 last season, and was hitting .167 as of May 13. He has since raised his overall numbers to .257/.341/.486, with 17 homers and 56 RBIs.
"After a really tough last year and the pressures he put on himself to get off to a good start," Reds manager Bryan Price said, "to come back and not even just get to his power, he's hitting balls to all fields. His strike zone discipline is much better. He's played a very solid right field, defensively. He looks like the guy we've grown accustomed to."
Bruce has done a decent job of tuning out rumors while on the field, as he's batted .298 with four homers and 14 RBIs in 13 games since the All-Star break.
"I take a lot of pride in preparing and being ready to play and not letting outside factors determine how I play on the field, how I feel or how I act or anything like that," Bruce said "It's something I think is very important. I owe that to everybody watching me, and the organization."
Leading off the top of the second, Bruce took Lackey deep to center field on a 2-2 pitch. The ball barely cleared the fence and Randal Grichuk's glove.
Wednesday's long ball was also homer No. 199 of Bruce's career. That moved him past Barry Larkin for ninth all-time in franchise history.
"The significance lies in the fact that I've passed a Hall of Famer," Bruce said. "He's one of the best players to have played the game, and it's crazy to think I'm even mentioned in a conversation with these guys I'm being mentioned with. It's very humbling. I look forward to passing a lot more guys on the list."
Of course, that all depends on if Bruce gets to stick around.
Mark Sheldon is a reporter for MLB.com. Read his blog, Mark My Word, follow him on Twitter @m_sheldon and Facebook and listen to his podcast. This story was not subject to the approval of Major League Baseball or its clubs.