MLB.com Columnist
Roger Schlueter
Stats of the Day: Yanks hit 21 in onslaught
Rally marks Bombers' highest run total on road since 2000, includes 11-run 2nd inning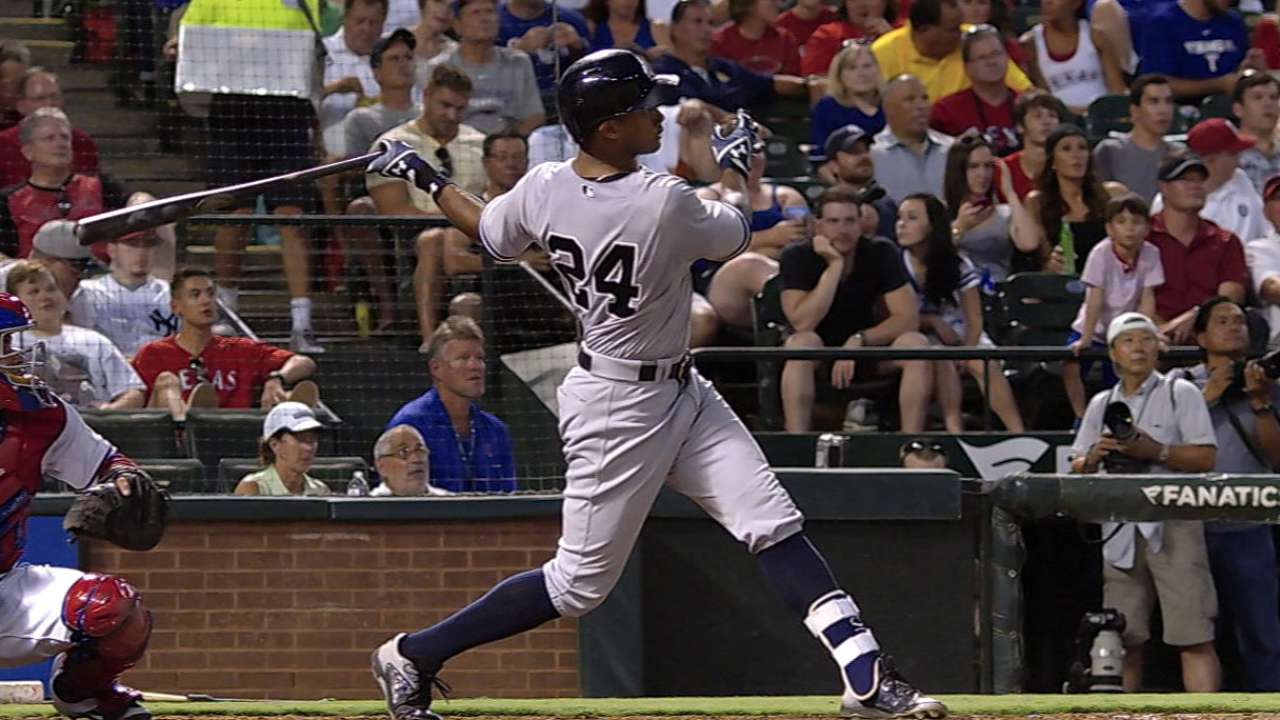 Here are four interesting items from around the big leagues Tuesday …
Facing a 5-0 deficit after the first inning, the Yankees responded with 21 runs over the final eight frames to defeat the Rangers, 21-5. New York tallied 11 runs in the second inning, three shy of the American League record for most runs in any second inning. Playing the Yankees on April 18, 2009, the Indians struck for 14. The Bombers' 21 runs were the most for the team on the road since they defeated the Red Sox, 22-1, on June 19, 2000.
Noah Syndergaard took a perfect game into the seventh inning and finished his eight-inning gem with three hits allowed, nine K's and no walks. Syndergaard -- who improved to 5-5 in the Mets' 4-0 win over the Padres -- owns a 0.853 WHIP and a 1.32 ERA in five starts this July. Among first-year pitchers since 1920 who had at least five starts in July, Syndergaard's WHIP stands as the third-lowest and his ERA works out to be the fifth-lowest. The men who are better in each: Jim Turner (0.722 WHIP in 1937) and Hideo Nomo (0.750 WHIP in 1995); and Zach Duke (0.87 ERA in 2005), Rick Aguilera (0.89 ERA in 1985), Al Worthington (0.98 ERA in 1953) and Turner (1.17 ERA in 1937).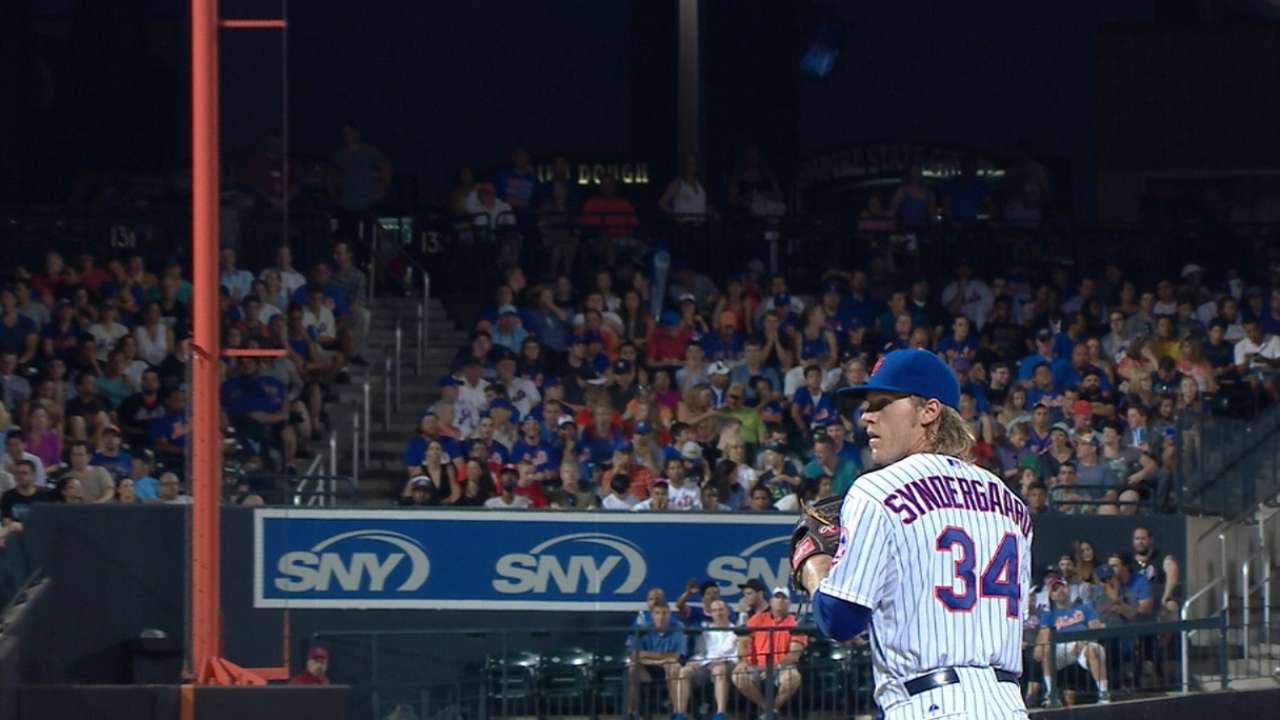 In the White Sox 9-4 victory over the Red Sox, Jose Abreu collected his 16th homer of the year. Abreu has 52 home run in his two-year career, tying Orlando Cepeda, Darryl Strawberry and Mark McGwire for the 23rd most for any player in his first two seasons.
In the Astros' 10-5 win over the Angels, Carlos Correa (in his 42nd game) hit his ninth homer of the year. Correa's nine are the third most all time for a shortstop in an age-20 season, behind Alex Rodriguez's 36 in 1996 and Travis Jackson's 11 in 1924.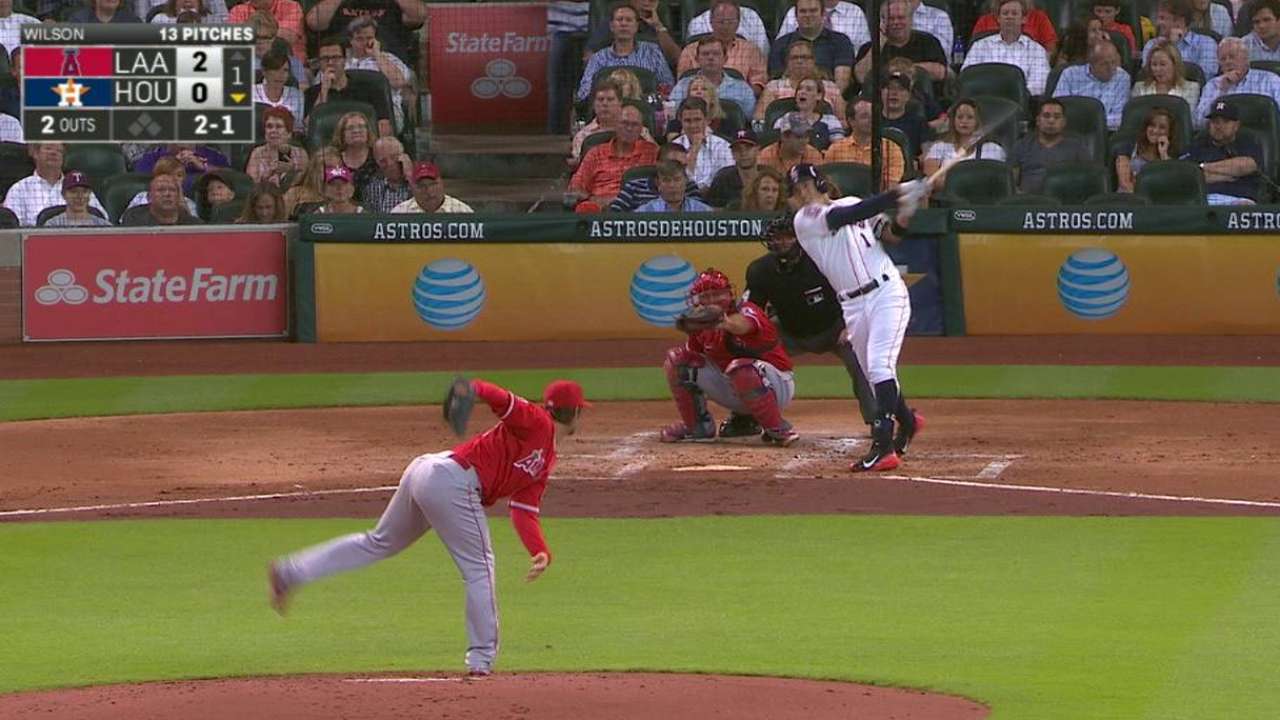 Milestone watch for Wednesday
It's a tall order, but Clayton Kershaw would reach 200 K's for the season if he notches 15 strikeouts. It would mark the sixth time Kershaw has reached 200 K's, and would make him the fourth pitcher to have that many through his age-27 season. Kershaw would join Walter Johnson, Sam McDowell and Bert Blyleven.
Felix Hernandez is slated to make his 324th career start, which will make him the all-time leader in Mariners history. He is currently tied with Jamie Moyer.
Roger Schlueter is a contributor to MLB.com. This story was not subject to the approval of Major League Baseball or its clubs.