Zunino shows off power with 452-foot homer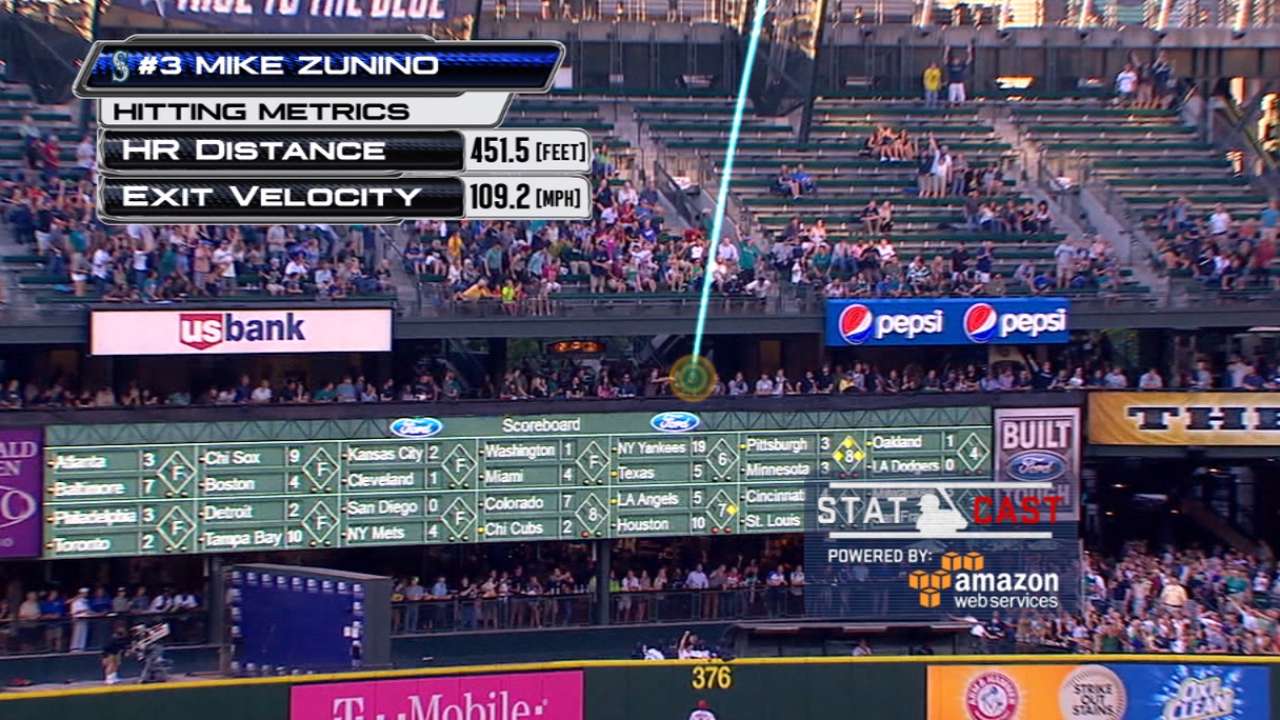 SEATTLE -- Catcher Mike Zunino went where few have gone in Safeco Field history on Tuesday night, blasting a home run over the out-of-town scoreboard behind the Mariners bullpen in Seattle's 8-4 loss to the D-backs.
Nelson Cruz put a ball in the same area three innings later, but Zunino got the edge in the Statcast™ measurements, with his third-inning blast blast projected to land 452 feet from home plate compared to 440 for Cruz's smash.
How rare is that air? The longest recorded home run at Safeco Field was a 462-footer by Barry Bonds in 2006 off Felix Hernandez. Raul Ibanez clubbed a 460-foot bomb off Dan Kolb in 2007. Zunino's blast ranks as the third-longest in stadium history.
Did he get all of it?
"A little off the end. There's always a little bit left," Zunino said with a smile before acknowledging the obvious. "Nah. I hit it well."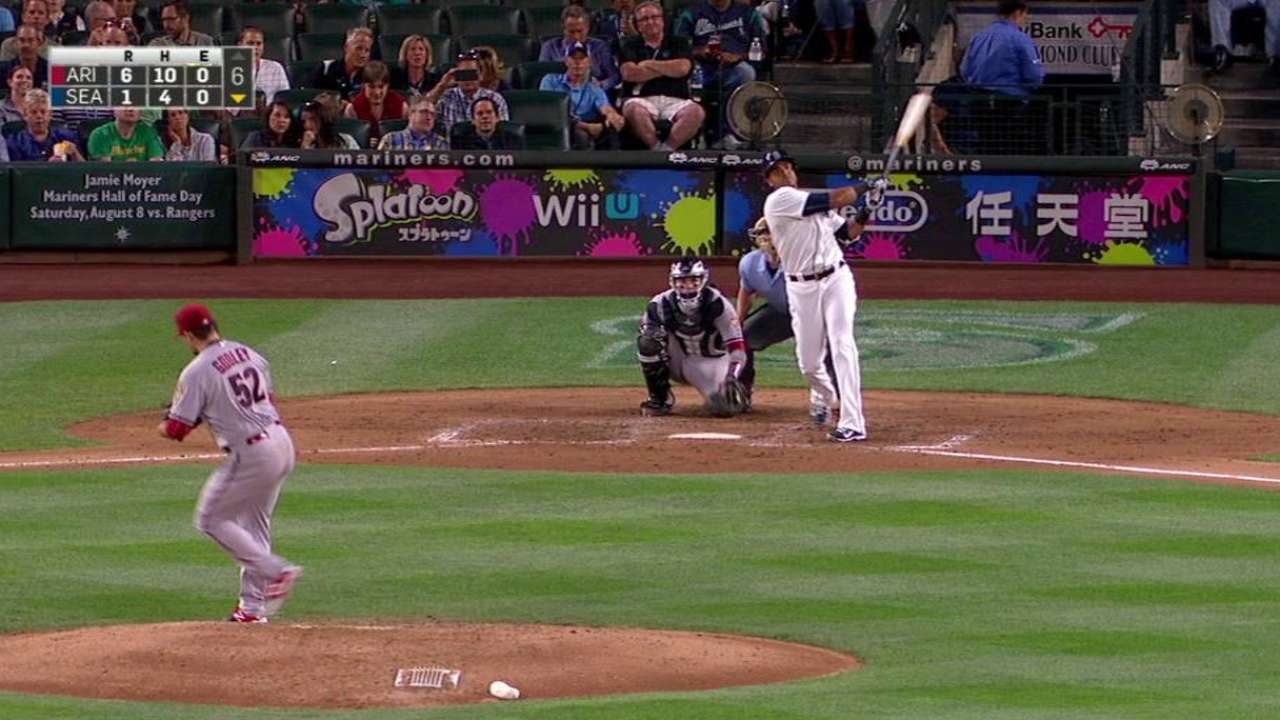 Zunino has been hitting well in general for the last week as he extended his hitting streak to eight games with a 1-for-4 night. After a season-long struggle at the plate, the 24-year-old is finally finding success after some alterations to his approach by widening his stance and lowering his hands to reduce the pre-pitch movement.
During the eight-game streak, he's lifted his average from .158 to .181 by going 11-for-28 (.393) with four doubles, a homer and six RBIs.
"The biggest thing, I've had a couple games this year where it's felt good," Zunino said. "But having the string of games, it's always nice to do that and know your swing is headed the right direction, your approach is right and it's something to build on."
This looks more like the Zunino the Mariners expected to see after a red-hot spring when he appeared to be a much-improved hitter from the youngster who put up a .199/.254/.404 line in his first full season as a starter in 2014. Zunino showed power last year with 22 home runs and 60 RBIs, but the Mariners wanted -- and expected -- him to hit for a better average with an improved approach.
Instead, he opened the season slowly and only now has begun inching his way back toward where he finished last season.
"He's getting better every day," manager Lloyd McClendon said. "We've got to get him there. He's trying to do some things fundamentally different, and I think it's working for him."
Zunino nearly had two more home runs the previous two games, but he made sure nobody could bring back Tuesday's blast. And he laced a hard shot up the middle in his second at-bat that nearly unseated D-backs pitcher Zack Godley, but instead turned into a tough-luck 4-6-3 double play.
Zunino ended his day with two strikeouts in his final two at-bats and knows there's still plenty of work to be done.
"It's only been about a week, so it's still building," he said. "And it should be for your whole career. You're still trying to learn guys, new teams come in and you try to study as much as you can before each series. It's all about fine tuning. Some days will feel better than others, but you're just trying to get yourself in the best position to hit."
And when he does, Zunino is strong enough to hit 'em a very long way. According to ESPN Stats & Info, his blast Tuesday was the longest by a Mariner since Wily Mo Pena hit one 468 feet at Tropicana Field off James Shields in 2011.
Greg Johns is a reporter for MLB.com. Follow him on Twitter @GregJohnsMLB, read his Mariners Musings blog, and listen to his podcast. This story was not subject to the approval of Major League Baseball or its clubs.