Road woes continue to hamper Teheran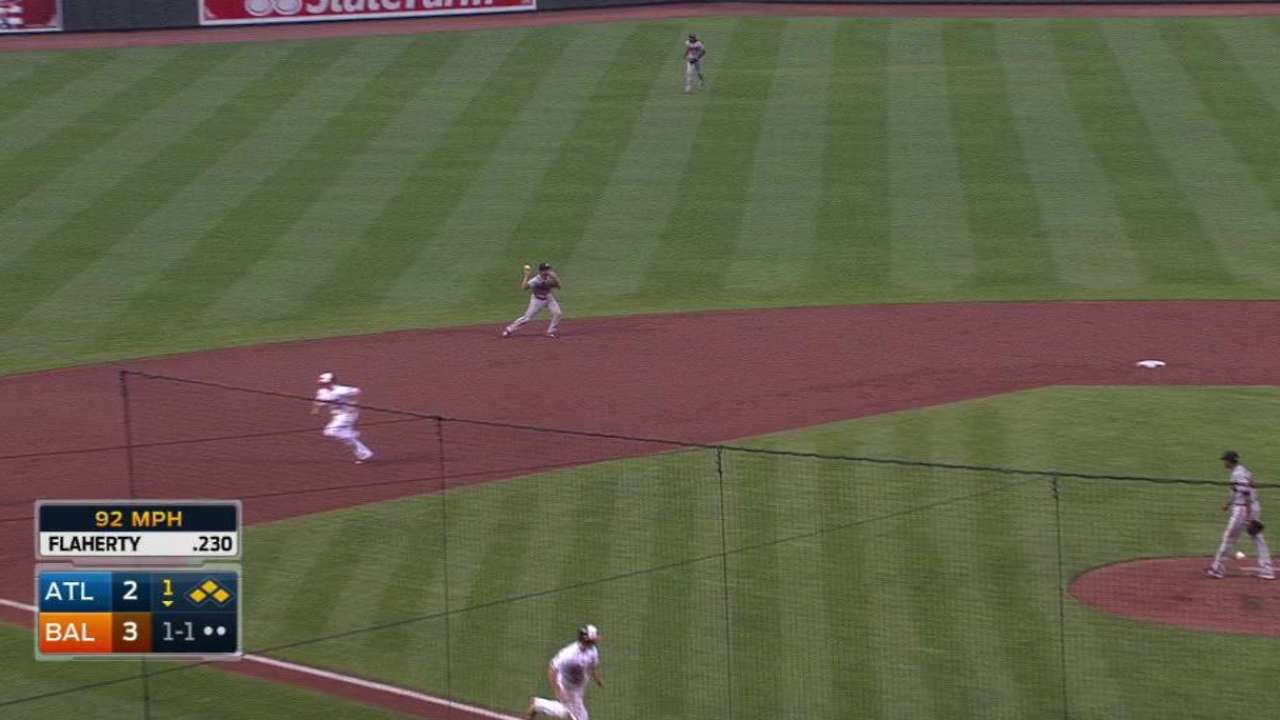 BALTIMORE -- Though there is certainly reason for the Braves to explore options to trade Julio Teheran, they do not necessarily want to do it now, when they would be selling low on him. But as the young pitcher continues to struggle, there is also reason to question whether his original value will return.
As Teheran surrendered a pair of home runs to Chris Davis and completed just four innings during Tuesday night's 7-3 loss to the Orioles at Camden Yards, he further distanced himself from the promise he had shown while earning an All-Star selection last year and gaining a second straight Opening Day start this year.
"I thought he just made a couple mistakes tonight," Braves first baseman Freddie Freeman said. "He still looked good."
An optimist might evaluate this outing by pointing out that Teheran retired nine of the final 13 batters he faced after battling a tight strike zone during a 33-pitch first inning. Each of the five runs he surrendered came courtesy of the home runs hit by Davis, who drilled a three-run shot in the first inning and added a two-run shot in the second.
But a realist had no choice but to step away from this outing with the realization that Teheran was actually fortunate not to incur more damage while needing 92 pitches to complete the four innings. He induced two screaming lineouts and issued consecutive two-out walks during the first inning, which concluded with Ryan Flaherty's bases-loaded groundout.
If Teheran was having the success he did last year, when he posted a 2.89 ERA in 33 starts, it might have been easy to view this as one of those odd nights when he was simply done in by early command issues and Davis' power. But the 4.71 ERA he's compiled through 21 starts this year does not afford him much grace.
"I want to do my job every time I go out there," Teheran said. "If I don't do it right, I'm just trying to concentrate on my next one. That's all I can do."
Unfortunately for Teheran, he does not have the option to make all of his starts at Turner Field. The frustration he has felt this year has been influenced by the maddening reality that he has produced a 2.37 ERA in 10 home starts and a 7.24 ERA in 11 road starts.
There was a point this season where this might have been viewed as a coincidental oddity. But with 100 games complete, it is impossible to overlook the likelihood that this has become a mental issue.
"I don't know if it's mental, but the numbers sure show it," Braves manager Fredi Gonzalez said. "We've got to get through it because you can't pick and choose when he pitches."
Some of the game's most successful pitchers have encountered an unexpected rough campaign during the early portion of their careers. The Braves are certainly hoping this proves to be true for Teheran.
At the end of this season, the Braves will need to evaluate whether Teheran fits in their long-term plans or stands as one of the pieces of their impressive pitching crop they should trade to acquire a power bat. Whatever the case, they need him to finish this season strong in order to reestablish a value that has significantly and steadily dropped as 2015 has progressed.
Mark Bowman is a reporter for MLB.com. This story was not subject to the approval of Major League Baseball or its clubs.