MLB.com Columnist
Phil Rogers
Trading Tulo not easy, but had to be done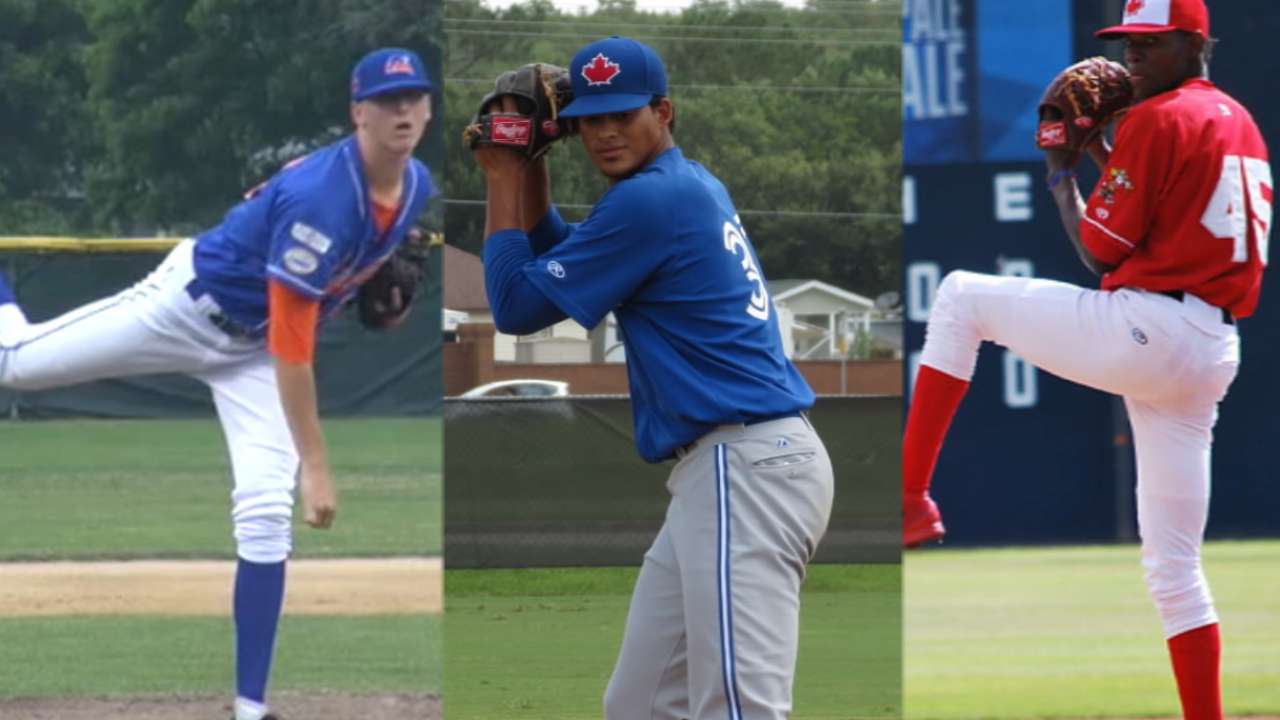 Jeff Bridich, the Harvard-educated, new-school general manager who pulled the trigger on the Tulowitzki deal late Monday night, acknowledged Tuesday he was "hurting in [some] ways and excited in other ways.''
Bridich knows how the Rockies franchise came of age in the Tulowitzki era -- if you were in the LoDo area of Denver in the fall of 2007, you can probably close your eyes and still hear the chants of "Tu-lo, Tu-lo, Tu-lo" -- but he couldn't ignore the reality that the prime of Tulowitzki's career was being wasted on a run of mediocre teams that always fell short for the same reason -- a lack of quality pitching.
• Timing, Rockies' return made Tulo deal work
So Bridich swallowed hard and summoned the courage to get owner Dick Monfort on board with the six-player trade that sent the 30-year-old shortstop to the Blue Jays for Jose Reyes and three pitching prospects, including Jeff Hoffman, who brings an elite arm on the cusp of a long Major League career.
It was Toronto GM Alex Anthopoulos who talked about how tough it is to make a big trade, saying teams might have 100 conversations before agreeing to one, and that when you have a chance to close one, you have to do it.
When Tulowitzki's name surfaced in trade rumors earlier this season, he had met with Monfort and been assured he would be kept in the loop before a possible trade. He didn't have a full no-trade clause, yet was told he'd be asked for his blessing. Then Tulowitzki was blindsided after being removed in the ninth inning of a dramatic 9-8 loss to the Cubs at Wrigley Field, and eventually, he was hustled out of town without comment. Bridich said Tulowitzki was "stunned, as expected'' when he told him he was being sent to Toronto.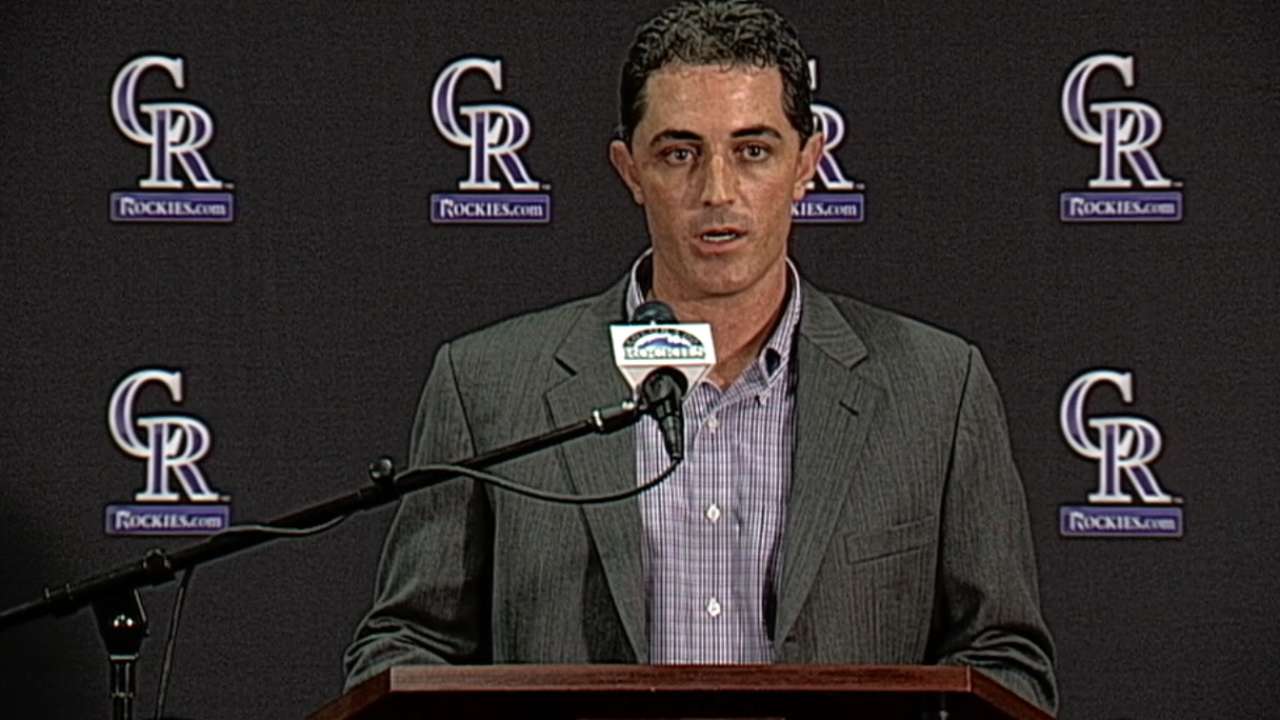 Bridich's job is to construct a winner out of an organization that is stuck on a treadmill. Colorado is headed toward its fifth consecutive losing season, and along the way, Bridich reached two conclusions: 1) The Rockies need to build their own rotation from quality arms; and 2) Tulowitzki was no longer indispensable.
Let's look at the second part first.
Tulowitzki was 26 when he signed a contract that seemed like a lifetime deal: 10 years at $157.75 million, with an option for an 11th. He was coming off a season when he played only 122 games, but had the highest rWAR on the Rockies at 6.7 (CarGo was second at 5.9, followed by Miguel Olivo at 2.5). Tulowitzki has played 87 of Colorado's 97 games this year, and he was sixth on the team in rWAR behind Arenado, LeMahieu, Blackmon, Hundley and, after a recent surge, Gonzalez.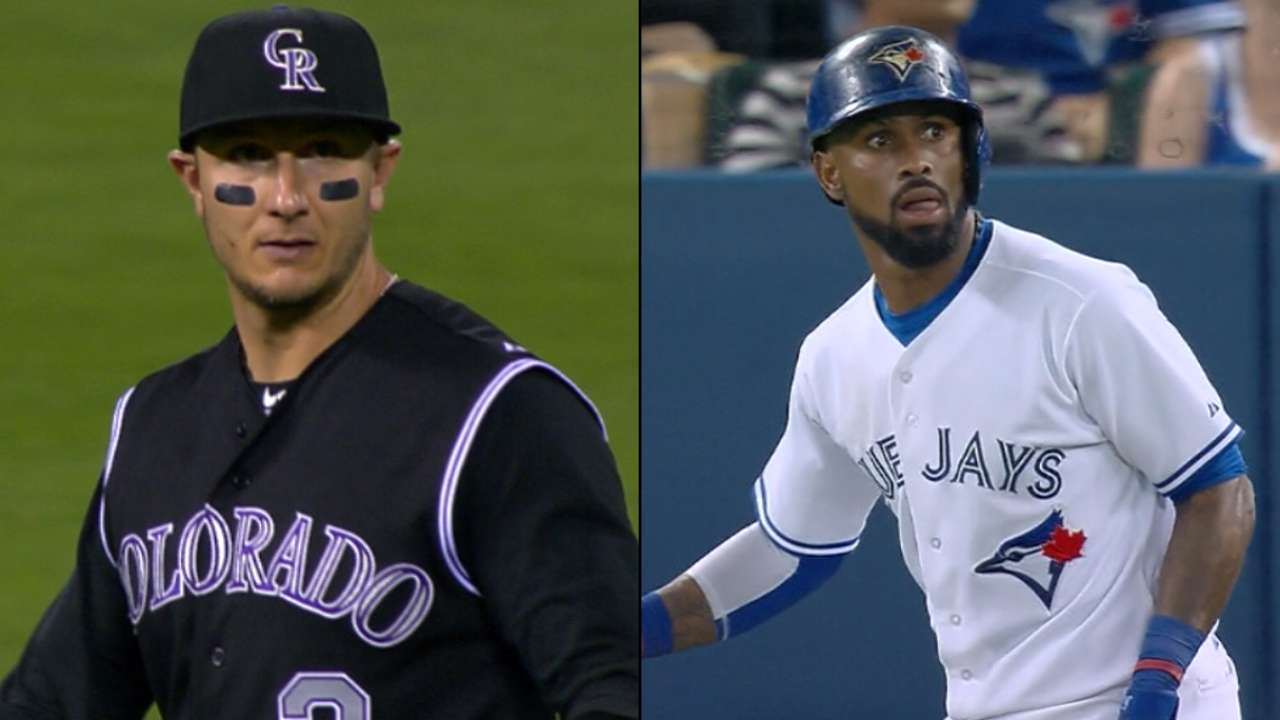 Bridich calls Tulowitzki "the best shortstop in the game,'' but in terms of WAR, he's 10th overall this season. Trading Tulowitzki isn't going to gut the Rockies, not with Reyes replacing him and prospects Trevor Story and Brendan Rodgers, who is the team's No. 1-ranked prospect according to MLB.com, in the pipeline. It was time to find the best deal you can get for Tulowitzki.
Building a pitching staff at Coors Field, with the thin air and eye-popping dimensions, will always be a huge challenge. But it has to be met for the team to compete. Colorado was ninth in the National League in starter's ERA in '07, when the club won its only pennant, and sixth in '09, when the team won 92 games.
That's the goal for the Rockies' pitching staff -- middle of the pack. Get there, you've got a chance. But beginning in 2010, Colorado's rotation has ranked 12th, 15th, 16th, 15th, 15th and (currently) 14th in the NL.
Load up on power pitchers who miss bats or build around strike-throwers who get ground balls and never walk anybody?
The Rockies have tried lots of approaches through the years, but one thing that rings true is something a manager told me a long time ago when a team was trying to improve its fielding.
"You want to catch the ball better?'' he said. "Get better players.''
Or in this case, you want to pitch better, get better pitchers.
Lefty Jorge De La Rosa is Colorado's all-time leader in victories with 75 over eight seasons. That speaks to how tough of a time the Rockies have had in building the kind of pitching depth it takes to win.
Hoffman, who would have been among the top picks in the 2014 Draft had he not had to have a midseason Tommy John surgery at East Carolina, should be the kind of high-end arm you can build around.
"His Draft stock slipped all the way to No. 9,'' Bridich said. "That tells you the type of talent he has.''
Jon Gray, whom Colorado selected with the third overall pick in 2013, was likewise a stud pitcher in college. Ditto left-hander Kyle Freeland, who was taken eighth last year, one pick before Hoffman.
Right-hander Eddie Butler, the 46th overall pick in 2012, and the two other arms in the Tulowitzki trade (20-year-olds Miguel Castro and Jesus Tinoco) add to the group from which Bridich hopes to build a rotation that can support a contending team. It's not an accident that after picking Rodgers with the third overall pick this June, Bridich kept targeting arms, landing high-schoolers Mike Nikorak, Peter Lambert and Javier Medina within the first 77 picks of the Draft.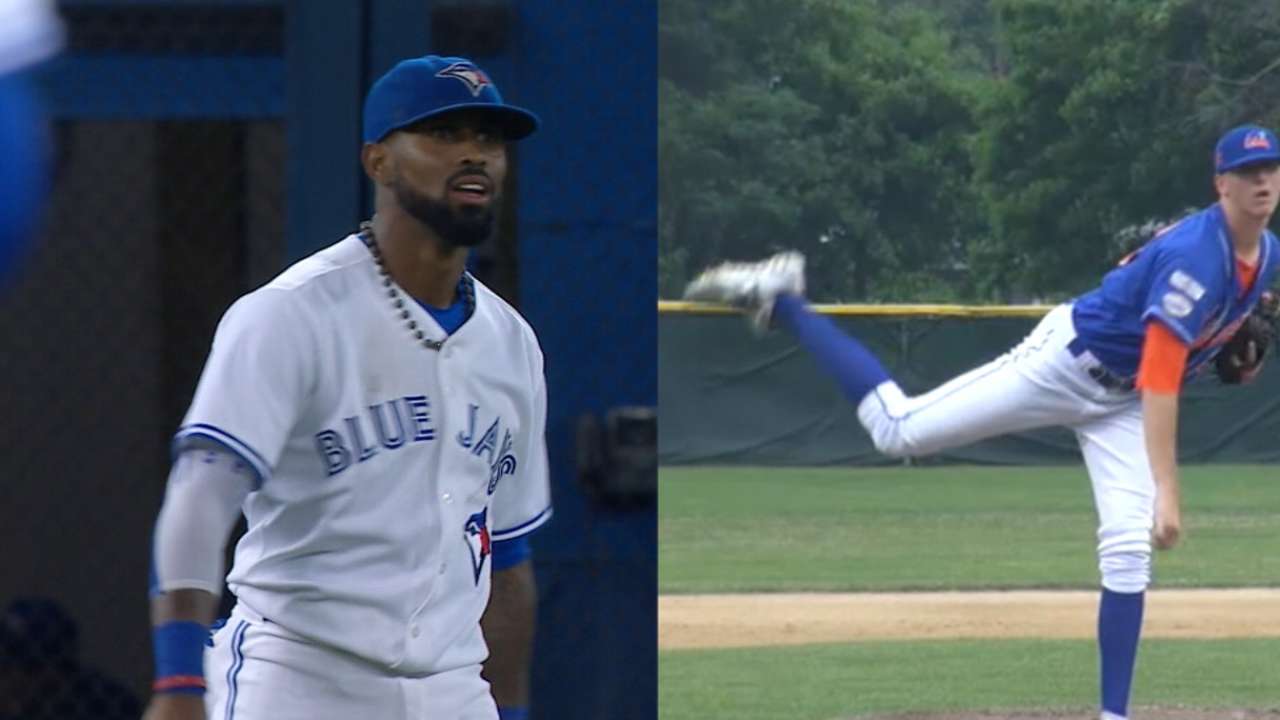 That's nine high-ceiling pitchers acquired in the past three years. If the Rockies hit on two or three of them, they'll have a chance to compete for a playoff spot again.
And Tulowitzki? As bitter of a pill as this seems to be for him to swallow, it is going to be a good thing for him.
"He is the best shortstop in baseball,'' LeMahieu said. "For him to be back in the playoff race, I think he's going to play a lot better than he's played this year, even though he's played great. I think he's going to take his game to another level with a chance to make the playoffs.''
More changes are coming for Colorado, possibly including a trade of Gonzalez, who was given his seven-year, $80 million contract shortly after Tulowitzki had cashed in with the extension that kept him off the free-agent market. These are tough moves to make, but like the late Jim Croce lamented, there's no way to save time in a bottle.
The Rockies were a beautiful thing to watch when Tulowitzki and Gonzalez were kids, but that was a long time and too many bloated ERAs ago.
Phil Rogers is a columnist for MLB.com. This story was not subject to the approval of Major League Baseball or its clubs.