Angels land veteran Victorino from Red Sox
Boston to cover most of remaining salary for outfielder; search continues for lefty bat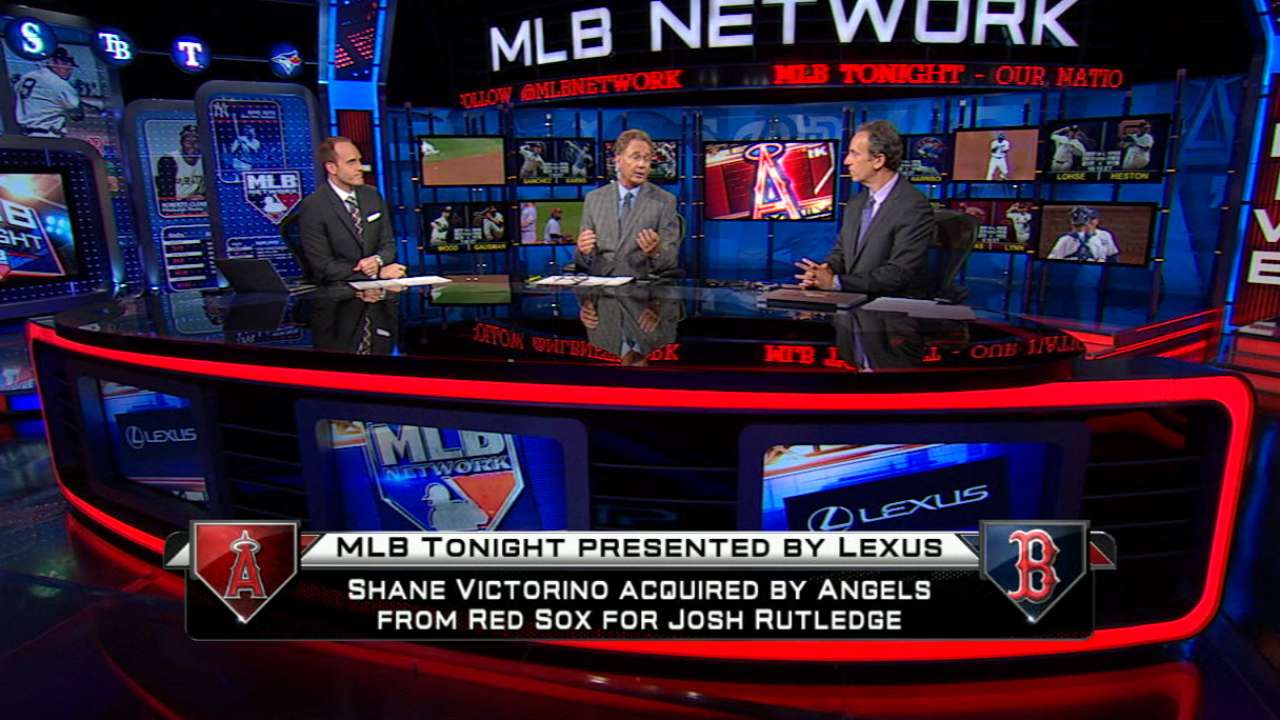 The Angels acquired veteran outfielder Shane Victorino from the Red Sox on Monday.
In exchange, Triple-A shortstop Josh Rutledge was sent to Boston, which will pay the majority of the prorated portion remaining on Victorino's contract. The 34-year-old Victorino is making $13 million in his final season before free agency, but the Angels will only be responsible for a little more than $1 million -- with the Sox covering $3.8 million of the remaining $4.9 million -- a source told MLB.com.
The Angels will continue to scour the market for a left-handed bat, as they have for the majority of this season. In the meantime, Victorino provides them with a right-handed hitter who can start in left field against lefties and a fourth outfielder who can handle all three spots.
"We still have some other things that are going on; we'll see if it leads somewhere," Angels interim general manager Bill Stoneman said on a conference call. "But once you get an opportunity to get somebody like Victorino, you move on it."
Victorino has won four Gold Glove Awards, made two All-Star teams and won two World Series titles, in Philadelphia and Boston, throughout his 12-year career. He spent his prime years with the Phillies, then got shipped to the Dodgers midway through the 2012 season and became an integral part of the Red Sox's World Series championship team in '13.
Victorino has since been plagued by injuries, though, playing in only 63 games since the start of 2014. The former switch-hitter missed nearly three weeks earlier this year with a right hamstring strain, then returned on May 11, played in eight games and went back on the disabled list with a strain in his left calf, an ailment that kept him out until July 4.
Victorino is batting .231 since his return, and he has a .245/.324/.298 slash line in 106 plate appearances this season.
"We know that he's had injuries in the past, but for right now, word is he's fine," said Stoneman, who expects Victorino to join the club for Tuesday's series opener in Houston. "We'll go from there. Keep our fingers crossed that he stays healthy for us."
Victorino's presence probably means Daniel Robertson, another right-handed-hitting outfielder who has done a nice job filling in while Collin Cowgill rehabs an injured wrist, will eventually return to the Minor Leagues.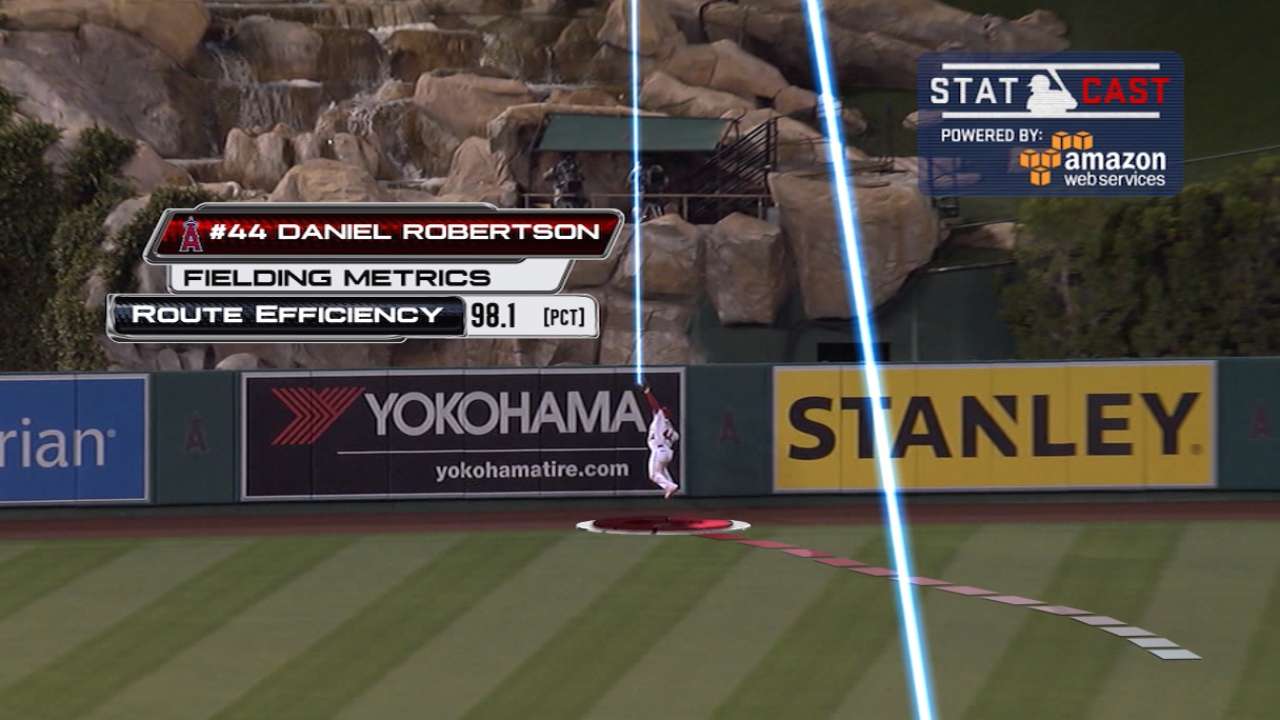 Victorino posted a .282/.348/.443 slash line with the Phils from 2006-11, playing in two World Series -- a win over the Rays in 2008 and a loss to the Yankees in '09 -- and becoming a fan favorite with his fixating speed and energy. He transitioned from center field to the corner outfield in '13 and has spent the last two years in right field.
The Red Sox parted with Victorino in large part to create playing time for young Rusney Castillo.
Nicknamed "The Flyin' Hawaiian," Victorino signed a three-year, $39 million deal with the Red Sox in December 2012, then batted .294 with 15 homers and 21 stolen bases the ensuing regular season and came up big in the World Series clincher, hitting a bases-clearing double in the third inning off the Green Monster while leading Boston to a 6-1 win over St. Louis in Game 6.
"He's obviously been there before and had some success," Stoneman said. "He's a guy who plays with a lot of enthusiasm and really hits left-handed pitching very well, and he plays the outfield well."
Rutledge batted .259 in 266 games with the Rockies from 2012-14, then came to the Angels in exchange for reliever prospect Jairo Diaz last December. The 26-year-old Rutledge lost the battle for the starting second-base job in Spring Training and has spent the entire year with Triple-A Salt Lake, batting .274/.323/.403.
For the Angels, the best part of the deal is that they didn't have to give up any of their pitching prospects. They'll probably have to tap into that to get a left-handed bat, and they've been linked to the likes of Jay Bruce, Nick Markakis, Gerardo Parra, Adam Lind and Andre Ethier for quite a while.
The search continues.
"We're still talking to other clubs," Stoneman said. "It's not just one or two clubs that we're talking about. So there's some other possibilities. The real question is, 'Does it result in something that helps you?' We're continuing to work towards that, and hopefully we'll end up with something that does help us."
Alden Gonzalez is a reporter for MLB.com. Read his blog, Gonzo and "The Show", follow him on Twitter @Alden_Gonzalez and listen to his podcast. This story was not subject to the approval of Major League Baseball or its clubs.