Emotional Victorino dealt to Angels
Boston receives infielder Rutledge, recalls outfield phenom Castillo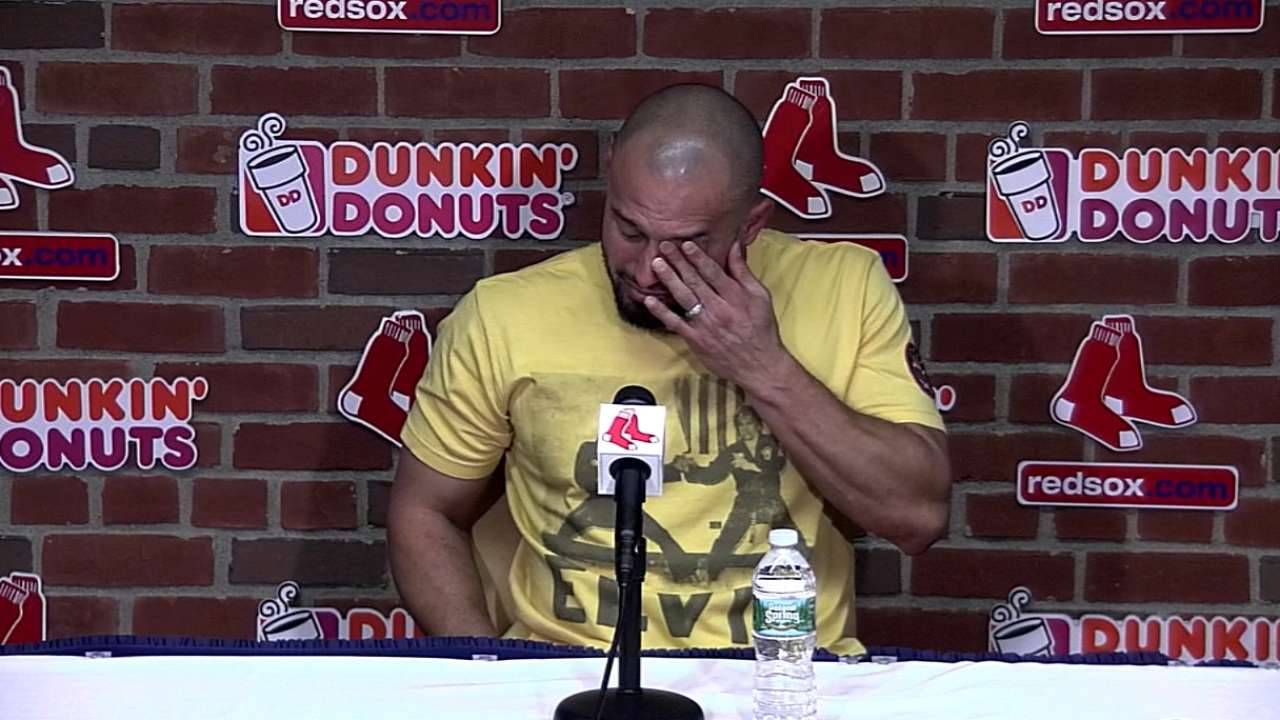 BOSTON -- Shane Victorino went from last place to first place in an instant on Monday. At some point soon, that will put a smile on his face.
But the emotional right fielder broke down in tears several times during a press conference that happened nearly five hours after he was traded from the Red Sox to the Angels. The Red Sox will pay $3.8 million of Victorino's remaining $4.9 million salary, and will get infielder Josh Rutledge from the Angels.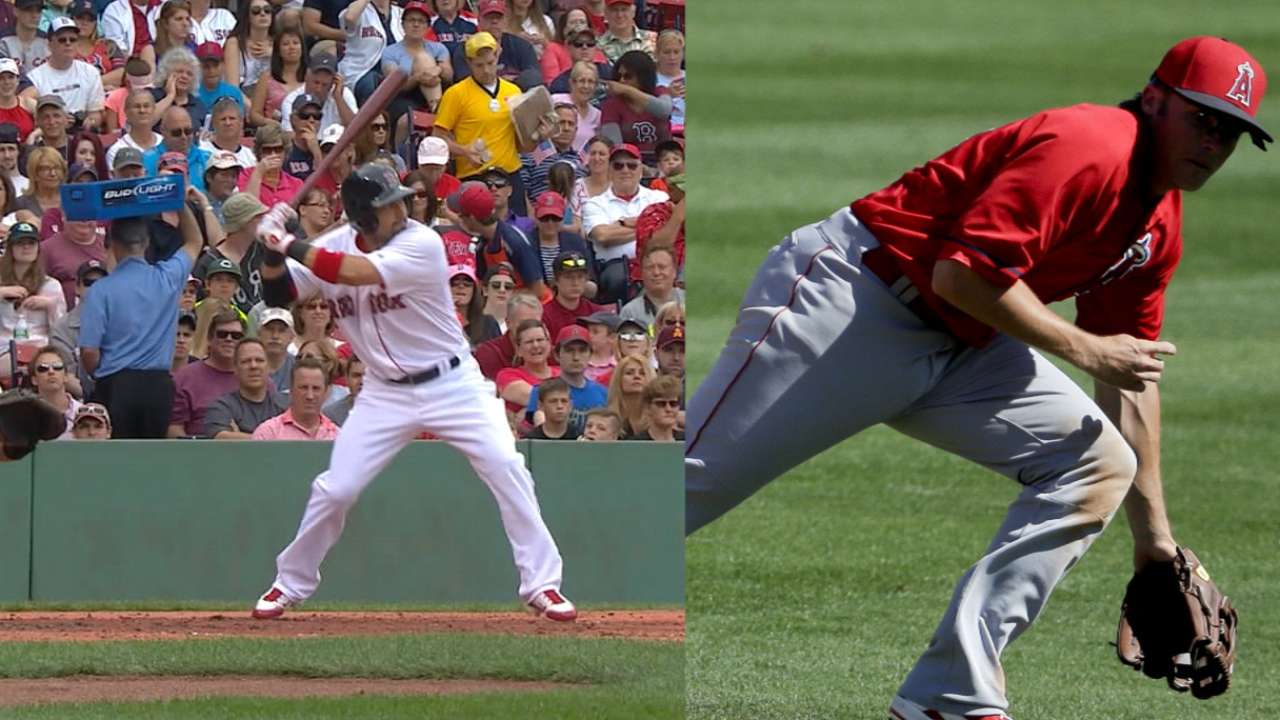 It was a classic buyer (Angels)-seller (Red Sox) transaction, undoubtedly not the last that will happen over these next few days.
To Victorino, however, it was more personal.
Boston was the place he revived his career in 2013, playing a prominent role in a somewhat stunning World Series run by the Red Sox. The last two years, Victorino spent much of his time coming back from injuries, something that took a toll on him mentally.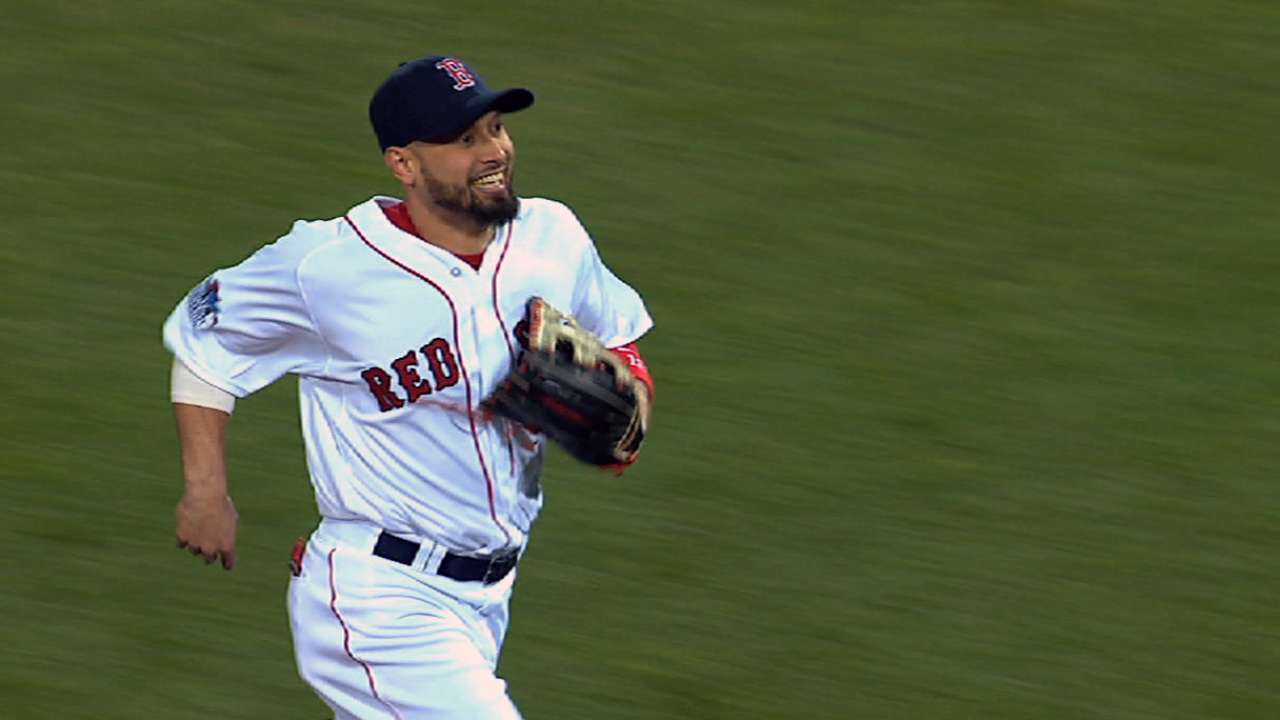 "I hope that I'll be remembered for what happened in '13, and I think you read the comments and some of the messages that are being delivered to you or being said, you understand it now," said Victorino. "Sometimes when someone is gone, they finally get to express how much you meant to a city or how much you meant to them, and being part of that '13 team, and we use that slogan, and it will always be a part of us, 'Boston Strong.' I'm holding myself together now."
And even though Victorino is healthy now, it was his preference to finish out his contract with the Red Sox and decide on his future this winter.
Thank you, #RedSoxNation! pic.twitter.com/3gBEhw9O6X

— Shane Victorino (@ShaneVictorino) July 28, 2015
"My wife said it to me this morning, and she said to me about going somewhere," said Victorino. "I said, 'Honey, honestly, no. I'm fine here. I want to be here. I want to finish my contract. I signed a three-year deal. I want to finish this deal here.' She says, 'Don't you want to go out and win another ring?' It set me back because sometimes you overlook those kind of messages or that simple fact.
"But when she said it, and actually coming here and having this all happen, yes, there's nothing more that I want to do than win another ring. If there's two times in my life that has been the best times of my life, it's when I won in '08 in Philly and '13 here in Boston."
With Victorino gone, the Red Sox can give Rusney Castillo a chance to play regularly.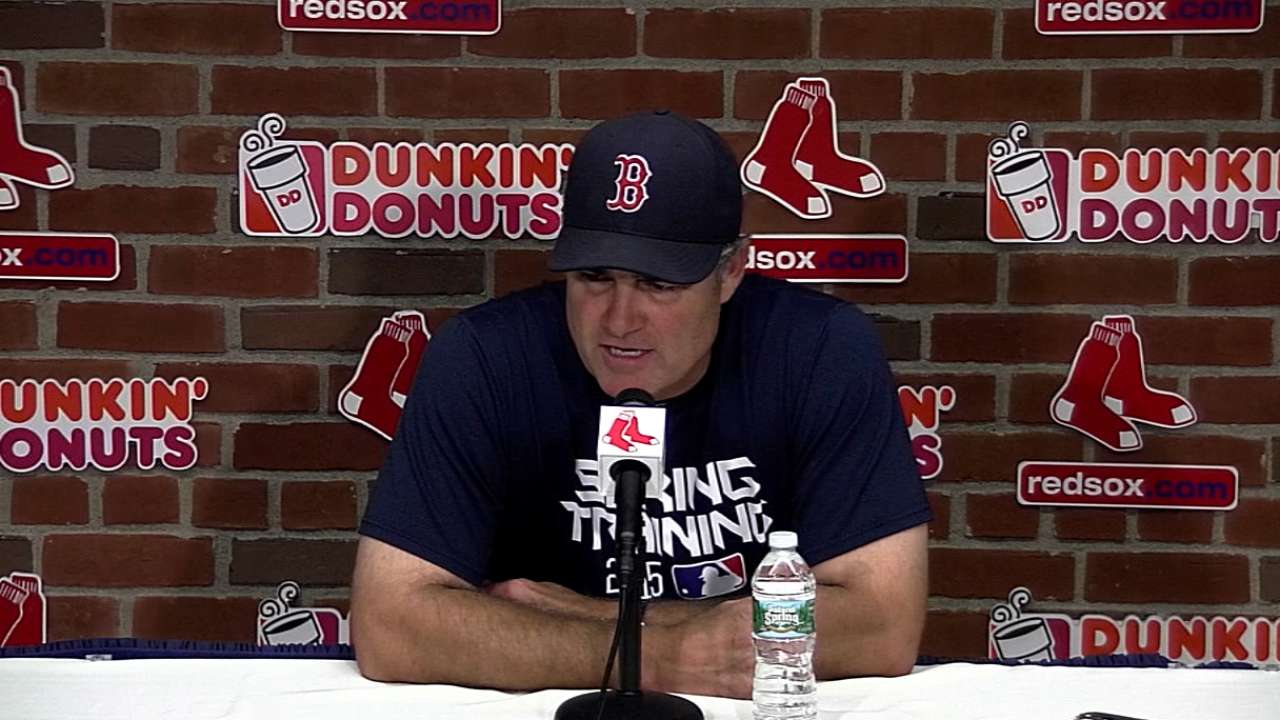 "Well, unfortunately the trade signifies [the departure of] a player that helped us win a World Series two years ago, and when you take one of those players off this roster, you're building toward the future, and that's disappointing," said Red Sox manager John Farrell.
Castillo, who hasn't made much of an impact since signing a seven-year, $72.5 million deal with the Red Sox last August, was promoted from Triple-A Pawtucket to take Victorino's spot in the starting lineup.
"Ironically, I think when we signed him, I said at least to some [people], I compared his overall game to Victorino," said Red Sox general manager Ben Cherington. "That in a way is how we saw him when he signed -- a guy that could do a bunch of things well, contribute in different ways. We still feel that way. We'd like to see him get a good chunk of playing time at the Major League level and get comfortable with being here every day."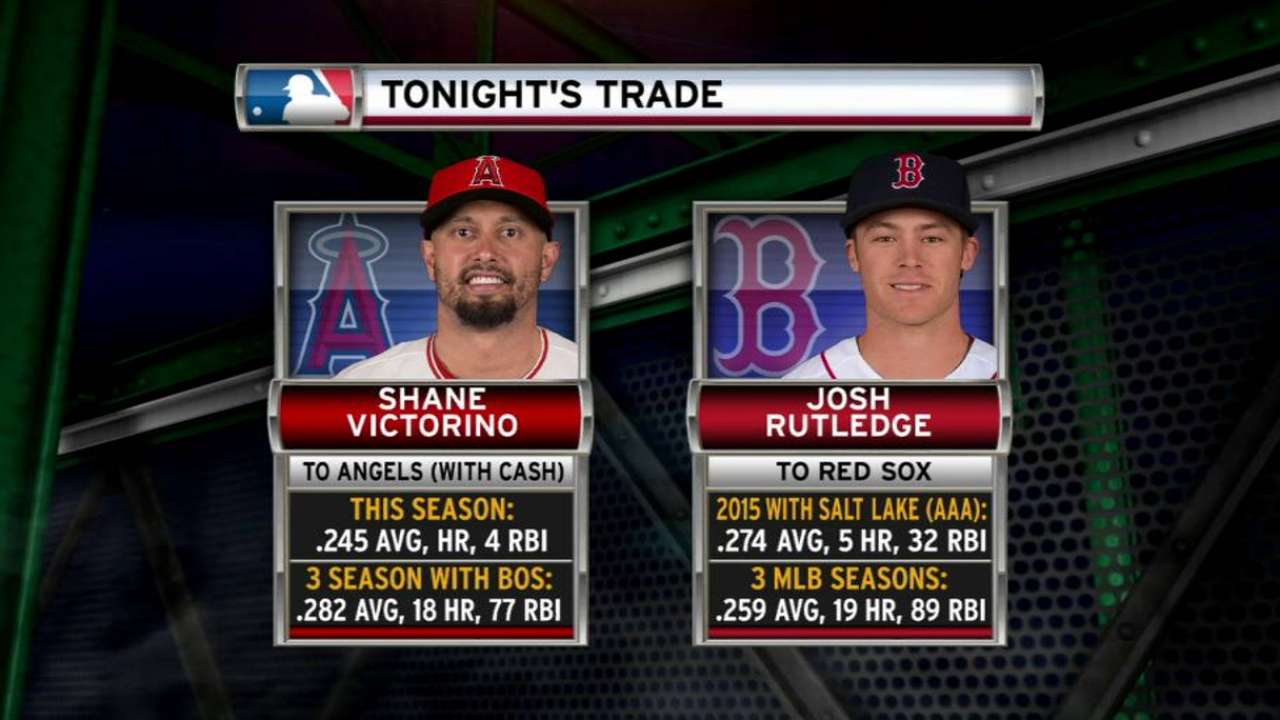 Victorino was slated to hit second for the Red Sox in Monday's game against the White Sox until the trade, which was announced approximately one hour before the first pitch. The Red Sox told Victorino he had been traded after batting practice.
Instead of hurriedly packing his belongings, Victorino stayed in the clubhouse for the entire game, which the Red Sox lost, 10-8. At times, Victorino found himself cheering for the Red Sox during the game, forgetting he was no longer a part of the club.
Victorino's grand slam in Game 6 of the American League Championship Series and his three-run double in Game 6 of the World Series are two of the most memorable hits from that October. Victorino pounding his chest as he rounded the bases on those two hits are lasting memories.
Going to miss my teammate and friend for life @ShaneVictorino ! Go play with passion and never look back! Champion

— Dustin Pedroia (@15Lasershow) July 28, 2015
The Red Sox signed Victorino to a three-year, $39 million contract in December 2012.
"My opinion is that we wouldn't have won the World Series without him in 2013, so obviously the DL time got in the way of making the same kind of contribution in the last two years, unfortunately," said Cherington.
Rutledge has played 266 games in the Major Leagues, all with the Colorado Rockies. He has spent all of 2015 in the Minor Leagues, but is expected to be activated by the Red Sox in the coming days.
Ian Browne is a reporter for MLB.com. Read his blog, Brownie Points, and follow him on Twitter @IanMBrowne. This story was not subject to the approval of Major League Baseball or its clubs.