MLB.com Columnist
Barry M. Bloom
Day after induction brings reflection, relief
Four Hall of Famers pause to enjoy moment after whirlwind day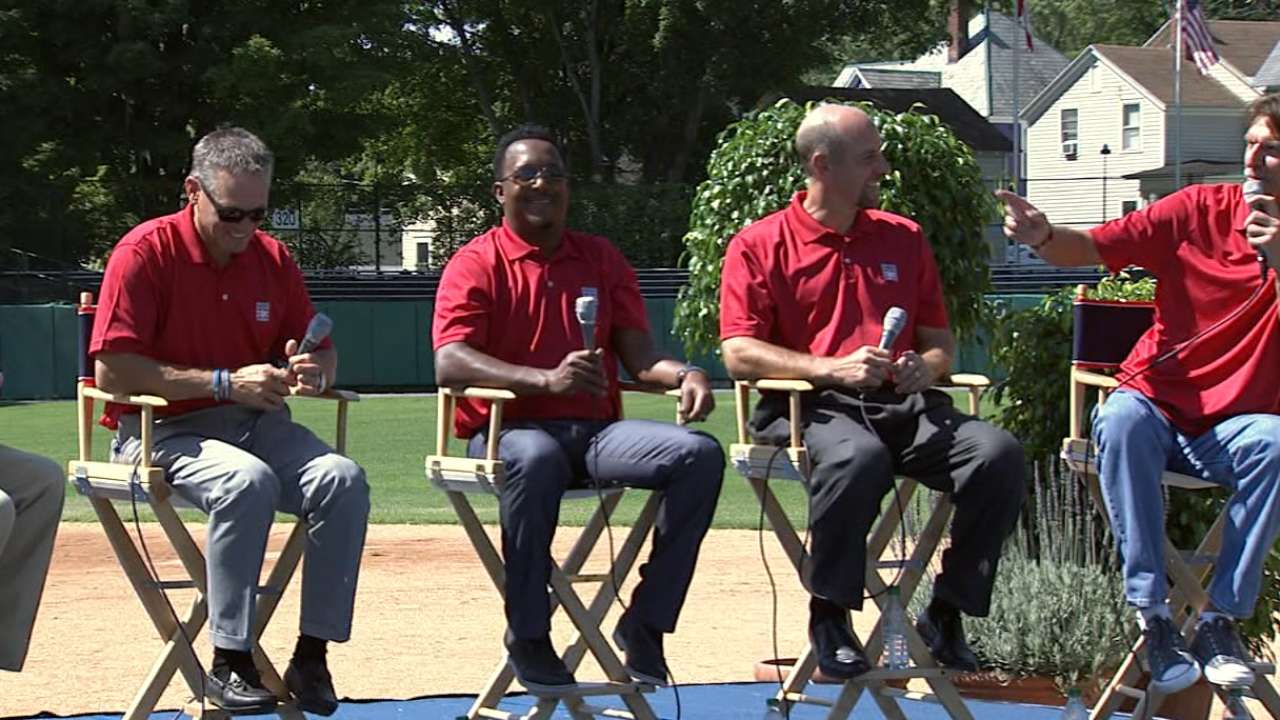 COOPERSTOWN, N.Y. -- It's the day after the induction ceremonies when the newest members of the National Baseball Hall of Fame always experience a sense of satisfaction mixed with relief. The speeches are over, and so is the good-natured heckling from the men who gather every summer, most of them having long been members of the Hall.
That's the way it was on Monday morning for John Smoltz, Randy Johnson, Pedro Martinez and Craig Biggio. The quartet gathered for their final function of the weekend, a Legends of the Game chat staged at Doubleday Field.
The common thread usually is that the experience under the white tent on the stage behind the Clark Sports Center far surpasses any preconceived notions. So does joining their fellow Hall of Famers at the post-induction dinner, where the new inductees receive their rings. That event provides a sense of calmness after the storm.
"It was everything everyone said, and then add another two or three times to that," said Smoltz, the longtime Braves right-hander, who won 213 career games and saved 154. "It's an experience unlike any other thing I've ever been involved in my life. It was an out-of-body experience I hope I never go through again. That's what it was like yesterday."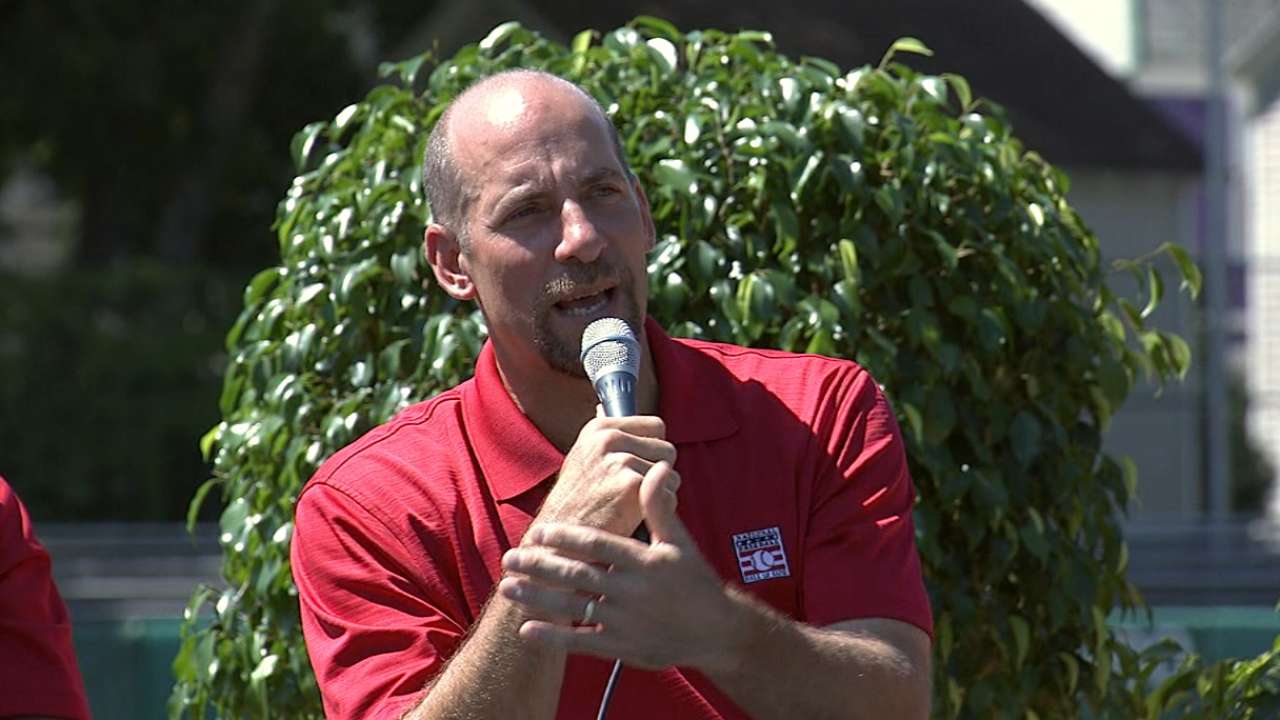 "It was everything that I thought it would be, and more," said Biggio, who amassed 3,060 hits in 20 seasons, all for the Astros. "You listen to what other players say about it. You take it all in, and try to be prepared and speak from the heart. Today and after the fact, it's pretty special to be part of this fraternity right now."
"I don't think you can ever prepare for this," said Johnson, who won 303 games and went into the Hall wearing a D-backs cap on his plaque. "You don't know what the emotions can be, and that's a big part of it, obviously. And now I know. I was completely overwhelmed. I was humbled and honored, and really at a loss of words when it came my time to go up there and speak."
For the second year in a row, there was a huge throng on the lawn behind the Clark, which will be replaced in two years by a new facility that is starting to rise from an adjacent parking lot. This year, the estimate was about 45,000.
Certainly, there were thousands of fans clad in Astros gear from every era, many chanting, "Big-gio, Big-gio" during his leadoff speech.
But what made the ceremony really unique was the numerous fans representing Pedro's native Dominican Republic. They waved flags, beat congas and clashed cymbals, turning the warm afternoon into a salsa festival. As with Biggio, Martinez's fans chanted the name of the diminutive right-hander, who had a career winning percentage of .687 (219-100) for five teams and went into the Hall with a Red Sox cap.
For Pedro, it wasn't as much an out-of-body experience as it was the heralding of a baseball rock star. Martinez eloquently spoke in both English and Spanish during his 20-minute off-the-cuff speech, which ended when he asked fellow countryman Juan Marichal to help him unfurl a Dominican flag.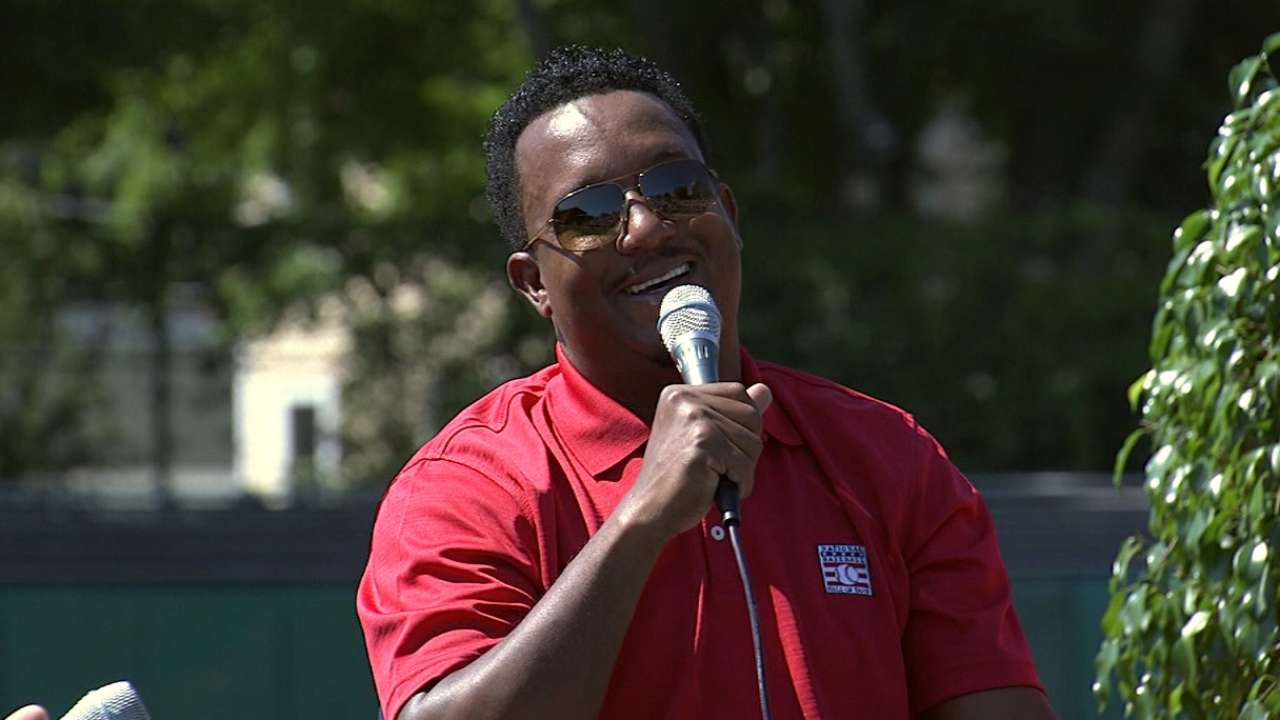 The pair are the only Dominicans in the Hall, their inductions coming 32 years apart.
"I had some bullet points that I first drafted of things that I wanted to say," Martinez said. "But a lot [of the speech] was just pure creation. I did not expect to say some of the things I said. But it came to me. I told you I was going to speak what I felt in that moment. And I felt so grateful and humbled. I expressed it in both Spanish and English the best way possible."
At dinner, Smoltz and Johnson were seated at a table that included Cal Ripken Jr., Eddie Murray, Frank Thomas and Andre Dawson. That's a powerhouse group if there ever was one.
To put it in perspective, the greats inducted on Sunday are just like all of us, with other players as their idols. Like Biggio growing up in Long Island, N.Y., or Martinez hailing from the small town of Manoguayabo, they rose from humble beginnings.
"These are moments I'll cherish for the rest of my life, because you don't get experiences like that," said Smoltz, who was drafted by his hometown team, the Tigers, in the 22nd round of the 1985 First-Year Player Draft. "For me to be in a locker room, even though I was drafted, I thought, 'I can't believe I'm here.' Then to live it out for 25 years and wind up in this locker room with people you only see from afar? That's unbelievable."
"I sat wherever I was told to sit. I would have sat in the corner if they told me to," said Biggio, who shared a table with Ozzie Smith, Tony Perez, Barry Larkin, Rod Carew and Bobby Cox. "It was a great group. You can't get any better than that."
"I had a chance to talk to some of the people I've looked up to for a long time, like Steve Carlton," Johnson said. "There were some big tables there, considering the accomplishments of these Hall of Famers and who they are."
And now, this particular group stands among them.
Barry M. Bloom is a national reporter for MLB.com and writes an MLBlog, Boomskie on Baseball. Follow @boomskie on Twitter. This story was not subject to the approval of Major League Baseball or its clubs.