Duffy quickly becomes third-base fixture
Giants rookie ably filling hole left by Sandoval's departure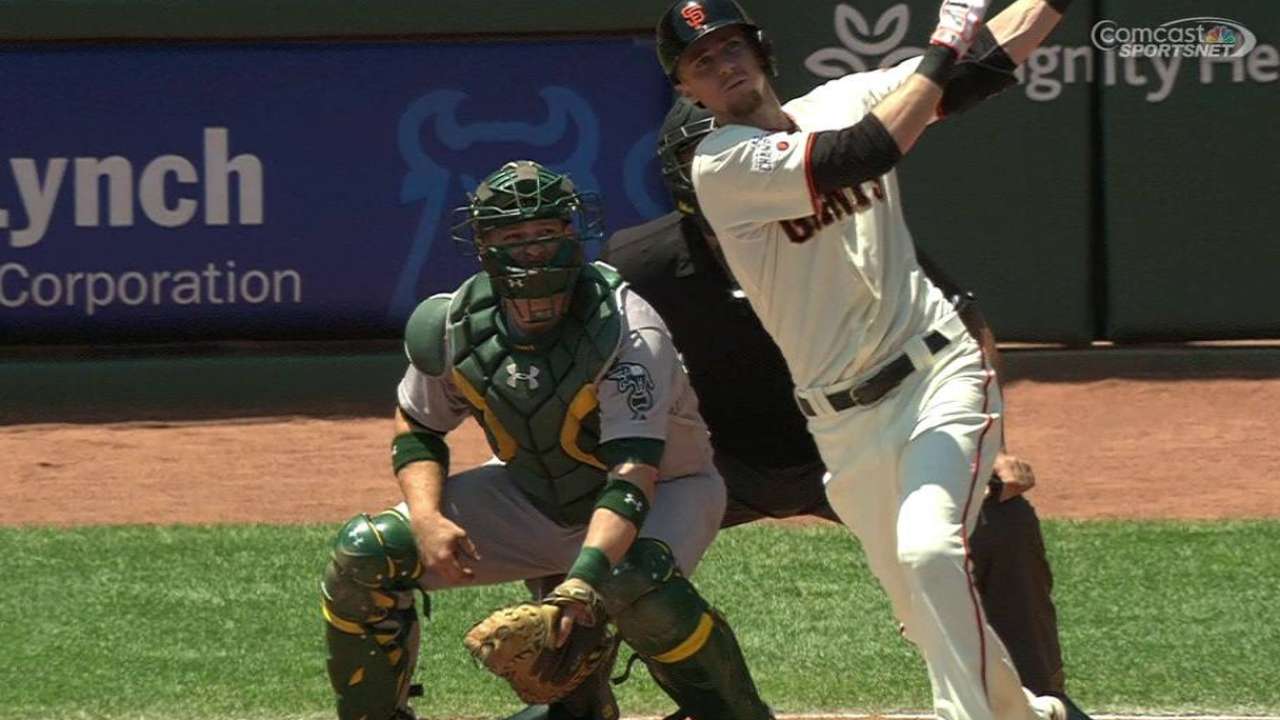 SAN FRANCISCO -- When Pablo Sandoval signed a five-year, $95 million contract this past offseason with the Boston Red Sox, he left the Giants with a major hole to fill.
Sandoval played an integral role in helping the Giants win three championships in the last five seasons. The Venezuelan third baseman was a staple in manager Bruce Bochy's lineup and beloved by the city of San Francisco.
After all, Sandoval was the Most Valuable Player of the 2012 World Series and a two-time All-Star. So when he departed from the organization that gave him his first opportunity in the Major Leagues, there was uncertainty as to who would take his place.
If any uncertainty still lingered heading into the month of June, it has quickly evaporated, especially after Sunday's 4-3 win over the A's.
He may not have been the obvious choice at the onset of the season, given his 6-foot-2, 170-pound frame, but after Casey McGehee struggled through injury and ineffectiveness, Matt Duffy was handed the job and never looked back.
"He played so well you couldn't take him out," Bochy said following a win over the Rockies on June 28.
Duffy has started every game for the Giants at third base since May 24 and trails only the A's Billy Burns among rookies with a .302 batting average (minimum 200 at-bats).
Duffy has not just developed into an everyday player; he's become one of the Giants' best hitters. Duffy's play compelled Bochy to move him to the three-hole, where he has hit .315 with three home runs and 13 RBIs in 26 games.
"Duffy's been awesome," Tim Hudson said. "He stepped into that three-hole and [it] hasn't been too big of a moment for him."
Duffy ranks fourth on the Giants in batting average, fourth in home runs (nine) and third in RBIs (46). He's also third among National League third basemen in average (minimum 250 at-bats) and fifth in RBIs.
"I just like the way he battles up there," Bochy said Saturday. "He uses the whole field, he's got a good eye at the plate, he's a tough out."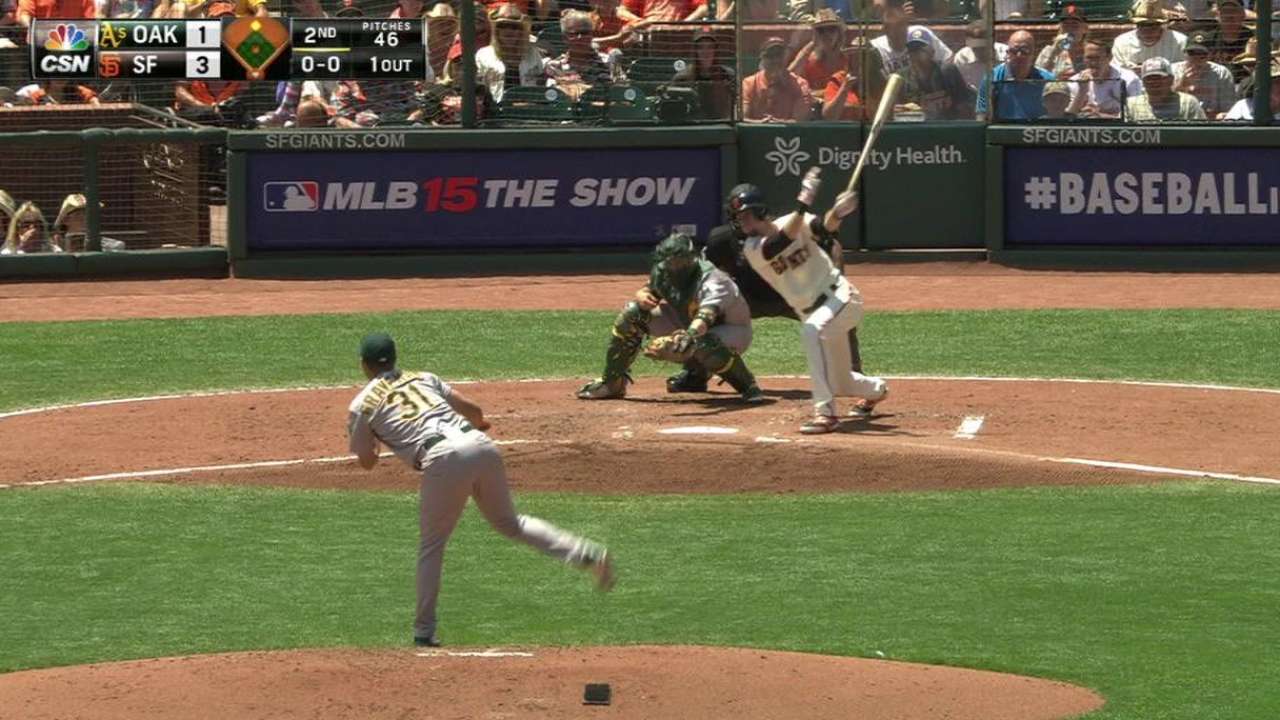 The rookie from Long Beach, Calif., had a 2.8 Wins Above Replacement (via Fangraphs) this season entering Sunday, when he cracked a two-run homer in the first inning and added an RBI single in the second. Duffy already surpassed Sandoval's WAR in 2012 (2.6) and is rapidly approaching the mark his predecessor set last season (3.0).
"I'm just trying to do what I can to help this team win," Duffy said.
While the Giants certainly miss Sandoval's heroics, Duffy has eased the pain. At 24 years old, Duffy is starting at third base and hitting third for the defending World Series champions and yet, he's still improving every day.
"He understands he has an approach when he's at the plate and he understands what the pitcher's trying to do to him," Buster Posey said. "I think you're going to see he's going to make adjustments even quicker going forward."
Oliver Macklin is an associate reporter for MLB.com. This story was not subject to the approval of Major League Baseball or its clubs.