Wisler conquers jitters, beats baseball's best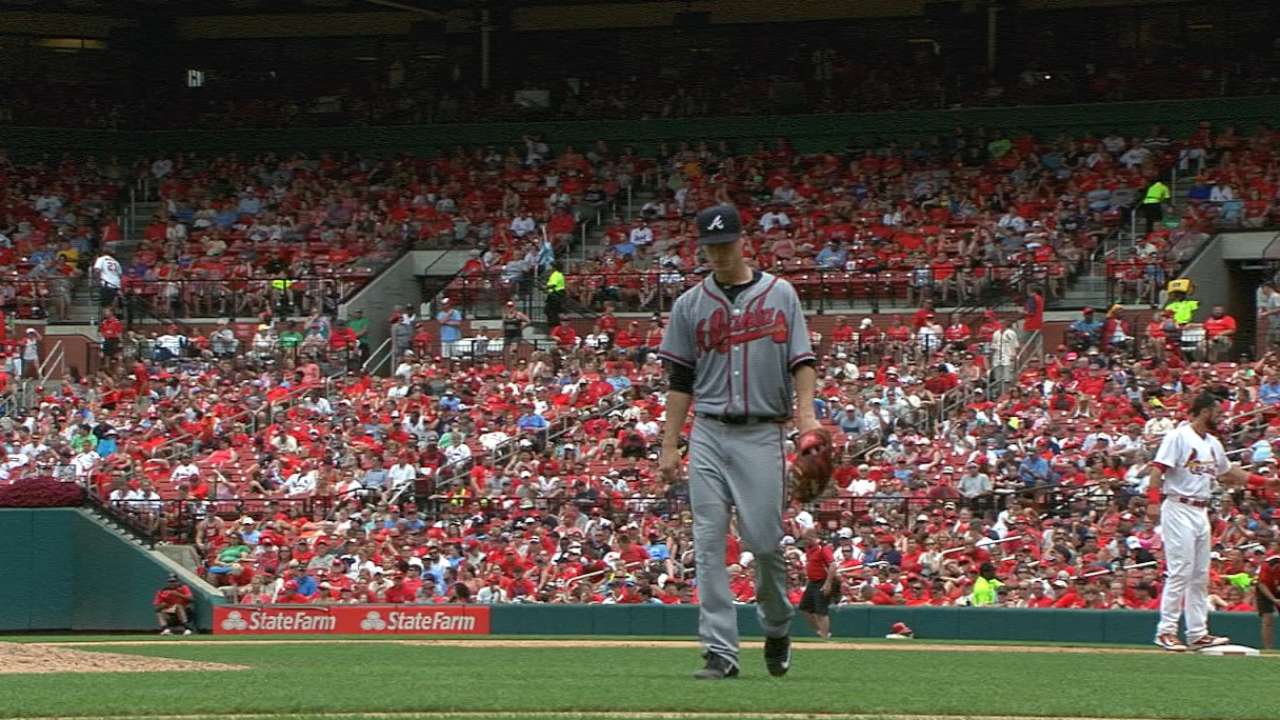 ST. LOUIS -- The preamble to Matt Wisler's seventh Major League start and its beginning provided reasons for concern, but the results were impressive once again as the Braves' rookie picked up his fifth win in Atlanta's 3-2 victory over the Cardinals at Busch Stadium on Sunday.
Wisler didn't feel sharp in the bullpen, and he admitted to feeling nervous facing the club with baseball's best record. The 22-year-old righty needed a strikeout to escape the first inning with two runners in scoring position after leadoff batter Kolten Wong singled and former Brave Jason Heyward poked a two-out double down the left-field line.
With the help of two second-inning Braves runs and some solid defense, though, Wisler shed the early baggage to go seven innings for the first time since he lasted eight in his debut on June 19.
His last out was a seventh-inning popup off the bat of slugger Matt Holliday, who had tied the score at 2 with a double in the fifth.
"That was a big at-bat for me," Wisler said of striking out Holliday. "I knew that one swing and he could put them in the lead, so I had to bear down on him and stay focused on that at-bat, pitch-by-pitch thinking, 'What is he looking for? What is he trying to think right here?' And just pitching different ways than I pitched the rest of the game."
Wisler and catcher Ryan Lavarnway agreed that Wisler's fastball command was pivotal, as he relied on it and a slider early before mixing in a curveball and changeup the third time through the Cardinals' order.
Lavarnway also caught Wisler's six-inning, seven-strikeout game against Colorado on June 11, when he allowed just two runs at Coors Field, a notorious hitters' park.
"He's a real competitive guy and he's going out there and giving it his all," Lavarnway said of Wisler. "He's got great stuff, so as he continues to grow, I'm excited to watch him."
Braves manager Fredi Gonzalez didn't rule out the possibility of Lavarnway catching Wisler more frequently in the future in order to give days off to starting catcher A.J. Pierzynski.
"A.J. is 38 years old, he's going to need a breather every once in a while, and that's something we could look at," Gonzalez said. "And if it works for us and it works for [Wisler] and Lavarnway, we'll explore it."
David Cobb is an associate reporter for MLB.com. This story was not subject to the approval of Major League Baseball or its clubs.