Upton, Padres bracing for roster changes
Left fielder puts on show in what could be final home game at Petco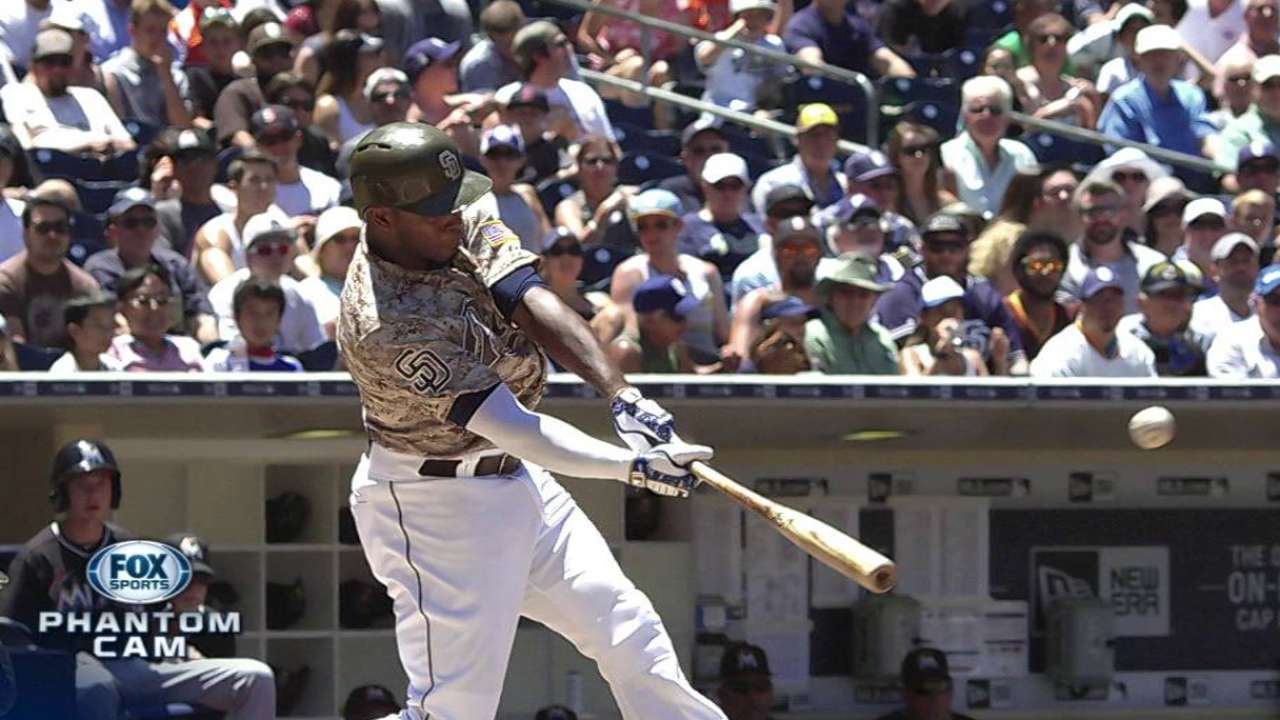 SAN DIEGO -- As the longest-tenured Padres player, Will Venable has been around for more than a few Trade Deadlines and is used to seeing teammates come and go this time of year. Venable, who broke into the big leagues with the Padres in 2008, understands this is simply a matter of doing business.
That said, after the Padres secured a series win over the Marlins on Sunday, with a 3-2 victory that was the team's eighth in the last 11 games, he's hoping this stretch of solid baseball can keep the front office from breaking up the team on or before the July 31 Trade Deadline.
"Whether that's a naïve thought or not, that's the plan," Venable said. "… No one wants to go anywhere. They want to be here."
The Padres were busy packing late Sunday afternoon in preparation for the start of a 10-game road trip that begins Tuesday in New York against the Mets.
The faces in the clubhouse could be different when the team returns to Petco Park on Aug. 7. That's not something interim manager Pat Murphy wants to think much about.
"I'm feeling more and more comfortable every day with the group we have, the staff, everything. Especially when you win, it's a little better feeling obviously. But it's professional baseball and those types of things happen and whatever happens we are going to move forward," Murphy said.
"I'm not even thinking about it to be honest with you."
The Padres certainly have more than a handful of interesting pieces to potentially move, including left fielder Justin Upton, who hit his 16th home run of the season against the Marlins, as several advance and special-assignment scouts from other organizations watched.
Upton missed four games last week resting his tight left oblique. His start Sunday was his third in as many days.
"I just know when he starts getting his confidence back, he's a force to be reckoned with," Murphy said. "I think he's on his way back."
Upton, closer Craig Kimbrel -- who earned his 29th save of the season on Sunday -- and reliever Joaquin Benoit, as well as starting pitchers Ian Kennedy and Andrew Cashner have drawn attention from other teams looking for roster upgrades.
As for the Padres, who have shown some spunk of late, it might be too late to prevent player movement. The team is 7 1/2 games out of first place in the Wild Card and National League West race. That's not completely unattainable, but it's certainly daunting.
Upton, who has been traded twice in his career, said he's encouraged by the play of the team of late. But, like Venable, he understands that trades are a part of the game.
"We've strung together some good stretches of baseball … but we can't make up their [front office] minds," Upton said. "Those things [trades] are out of my control."
Corey Brock is a reporter for MLB.com. Keep track of @FollowThePadres on Twitter and listen to his podcast. This story was not subject to the approval of Major League Baseball or its clubs.