Realmuto providing power, promise for Marlins
Rookie catcher goes 2-for-4 with a homer in loss to Padres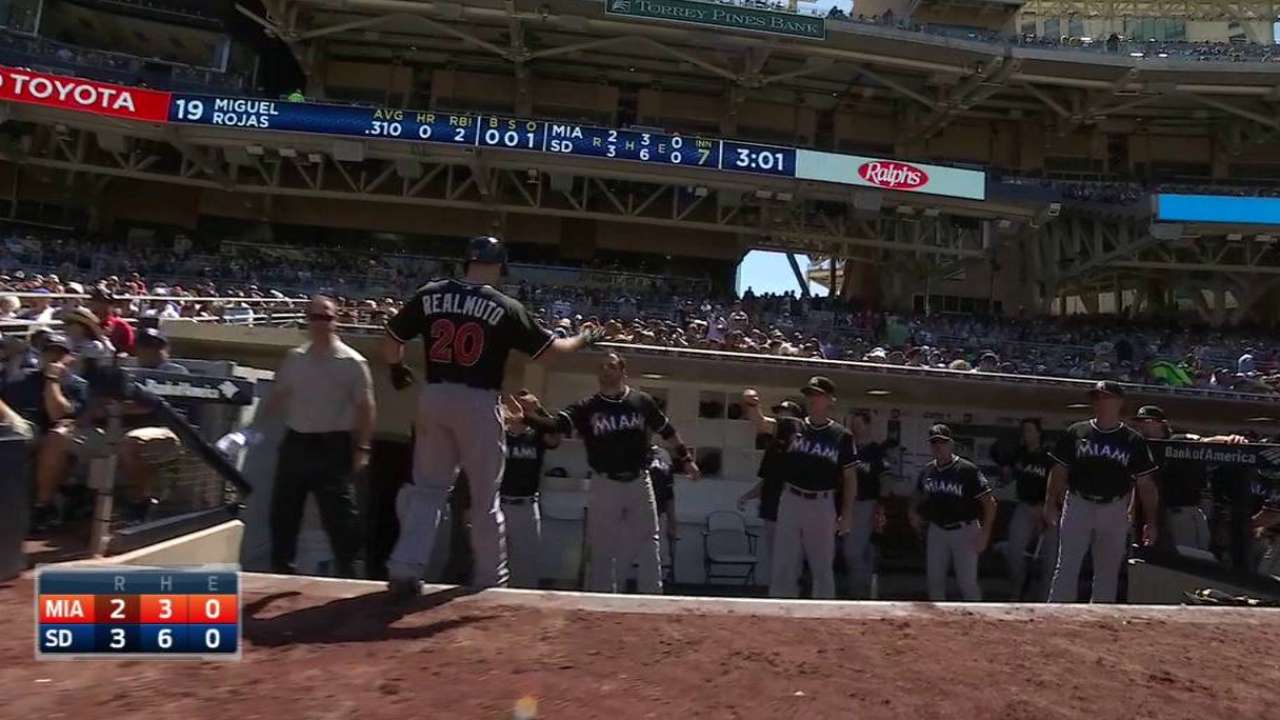 SAN DIEGO -- Once J.T. Realmuto irons out some glitches in his swing, watch out. The 24-year-old rookie remains a work in progress, but he continues to show flashes of why many believe he will be a better than average big league catcher.
The Marlins managed just four hits on Sunday in their 3-2 loss to the Padres at Petco Park, and Realmuto had two of them, including a homer. He also scored both runs.
In their disappointing 3-7 road trip, Realmuto was a bright spot, collecting six extra-base hits -- two homers, three doubles and a triple.
"He's been absolutely outstanding on this entire trip," manager Dan Jennings said. "He continues to emerge, both ways, defensively and offensively."
At the plate, Realmuto has been fine tuning. Now with six home runs and a .416 slugging percentage, he is showing power potential. He even boasts better than average speed for the catcher position. A former high school quarterback, Realmuto can run, reflected by the fact he paces the Marlins in triples with five.
Dee Gordon, who led the Majors in triples with 12 last year, has four.
"I feel like, as I keep developing as a hitter, I'll start hitting some more homers," Realmuto said. "I've got some tweaks in my swing that I've been working on for really the last two years. I've got some bad habits, I've been trying to kick. Once I do fully get rid of those, I'll probably be able to put up some bigger numbers."
On Sunday, it was a frustrating day at the plate for the Marlins. They didn't get their first hit until the fifth inning. It came on Realmuto's single to right. He also scored on Ichiro Suzuki's sacrifice fly.
"It was pretty frustrating the way we started the game," Realmuto said. "We got a couple of hits, a couple of runs on the board. It wasn't enough to get the job done."
Offensive help could be on the way as Gordon (dislocated left thumb) could be reinstated from the disabled list as early as Tuesday.
Giancarlo Stanton (broken left hand) is about two weeks away from coming back.
"Two of your top three hitters are out of the game," Realmuto said. "It makes it tough to score runs. That's where the rest of us have to come in, and be able to produce. It's not going to be something where one guy is doing it every night. It's going to have to be a different guy producing every night. That's just how it's going to have to be for a while until we get those guys back."
Joe Frisaro is a reporter for MLB.com. He writes a blog, called The Fish Pond. Follow him on Twitter @JoeFrisaro and listen to his podcast. This story was not subject to the approval of Major League Baseball or its clubs.