MLB.com Columnist
Richard Justice
Induction day could not have been better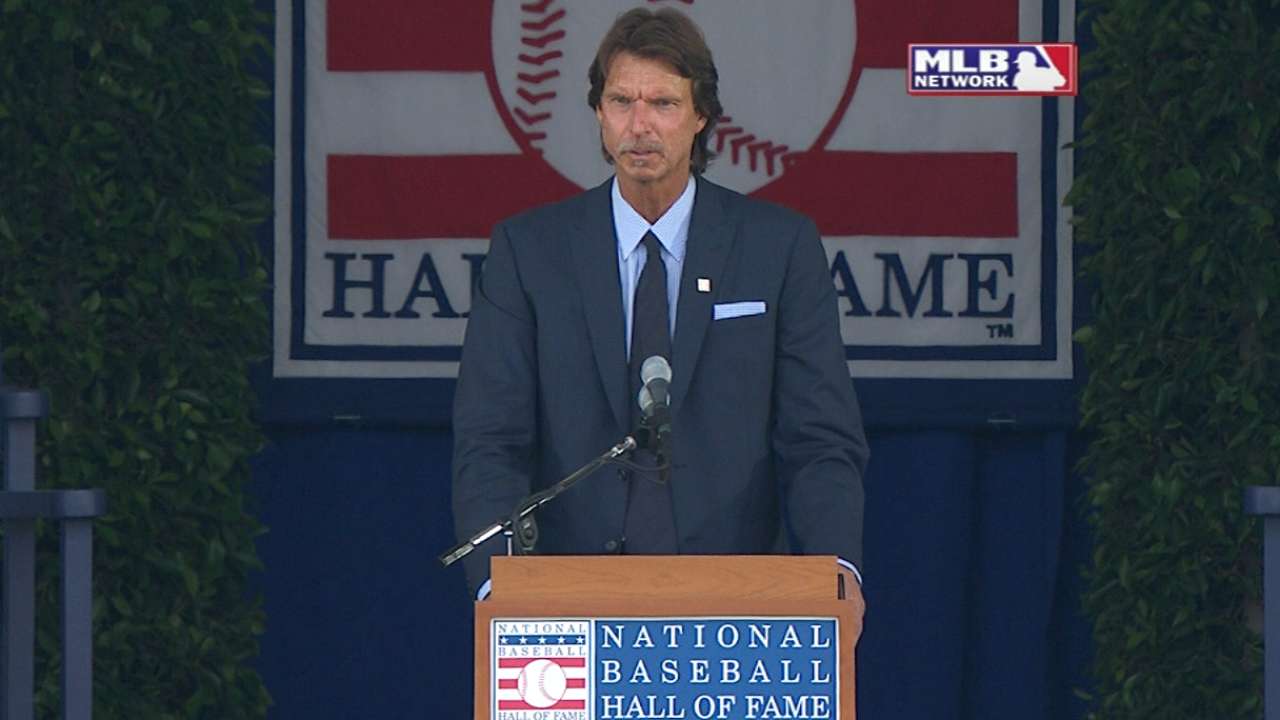 COOPERSTOWN, N.Y. -- They spoke of family and friends, and of coaches and mentors and teammates. They spoke of executives and managers and scouts who believed in them. They spoke of unexpected turns, of new teams that meant new opportunities.
They saluted the men who sat behind them -- the greats of the game who paved their way. They cried some. They laughed some, too.
They revealed plenty of themselves. Randy Johnson was stoic and thoughtful. Pedro Martinez danced joyously and delivered a passionate, bilingual address. Craig Biggio choked back tears while remembering his late parents. John Smoltz told of a journey of detours, disappointment and ultimate triumph.
Hall of Fame Class of 2015
In short, it was precisely what a moment like this is supposed to be -- a time of reflection and celebration as well as a chance to put the finishing touches on careers of astonishing accomplishment.
And in that way, it could not have been better. On a warm, sunny Sunday afternoon, Biggio, Smoltz, Johnson and Martinez officially took their places in the National Baseball Hall of Fame with speeches that were both unique and touching.
Biggio thanked an assortment of youth and college coaches for shaping him physically and directing him mentally. He saluted an array of former teammates, including Nolan Ryan, for showing a young player the way.
He praised Yogi Berra, one of his coaches with the Astros, calling him "the smartest baseball man I've ever known." And he asked another former coach, Matt Galante, to stand and be recognized for helping him make the transition from All-Star catcher to All-Star second baseman.
"I'm not here without that man," Biggio said. "I thank God for Matt Galante, and I'm so grateful."
But it was the mention of his parents that hit him hardest. His late father was an air-traffic controller "who almost never missed a game." He also cried when speaking of his late mother, saying, "I know she's happy today. I miss you so much, Mom, and I really wish you were here today."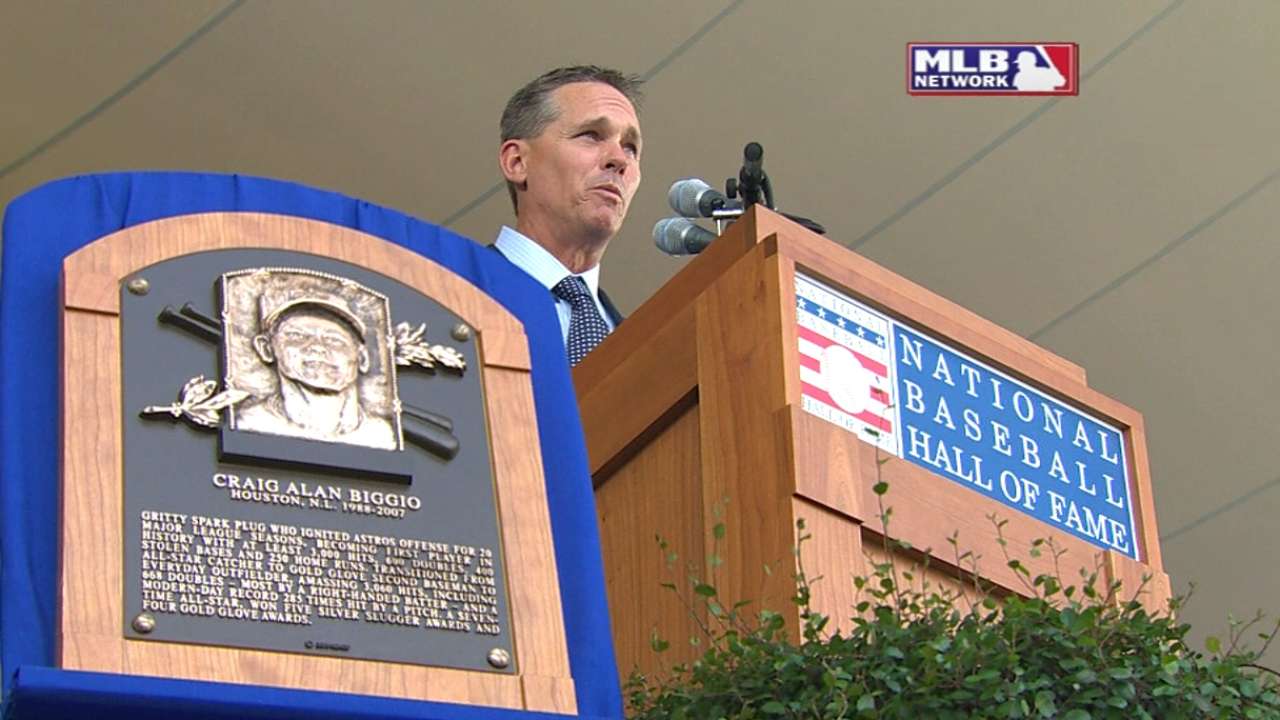 Smoltz had a unique journey, first in being drafted by his hometown Detroit Tigers, then being traded to Atlanta, where he was at various times both an elite starting pitcher and an elite closer.
He remembered a brief visit to the Tigers' clubhouse early in his career when one player made a huge impression. Shortstop Alan Trammell introduced himself and said, "Anything I can do for you, don't hesitate to ask. This house is your house."
"I will never forget," Smoltz said. "I thank you, Alan Trammell, for teaching me what a professional baseball player is all about."
Smoltz praised Hall of Fame manager Bobby Cox for his leadership and Tommy John for encouraging him to continue his career at 34.
In a twist, Smoltz is the first player to enter the Hall of Fame after undergoing Tommy John surgery.
"Thanks to all the trainers that worked so hard," Smoltz said. "I'm a medical miracle that stands before you today. I spent more time in the training room. I can't thank them for their patience. I know I drove them crazy."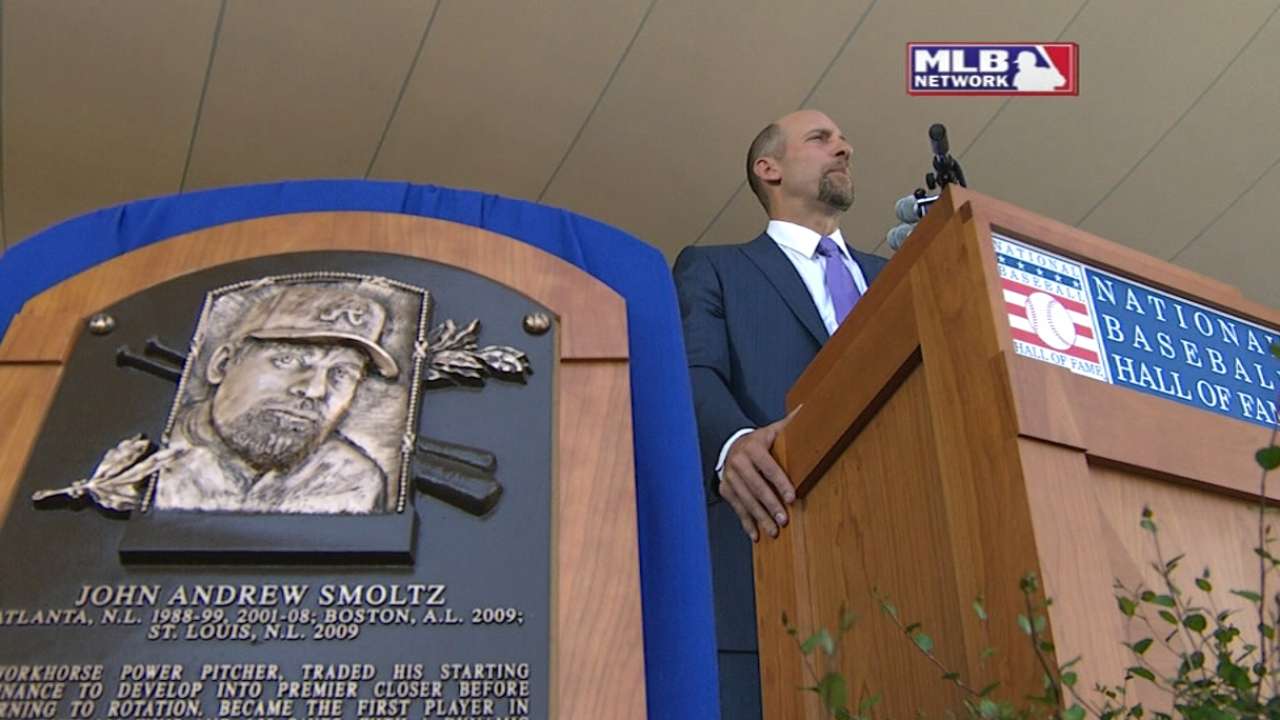 Johnson has immersed himself in photography and has done seven tours for the USO since pitching his final game in 2009. He saluted two members of the Wounded Warrior Project who were in attendance and recognized former Ohio State pitcher Zach Farmer, who is fighting leukemia.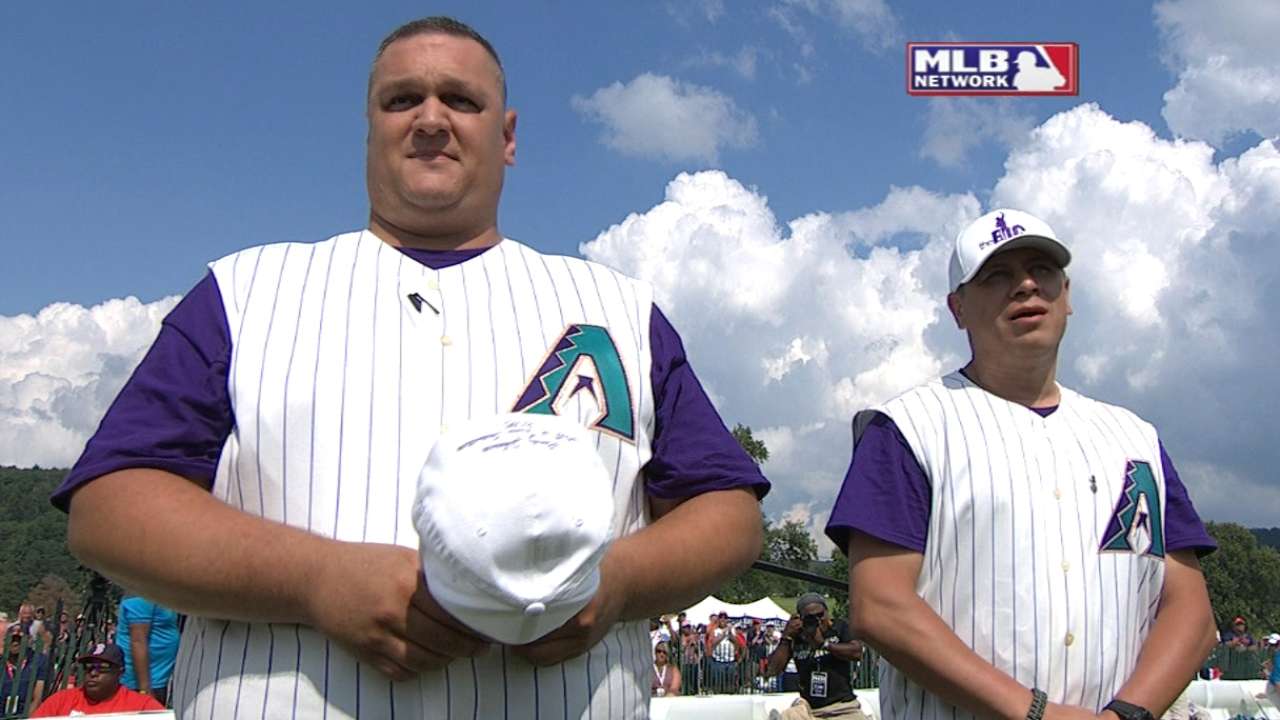 "Hang in there," Johnson said.
He acknowledged Ryan and legendary pitching coach Tom House for helping him get his career on track after he'd led the American League in walks during his first three full seasons. He would go on to become one of baseball's most durable and frightening pitchers during a career that spanned 22 seasons and featured 303 victories and 4,875 strikeouts.
His father, who died in 1992, lived long enough to watch his son pitch his first career no-hitter, in 1990.
"I gave him a call," Johnson said. "He said it was far from perfect. I'd walked [six] batters."
Pausing, he added, "Thirteen, 14 years later, I was perfect, Dad, that one game."
Finally, fittingly, Martinez became the fourth and final inductee of the 2015 class. With Dominican flags flying and Dominican music playing, the day took on the look and feel of a street festival.
"Hola!" Martinez shouted.
His speech was delivered partly in English and partly in Spanish as he touched on the people who'd been important to his career. He thanked Orioles general manager Dan Duquette, who made the trades that sent him to the Expos and Red Sox.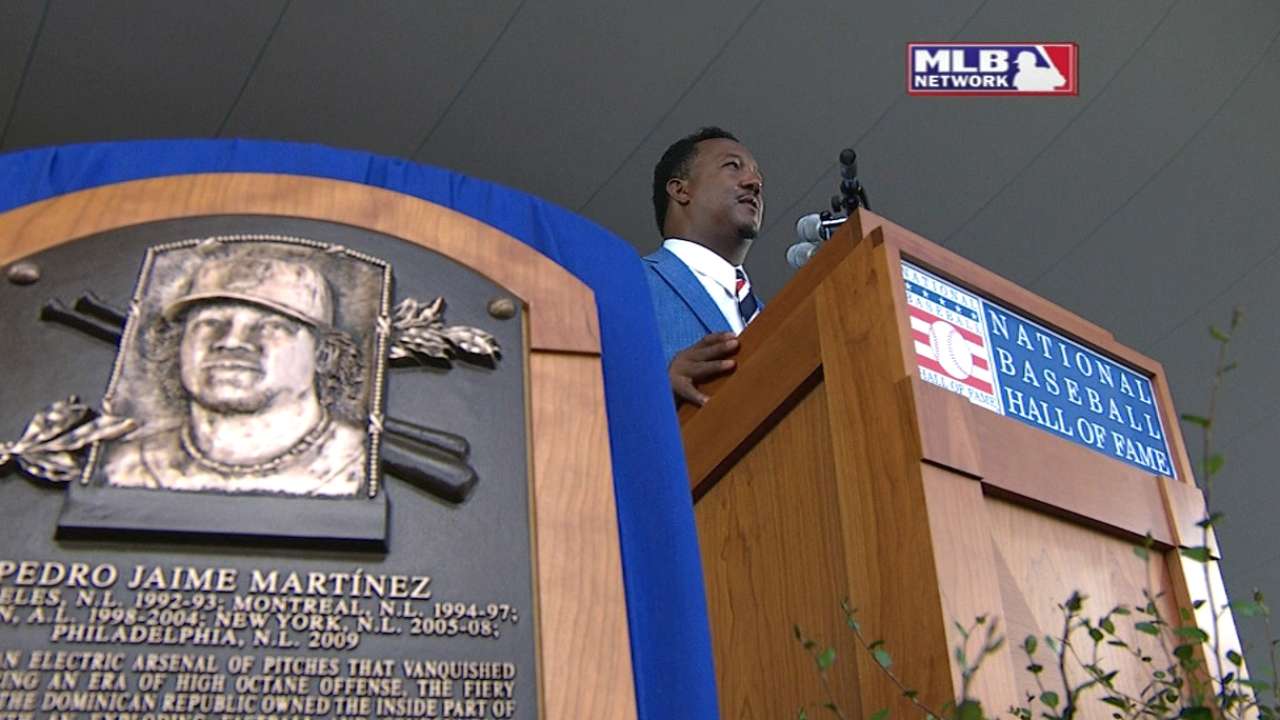 And at the end of his raucous talk, he created perhaps the most touching moment of the day, inviting the only other Dominican in the Hall of Fame to join him at the microphone.
There, he and Juan Marichal held a Dominican flag and smiled broadly as the cheers and the music rocked the grounds.
"It was what was on my heart," Martinez said later.
And just like the rest of the day, it was absolutely perfect.
Richard Justice is a columnist for MLB.com. Read his blog, Justice4U. This story was not subject to the approval of Major League Baseball or its clubs.