Manfred: 'Amazing day' at 1st inductions as Commissioner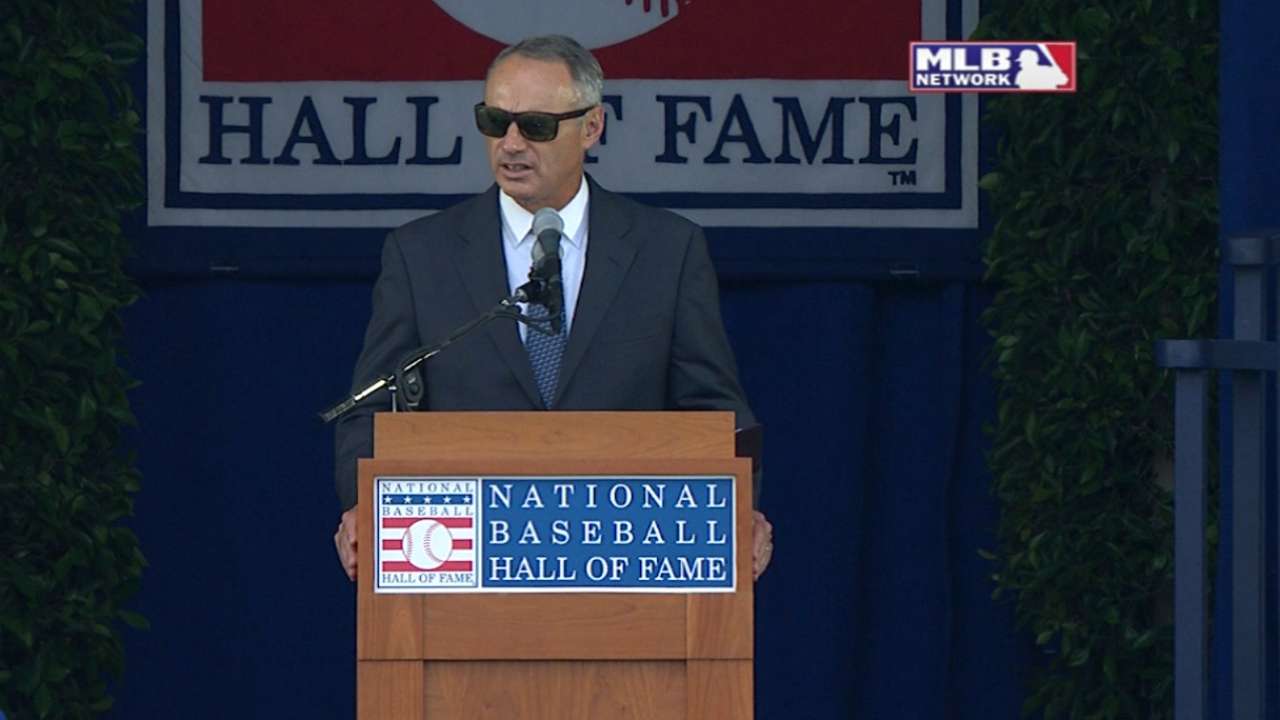 COOPERSTOWN, N.Y. -- Rob Manfred became the 10th Commissioner in history in January. There are still moments that drive that reality home.
Like when he was standing backstage at the Clark Sports Center on Sunday just before he walked out and took his seat. "I have to say after there were all these great players being announced, then being introduced as the Commissioner of Baseball, it was a special moment," he said shortly after the Hall of Fame inductions of Craig Biggio, John Smoltz, Randy Johnson and Pedro Martinez were completed.
Hall of Fame Class of 2015
"I think it's hard to understand how special the induction is, even as a spectator, until you're up on the stage with all the Hall of Famers, having a chance to interact with all the inductees. It's just a day I'll never forget. Truly an amazing day."
Manfred is a baseball fan. And, like any fan would, he relished the opportunity to hang out with the game's immortals.
On Saturday morning he played golf in a group that included Greg Maddux and Phil Niekro. "You sit down at a table to have breakfast and you have three Hall of Famers sit down next to you. It's like a little boy's dream. It's about as good as it gets," he said.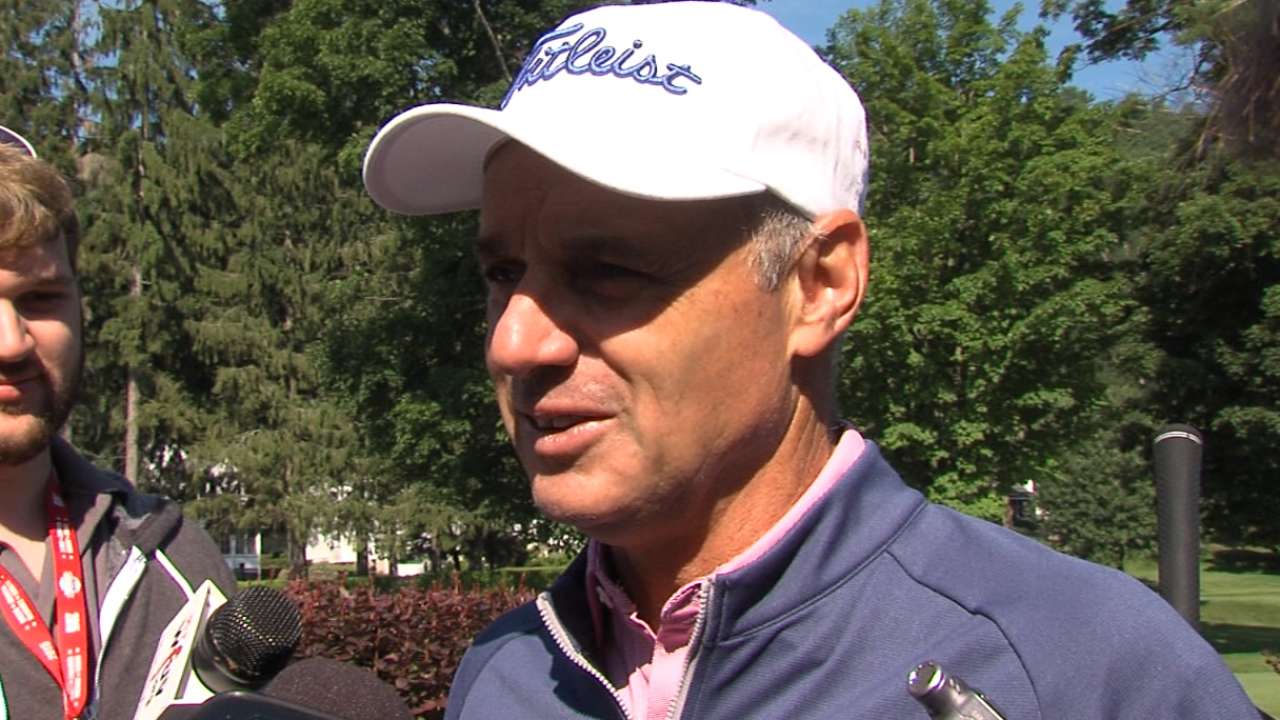 Sunday night he attended the exclusive Hall of Fame members only dinner and then flew home.
"I've been to a number of inductions where I sat in the audience. But, obviously, this was the first one on the stage," he said. "I think what stood out for me was the camaraderie with the Hall of Famers. That was the best part of it. The players were very welcoming. I got a chance to get to know some of the guys that I didn't know previously. So that was really a highlight for me."
In brief remarks after being introduced by Hall of Fame chairman Jane Forbes Clark, Manfred noted that he grew up in Rome, N.Y., about an hour away. He also noted that he was following an "amazing 23-year run by now-Commissioner Emeritus Bud Selig."
He then used the remainder of his time to return to what has become the central theme of his tenure so far: the importance of keeping youth involved in baseball.
"As is natural during a transition period, there has been much conversation about the need to change and modernize our game. And I do believe that the great game of baseball will continue to evolve so that it remains a crucial part of the American culture," he said.
"My most important initiative, however, has nothing to do with changing the game. It has to do with taking the game back to its roots. That initiative is directed at encouraging young players in the United States and around the world to play the great game of baseball."
As he has before, Manfred pressed his case for the importance of this mission.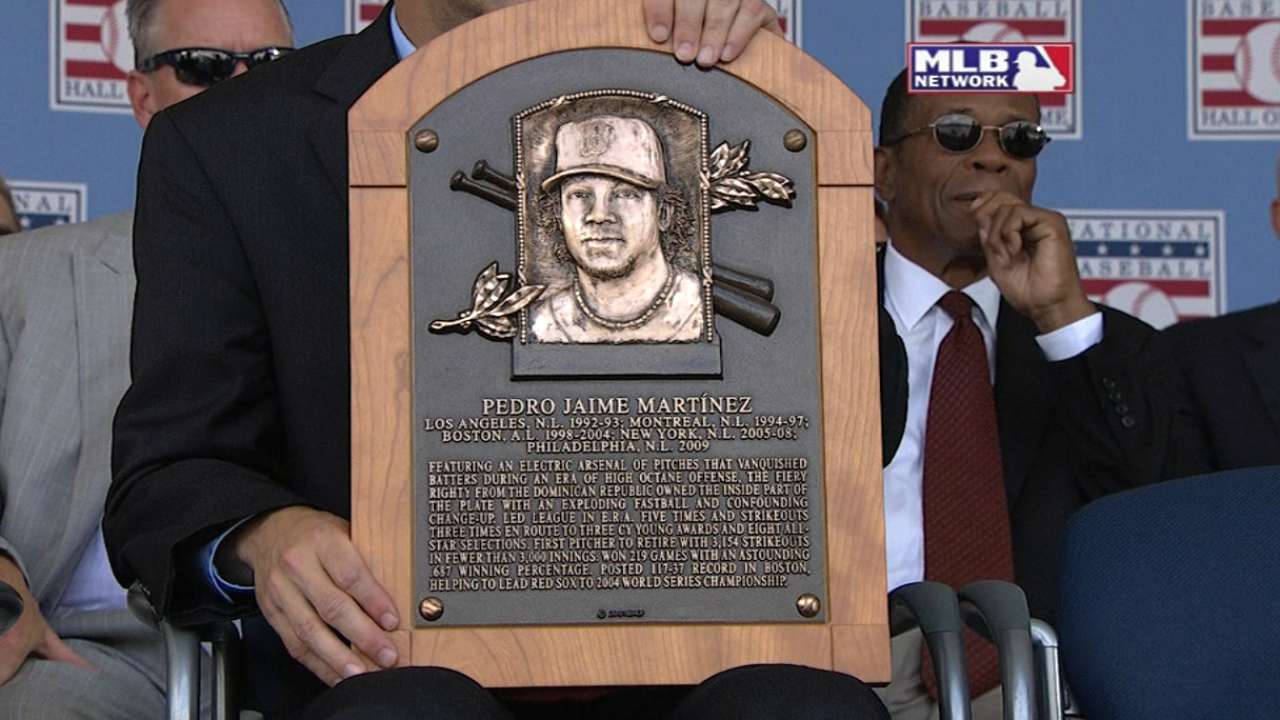 "Young people playing our game is crucial to our sport for two reasons. First, the strongest determinant of fan avidity is whether an adult played the game as a child. Kids today have an ever-increasing number of alternatives and the youth participation market is extremely competitive. We must make our game exciting and appealing to young people," he said.
"Second, Major League Baseball is a great product because of its players. The gentlemen behind me have established a tradition of excellence that is unparalleled in professional sports. To maintain that tradition of excellence, we must attract the very best athletes to play our game and to continue to play our game.
"In this regard, we have a great foundation. There were 20 players under age 25 at our All-Star Game this year. We have a great crop out there right now. Cooperstown is about baseball and its players. As long as I serve as Commissioner, I'm sure my annual visit here for the Induction Ceremony will serve as a reminder of our obligation to grow, protect and preserve the game of baseball as a tribute to those who have created our history and traditions."
Paul Hagen is a reporter for MLB.com. This story was not subject to the approval of Major League Baseball or its clubs.