Humbled, emotional Johnson enters Hall
Inducted as a D-back, Big Unit reflects on family, with special tribute to Wounded Warriors, OSU pitcher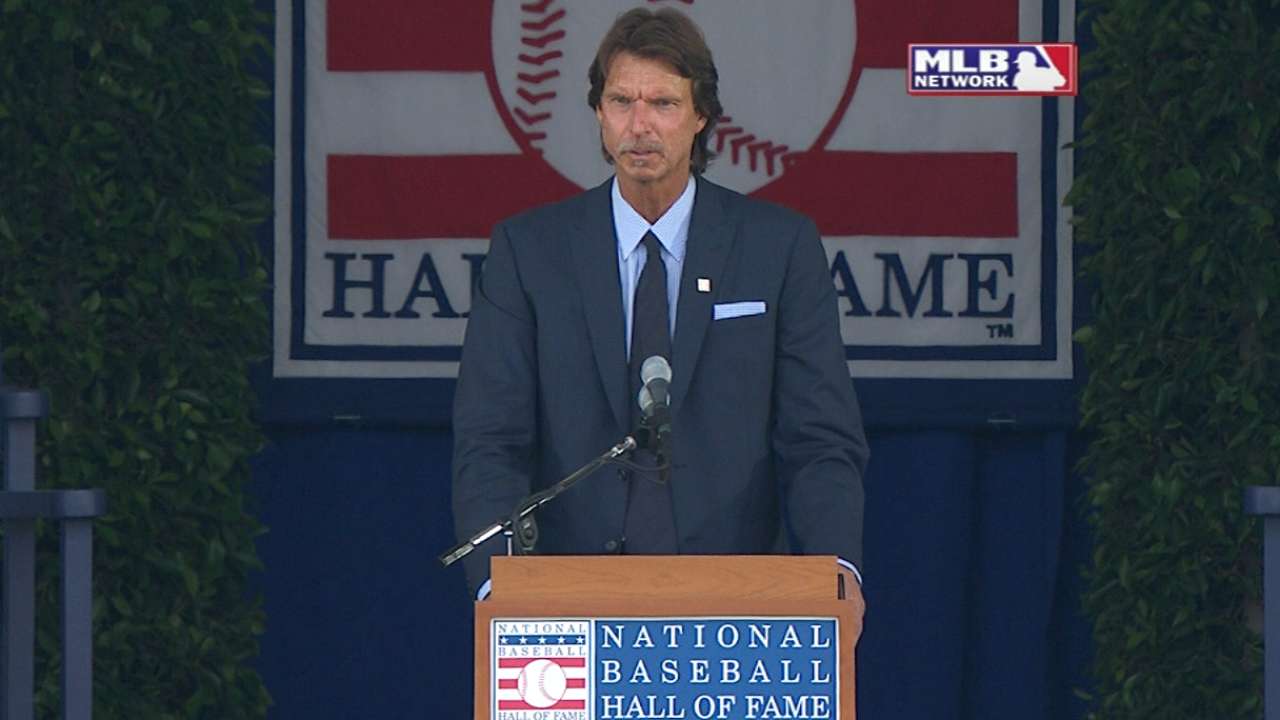 COOPERSTOWN, N.Y. -- As promised, Randy Johnson's Hall of Fame induction speech on Sunday was less about him and more about the multitude of people that helped him gain entry into baseball's most prestigious club.
Johnson, the avid photographer, snapped pictures when Craig Biggio gave the first of the speeches by the four inductees -- which also included John Smoltz and Pedro Martinez -- but as the time for his speech drew near, it was obvious Johnson was going to have to focus all his attention on calming his nerves.
When he was presented with his Hall of Fame plaque, Johnson took a big, deep breath to gather himself.
Hall of Fame Class of 2015
"It's extremely emotional talking about things I care about a lot," Johnson said. "So I got caught up with emotions. Different emotions than what I would pitch with, completely different. But that's good, because I'm still an emotional person."
Johnson was enshrined as an Arizona Diamondback, but he made sure in his speech that he touched on the time he spent with the Expos, Mariners, Astros, Yankees and Giants.
"First team that gave me an opportunity to play in the Major Leagues," Johnson said of the Expos. "I'm forever indebted to them. As you know, my Minor League career was not stellar."
Johnson wrestled with whether or not to enter the Hall of Fame as a Mariner.
"I'm very proud to have played there for 10 years," Johnson said. "Thank you, Seattle."
A Mariners fan in attendance immediately screamed, "We love you Randy!"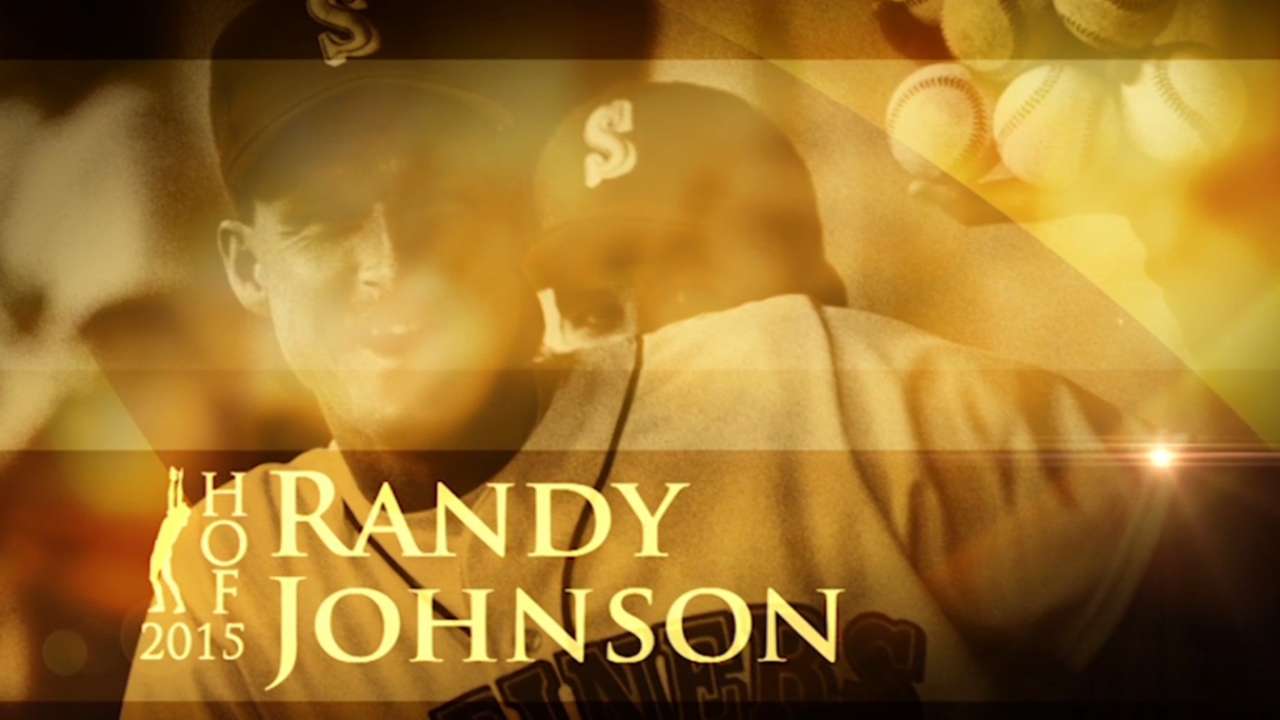 Johnson recalled the 2001 World Series that he won with the D-backs and what it was like to get a call from late Yankees owner George Steinbrenner after his trade to New York. He also talked about winning his 300th game in a Giants uniform.
Not even his brief two-month stint with the Astros in 1998 was overlooked as he shared a laugh with fellow Hall of Famer and Houston legend Nolan Ryan.
"It would enviably be the two best months of my career," said Johnson, who went 10-1 with a 1.28 ERA in 11 games. "And the Houston Astrodome wasn't a bad place to pitch, was it, Nolan?"
Johnson acknowledged the two soldiers from the Wounded Warrior Project whom he brought with him from Arizona to Cooperstown: Kenji Nihipali and Roy Halvorsen.
"We wouldn't be here without the sacrifice of the men and women that protect our country," Johnson said.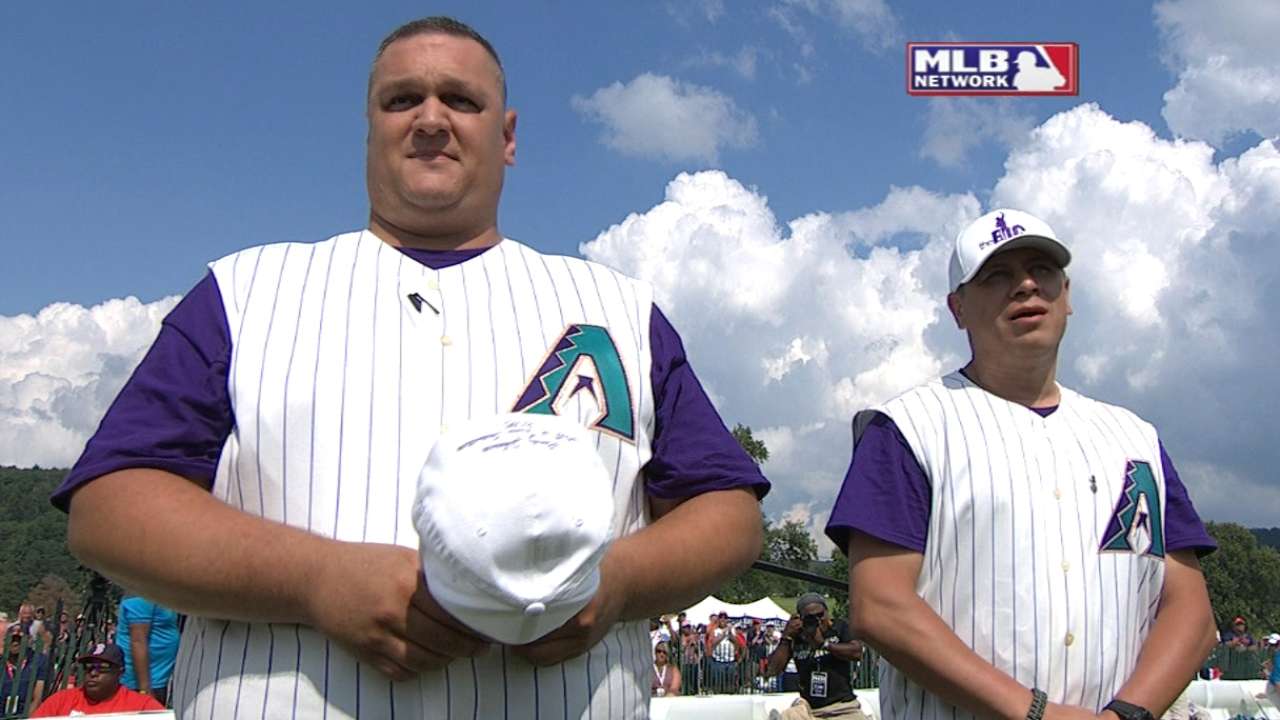 Johnson's father, Bud Johnson, passed away on Christmas Day 1992, having never seen his son have the kind of success he would have later in his career, including a perfect game on May 18, 2004.
"He saw three years of my career, not a lot to brag about," Johnson said. "But there was that one game where I threw a no-hitter. I gave him a call, and he said it was far from perfect -- I walked [six] batters. Thirteen or 14 years later, I was perfect, Dad, that one game."
Johnson thanked his three daughters and son, who were in attendance, as well as his brother and two sisters.
He saved his biggest tribute for his mom, Carol.
It was Carol Johnson, who shepherded him back to his first Little League practice when he was a 7-year-old in Livermore, Calif. Johnson had shown up at the field alone and saw so many kids that he decided to go back home. Carol, however, insisted he go back.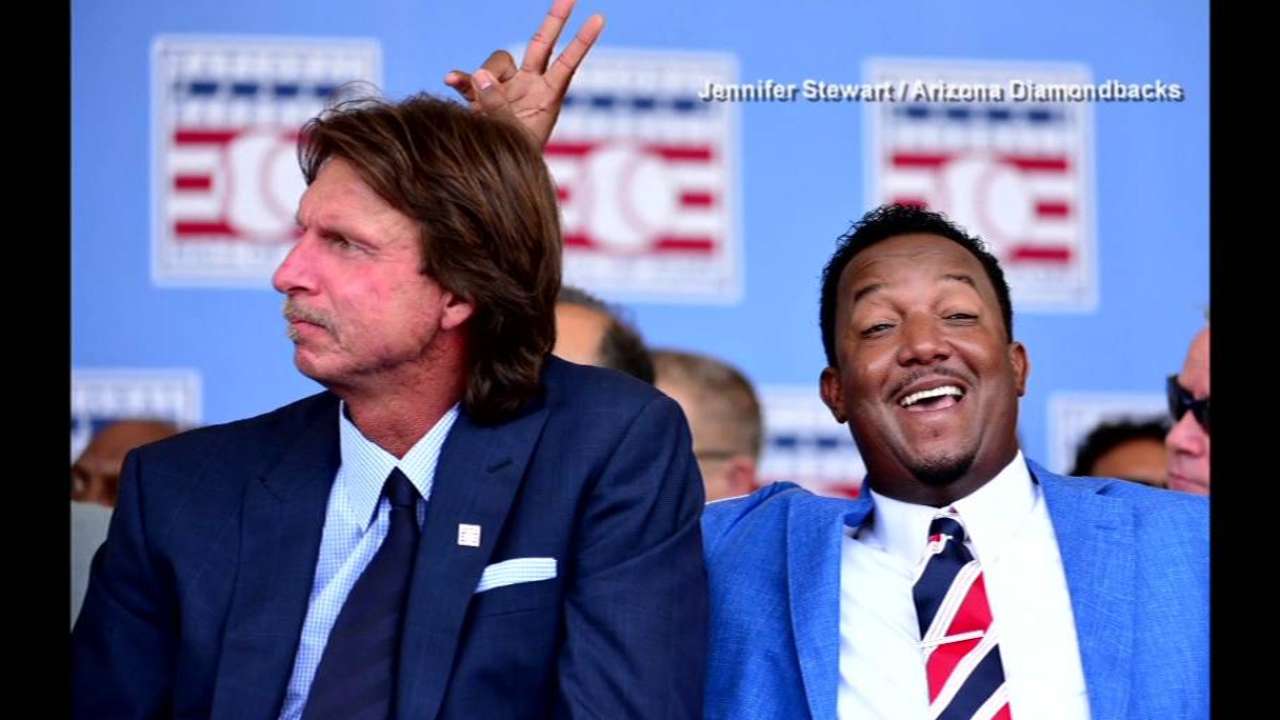 "Then there's my mom, the backbone to our family," Johnson said. "Working 25 years for General Electric as a secretary. I'm one of six children, she raised six children, still had a full-time job and came home and fed us and took care of all of us. Thank you, Mom. You're the Hall of Famer. I love you so much. You're the most important person in my life."
In closing, Johnson talked about a request he received to talk to a left-handed pitcher, Ohio State University's Zach Farmer, who is battling leukemia.
"I called him a couple of days ago," Johnson told the crowd. "He doesn't have long to live. Zach, I love you. I haven't met you before, but hang in there."
The overflow crowd packed the countryside, claiming almost every available patch of green space.
"So many of the reasons I was inducted into the Hall of Fame are long gone now," Johnson said. "I no longer have a fastball. I no longer have a bad mullet. And my scowl is long gone. I'm so happy to be elected to the Baseball Hall of Fame and be in the greatest fraternity of all time, and [thanks] to you, the fans, for sharing this great moment with me."
Steve Gilbert is a reporter for MLB.com. Read his blog, Inside the D-backs, and follow him on Twitter @SteveGilbertMLB. This story was not subject to the approval of Major League Baseball or its clubs.