Struggling Tribe calls for change in attitude
Club holds team meeting following 4-game sweep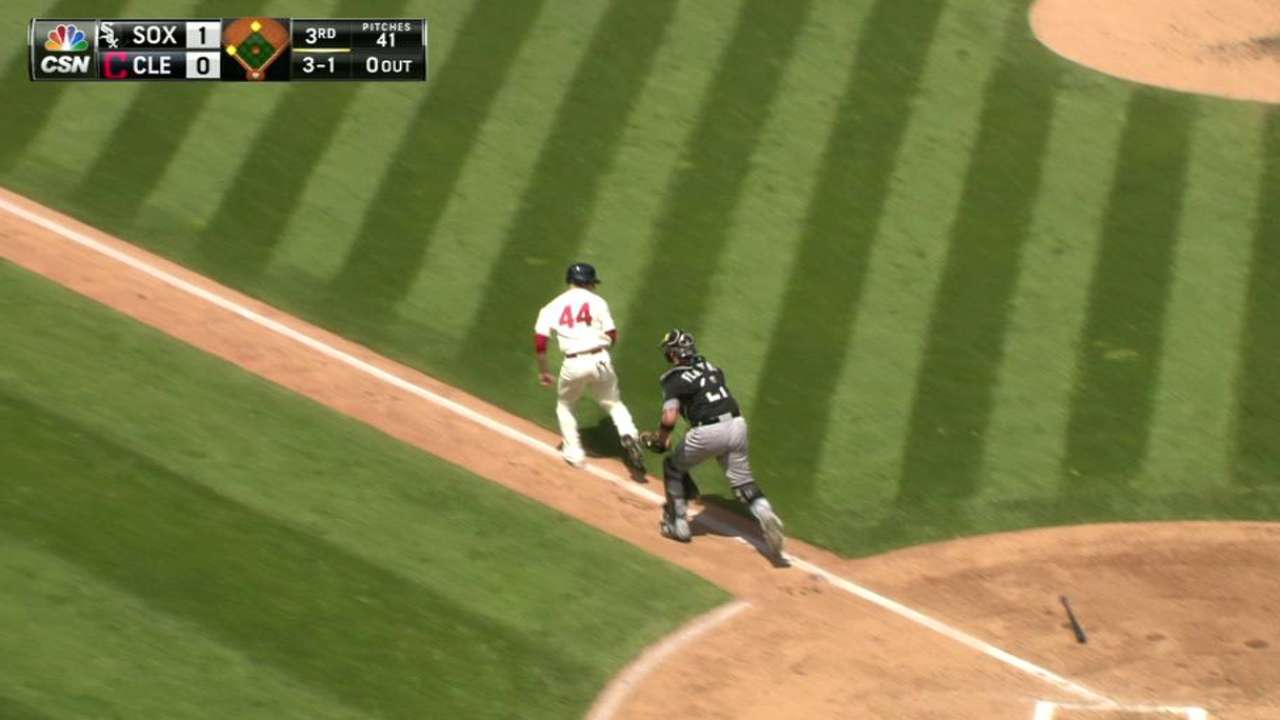 CLEVELAND -- Following the conclusion of a 2-1 loss on Sunday that completed a four-game series in which the Indians were swept at home by the White Sox and outscored, 26-5, the club held a lengthy team meeting.
"We've been playing [poorly], there's no way around it," All-Star second baseman Jason Kipnis said. "Embarrassing. No fight, giving up early. We've got people worrying about their own things, nobody's held accountable. It's just not the way we're going to do business here."
The Indians scored one, zero, three and one run in the four games and never held a lead. After giving up five runs in the first inning Saturday night against Chris Sale, Kipnis felt the team had already given up.
"You come out and give up five versus Sale and everybody acted like it was just an impossible mountain to climb," Kipnis said. "The game was over before the bottom of the first. And it can't be that way."
Sunday's loss in particular was a sloppy performance full of mental lapses and fundamental mistakes. In the third inning, the Indians had runners on second and third with no outs after a pair of leadoff hits. Mike Aviles hit a ground ball to first, and Brandon Moss got caught in a rundown between third and home, eventually being tagged out.
"The issue was he has to just keep going, knowing he's probably going to be out, and then let [Roberto] Perez move up to third," Indians manager Terry Francona said. "Roberto saw him turn around and he went back to second. So, [Moss] turned, an error, and made it worse."
Later, Ryan Raburn misplayed a ball in left field that turned a single into a triple. Aviles threw a ball into center field that could have been an out at second base. When a team scores five runs in a four-game span, the magnitude of mistakes is amplified.
"There has to be respect for every play of the game, every out, paying attention to detail, because you don't know what's going to help you sway a game," Francona said. "That's why we talk so much about paying attention to detail and respecting outs and respecting every play, because you don't want to look up and say, 'If we would've done this, we would've won.'"
The statements from the players in the clubhouse after the team meeting reflected what has been visible on the field.
"Right now we're not playing the game right way," pitcher Danny Salazar said. "We don't have energy -- not on the field or in the dugout. We're supposed to enjoy the game and have fun out there, and we're not doing that. We're just sitting there and not doing much."
Following the sweep to what had previously been the last-place team in the American League Central, the Indians will now host the defending AL champions and the team that currently owns the best record in the league in the Kansas City Royals.
"We need to start attacking better," Francona said. "I'm responsible for that. It has not been going the way I want it to. That'll change, or I'll probably die trying. But, it's going to change. It's going to get better."
August Fagerstrom is an associate reporter for MLB.com. This story was not subject to the approval of Major League Baseball or its clubs.