Trout, Pujols in rarefied air with milestones
Center fielder quickest to 30 HRs in Angels history; veteran swipes 100th base, joins Hall trio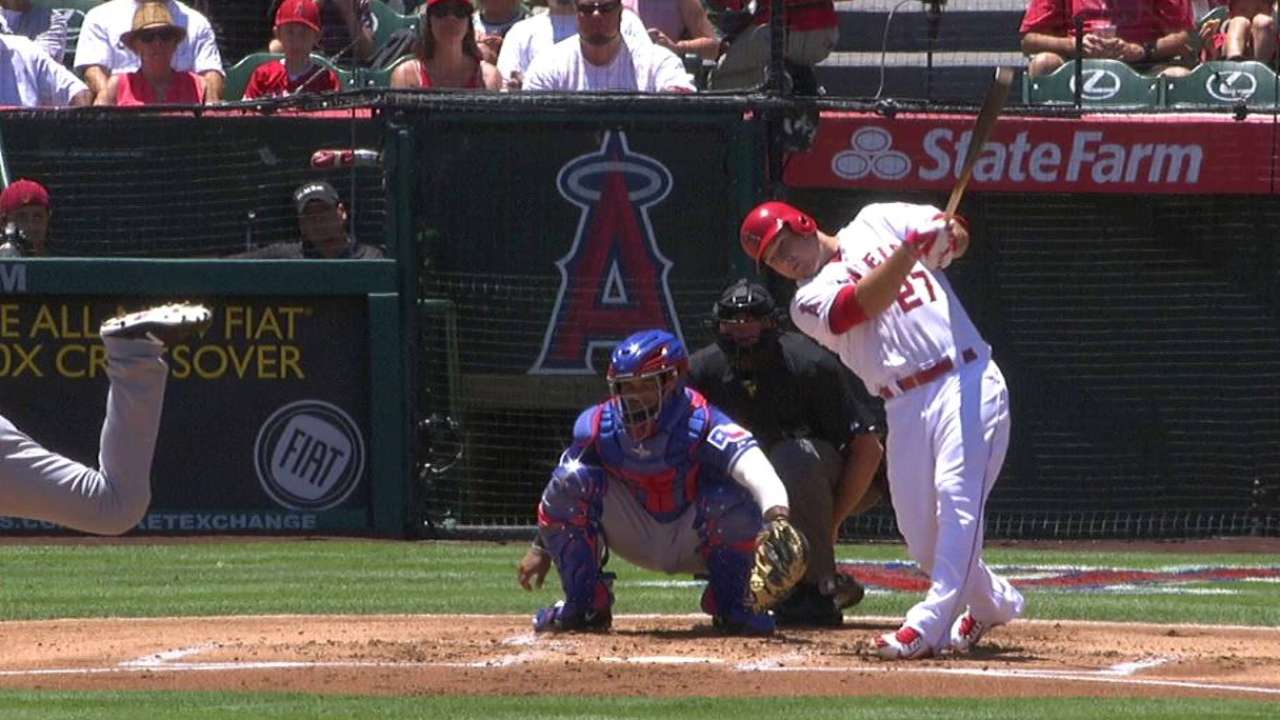 ANAHEIM -- Albert Pujols and Mike Trout both hit milestones during the Angels' 13-7 win over the Rangers on Sunday -- Pujols with the 100th stolen base of his 15-year career, Trout with his 30th home run of the season.
Pujols' stolen base, which came in the fifth inning, put him in some elite company. He became just the fourth player in Major League history with a career .300 batting average, 500 home runs and 100 steals. The others are Hall of Famers Babe Ruth, Willie Mays and Hank Aaron.
"We're very fortunate to have him in the clubhouse," Trout said of Pujols. "Just his presence -- in the lineup, in the clubhouse, as a teammate, leading us the right way. He's been there, done that. Just happy he's on our team."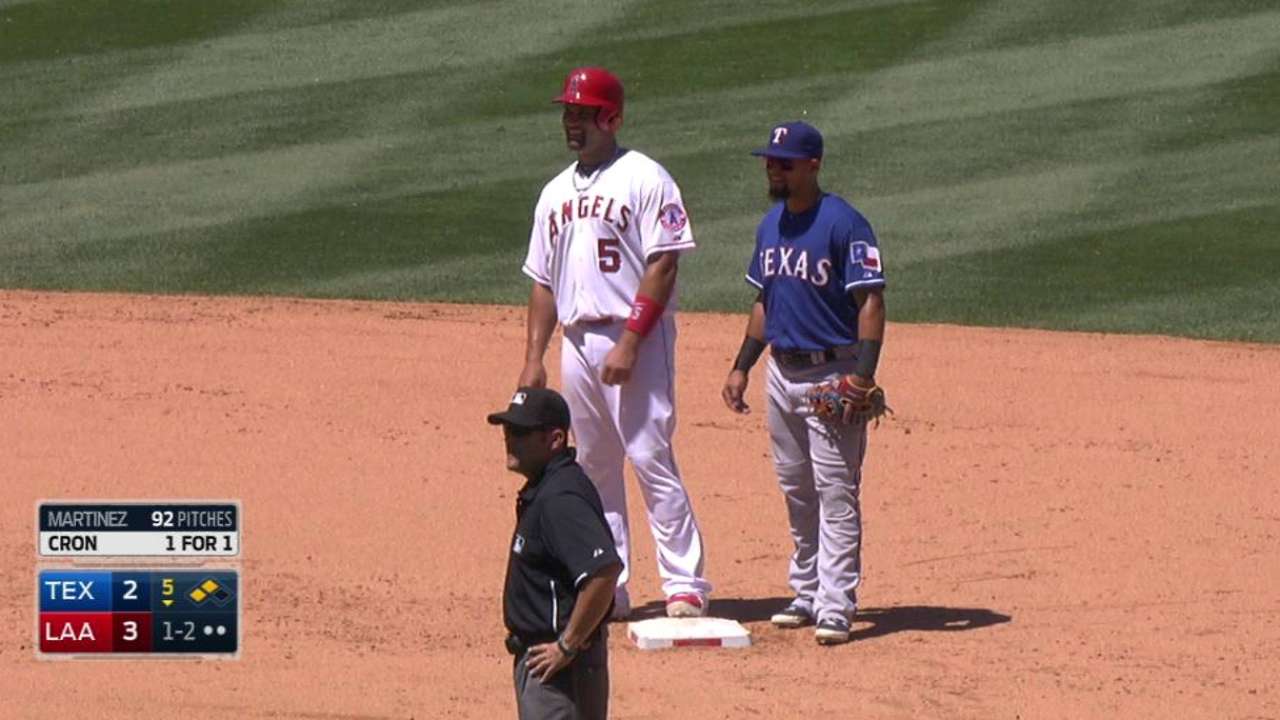 With an opposite-field solo shot in the first, Trout became the fastest to reach 30 homers in a season in Angels history. Sunday was the Angels' 97th game. He added his Major League-leading 31st home run, a grand slam, in the sixth and finished 4-for-4 with five RBIs.
Worth noting
• Hector Santiago was the probable starter for Thursday's game against the Astros -- which would have meant skipping over Matt Shoemaker in the rotation completely -- but manager Mike Scioscia said after Sunday's game that Shoemaker would likely make that start. That means Shoemaker, who would have started Tuesday if the Angels stayed on rotation, will only have his start pushed back two days.
The Angels would push Santiago back to Friday, or possibly Saturday, which would give him an extra day to "recharge" and "get his feet back under him."
Santiago, a first-time All-Star, allowed four runs for just the third time this season in his start against the Rangers on Saturday. His ERA is 2.43 on the year.
• The timetable for Jered Weaver's return from the disabled list is undetermined as he tries to work out his mechanics, Scioscia said Sunday. The right-hander will throw another bullpen session "in the next couple of days," but nothing is decided beyond that.
• Outfielder Collin Cowgill (sprained right wrist) has started to take soft toss, Scioscia said Sunday. He will likely take soft toss for the next few days, at which point the Angels will evaluate when he might be ready to start taking batting practice.
• As of Sunday, the Angels were still hoping third baseman David Freese will only miss two to three weeks with his fractured right index finger. Scioscia said much of the inflammation in Freese's hand had subsided.
David Adler is an associate reporter for MLB.com. Follow him on Twitter @_dadler. This story was not subject to the approval of Major League Baseball or its clubs.