Gutierrez, Mariners walk off vs. Blue Jays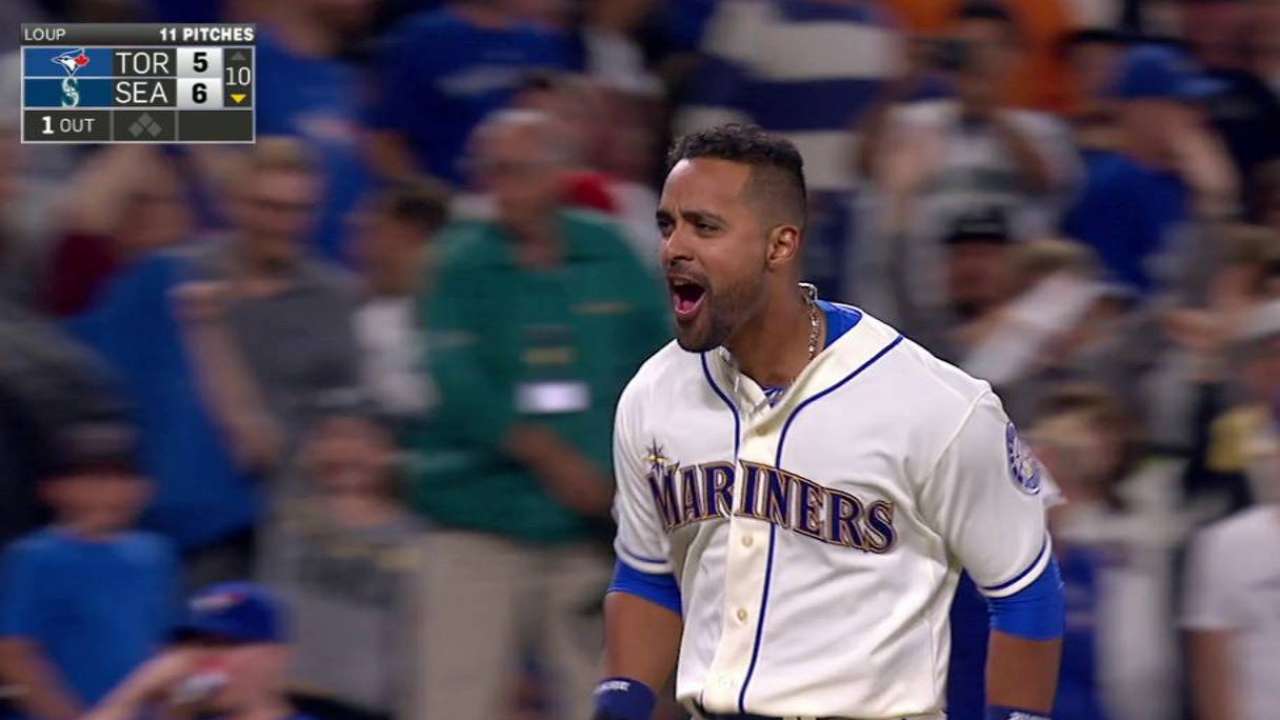 SEATTLE -- Franklin Gutierrez hit a walk-off home run as the Mariners beat the Blue Jays, 6-5, in 10 innings in Sunday's series finale at Safeco Field.
"Guti's a veteran, and he's been big for us. He's really playing extremely good baseball," said Mariners manager Lloyd McClendon afterward. "It's kind of hard to keep him out of that lineup."
• Gutierrez's home run the culmination of a long road back
Seattle's Nelson Cruz hit a two-run blast with one out in the seventh to tie the game at 5, after Toronto's Ezequiel Carrera had given the Blue Jays a 5-3 lead with a solo shot to left a half-inning earlier.
Blue Jays starter Mark Buehrle held the Mariners to three runs on 10 hits over 5 2/3 innings, snapping a streak of nine straight starts with two earned runs or fewer. Seattle's Taijuan Walker was tagged for four runs -- three earned -- in his first two innings, but he settled down, holding Toronto scoreless over his final four innings.
"We made a few mental mistakes and some physical mistakes," Blue Jays third baseman Josh Donaldson said. "Ultimately, at the end of the day, we still had a chance to win the game and we weren't able to do it."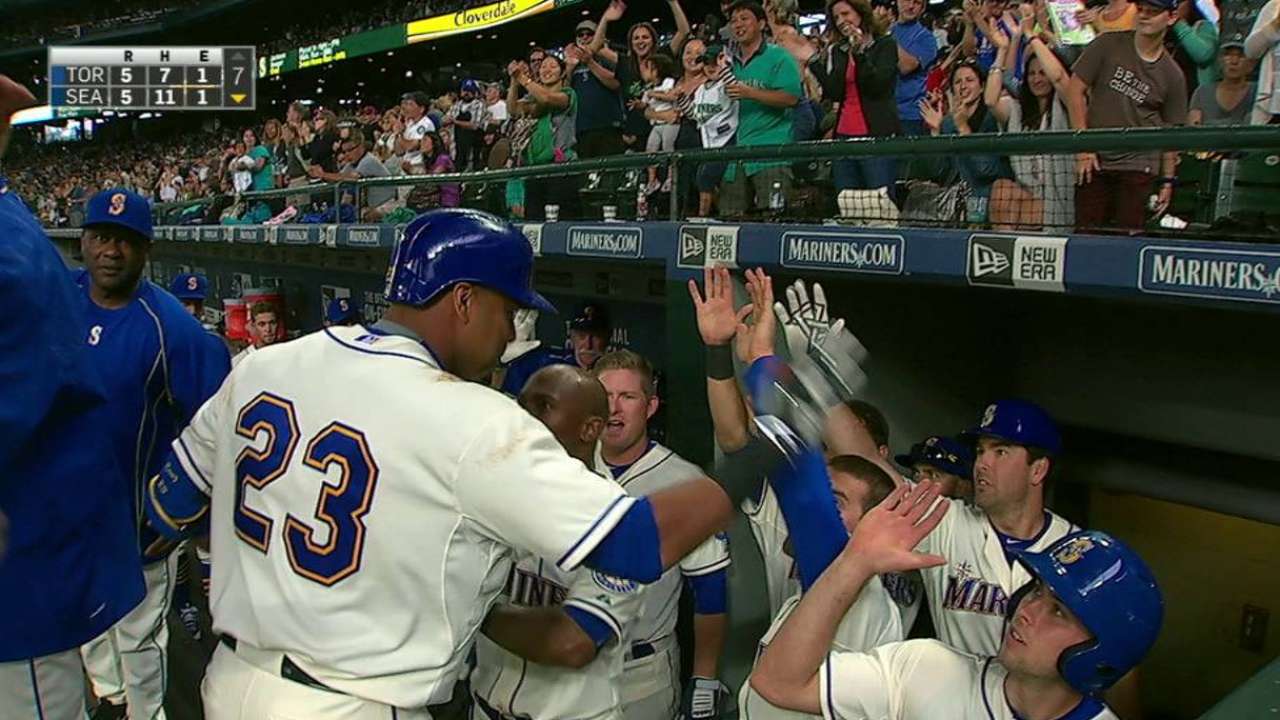 MOMENTS THAT MATTERED
Turning the trifecta: Walker appeared to be in trouble to start the fourth inning, walking Ezequiel Carrera and giving up a single to Kevin Pillar to put runners on the corners with no outs. But Ryan Goins grounded to first for the first out of the inning, and Pillar got hung up between first and second. Carrera then crept too far down the third-base line and drew a throw home from shortstop Brad Miller. Catcher Mike Zunino chased Carrera back to third, tagging out Pillar and tagging Carrera when he fell to the ground. The triple play was the Mariners' first since Aug. 9, 2010.
"I thought trumbo did a really nice job of touching the bag and looking Carrera back to third," Miller said. "Once I got it, I felt like Carrera was kind of in no man's land so it's my job to kind of make him commit one way or the other and then hand it off to [Zunino]."
• Mariners turn wacky triple play vs. Toronto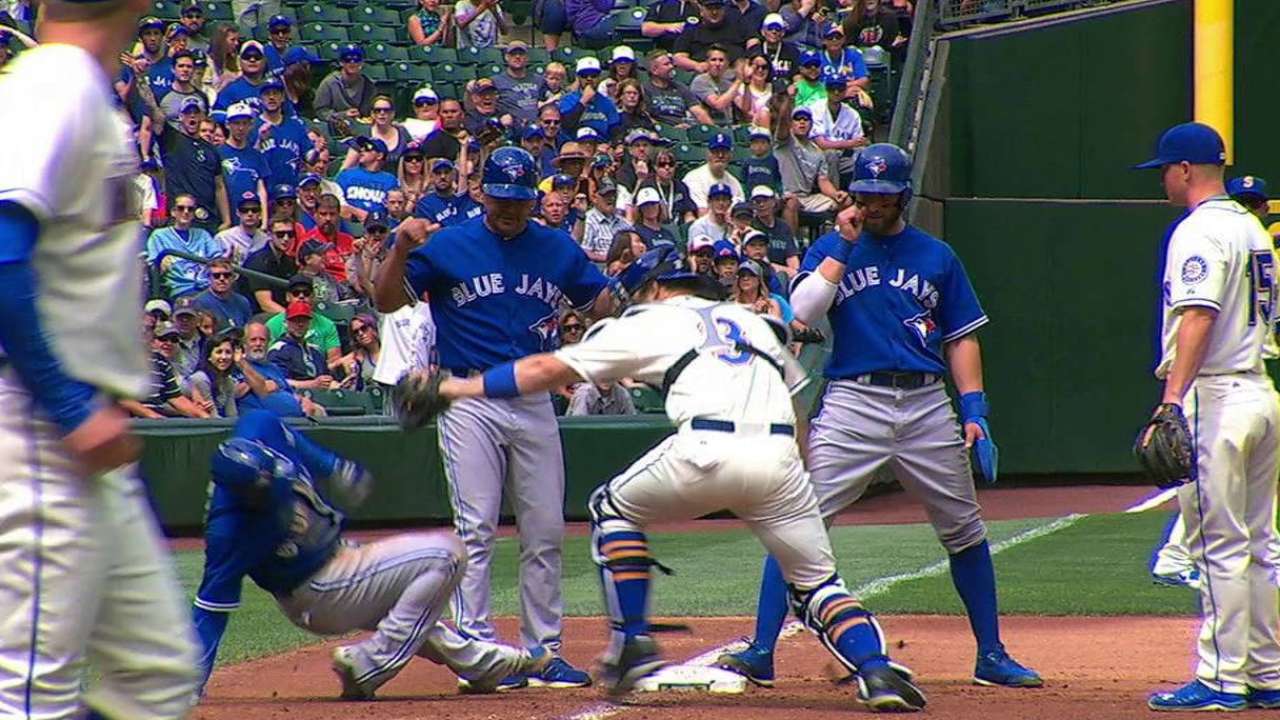 Blue Jays' bullpen woes continue: Toronto's bullpen has been an ongoing concern all year and the problems resurfaced yet again at Safeco. First it was a two-run shot by Cruz off right-hander Bo Schultz in the seventh inning and then Gutierrez walked it off in the 10th with a solo shot to left. Aaron Loup surrendered the final blow and it marked the fourth time in his last 10 appearances that he allowed at least one run. He suffered his fifth loss of the season and Toronto dropped to 3-5 in extra-inning games.
"I don't know exactly what it was, or where it was, but it wasn't good I'll tell you that," Blue Jays manager John Gibbons on the pitch Loup threw to Gutierrez.
• Bullpen remains a major concern for Blue Jays
Cruz crushes one: Cruz became the 23rd player in Mariners history to hit 25 home runs in a season when he mashed a two-run homer to left on a 1-2 cutter from Schultz. The home run was Cruz's fourth in his last six games and his seventh in the month of July.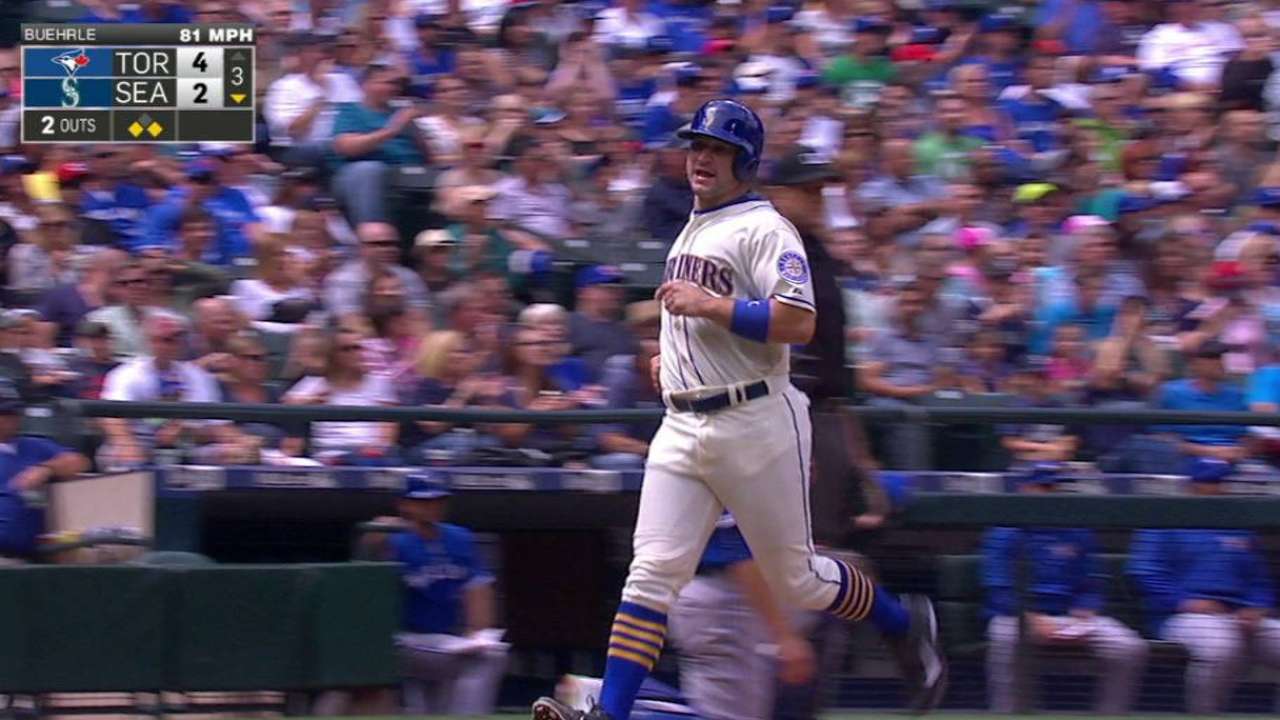 Carrera giveth and taketh away: Seattle appeared on the verge of taking a one-run lead in the bottom of the sixth inning when Zunino hit a deep fly ball to left field. Carrera got a good jump on the ball and tracked it the whole way, before making a leaping catch at the wall. His glove appeared to go just over the wall to take away what would have been a two-run homer. Carrera followed up the highlight-reel grab with a solo shot of his own in the top of the seventh for his second homer in as many games.
"Carrera makes that great play to rob Zunino, keep us up, but what we envisioned didn't quite work," Gibbons said.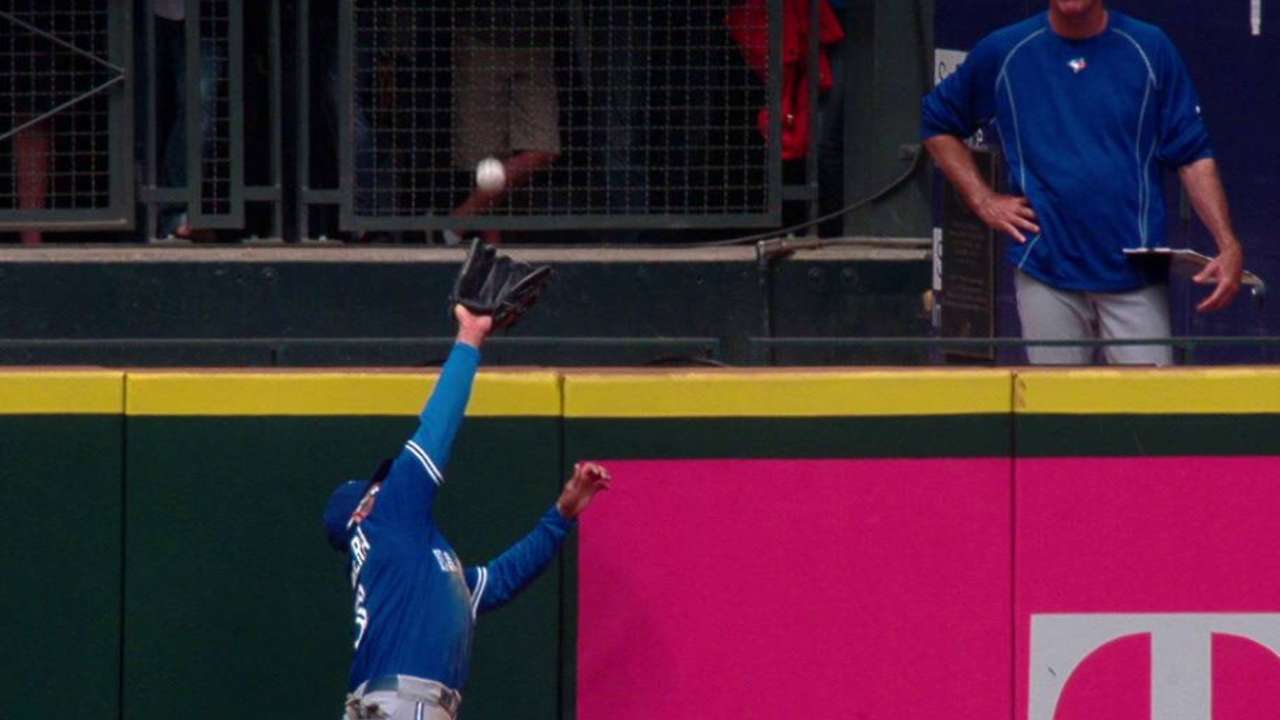 QUOTABLE
• "When you're hitting a buck-fifty, change is something that you're gonna have to do." -- Zunino, who went 3-for-4, on a changed batting stance leading to more success at the plate
• "I just think it's a play that you don't work on a whole lot. It's a play you kind of, in college, you would have done a lot, it's almost a designed play to try to trick the guy. Tag the guy who doesn't own the base and then tag the other guy, to see if you can get someone to walk off the base and that's what happened." -- Pillar on the triple play that occurred after Carrera stepped off the bag at third
SOUND SMART WITH YOUR FRIENDS
• Sunday's triple play was the first 3-6-2-2 triple play since Aug. 3, 1955, when Baltimore's Gus Triandos, Willie Miranda and Hal Smith combined for a triple play against Kansas City.
• The leadoff homer by Seattle's Austin Jackson marked the first time Buehrle has allowed an opposing player to go deep since June 26 vs Texas, ending a stretch of 35-plus innings. That game against the Rangers was also the last time Buehrle had issued a walk prior to Gutierrez drawing a free pass in the third inning.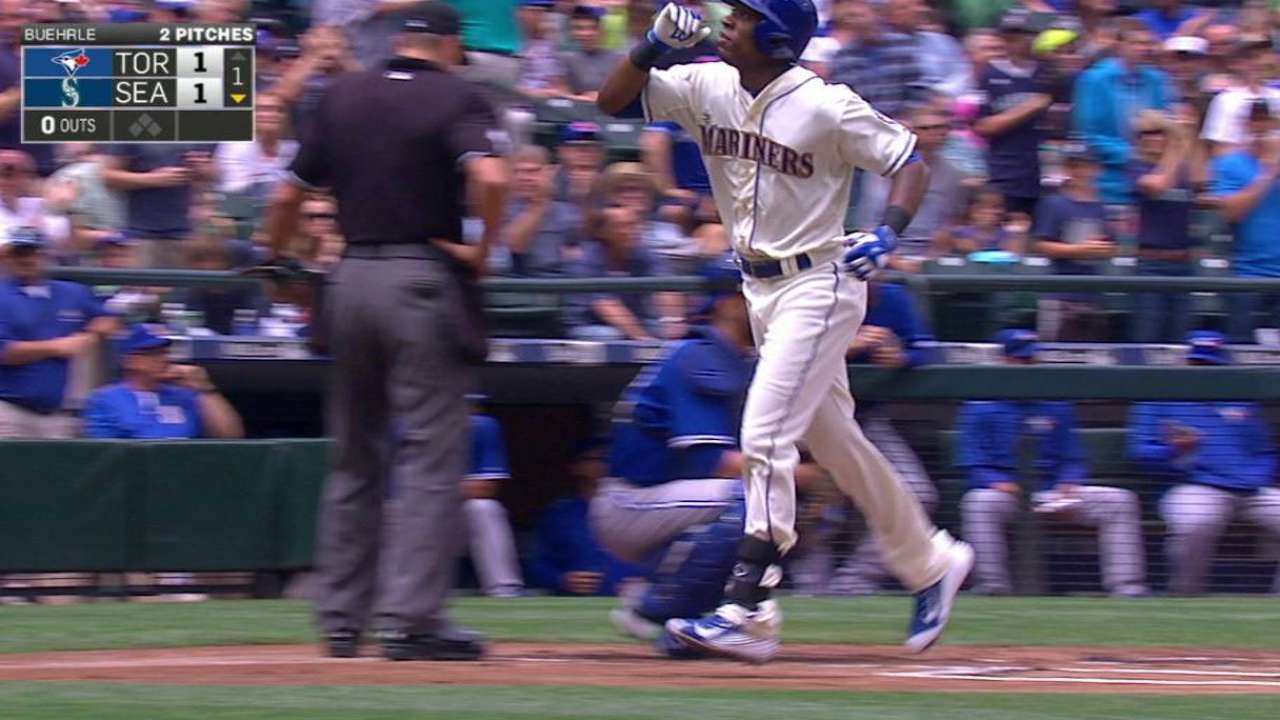 UMPIRE JOYCE EXITS
Third-base umpire Jim Joyce exited with a leg injury one batter before Gutierrez's walk-off shot. Mariners second baseman Robinson Cano fouled a fastball from Loup down the third-base line, and the ball made contact with Joyce, who hesitated momentarily before calling the ball foul.
• Joyce exits after being struck by foul ball
Joyce left the game, walking under his own power. Second-base umpire Greg Gibson, first-base umpire Sam Holbrook and home-plate umpire Chad Fairchild called the remainder of the game -- which, as it turned out, was only one more batter -- as a three-man crew.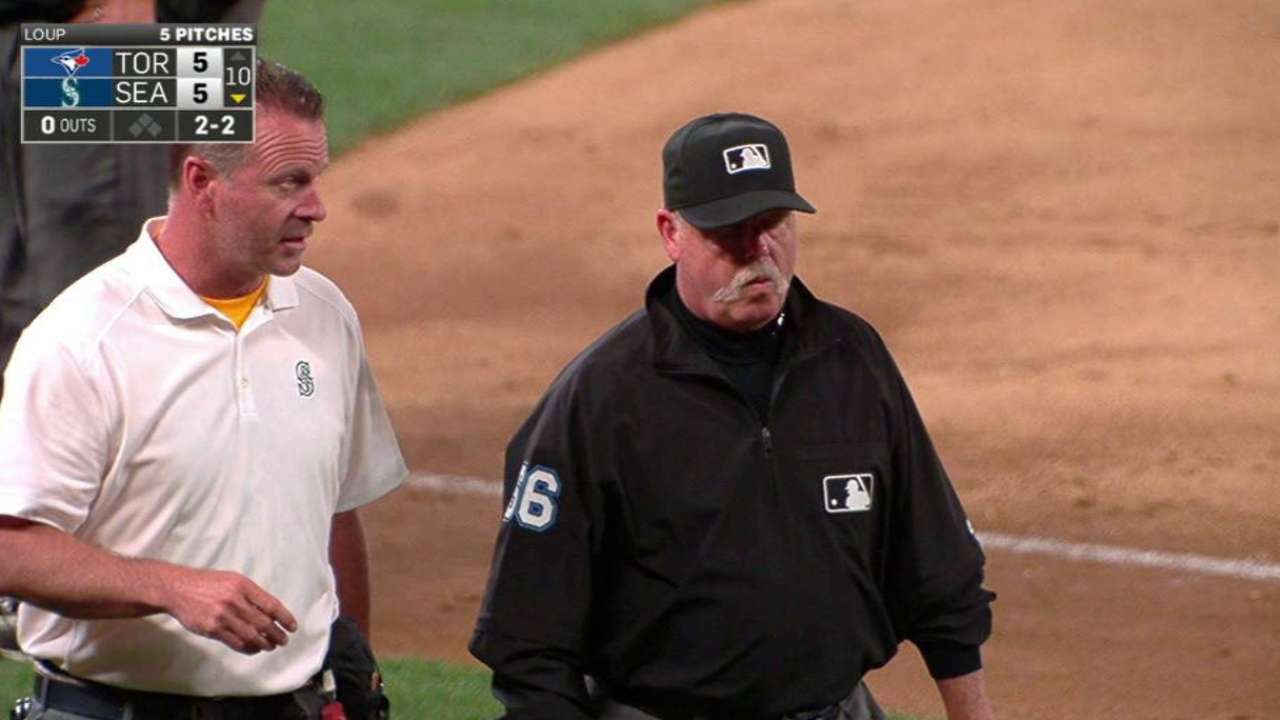 WHAT'S NEXT
Blue Jays: The Blue Jays will enjoy an off-day Monday to recover from the West Coast road trip before opening a 10-game homestand at Rogers Centre. The first series will be a short two-game set against the Phillies with lefty Felix Doubront scheduled to take on Adam Morgan in the opener on Tuesday night. First pitch is scheduled for 7:07 p.m. ET.
Mariners: Rookie left-hander Mike Montgomery takes the mound as the Mariners open up a three-game series with the Arizona Diamondbacks on Monday at 7:10 p.m. PT at Safeco Field. Montgomery will look to bounce back from his shortest start of the season Wednesday, a 2 2/3-inning, eight-run performance in Detroit. He is 1-3 with a 6.98 ERA in four starts since throwing back-to-back complete game shutouts.
Watch every out-of-market regular season game live on MLB.TV.
Gregor Chisholm is a reporter for MLB.com. Andrew Erickson is an associate reporter for MLB.com. This story was not subject to the approval of Major League Baseball or its clubs.