Momentum brightens clubhouse atmosphere
Eaton sits out Sunday, but expected to play Monday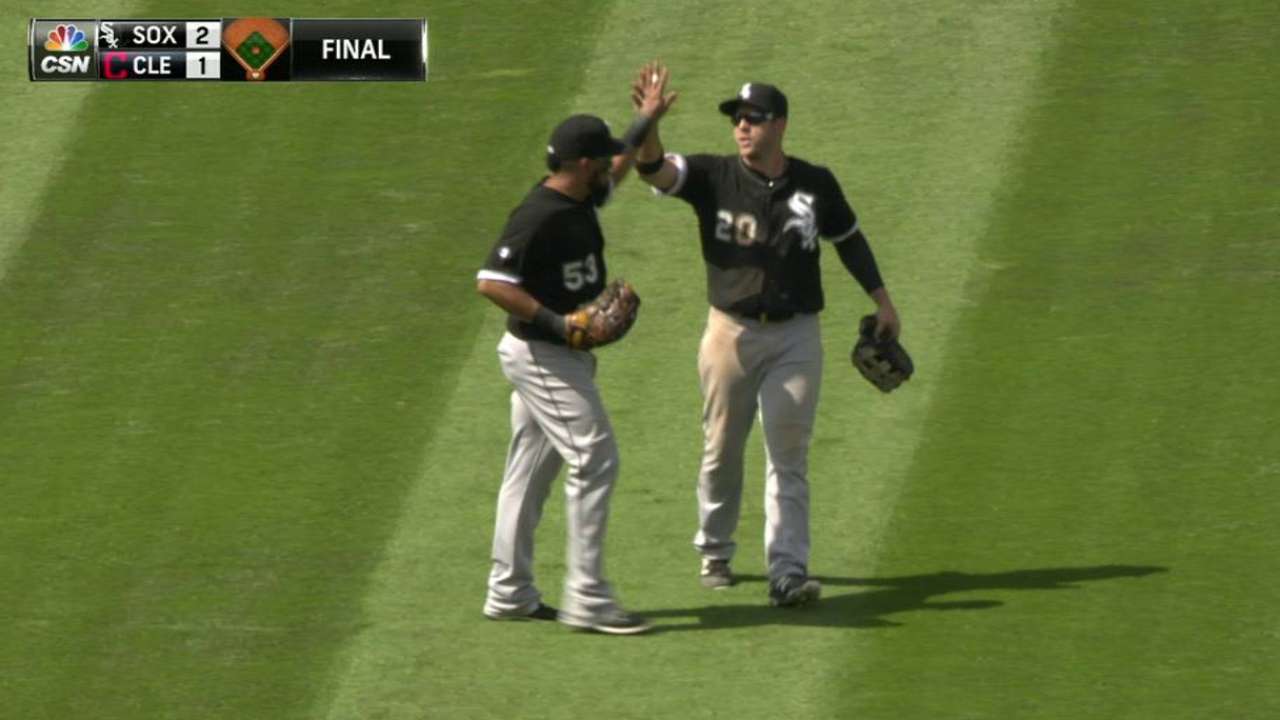 CLEVELAND -- Keep in mind that Chris Sale was talking about himself when making the following statement, recounting a recent conversation he had with his father and his wife. It could easily apply to the 2015 season for the suddenly resurgent White Sox, who completed a four-game sweep of the Indians with a 2-1 victory Sunday at Progressive Field.
"This season, it's kind of like a horse race. You put the blinders on and keep running," Sale said. "You don't want to turn around or see what's going on behind you.
"If you look too far ahead, you will trip up. During the season, I just try to kind of stay going in the same direction and not worry about anything else."
Ask Sale about his 10 straight games with double-digit strikeouts, and the above response is what you'll get. The same holds true for Robin Ventura and his crew when looking over their four dominant performances against a struggling Indians team.
Four games does not a season make, not when the White Sox have put together successful runs such as this before in '15 only to be followed by prolonged slumps. A three-game home sweep of Houston in early June was chased by eight straight losses. A 9-3 stretch into the final game before the All-Star break stood before a 1-6 funk prior to the stop in Cleveland.
But with the offense, pitching and defense coming together for the first time, there seems to be a different feel.
"Just the way we're scoring runs, it's different," Ventura said. "As far as putting everything together, pitching, defense, offense, running the bases all that kind of stuff, it's been fun to watch.
"These guys are excited about it and it's something you hope holds on for a little bit longer. It's nice to see what they're doing. Don't try to think too much into it. Just continue to play the way we're playing."
As for getting back into playoff contention, sitting five games out of the second Wild Card but behind six teams, the White Sox have developed a new mantra to go with Sale's thoughts.
"Why not us? That's the mentality we've got to have," said Carlos Rodon, who struck out nine over 6 2/3 scoreless innings to get the win Sunday. "Why not us? Why can't we do it?"
• Adam Eaton was out of Sunday's series finale after dinging his left shoulder when diving for a ball in center on Saturday night. J.B. Shuck started in his place, with Ventura expecting Eaton to return Monday in Boston.
"It would be a day-to-day thing, but I expect him to be all right tomorrow," Ventura said. "[White Sox head athletic trainer] Herm [Schneider] didn't seem real overly cautious about it lasting longer than today."
"Just diving a little bit, every now and again you get a little stiffness in your shoulders," said Eaton. "Just from diving and I feel I'll be all right, feel better. Hermie worked on me a little bit and I expect to play tomorrow."
Scott Merkin is a reporter for MLB.com. Read his blog, Merk's Works, follow him on Twitter @scottmerkin and listen to his podcast. This story was not subject to the approval of Major League Baseball or its clubs.