Joyce suffers apparent concussion
Angels outfielder collides with Aybar, who stays in game; Trout says left wrist 'little sore' after landing on it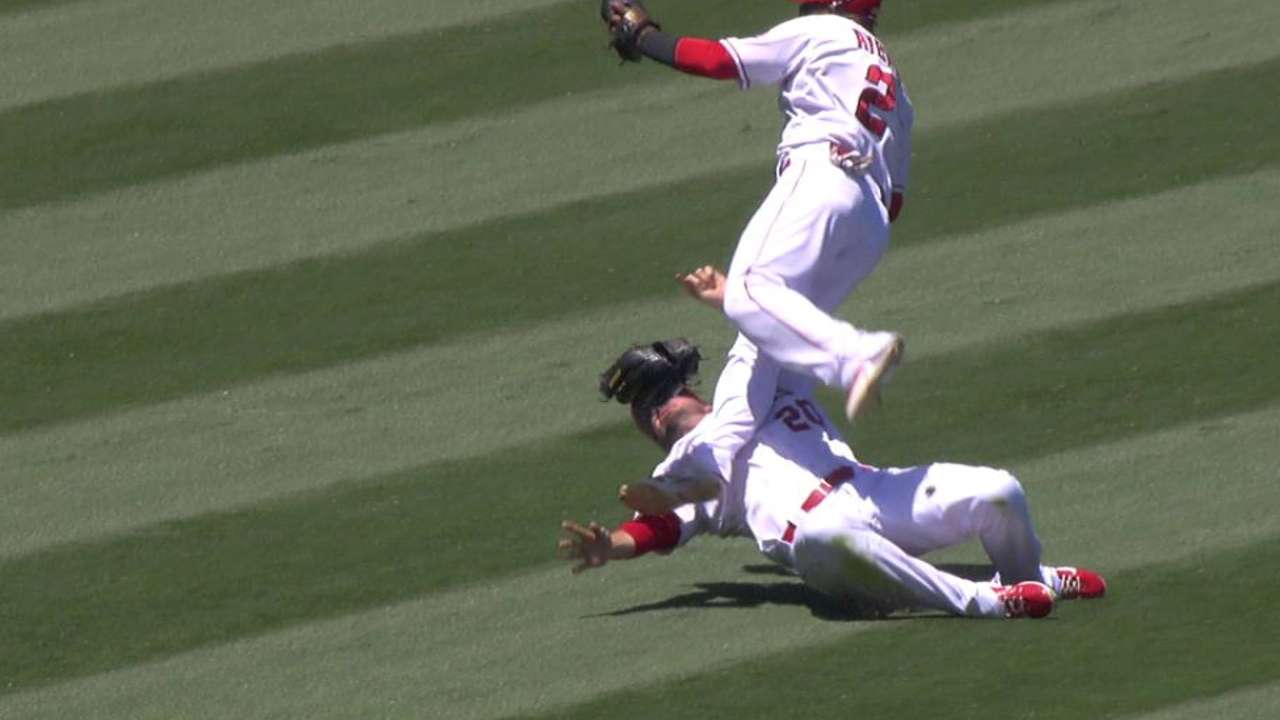 ANAHEIM -- Angels left fielder Matt Joyce appears to have sustained a concussion in the 13-7 victory over the Rangers on Sunday after a fourth-inning outfield collision with shortstop Erick Aybar. Joyce could be headed to the seven-day concussion disabled list.
Joyce appeared to be kneed in the head by Aybar as the shortstop tumbled over him while catching Delino DeShields' popup in shallow left field, which ended the inning and stranded the bases loaded for Texas. After the collision, both players remained on the ground for over a minute as the Angels' training staff came out. Aybar eventually got up slowly, but Joyce took longer and needed more assistance getting off the field.
"It looks like a concussion, although we're still evaluating it," manager Mike Scioscia said after the game.
The Angels have not made a decision about whether to place Joyce on the concussion list, although Scioscia said they're leaning in that direction.
Joyce was able to give an interview after the game, and he said that aside from a minor headache and some sensitivity to light and sound, he felt OK. He said he was knocked out for a few seconds after the collision, experienced dizziness, and didn't remember walking off the field.
Joyce said he was told it was a "mild concussion," and he'll see a doctor on Monday morning for further evaluation.
After they got him off the field, the Angels' trainers examined Joyce immediately behind the dugout. Joyce said he wasn't sure if they were going through official concussion protocol.
"They did ask me a bunch of questions, just random questions," Joyce said. "I answered half of them right. I don't know if that's good."
Joyce was replaced by Daniel Robertson. Aybar was able to remain in the game after the collision, which wasn't the only scary play in the outfield during that inning.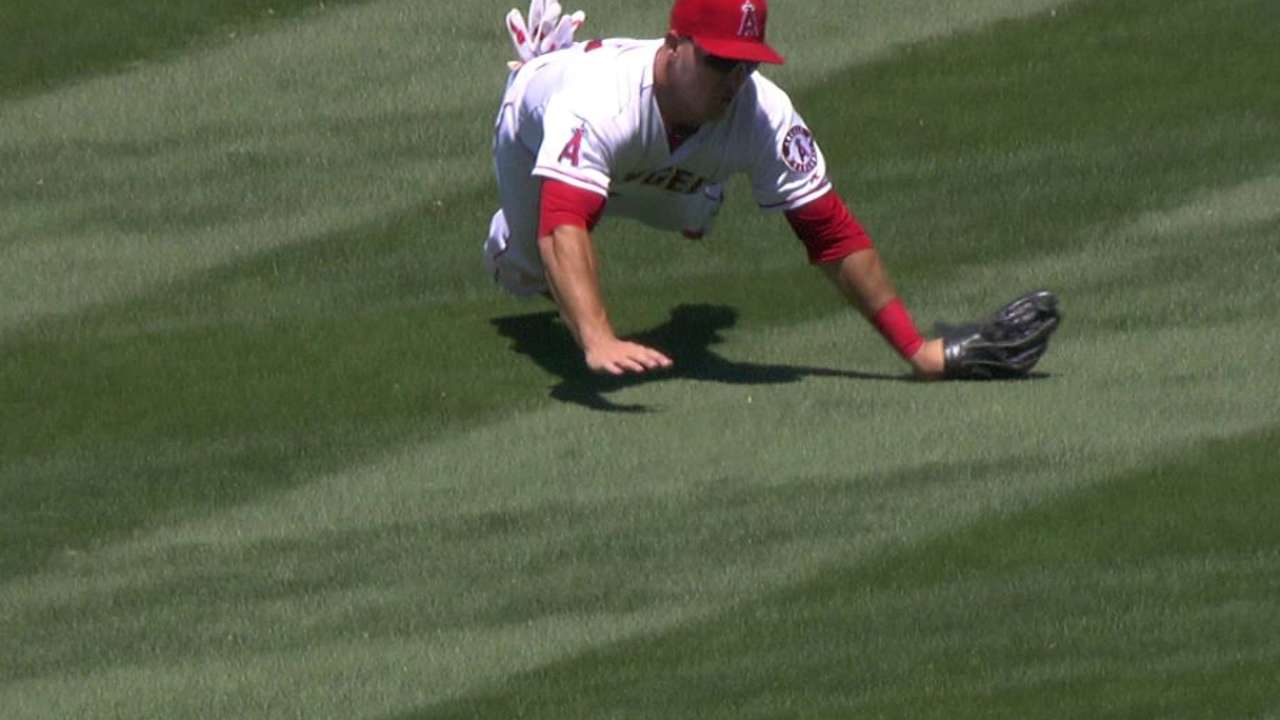 Earlier, Mike Trout landed awkwardly on his left wrist attempting to make a diving catch on Elvis Andrus' line drive to short center field. His gloved hand got caught slightly under his body, but Trout rolled over quickly, pulling his hand out of his glove, and appeared to avoid putting his full weight on his wrist. He was tended to by the trainers, but was also able to stay in. Andrus was credited with a single on the play.
"It's fine. A little sore," said Trout, his wrist wrapped after the game in which he homered twice and drove in five runs. "Just a scary thing for me. I didn't really know what to expect -- it hurt pretty bad, but once I loosened up it was better.
"When my glove started to tuck, my first instinct was to try to get my hand out of the glove. I think if my hand had stayed in the glove, it would have been more severe."
Scioscia said he expected both Aybar and Trout to be able to start the Angels' series opener against the Astros in Houston on Tuesday.
David Adler is an associate reporter for MLB.com. Follow him on Twitter @_dadler. This story was not subject to the approval of Major League Baseball or its clubs.