Souza Jr. laments lost chances vs. Orioles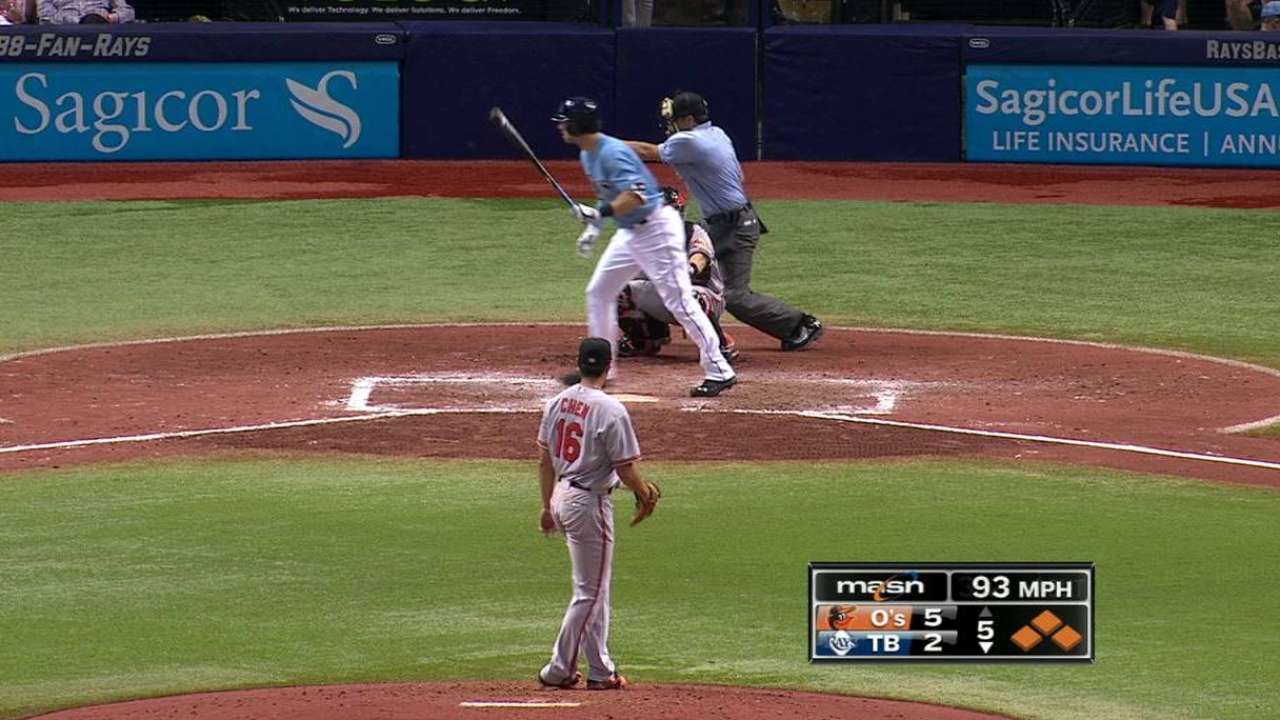 ST. PETERSBURG -- When the Rays dropped Sunday's contest to the Orioles, 5-2, marking their 21st loss in their last 30 games and their eighth series loss in their last nine, it was not due to lack of opportunities.
After Evan Longoria and Logan Forsythe slugged back-to-back home runs for the team's first hits of the game in the fourth inning, the Rays managed to consistently put runners on base.
The struggle, however, was driving those runners in as Tampa Bay left eight runners on base over the final 5 1/3 innings, four of which were in scoring position.
"We had some crucial situations where we could have really closed the gap, or possibly a lead change," manager Kevin Cash said. "We just didn't get it done."
The biggest of those situations came in the fifth inning after a double by Tim Beckham, a single by Jake Elmore and a Wei-Yin Chen pitch plunking Brandon Guyer loaded the bases with one away and Steven Souza Jr. up next.
With the count having gone full, Chen fired a down-and-in fastball that Souza originally thought was low, but home-plate umpire James Hoye called strike three. Three pitches later, Longoria grounded out to end the inning.
"I press too much in those [bases-loaded] situations," Souza said. "It's unfortunate. I try to talk myself out of it. I felt like I did a good job of calming down in that situation and not trying to do too much, but it's a habit I need to break. One hit right there drives in two runs, and I feel like I need to hit a grand slam. That's not OK."
The strikeout was just another chapter of the stumble that Souza has endured since returning from the disabled list Tuesday after a laceration on his right pinky. Since then, he has just two hits in 19 at-bats and has struck out nine times -- four of which have been looking.
"If I were to say that my approach is where it needs to be right now, you guys would probably walk out of this room and look at me like I'm an idiot," Souza said. "I need to make adjustments, but at the same time, guys have made really good pitches on me. But that's not an excuse for me to just sit there and keep taking those pitches and go down."
Souza, however, is just one player in a team-wide offensive struggle. Over this 9-21 run, the Rays have scored just 87 runs (2.9 per game) while batting .220 (216-for-982).
"Everybody is a great hitter in this clubhouse, whether anybody wants to realize it or not," Souza said. "The reason we were so good in the first two months is because we didn't give teams extra outs and we scored when we needed to. There's no one person to blame right now. We just need to play better baseball."
Troy Provost-Heron is an associate reporter for MLB.com. This story was not subject to the approval of Major League Baseball or its clubs.