Johnson tips cap to Mariners during Hall speech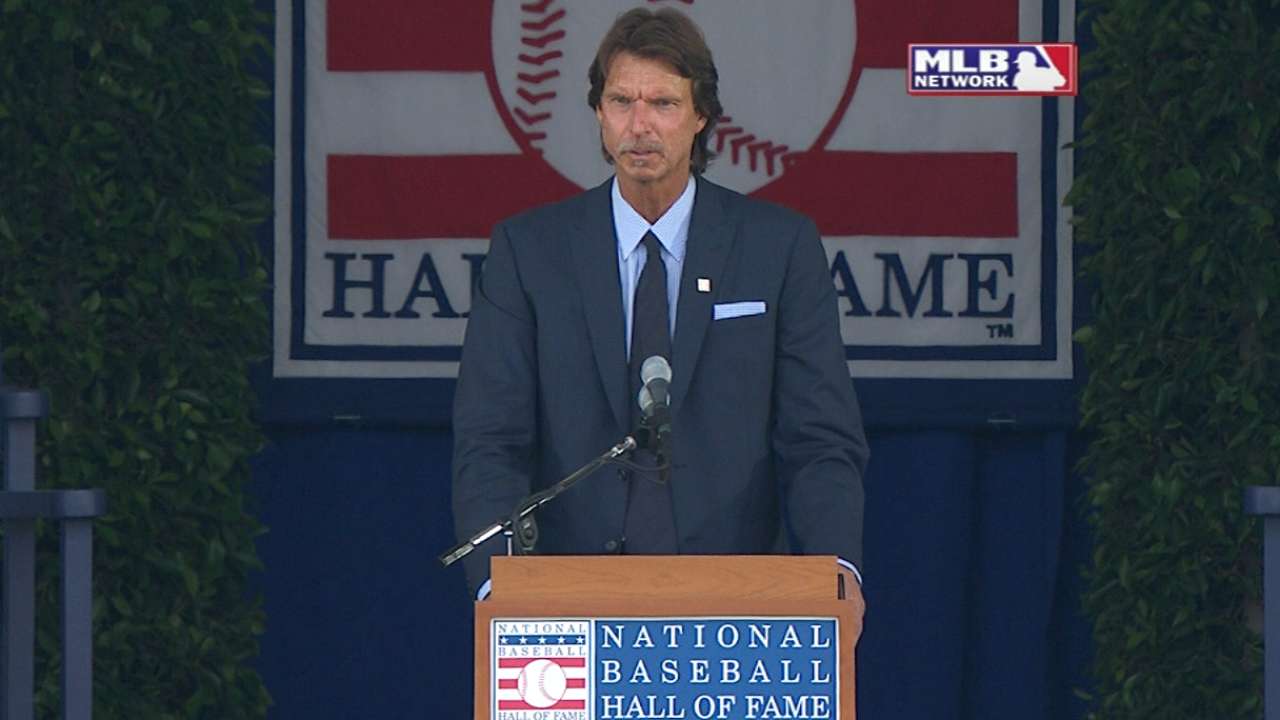 Though Randy Johnson entered the National Baseball Hall of Fame on Sunday as a D-back, an emotional Big Unit gave plenty of credit to the Mariners as well during his induction speech in Cooperstown, N.Y.
"The trade to Seattle set my career in motion," Johnson said. "It was my apprenticeship, 10 years there. I played with Ken Griffey Jr., Edgar Martinez, Omar Vizquel, Dan Wilson and so many more. Ken Griffey Jr. will surely be here next year.
"There were some lean years there in Seattle as we were learning to play our game," he said. "Lou Piniella came into place and 'Refuse to Lose' became our motto in 1995. With his leadership and guidance, we came down in 1995 to a one-game playoff.
"Ironically enough I would pitch against the same gentleman I got traded for to Montreal, Mark Langston, in a one-game playoff for the AL West. It was a very magical moment for Seattle, and I'm very proud to have played there for 10 years. Thank you, Seattle."
Hall of Fame Class of 2015
Johnson became the first player with significant Mariners ties selected to the Hall of Fame. Outfielder Rickey Henderson (elected in 2009), reliever Rich Gossage ('08) and starting pitcher Gaylord Perry ('91) all played briefly for Seattle at the end of their careers.
Former Mariners general manager Pat Gillick (2011) and former skipper Dick Williams ('08) were elected to the Hall of Fame by the Veterans Committee and one-time batting coach Paul Molitor ('04) was elected the same year he worked in Seattle. Broadcaster Dave Niehaus was the Ford C. Frick Award winner in 2008 and also has a plaque in Cooperstown, though Frick Award winners aren't technically considered members of the Hall of Fame.
Johnson thus becomes the first Hall of Fame player who spent a major part of his career wearing a Mariners uniform, though he'll undoubtedly receive company next year when Griffey becomes eligible for the first time.
Johnson took time in his speech to appreciate the Mariners contingent that traveled to Cooperstown to be part of his induction.
"I'd also like to thank ownership for being here on this important day for me -- Howard Lincoln, Chris Larson, Randy Adamack, Kevin Martinez," he said. "And one of only a few catchers that could handle me over my 22-year career and understand me, Dan Wilson, and his wife Annie."
Johnson played 10 of his 22 seasons in Seattle (from 1989-98) and earned five of his 10 All-Star bids, the first of his five Cy Young Awards and one of his two no-hitters.
Johnson went on to add five more All-Star berths and four Cy Young honors in eight years in Arizona, but he accrued more wins (130), games (274), starts (266), complete games (51), shutouts (19) and strikeouts (2,162) in his Seattle tenure than with the D-backs.
Greg Johns is a reporter for MLB.com. Follow him on Twitter @GregJohnsMLB, read his Mariners Musings blog, and listen to his podcast. This story was not subject to the approval of Major League Baseball or its clubs.