Melvin has long history with Big Unit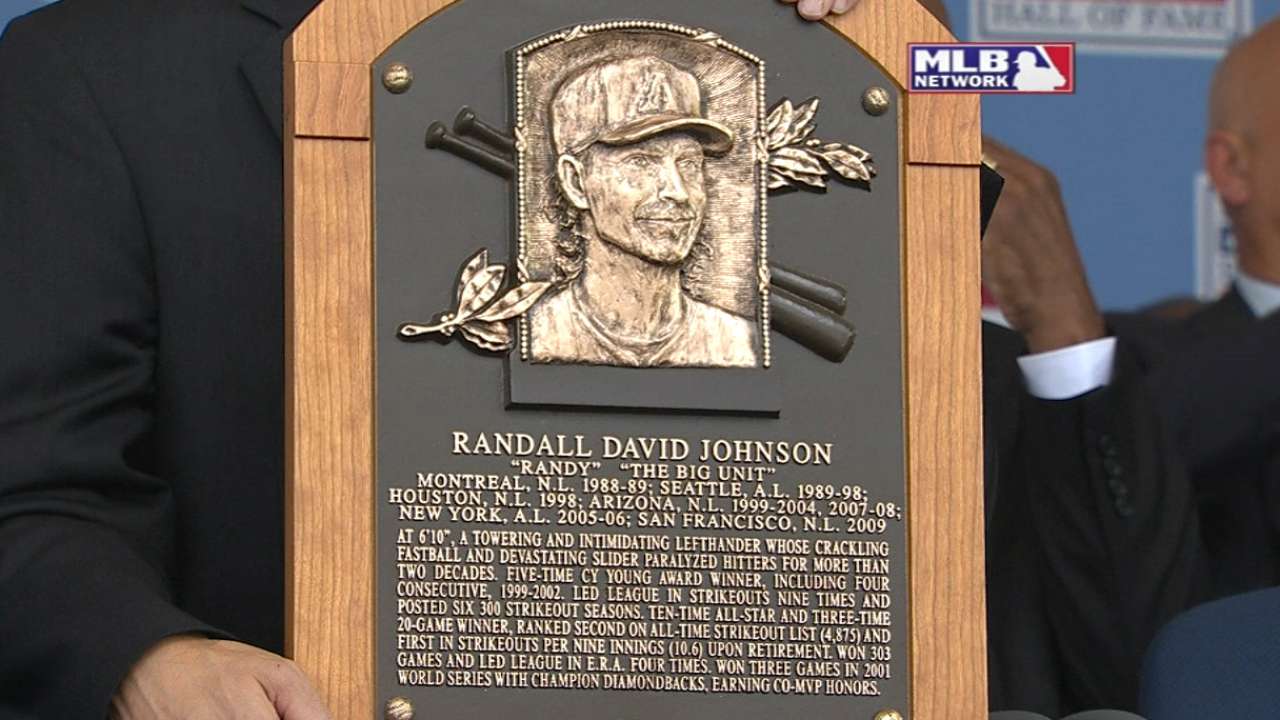 SAN FRANCISCO -- A's manager Bob Melvin recalls the scene with ease and a jovial expression on his face, one of many fond memories he has from a long-lasting friendship with Randy Johnson.
It was 2001 and the eventual champion D-backs were about to play their first World Series game against the Yankees, which happened to be 2015 Hall of Fame inductee Johnson's first career World Series start. Melvin was Arizona's bench coach at the time.
Randy Velarde played ahead of Tino Martinez in the lineup that day because Velarde had good numbers against Johnson. Then a graphic popped up on TV, showing the hitters with the most success against the intimidating southpaw, and Melvin's name appeared alongside a staggering .452 average (14-for-31).
"Randy's notorious for you don't talk to Randy on the day that he pitches, let alone his first World Series game," Melvin said. "He came in the coach's office and he looked at me and he said, 'Did you know you hit me like that?'"
"I said, 'Yeah, you kept me in the big leagues for 10 years.'"
"I thought I saw a smile," Melvin recalls. "A hint of a smile. He turned, walked out and went out and threw a shutout."
Johnson would go on to hurl 17 innings in the World Series, allowing just two earned runs and picking up three of the D-backs' four wins.
The left-hander joined Pedro Martinez, John Smoltz and Craig Biggio as the four players inducted into the National Baseball Hall of Fame on Sunday, commemorating a dominant career Melvin witnessed much of firsthand.
Despite Melvin's shocking numbers against Johnson, the A's skipper actually believes he was shortchanged. He thinks he has a few more than 14 hits in a few more than 31 at-bats, but he won't complain.
"Really, why I hit him well, I have no idea," Melvin said. "He probably felt sorry for me and wasn't too worried about me."
Melvin played against, coached and managed Johnson (who is from Walnut Creek, Calif.), and to this day he marvels at Johnson's killer mentality.
"I've known him for quite a while," Melvin said. "I know this is a big day for him, and deservedly so. One of the greats of all time. Arguably the best left-hander of all time, maybe the most dominant as far as striking people out and scowling at them."
Trevor Hass is an associate reporter for MLB.com. This story was not subject to the approval of Major League Baseball or its clubs.