Mariners turn wacky triple play vs. Toronto
Carrera falls off third base to become the final out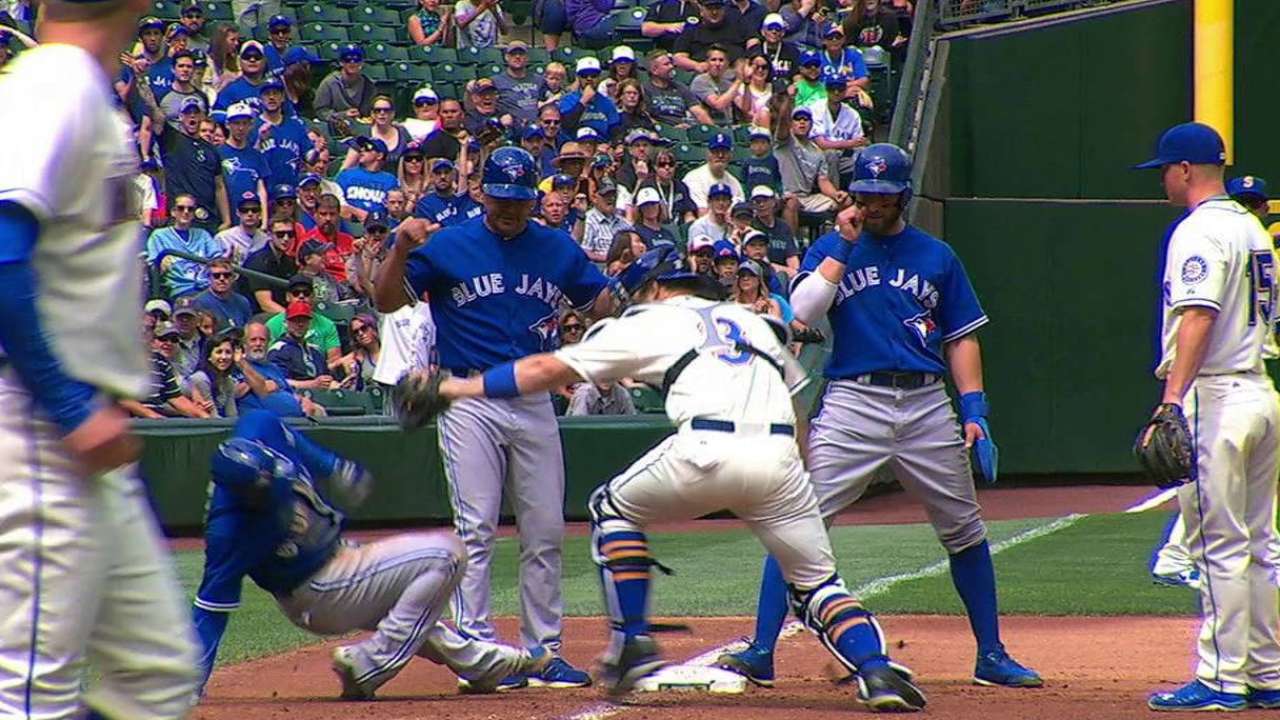 SEATTLE -- In a truly wacky series of events, the Mariners turned their 11th triple play in franchise history in the fourth inning of their 6-5 win over Toronto, their first since Aug. 9, 2010. It was the first time the Blue Jays had hit into a triple play since June 6, 2014 against the Cardinals.
Leading, 4-3, the Blue Jays put runners on first and third with nobody out, when second baseman Ryan Goins grounded a 1-2 curveball to first baseman Mark Trumbo.
Trumbo stepped on first for the first out of the inning, then threw to shortstop Brad Miller with Toronto's Kevin Pillar hung up between first and second.
"Trumbo did a tremendous job. He tagged the bag and checked the runner at third," said Mariners manager Lloyd McClendon. "We were fortunate [Pillar] didn't run all the way to second."
When the Blue Jays' Ezequiel Carrera ventured too far off third base during the rundown, Miller ran at Carrera and threw to catcher Mike Zunino, who chased Carrera down the third base line, while Pillar advanced to third.
"Brad did a nice job of making that play under control, not getting too fast. He almost fast walked to [Carrera]," McClendon said. "After that it was just luck."
With both Pillar and Carrera standing on third, Zunino tagged Pillar. Carrera then fell to the ground and took his foot off the bag, allowing Zunino to tag him out to complete the triple play.
"In that situation, you're told to tag both guys and let the umpire tell you who's out," Zunino said. "It just sort of happened, and luckily I saw it enough to just keep the tag on [Carrera]. It was a big momentum change and helped Taijuan [Walker's] pitch count."
Several players agreed the play was a bit of a fluke. While there have been hundreds of triple plays in Major League history, the 3-6-2-2 combination used to complete the triple play in Sunday's game was the first of its kind since Aug. 3, 1955.
"I just think it's a play that you don't work on a whole lot. It's a play you kind of, in college you would have done a lot, it's almost a designed play to try to trick the guy," Pillar said. "Tag the guy who doesn't own the base and then tag the other guy, to see if you can get someone to walk off the base and that's what happened."
It was a rare, memorable play and one Miller didn't realize even happened for the rest of the game.
"I honestly forgot we had a triple play until after the game when somebody said something. In that time it was crucial. Runners on first and third, no outs, Taijuan came up with a big pitch, and Trumbo made a nice play to get it going."
Andrew Erickson is an associate reporter for MLB.com. This story was not subject to the approval of Major League Baseball or its clubs.