Pujols' BABIP appears to be on upswing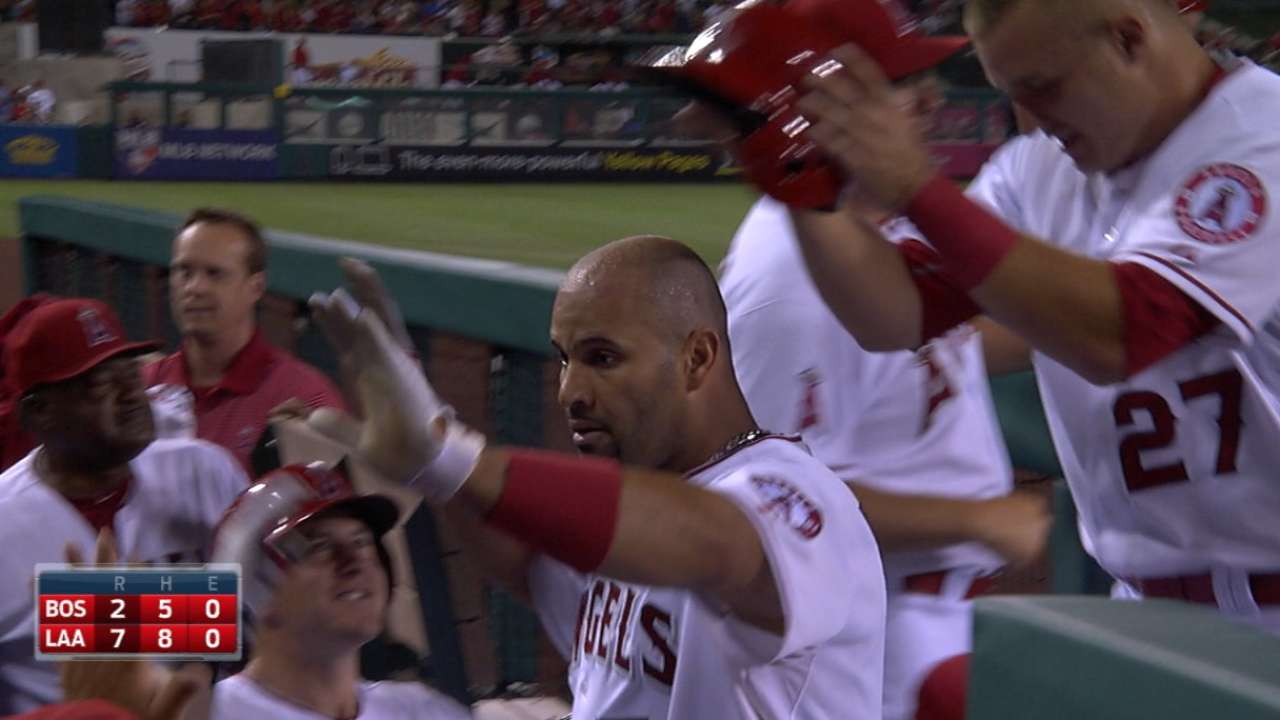 ANAHEIM -- It's been two months since Albert Pujols said he was hitting the "hardest .230" of his career. His batting average on balls in play seemed to back him up: After May 27, it was .229, far below league average, which sits around .300 (this year, it's .297), Pujols' .299 career average and even his .270 three-year average with the Angels.
Pujols was looking for a turnaround, and he got it. The next two months and 45 games -- May 28 to July 20 -- Pujols homered 21 times, struck out just 15 and got his first Angels All-Star nod.
He also had an even lower BABIP: .203. (His season mark is .224, third-lowest in the Majors.) That seems almost impossibly low given Pujols' torrid stretch. So what factors might have affected it, and what could it mean for Pujols going forward?

Source: FanGraphs -- Albert Pujols
First are Pujols' home runs, which don't count toward BABIP -- they're literally balls-out-of-play -- and Pujols hit them unusually often starting May 28. Over Pujols' career, 21 percent of his hits have been homers; from May 28 to July 20, 43.8 percent were. In that respect, BABIP wasn't indicative of Pujols' performance. (Pujols isn't the first power hitter with a low BABIP -- in Roger Maris' 61-homer season, for example, his was .209.)
The other number not counted in BABIP, strikeouts, might also tie in. BABIP measures the outcome of what's least controllable by hitters and pitchers; it doesn't count home runs or strikeouts, which aren't impacted by defense. Pujols rarely strikes out, so teams have opportunities to record outs on balls in play, especially since he's a slow runner. If, where another hitter strikes out, Pujols makes weak contact, that would show up negatively in BABIP.
The thing is, though, Pujols is hitting the ball hard. For most of the season, his exit velocity has been well above league average (per Baseball Savant); since early May, it's been similar to Mike Trout's, whose BABIP is .343.
Albert Pujols' BABIP is .224; Mike Trout's is .343. But their exit velo looks pretty similar since May: pic.twitter.com/cF6sddaz1x

- David Adler (@_dadler) July 26, 2015
Pujols' average exit velocity for the season is 92.8 mph; from May 28 to July 20, it was 93.5 mph. Even discounting home runs, Pujols' exit velocity on balls in play is above the upper-80s league average for all hits: 91.3 mph for the season, 91.9 mph from May 28 to July 20.
His line-drive and hard-hit-ball rates aren't abnormally low either. FanGraphs has Pujols' 2015 line-drive rate at 18.5 percent, hard-hit rate at 33.5 percent and soft-hit rate at 15.7 percent -- worse than his career averages, but not nearly career-worsts. (Baseball Reference lists the line-drive rate at 25 percent, above a 21 percent career average).
Three main factors affect hitters' BABIP -- talent, defenses and luck. Pujols isn't the same hitter he was in St. Louis, but he's still Albert Pujols, and he still hits balls hard.
As far as defenses go, the Angels haven't played particularly great ones this year (although teams shifting on Pujols might also depress his BABIP). That leaves the possibility open, as strange as it seems to say, that Pujols has still gotten some bad luck. Not with power numbers -- Pujols' home-run rate will likely slow down if anything -- but a regression toward the mean could show up as, say, an increase in batting average.
There's no guarantee. BABIP doesn't always even out until larger sample sizes. But if Pujols continues to hit the ball hard, it's possible. In Pujols' five games since July 20, his BABIP is .353 -- including a pair of infield hits July 21 against the Twins. Maybe his luck is changing.
David Adler is an associate reporter for MLB.com. Follow him on Twitter @_dadler. This story was not subject to the approval of Major League Baseball or its clubs.