Doolittle confident in cautious rehab process
Lefty throws on back-to-back days, slated for first bullpen session Thursday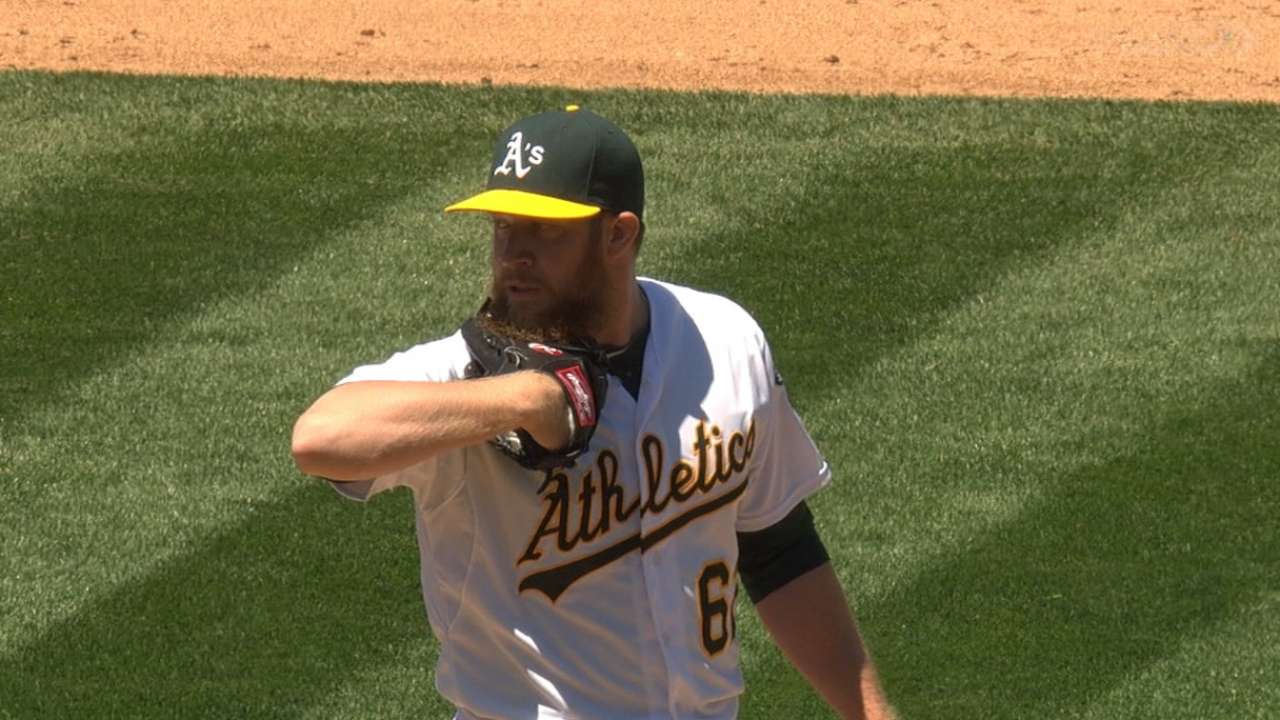 SAN FRANCISCO -- A's left-hander Sean Doolittle (strained left shoulder) threw for consecutive days Saturday and Sunday for the first time since being placed on the 60-day disabled list and before his Sunday session, he said he felt "no pain" Saturday.
Doolittle has been on the DL since May 30 and has only pitched in one game with the club this season, but he still hopes to return this year.
The southpaw worked his way back to the mound in May but injured his shoulder again, and this time he's taking an even more cautious approach.
"It's been a lot smoother of a process, I think, this time," Doolittle said. "I trust it a lot more, and I have a lot more confidence in being able to get my arm up and get on top of the ball."
Doolittle said he never had any shoulder issues before these two occurrences, so he wasn't sure what to expect from the rehab process.
When he talked to the A's athletic trainers, he said he wanted to make sure he worked his way through the process properly and methodically.
He'll throw from flat ground again Tuesday and will throw his first bullpen session Thursday, and there's a good chance the A's could see him again in August or early September.
"We knew that we dodged a bullet when we got the MRI back and there was only a muscle strain in the shoulder," Doolittle said. "We wanted to be able to take our time and do it right, regardless of what direction the season was going for the team."
• Outfielder Coco Crisp (neck strain) will start a rehab assignment with Class A Advanced Stockton on Monday.
Crisp will play at least four games, but the duration of his rehab assignment has not yet been determined. He'll play outfield for seven innings Monday, DH on Tuesday, have the day off Wednesday and play outfield again Thursday and Friday.
• Switch-pitcher Pat Venditte (strained right shoulder) will pitch from both sides for Stockton on Tuesday. Venditte threw a perfect inning with two strikeouts left-handed for Stockton on Sunday and A's manager Bob Melvin said Venditte felt great.
Trevor Hass is an associate reporter for MLB.com. This story was not subject to the approval of Major League Baseball or its clubs.