Lind out of lineup to receive back treatment
Brewers first baseman to be re-evaluated in San Francisco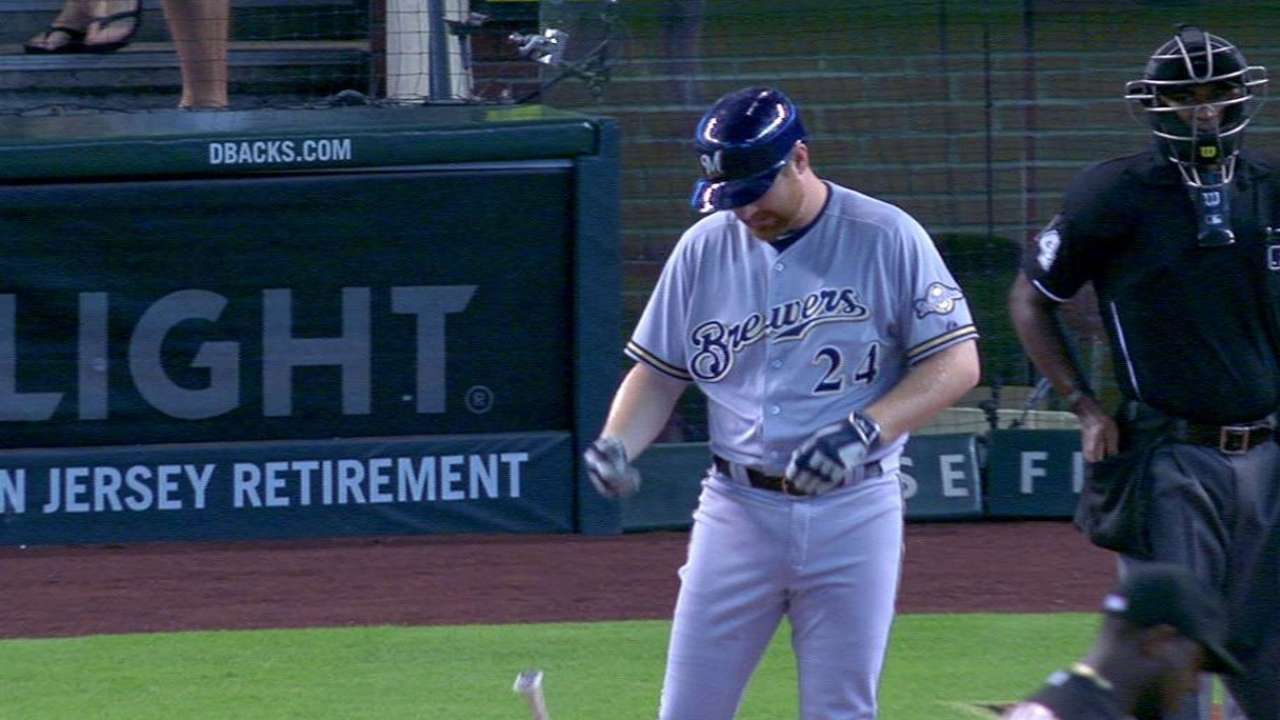 PHOENIX -- As Adam Lind took Sunday off to receive treatment for his stiff back, Brewers manager Craig Counsell declined to entertain a question about what he'd do if his regular first baseman misses a significant chunk of playing time.
"We're not there yet," Counsell said before the Brewers' 3-0 loss. "If that happens, we'll have to come up with a plan, but I'm not at the point where I'm considering that right now."
He added with a laugh: "Let's not put the dirt on Adam yet. It's only been one day."
Lind, who hit the Blue Jays' disabled list with back issues in 2011, '12 and '14, said he had dealt with stiffness for several days before exiting Saturday's 2-0 loss to the D-backs in the second inning. Brewers athletic trainers will evaluate Lind on Monday in San Francisco before Counsell sets a starting lineup.
With Jason Rogers back at Triple-A Colorado Springs, the Brewers do not have an obvious first base backup on the current roster. Catcher Jonathan Lucroy started there Sunday to give his body a break from the rigors behind the plate. Counsell's other option is outfielder Shane Peterson, who played first base before converting in the pro ranks. Peterson finished Saturday's game at first after Lind's exit.
Since Rogers was sent down July 3, Peterson has been reacquainting himself with first base during pregame work with Brewers infield instructor Mike Guerrero.
"It's hard to get that same speed, the ball off the bat, things you can only get from playing the actual game," Peterson said. "The way I look at it is, it's hard to be bad at first, but it's also hard to be good at first. … There's certain things that you can't practice."
Example: Peterson muffed a pickoff throw from pitcher Taylor Jungmann on Saturday for an ugly error. Peterson said the baseball just disappeared. Jungmann told him it cut.
"Where I'm at right now, whatever gets me in the game, gets me at-bats, keeps me on the roster, I'm going to do," Peterson said.
Worth noting
• Shortstop Jean Segura was scratched from Sunday's lineup after complaining of a sore throat. Counsell said it was just a minor illness.
• Counsell characterized center fielder Carlos Gomez's absence on Sunday as just a day off. He is sitting on 99 career home runs.
Adam McCalvy is a reporter for MLB.com. Follow him on Twitter @AdamMcCalvy, like him on Facebook and listen to his podcast. This story was not subject to the approval of Major League Baseball or its clubs.