McClendon aims to lighten Smith's workload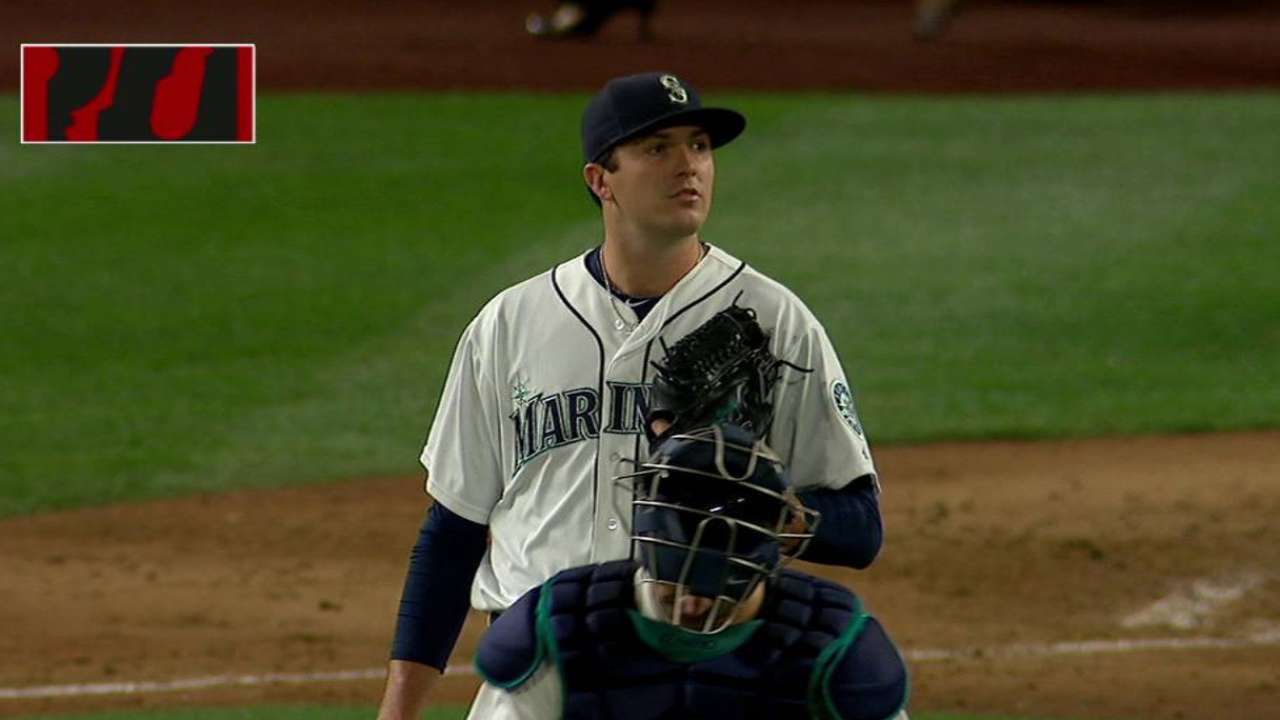 SEATTLE -- In what has so far been a strong first full season with the Mariners, Saturday was a bit of a hiccup for reliever Carson Smith.
The 25-year-old right-hander faced four hitters without recording an out and allowed the two decisive runs in the ninth inning of Seattle's 8-6 loss to the Blue Jays. He was charged with his third loss of the season, his first since May 8.
Mariners manager Lloyd McClendon said after the game that he saw, in Smith's performance on Saturday, a young reliever whose workload has been too heavy in recent days.
Saturday was Smith's third straight game and his fourth in five days. He allowed just two hits during that span, both on Saturday. McClendon said he has been trying to build Smith into a bigger workload while keeping the young righty's health in mind.
"My belief is you try to protect younger relievers. You try not to pitch them more than three days in a row, and you see how the ball's coming out," McClendon said before Sunday's game. "Obviously we don't want him to go out and throw 80 innings, that's not going to happen."
Smith, who was drafted by the Mariners in the eighth round of the 2011 Draft, has thrown 40 2/3 innings in 43 games this season after making his first 25-man roster.
He has eclipsed 50 innings in each of his last three professional seasons, but hasn't thrown more than 77 in a season since his time as a starter at Texas State.
"The Triple-A level is easier than the big league level, the outs are harder to come by [in the Major Leagues], and the intensity level is much higher, so it's just a matter of him going out there and getting used to it," McClendon said.
Smith, whose season ERA rose from 1.77 to 2.21 on Saturday, said after the game that he felt fine. It was his falling behind hitters that ended up costing him in the form of a two-run single by Chris Colabello.
"I felt as good as any other day, so I'm not going to use it as an excuse," Smith said.
McClendon said Smith's command was fine, but he noticed some fatigue. Smith's pitches weren't as crisp, his sliders weren't as sharp and Toronto's bats capitalized.
"He's overused," McClendon said. "That was one of the dangers of putting him in that role at such a young age, but he's getting better at it. He's going to be just fine.
Worth noting
McClendon said after Saturday's game that the Mariners would have to have discussions regarding how to get reliever Fernando Rodney straightened out. Rodney allowed a game-tying, two-run home run in the eighth inning of Saturday's game and has a 5.90 ERA in 42 games this season. When asked Sunday about Rodney's role moving forward, McClendon said he knew but was not ready to share.
Andrew Erickson is an associate reporter for MLB.com. This story was not subject to the approval of Major League Baseball or its clubs.